Mel Thrash grew up wanting to serve in the military. "It was always on my radar. My dad was in World War I, and I grew up during World War II. It was always on the news, and I was fascinated by it."
Thrash attended Ouachita Baptist College (now University). At that time, male students were required to take two years of ROTC (Reserve Officers Training Corp), but instead, he enrolled for four years. Graduating in 1954 with a Business degree and a commission as a Second Lieutenant in the Regular Army, Thrash began his active military duty, serving from 1954 to 1957.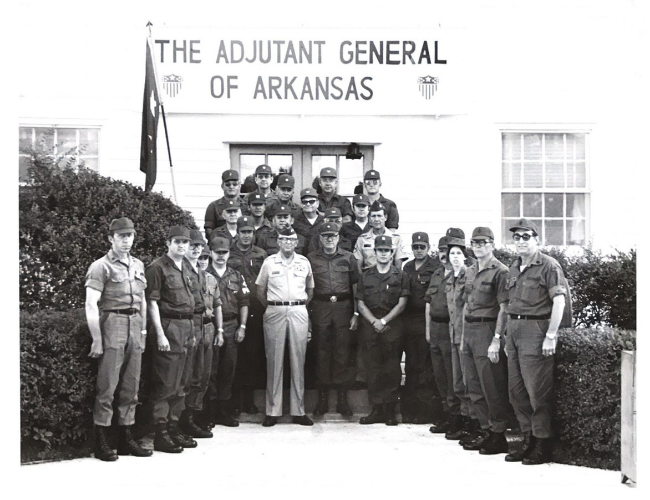 Immediately following graduation, 2LT Thrash was sent to Fort Benning to begin officer basic training before being stationed at Fort Chaffee in Fort Smith as a full time, regular post. With a stated mission of being "the center of gravity in the Army for producing trained combat Soldiers," Fort Benning was an incredible place for Thrash to train before returning to Arkansas.
The young lieutenant was quickly commissioned to attend Adjutant General School as part of the AG Corp, but he transferred to Infantry where he believed his future awaited. Thrash served in the Infantry, artillery/armory for two years, but by that time, the Korean conflict was ending, and the Army began to downsize. Resigning his RA (Regular Army) commission, Thrash signed up for the Arkansas National Guard, 39th Division serving Arkansas and Louisiana and took advantage of the opportunity to attend the University of Arkansas and completed his MBA in Marketing in 1960.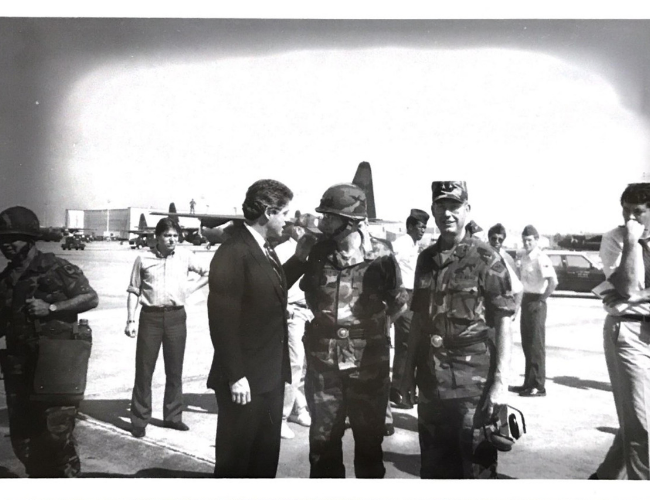 At the same time, Thrash began work for the Arkansas Baptist State Convention as the organization's business manager where he worked for five years before shifting his focus to his family's oil business, Tol-E-Tex Oil Company. The company, an International Harvester dealership with Fina gas stations across southern Arkansas in towns like Mena, Hot Springs and De Queen, the company thrived under Thrash's leadership. He also remained active in the Arkansas Army National Guard and kept up his drill and training duties through the years.
Repeatedly promoted to leadership roles during his time in the Reserves, Thrash advanced to Assistant Adjutant General for the 39th Brigade, Arkansas when the division was separated into smaller squadrons. He also commanded the 1 Battalion, 153rd Infantry, a notorious regiment in Arkansas history dating back to 1890 and having roots that go back to Arkansan troops that formed for Civil War engagement in 1861.
On July 1, 1986, Thrash was promoted to Brigadier General (1 star) in the Adjutant General's Corp for the 39th Infantry Brigade (Separate). The "separate" status of the group gave them a higher level of training as well as more advanced equipment. The designation also established the soldiers as a self-contained combat unit for intelligence, command and control during deployments. A 5-year position, Thrash retired from the squadron in 1990 and was appointed Adjutant General of the Arkansas National Guard in 1993.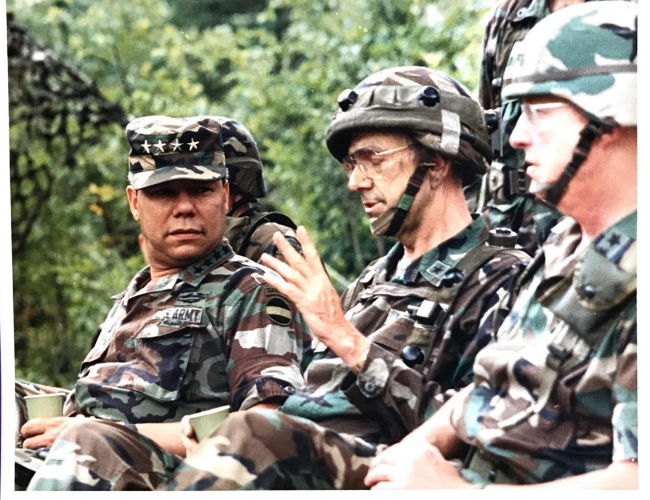 Major General James A. Ryan had been serving in the role and resigned to take a position at the Pentagon, prompting Governor Jim Guy Tucker to recommend Thrash as his replacement. Promoted to Adjutant General at the age of 65, the role positioned Thrash as a member of the Arkansas Governor's cabinet in charge of the State Military Department.
Thrash expounded on a few of the weighty responsibilities that go along with being the highest-ranking military position in the state of Arkansas. Some of the Adjutant General's responsibilities included overseeing military training and equipment and ensuring that troops are trained and ready for combat at any time. He worked with the Governor to respond to state as well as national emergencies. The Guard can be called up at any time for service or deployment by the Governor or the President. Thrash also saw himself as a relationship builder between communities across the state and the Guard, working with local communities and businesses as well as Guard members' employers to promote understanding and acceptance of the Guard's purpose and duties.
One of the things Adjutant General Thrash is passionate about is military families. He credits the non-military partner for taking on the responsibility back home for financial issues, children and the household, remembering the times during his duty that he missed ballgames and dance recitals, asserting that "the support of the family at home makes all the difference. When you are away on deployment or off at training, just knowing you have people back home supporting you is what keeps you going."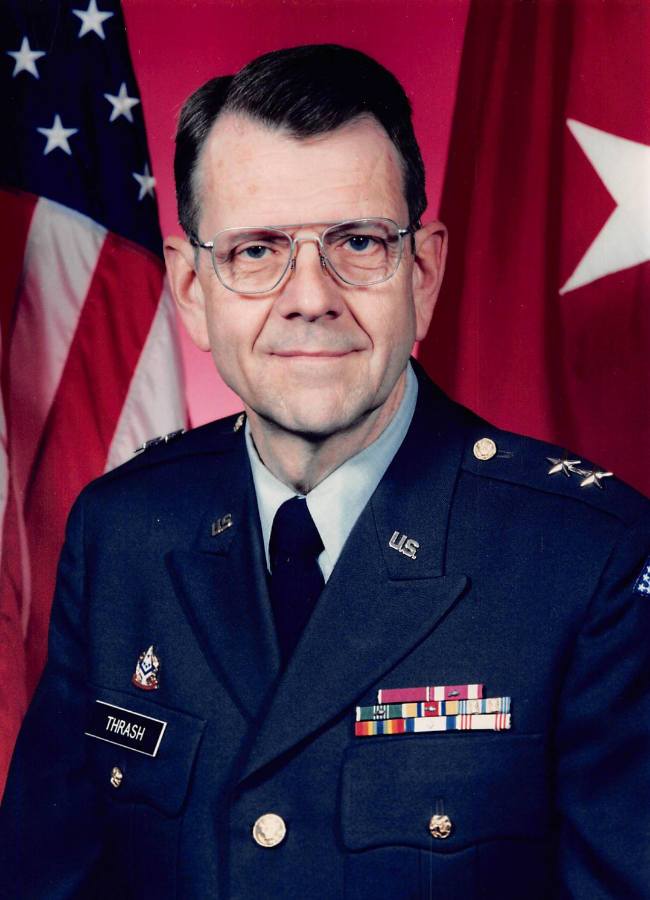 Thrash received his second star in 1995 when he was promoted to Major General while serving his second command as Adjutant General. In 1996, Governor Mike Huckabee asked Thrash to stay for a third term. Having grown up in Hope not far from the Thrash family, Governor Huckabee respected both the man and his long-standing career. While legal, Thrash felt that pushing forward with a third term had the potential to negatively impact the new Governor's role because of politics involved in the state's leadership at the time. Major General Melvin C. Thrash retired for the final time in 1996.
Though newly retired, Thrash was not one to sit around, and took on roles as the deputy director for Disability Determination for the Social Security Administration and the Arkansas Employment Security Department and serving on the Governor's Hazardous Waste Advisory Committee. Still active in state and national oil and gas associations, Thrash also serves on several boards for Ouachita Baptist University.
Major General Thrash and his wife, Rose, live in Hot Springs overlooking a lovely lake. They are active in their local church, and often host their children, grandkids, and great grandkids to family fun weekends. Thrash continues to speak at events across the state, and when he enters a room in his uniform, the audience seems to stand a little straighter as his presence commands respect. But, when he walks up and shakes your hand, he looks into your eyes and smiles. He seems to remember everyone he meets, and his warm handshake affirms that every individual he meets matters, that our story makes a difference, and that each of us has a lesson or two we've learned along the way that are worth sharing.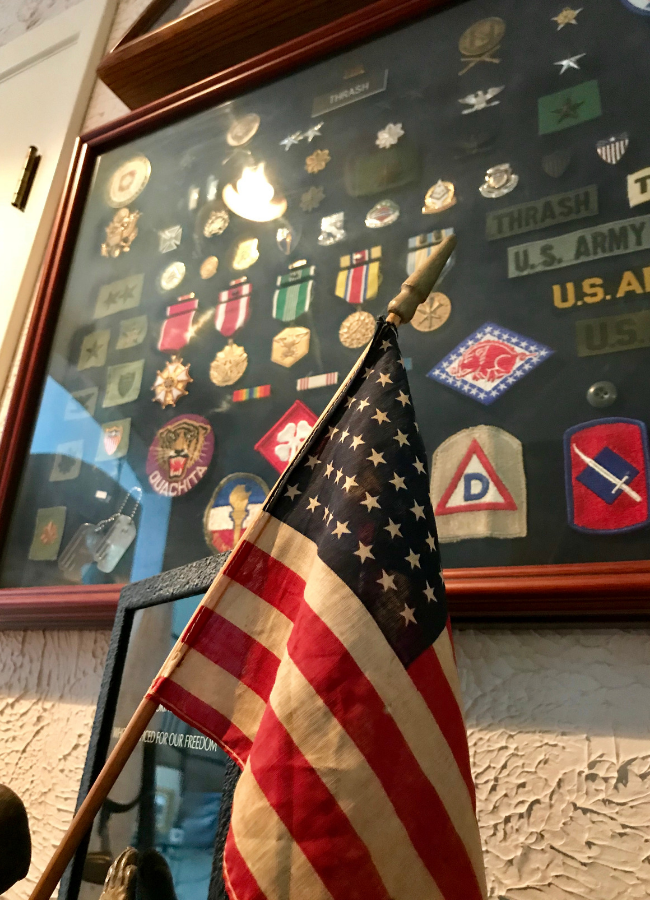 During my time with Major General Thrash, he impressed me as a man of honor and experience, and at the end of our interview, he asked me to share this challenge with my readers. I pass it along here as it was given to me.
First and foremost, stick to your convictions and your faith. The Major General and Rose don't drink alcohol. At his first officers' banquet, he was told he would never make it in the military without drinking. Later, when the couple hosted their first holiday party, they chose not to offer alcohol. His wife, a fantastic cook and caterer, served her famous coffee punch instead. Twenty-six years later, the coffee punch is still served at their holiday banquet, without alcohol.
Second, be truthful, honest and ethical. Do what's right, and you will progress.
Third, leave an environment better than how you found it.
Fourth, for those who are in leadership positions, be approachable. As the Major General says, "Be the kind of person that people can come to, even if you disagree. You never know, they might be smarter than you or your boss someday."
Finally, if your assets and the money you deal aren't yours, be truthful and do what is right.
On November 11, we celebrate Veteran's Day. It's an opportunity to honor the men and women who have protected, provided, and paved the way for our freedoms. Whether it's the young soldier in camo at the airport or an older gentleman wearing a Veteran's hat holding the door for you, take a minute to stop and shake hands, look them in the eye and say, "Thank you" because freedom is never free.