Arkansas is a colorful old place, a state steeped in southern tales of grandeur and adventure. And while some tales are true, I've heard stories over the years that were figments of some creative imaginations. When I heard about an 'Indian Princess' buried in Little Rock, I filed the story away with a grain of salt. However, while researching the history of Mount Holly Cemetery, I ran across the famed princess, and it turns out, the stories were true after all.
Elizabeth "Quatie" Ross is one of the many fascinating people buried in Mount Holly Cemetery. Little is known about her early life, except that she was born in Georgia in the late 1700s. Born a Cherokee, Quatie (the Cherokee name version of 'Betty' or 'Betsy'), married her first husband, Robert Henley, and had a child. It is rumored (although not proven) that Robert died in the War of 1812. The widowed Quatie then met and married John Ross, the first and only elected chief of the Cherokee nation.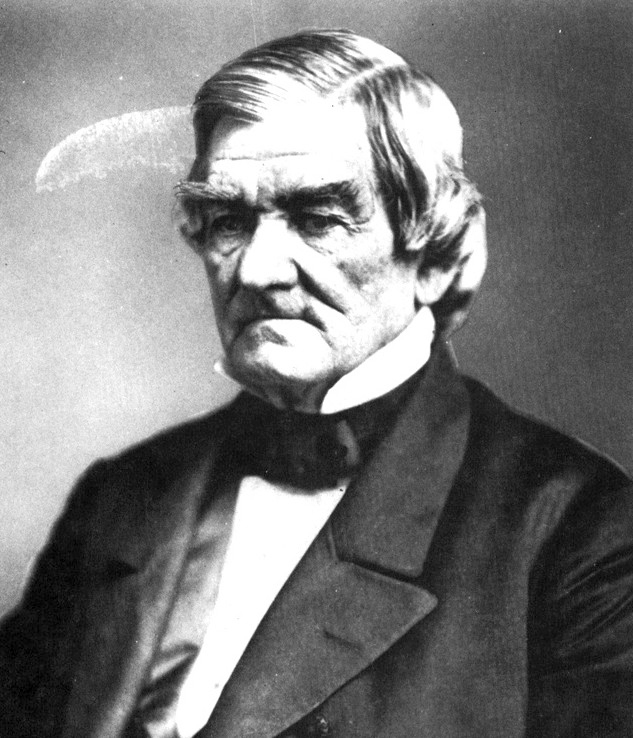 John Russ, Public Domain
John was the son of a Scotsman and a Cherokee mother, and his lineage was similar to the Anglo-Metis groups in Canada (bicultural children born to white men of financial standing and high-ranking Native American women). He was educated by white men and received a thorough education for a child raised on the frontier. It's said that John spoke English perfectly but was less fluent in his mother's native Cherokee language.
Quatie and John had five children and lived affluent lives. John, having served under Andrew Jackson during the War of 1812, was a man of connections and good business acumen. He owned ferry crossings and a large tobacco farm. The Ross family was deeply assimilated, and they conducted their lives much like their fellow white frontiersmen, including owning slaves. By 1836 John was one of the wealthiest men in the Cherokee nation. As the wife of one of the wealthiest Cherokees, Quatie's days would have been very busy, overseeing a household, the farm, and her children. They were, by all accounts, Native American royalty.
But the tides were turning, and racism and land greed were creating pressure and tension between the U.S. Government and the Cherokee Nation. In 1835 John returned home after a week away to find a stranger at his home. The man informed him that his name was Stephen Carter and presented government paperwork to prove that he now owned all of John's property, his home, and all his belongings. Carter had evicted Quatie and their children, who were taken in by nearby family.
The forced removal of Native Americans began in 1838. John convinced the government to let him supervise the Cherokee removal process during what would become known as the Trail of Tears. He and Quatie joined the mass Cherokee eviction, working to create order and liaison with army officials on behalf of the Cherokee. In one year, the U.S. Government would sanction and force an average of 16,000 Cherokees from their homes and into exile in Oklahoma. Not only were they stripped of their homes, businesses, and livelihood (which were taken without payment, or simply looted), but the trip itself would devastate the Cherokee Nation. Four thousand souls died on the journey.
In a story that became part legend, part possibility, Quatie allegedly gave her own blanket to a sick child during a winter storm. Afterward, like so many other thousands of Cherokees on the Trail of Tears, Quatie fell ill. A soldier named John G. Burnett wrote in a letter that he witnessed her generosity in giving up her own blanket, and referred to her as a "noble-hearted woman." Historians have since argued that Burnett's personal written accounts were fictionalized, including his memories of Quatie, perhaps due to his need to make his involvement in the Trial of Tears nobler. In his writings, he presented himself as "friend" to the Native Americans, but history doesn't shine a kind light on the military who implemented the removal of the Cherokee. Quatie died from pneumonia while aboard a steamboat on the Arkansas River and was buried in or near Little Rock (some accounts say she was buried next to the river). Her husband and five children continued on their journey to Oklahoma alone, without the family matriarch.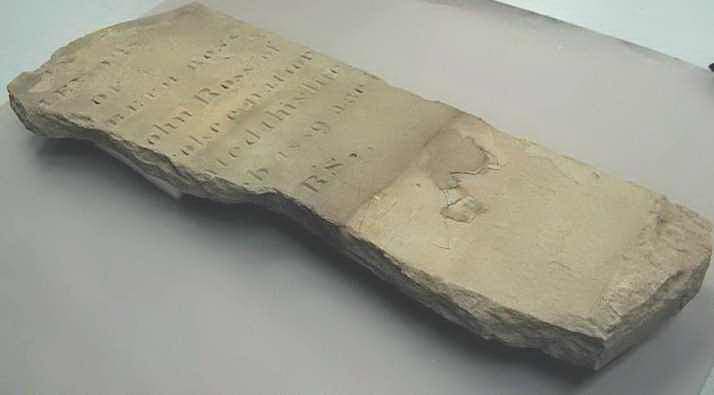 Photo of Elizabeth "Quatie" Ross' original grave provided by Historic Arkansas Museum.
Her remains were later moved to Mount Holly Cemetery. Some historical accounts indicate that Albert Pike was responsible for the new grave, laying Quatie to rest in his own family plot. And while her original headstone would eventually go missing, Quatie's resting place has been well cared for throughout the years. New grave markers were added by the United States Daughters of 1812 and the Continental Society of Daughters of Indian Wars. A piece of her original grave marker was discovered in 1996 during an excavation and put on display at the Historic Arkansas Museum. Arkansans' interest in Quatie Ross continues. In 2006 the Arkansas Archeological Survey scanned the grounds of Mount Holly and discovered that Quatie's final resting place might actually be nearby her grave markers, but not necessarily right beneath them.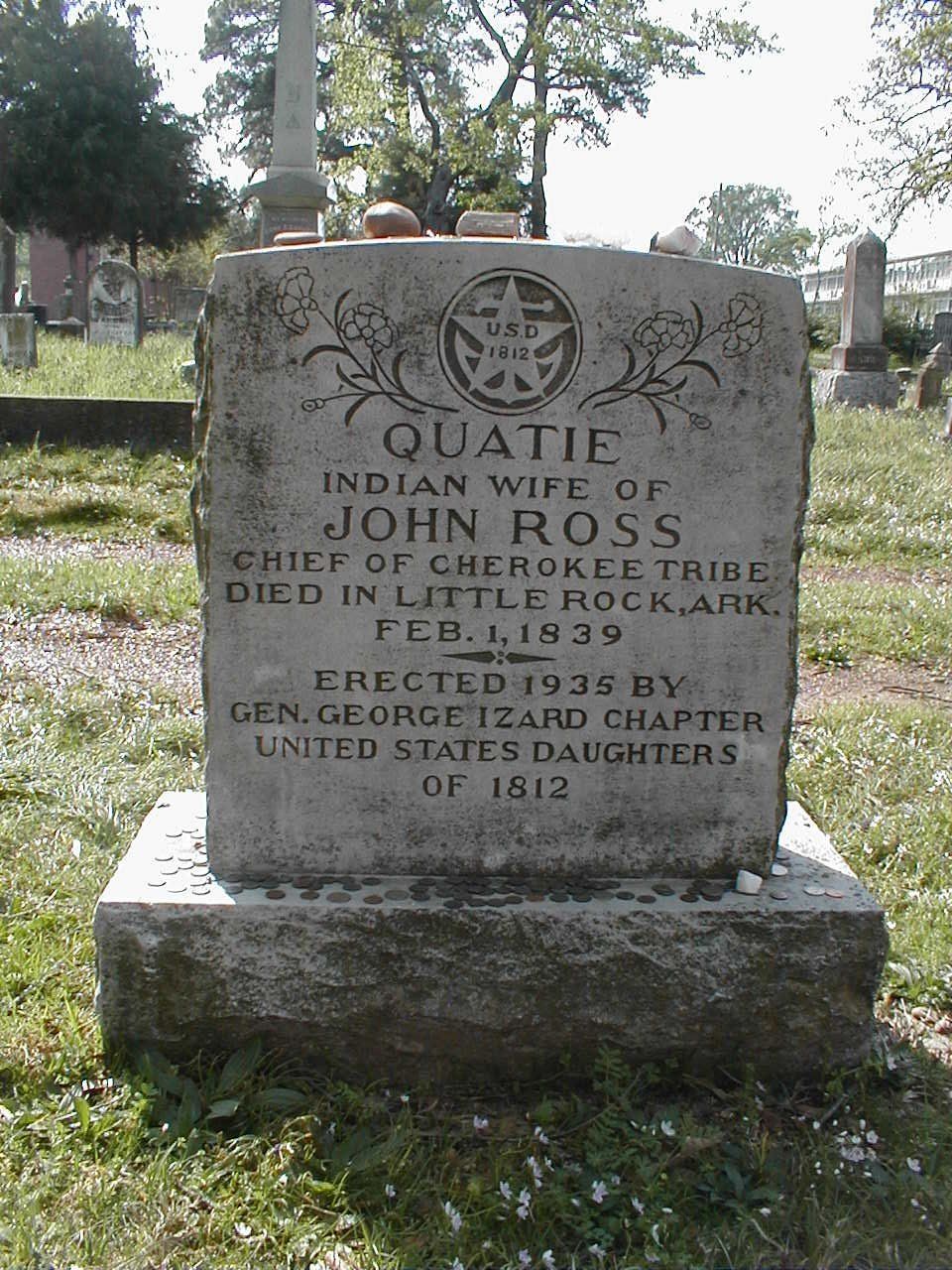 Restored Grave of Quatie Ross
It's well known today that the Trail of Tears was a horrendous injustice committed by the United States Government and Andrew Jackson, resulting in the unimaginable destruction of lives and property. And for Little Rock's 'Indian Princess' it was an ordeal she would not survive. But for those of us who know the story of Quatie Ross, the history of the Trail of Tears becomes a little more real, a little more human. It's easy to view history through a detached lens. Sometimes we need to be reminded of how personal these events really were. We need to be reminded that these were real people, with names, homes, children, lives, and dreams. But for Quatie, and thousands of other Cherokees, the Trail of Tears was the end of a way of life. 
To discover more about Quatie's grave, visit Mount Holly Cemetery. And to find more about Quatie's original headstone, visit the Historic Arkansas Museum.