In 1983 Congress declared the month of April as Child Abuse Prevention Month.  Several Arkansas organizations developed to prevent child abuse use the month of April to bring awareness to the community and raise funds to help victims. Blue ribbons and bows and pinwheels will be everywhere—on lapels, storefronts and houses—to share support.
Check out the many ways your support counts in your area of Arkansas, from running in a race, attending a night with a gold medal Olympian and going to a rally with the First Lady of Arkansas, Susan Hutchinson.
Cherishing Children Pinwheel Rally (Bentonville)
In 2008, the pinwheel was introduced to serve as a national symbol for child abuse prevention. Pinwheels remind us of the whimsical, colorful and carefree world in which children deserve to live.
Join us as we kick off Child Abuse Awareness Month at the Melba Shewmaker Gundersen National Child Protection Training Center at the NWACC campus in Bentonville at 11:30 a.m. for a hotdog lunch and brief program. Then at 1:00 p.m. choose a location to place pinwheels for each confirmed child abuse case at several locations around Benton County.
Venue: NorthWest Arkansas Community College
Date: April 2, 2018
Time: 11:30 – 1:00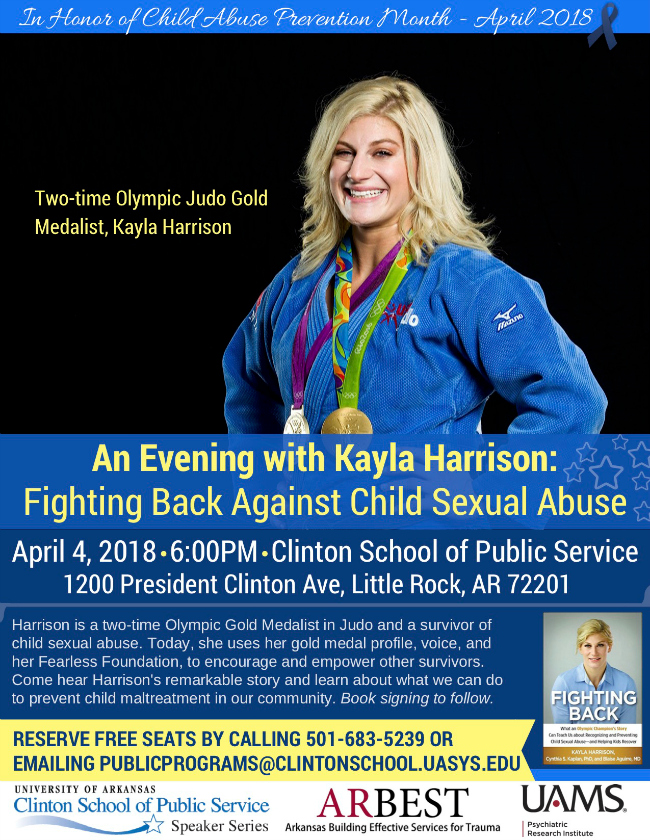 Olympic Gold Medalist to Speak at Clinton School (Little Rock)
Kayla Harrison, a two-time Olympic gold medalist in judo, will be speaking as part of the Clinton School Speaker Series, hosted by Arkansas Building Effective Services for Trauma (ARBEST). Harrison was sexually abused by her coach from ages 12 to 16. She now speaks as an advocate, sharing her struggles and how she overcame them to reach the pinnacle of her sport.
Venue: University of Arkansas Clinton School of Public Service
Date: Wednesday, April 4
Time: 6:00 p.m.
Admission: Free
Contact: Reserve your seats by calling (501) 683-5239 or emailing the Clinton School at publicprograms@clintonschool.uasys.edu.
For more information about ARBEST's role, visit http://arbest.uams.uams.edu or Arkansas Building Effective Services for Trauma's Facebook page.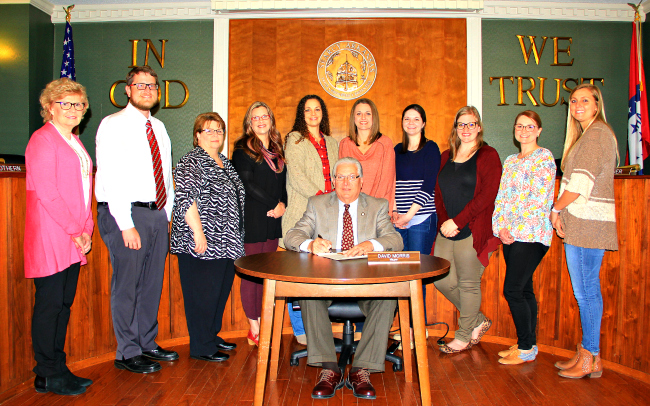 Displaying Blue Ribbons (Searcy)
Surrounded by the Child Safety Center of White County staff and several board members, Searcy Mayor David Morris signs a city proclamation for April Child Abuse Awareness Month. The CSC of White County, which also serves seven surrounding counties, has large blue bows available for local businesses to display throughout April. Contact the CSC for a blue bow. Call 501-278-9321 or email robin@childsafetycenter.org. View more at http://childsafetycenter.org.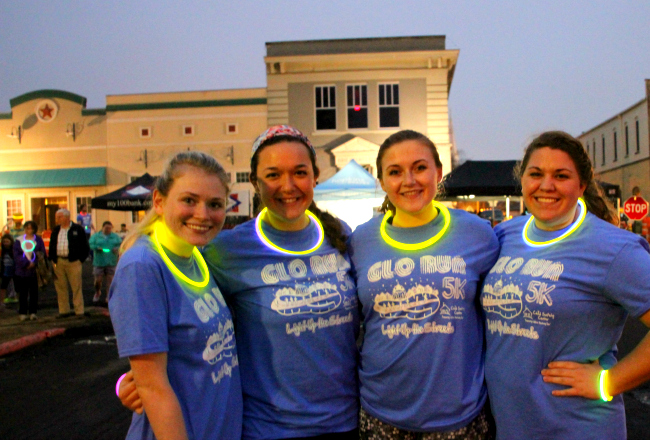 CSC of White County "Light up the Streets" 5K and 1K Run/Walk Glo Run (Searcy)
Music, face painting, bounce house, balloon animals, food and more are available for the 5K route and 1K fun run. Chip timing is available for 5K runners. Medals for winners.
Venue: Searcy
Date: Saturday, April 14
Time: 7:30 p.m.
Admission: $20-$30
Contact: RaceRoster, Facebook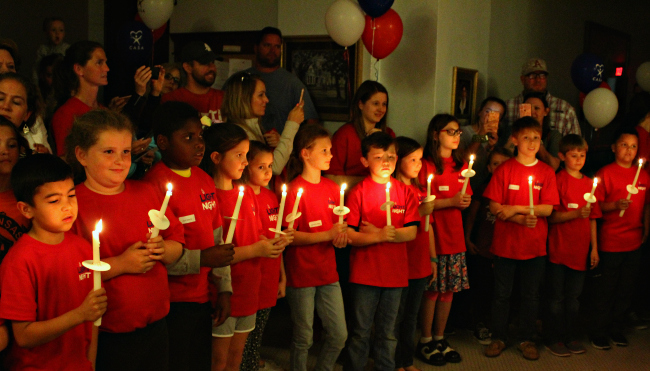 CASA's Annual "Light the Night" event (Searcy)
CASA (Court Appointed Special Advocates) of White County will be hosting its "Light the Night." Third-grade representatives along with their families will be in attendance. Learn more about this issue and what we can do to help families in our community who are struggling.
Venue: White County Courthouse
Date: Monday, April 9
Time: 7:00 p.m.
Admission: None
Contact: (501) 305-3428
The White County CASA 5K Run and 1 Mile Run/Fun Walk (Searcy)
Music, food and activities for kids along with the 5K Run and 1K Run/Walk.
Venue: Spring Park
Date: Saturday, April 28
Time: 8:00 a.m.
Admission: $15-$25
Contact: Online runner registration is now open here.
For more information, go to wccasa.org and Facebook page. To inquire about volunteering, contact them at (501) 305-3428 or at wc.casa.director@gmail.com.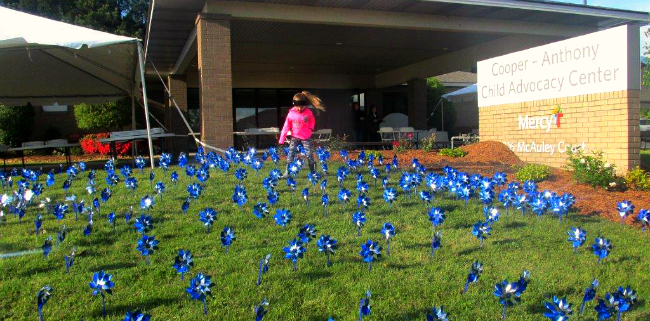 CAMCAC Child Abuse Prevention Rally (Hot Springs)
The Cooper-Anthony Mercy Child Advocacy Center (CAMCAC) will hold its annual Child Abuse Prevention Rally. This community-wide event will have a children's choir and the keynote speaker will be Arkansas' First Lady Mrs. Susan Hutchinson. View more information on their website and Facebook pages.
Venue: 216 McAuley Court
Date: Thursday, April 19
Time: 11:30
Admission: Free
Contact: (501) 622-2531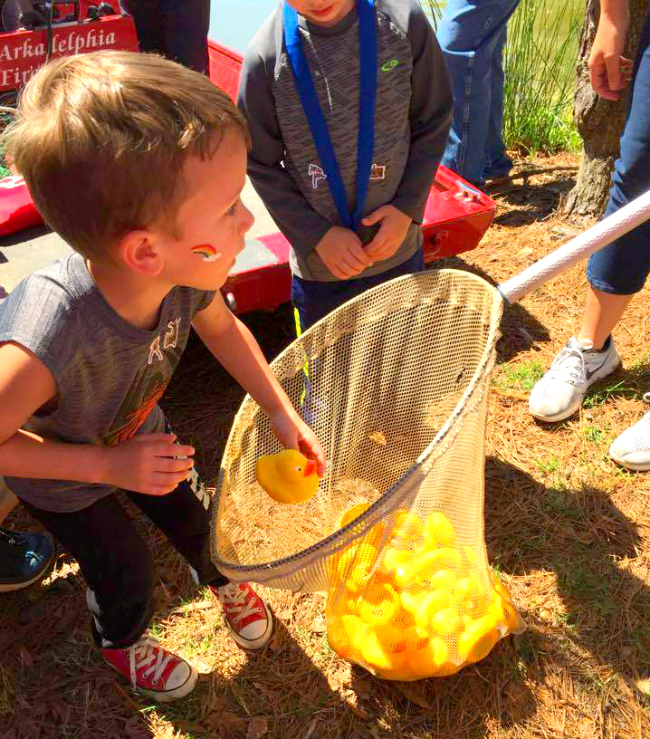 The Duck Derby Festival (Arkadelphia)
The Percy and Donna Malone Child Safety Center in Arkadelphia will be holding their third annual Duck Derby Festival Fundraiser. Music, food, bounce houses, dunking booths, face painting and festival games will also be happening along with the Duck Derby. Great prizes for the winners include a Spa Package, Hot Springs Staycation, and a Fishing Outfitters Package.
Venue: Arkadelphia's Youth Sports Complex
Date: Saturday, April 7
Time: 10:00 a.m.-12:00 p.m.
Admission: $5 for a single duck, 5 for $20, $50 for 12, or $100 for 25
Contact: (870) 403-6879 or visit PDMCSC.org
A pinwheel garden will also be "planted" at the Arkadelphia Town Hall throughout April, honoring the children the center served in 2017.
CAC of Benton County Cherishing Children Glow Run (Downtown Rogers)
Join the fun for a 10K and 5K Glow Run (chipped-time), 1-Mile Fun Walk and 400-Yard Dash.
Venue: Frisco Stage in Downtown Rogers
Date: Friday, April 20
Time: 5:00 p.m.
Admission: $10-$30
Contact: Event Website or Brooke Boles, Director of Development, Brooke@cacbentonco.com
The Children's Advocacy Center of Benton County also has several other planned events that include the following:
Sunday, April 1st – Invitation for the community to turn their porch lights blue to spread awareness and spark conversation about child abuse all month long. Contact: Lindsay@cacbentonco.com
Monday, April 2nd – Cherishing Children Pinwheel Rally & Pinwheel Placement, National Child Protection Training Center at the Northwest Arkansas Community College, Bentonville – 11:30 a.m. Contact: Lindsay Aycock, Development Associate, Lindsay@cacbentonco.com
Friday, April 6th – Wear Blue Day, Invitation for individuals and organizations to make a visible commitment to preventing child abuse by wearing blue.
Hamilton House Child Safety Center (Fort Smith)
Blue Ribbons will be wrapped around light poles along Garrison Avenue in downtown Fort Smith in April. To represent each child the HH Child Safety Center saw in 2017, HH CSC representatives will place pinwheels in front of Mercy Hospital at the corner of S.74th St. and Rogers Avenue on April 5 at 11:00 a.m. The following day, April 4 at 11:00 a.m., they will place pinwheels in front of the Van Buren Learning Center. Contact them at (479) 783-1002 or http://www.hhsafetycenter.org.
Arkansas has 15 regional Child Advocacy Centers and 23 CASA Agencies. Find one in your area along with finding out what your local DHS-DCFS and foster home programs and agencies are doing year round. If you need to report suspected child abuse, you can call the hotline:1-800-482-5964. We can all play a part in saving a child's life.