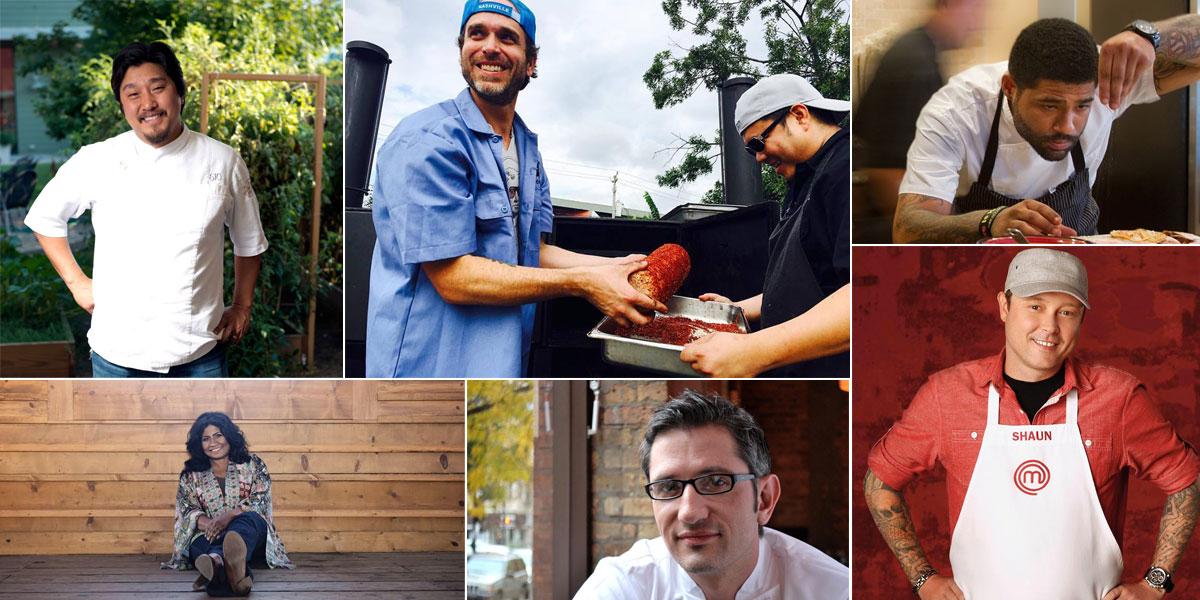 Chefs Edward Lee, Tandy Wilson, Digby Stridiron, Asha Gomez, Merlin Verrier, and Shaun O'Neale, and others will be cooking at Fayetteville Roots Festival this year
The music lineup for this year's Fayetteville Roots Festival was released back in January, but these days, folks get just about as excited about the food at the festival as they do the music.
That's because, in addition, the headliners like Gillian Welch, Turnpike Troubadours, and Josh Ritter are for some, some rock stars of the culinary world are also beginning to turn out for the festival each fall in Fayetteville.
Festival organizers this week announced the lineup of local, regional, and nationally renowned chefs that will be preparing the food at a host of events planned during the 2018 event, set for Aug. 22-26 at various places around Fayetteville and the surrounding area.
One of the food headliners of this year's event is four-time James Beard Award nominee and Top Chef contestant Edward Lee. Lee, who will be leading a master class at Brightwater school in Bentonville on August 24, is the owner of 610 Magnolia, Milkwood and Whiskey Dry restaurants in Louisville, Kentucky, and Succotash in Washington DC. He is also well known as the author of books on food and culture, including Butterfly Graffiti and Smoke & Pickles. Also, Lee was the creative force behind the feature-length documentary, Fermented, one of the official selections for the Seattle International Film Festival last year.

Chefs Darwin Beyer and William Lyle prepare food at a 2017 Fayetteville Roots Festival event. Photo: Meredith Mashburn
Other nationally-known chefs that will be in town to cook at the festival include James Beard Award winner Tandy Wilson (City House, Nashville, TN); Denver-based chef Merlin Verrier (The Next Door, The Kitchen, Denver, CO) who cooked for Obama and Oprah on the presidents 49th birthday; Master Chef season 7 winner Shaun O'Neale; James Beard Award nominee, author, and chef Asha Gomez (Spice to Table, Atlanta, GA), and St. Croix, Virgin Islands chef Digby Stridiron.
Renowned Arkansas chefs set to participate in this year's festival include Jason Paul of Heirloom in Rogers, Matthew McClure of The Hive in Bentonville, and Matthew Bell of South on Main in Little Rock.
Culinary events scheduled for this year's festival include a Roots Chefs Dinner on Aug. 22 at The Hive, featuring chefs Chef Tandy Wilson, Chef Matthew Bell, Chef Matthew McClure and Chef Phoebe Lawless creating a five-course meal with an "Ozarks in the Summer Theme."
That same evening, chefs Chef Merlin Verrier, Chef Digby Stridiron, Chef Anton Abrezov, Chef Jason Paul, Chef Casey Copeland, Chef Justus Moll, and Chef Matthew Cooper will prepare tasting stations at Roots at the Record in Bentonville during the Mavis Staples and Booker T. Jones show.
On Saturday, a new all-day event titled Roots Food & Spirits is planned at Pratt Place at Markham hill featuring more than 30 chefs, both visiting and from around the region, preparing tasting stations, themed tastings, lectures, workshops, guided foraging walks, demonstrations, and other events.
Continue Reading at Fayetteville Flyer