It's almost Halloween, and with the big day falling in the middle of the week next week, many festivities are happening in the upcoming weekend, and some have already begun.
Ghosts, Zombies, Power Rangers, Harry Potter Characters, Witches, Superheroes, and other tricksters. Your time to shine is upon us.
We've compiled a list of all the Halloween-related events we could find in Fayetteville for both children/families and for adults.
Also while you're in the Halloween spirit, you can check out our annual list of Pumpkin Patches we posted earlier this month.
We'll certainly add to this list between now and Halloween, and feel free to add anything we've missed in the comments.
Have a happy and safe Halloween, everyone.
Halloween Events for Kids/Families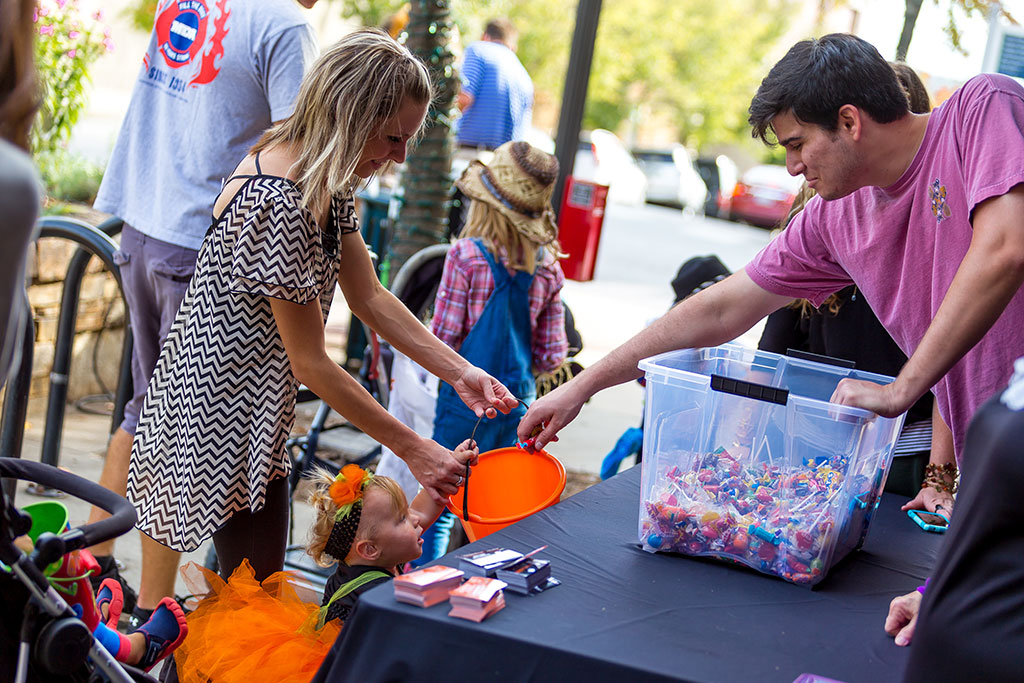 Trick or Treat on the Square / Photo: Todd Gill, Fayetteville Flyer
Modern Mission's Invasion of Zombies
Dates: Oct. 26-27
Hours: 7-11 p.m.
Location: Modern Mission, 3484 E. Joyce Blvd.
More info: Laser tag with zombies. Tickets are $25, available here.
Kid's Haunted House
Dates: Oct. 26-31, 2018
Time: Friday 4-8 p.m., Saturday 1-8 p.m., Sunday 2-6 p.m., Monday 4-8 p.m., Tuesday 4-8 p.m., Wednesday 4-8 p.m.
Location: Gymnastics Joes
More info: Gymnastics Joe's will host a Children's Haunted House this weekend. Admission is $5 per person.
Banshee Manor
Date: Oct. 26-28, Oct. 31
Hours: 7 p.m. – 11 a.m.
Location: Lokomotion
More info: A haunted house inside Lokomotion. Admission is $10 per person.
Halloween Story Time
Date: Saturday, Oct. 27
Time: 10:30 a.m.
Location: Fayetteville Public Library
More info: The young thespians of FPL's PlayAct troupe will put on a gleefully ghostly play guaranteed to make young ghoulies giggle! Following the performance, participants will enjoy spooky stories, a costume parade through the library, and Halloween treats! This event is for the whole family, and stories will be appropriate for preschoolers. Registration is not required. All participants are encouraged to wear their Halloween costumes!
Pumpkin Carving
Date: Sunday, Oct. 28
Time: 3:30 p.m.
Location: Nomad's Music Lounge
More info: Carve a pumpkin, drink a beer, eat a burger! Each ticket purchased entitles you to one pumpkin, use of our carving tools, and a free beer, well cocktail, or non-alcoholic beverage. This is a kid-friendly event.

Banshee Manor, a Haunted House at Lokomotion
Trick-or-Treat on the Square
Date: Wednesday, Oct. 31
Time: 4-6 p.m.
Location: Fayetteville Square
More info: Trick-or-treating event, with merchants on the square handing out candy to kids.
Animal Science Day / Halloween Party
Date: Wednesday, Oct. 31
Time: 5:30 p.m – 8 p.m.
Location: Pauline Whitaker Arena
More info: Free Animal Science Dept. event featuring food, games, animal demonstrations, costume contests for the whole family (including the dog), a haunted house, trick or treating, petting zoo, and more
Halloween Candy Buy Back
Date: Nov 1-2
Time: 8:30 a.m.-noon, 2-4 p.m.
Location: Beavers & Broomfield Family Dentistry
More info: Through Operation Gratitude, Beavers & Broomfield will ship all candy collected overseas to our military members! Bring in that candy you didn't want and each child will receive $1 per pound.
Fall Family Scavenger Ride
Date: Saturday, Nov. 3
Time: 10:30 a.m.
Location: Lewis & Clark Outfitters
More info: The Fall Family Scavenger Ride is a fun bicycle event, designed for families with young kids. Participants will start at our Springdale location and will be given a series of clues that will guide them along the Razorback Greenway trail and compete in a series of games/challenges, with the completion of each challenge taking them down the trail to the next.
Expect to cover about 7 – 8 miles on your bicycles on relatively flat terrain for most of the ride. There will be one hill to navigate up and down. The event will last approximately 1.5 to 2 hours. The entire challenge will be along the paved trail, and the only portion on the roads will be right in front of the store. Kids aged 6-7 years old should be able to ride the entire route.
Halloween Events for Grown Ups
Beat Bachs Halloween Dance Party
Tavern Trivia – Halloween Edition
Date:
Wednesday, Oct. 24
Time:
8 p.m.
Location:
Smoke & Barrel
More info:
Halloween-themed trivia show
Beat Bachs Halloween Dance Party
Date:
Friday, Oct. 26
Time:
9:30 p.m.
Location:
Pinpoint Fayetteville
More info:
Annual costume party and dance party thrown by Bo Counts (a.k.a Beat Bachs). Featuring performances by a who's who of the local DJ scene, including Beat Bachs, of course. Bo goes all out with his parties, and will completely transform the space with decorations. It's always pretty crazy. Admission is $10 or $25 for R.I.P.'s (get it)
Fright Night
Date: Friday, Oct. 26
Time: 9 p.m.
Location: Axis Lounge
More info: Costume party, music by DJ m.bolez, Medulla Music, and MP3J Munster.
Halloween Costume Party
Date: Friday, Oct. 26
Time: 10:30 p.m.
Location: Club Lush
More info: Halloween party, costume contest with a cash prize
A Very Wonka Halloween at Maxine's
Date: Oct. 26-31
Location: Maxine's Tap Room
More info: Maxine's is getting all dressed up for Halloween again. This year's event features a Willy Wonka and the Chocolate Factory-themed party, light up dance floor, performances by DJ Clunk, and more.
Artinfusion Halloween in the Hollow
Date: Saturday, Oct. 27
Time: 9 p.m.
Location: Crystal Bridges Museum of American Art
More info: Artinfusion's annual Halloween in the Hollow! This year's party will include music by DJ Werewulf, Haunted Trail Tour with ArkansasStaged
Live Mural Painting by Yatika Fields, Interactive Tarot Reading by Elisa Harkins, NWA Magic Mirror Photobooth, Pumpkin Patch – Carve and Decorate, Gallery performances by 1491s, Mystic Readings and more.
JBGB Halloween Party
Date: Saturday, Oct. 27
Time: 7 p.m.
Location: JBGB
More info: Halloween party, costume contest with cash prizes for various categories
90s Halloween Jam
Date: Saturday, Oct. 27
Time: 9 p.m.
Location: Red Light Lounge
More info: 90s themed Halloween party, costume contest with cash prizes for various categories
Scarpino Halloween Party
Date: Saturday, Oct. 27
Time: 10 p.m.
Location: Teatro Scarpino
More info: Dance party, costume contest, music by DJ Ty Walker
Continue Reading at Fayetteville Flyer