Enjoy live music and performances, decorate a gingerbread house, or dig out your Ugly Christmas Sweater. Marvel at the light displays or cheer on the Lady Razorbacks gymnastics team! If you love eggnog, you should check out the nog-off and if you love singing check out caroling in the forest this weekend in Arkansas. Have a jolly weekend!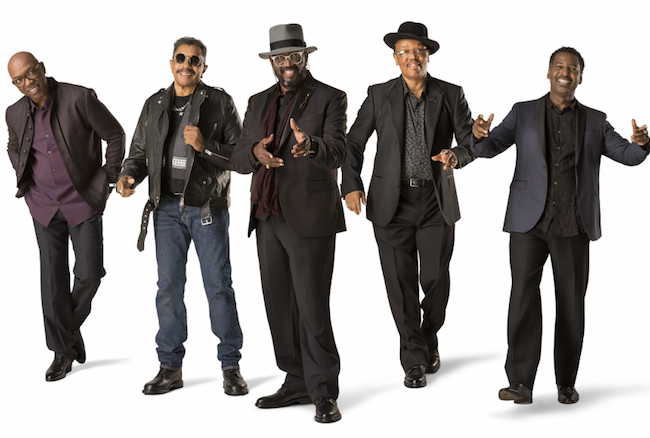 The Legendary Temptations Christmas Tour (El Dorado)
Murphy Arts District is excited to announce a holiday performance by the legendary Temptations, iconic representations of the Motown experience responsible for some of biggest hits in American pop and soul music!
Venue: Griffin Music Hall
Date: December 14
Time: 8 p.m.
Admission: Tickets Required-Click Here for Prices
Contact: Click Here
It's a Wonderful KLIFE Fun Run (Searcy)
Throw on a Christmas sweater or elf ears and come out to celebrate the holiday season and support Searcy KLIFE! This year enjoy burning a few holiday calories in Downtown Searcy, and take part in a festive event that is open to runners and walkers of all abilities. Awards for: Overall M/F (1st, 2nd, & 3rd), Age Group (Under 12, 13-18,19-30, 31-50, 51-70, Over 70) and Best Christmas / Lighted costume!
Venue: Searcy Court Square
Date: Saturday, December 15
Time: 9:30 a.m.
Registration Fee: $30
Contact: Click Here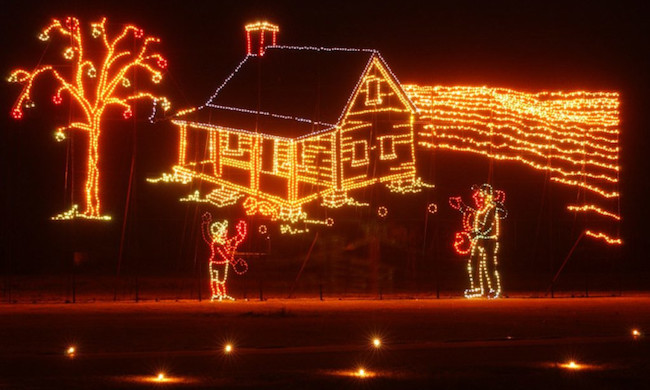 Lights of the Delta
In January 1995, Main Street Blytheville developed an idea to decorate the center of town during the Christmas Holiday Season. Working with dozens of citizen volunteers, money was raised to purchase decorations and light the downtown area. The decorations were a huge success, and Lights of the Delta was established. Over the years, Lights of the Delta acquired large displays from Mr. and Mrs. Charles "Boe" Adams and the Memphis' Inter-Faith Association. In 2006, Lights of the Delta became its own nonprofit organization. Today, Lights of the Delta is the largest Christmas Lighting display in the Mid-South region. With over 6 million lights, 48 + major motion displays and numerous complimentary pieces, Lights of the Delta sits on a 40-acre tract on the former Ecker Air Force Base with lake, trees, and paved roads for a 1 1/2 mile family oriented, holiday experience. Whether it is a visit with Santa, a stop at the souvenir stand, the various types of entertainment, the live nativity on selected nights, or just to see the lights in a car or on a hayride, there is something for everyone.
Venue: 1405 Air base Highway, Gosnell, AR
Date: November- 19th- December 27
Admission: Cars, trucks, vehicles up to 12 passengers: $10.00, Small buses: $25, Full-size buses (church, school, charter, etc.): $50
Contact: Click Here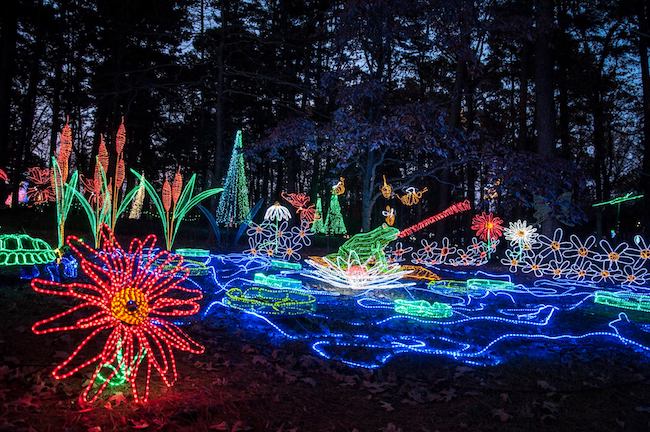 Hot Springs Garvan Woodland Gardens Holiday Lights Event (Hot Springs)
Garvan Woodland Gardens in Hot Springs annual Holiday Lights event continues through New Year's Eve (closed Thanksgiving and Christmas days). Holiday Lights is an outdoor light experience like no other. Covering 18 acres of the 210-acre Garden, it is an incredible way to view the Garden in a whole new light. It's a celebration of the Garden spaces with light, as well as an exceptional way to build wonderful family traditions. Main features include the wrapped trees and natural Garden of the Pine Wind, the 50-foot musical animated Rose Tree, James the Train for kids, the Parterre Garden, the whimsical frozen area with ice dandelion meadow, Ice Palace and more, as well as beautiful Anthony Chapel with free concerts (check website HERE for events).
Venue: Garvan Woodland Gardens
Date: Open Daily (Closed on Christmas Day)
Time: Garden gates will open at 3 p.m. daily
Admission: $15 adults , $5 ages 4-12,  free ages 0-3
Contact: Click Here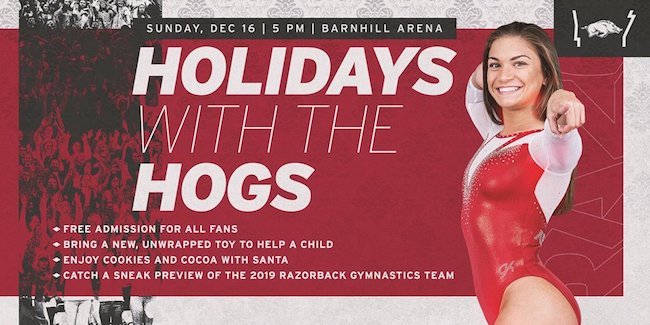 Photo Credit: Arkansas Razorbacks Gymnastic Events
Holidays with the Hogs Gymnastics Intrasquad Meet (Fayetteville)
The Razorbacks Gymnastics team will host an open intrasquad meet and toy drive dubbed Holidays With The Hogs on Sunday, December 16 beginning at 5 p.m. inside Barnhill Arena. The meet will be free and open to the public with doors opening at 4 p.m. Fans are encouraged to enter through the south entrance facing the Bev Lewis Center. The meet marks the first time this season that Arkansas will perform full routines on all four events while being judged in front of fans inside Barnhill. Fans can bring a new, unwrapped toy to benefit children in the Northwest Arkansas area. Before the meet, fans of all ages can enjoy cookies, cocoa and photos with Santa beginning at 4 p.m.
Venue: Barnhill Arena (1295 S Razorback Road)
Date: December 16
Time: 4 p.m.
Admission: Free
Contact: Click Here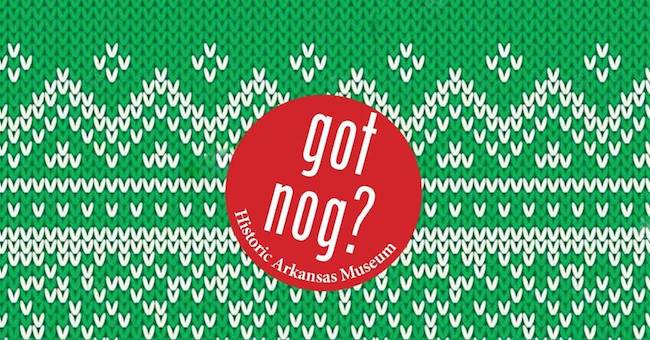 14th Ever Nog-Off (Little Rock)
Paving the way for "knockoff Nog-offs" across the country, the very first Nog-off ever is celebrating its 14th year! The original Nog-off, the friendly competition for the best eggnog in town, is back with some familiar and winning favorites, along with new competitors hoping to make their culinary mark. Three awards will be given: The People's Choice Award, our guests' very favorite eggnog; The Taster's Choice Award, awarded by our celebrity panel of nog aficionados; and for the untraditional favorite—the Not Your Great, Great, Great Grandfather's Eggnog Award.
Venue: Historic Arkansas Museum
Date: December 14
Time: 5 p.m. — 8 p.m.
Admission: Free
Contact: Click Here

Ugly Sweater Race  (Little Rock)
Dig out that ugly holiday sweater! You'll have a use for it come this December! The Ugly Sweater Race holiday-themed race hosted by the Little Rock Marathon.  It is a family-oriented fun run that celebrates the best of the holiday season with a healthy dose of physical fitness.   The goal is to provide a fun, safe, and family-oriented way for participants to enjoy the holidays.  Create a new family tradition.
Venue: Outlets of Little Rock
Date: December 16
Time: 8 a.m.
Admission: Free to watch,  $35 to be a 5k participant, $20 to be an Elf Dash participant
Contact: Click Here
Christmas Bird Count (Wynne)
Head to Village Creek State Park for the annual Christmas Bird Count. This count is part of a volunteer-led, nationwide data collection event that helps scientists to monitor bird populations. This is an important conservation project that can be performed by birders of all skills. Contact the park to sign up and help the birds!
Venue: Village Creek State Park
Date: December 14
Admission: Free
Contact: 870-238-9406
OWLS -Nature Explorations (Russellville)
The Arkansas River creates many recreational opportunities for us to enjoy. Join Lake Dardanelle State Park staff for O.W.L.S. (Outdoor Women Learning Skills), a program series designed to give ladies the opportunity to explore the available recreation at Lake Dardanelle and the surrounding area, by learning skills and knowledge needed to enjoy nature. The series is one evening a month for six months; you can come to one or come to them all. Each month we will cover a new topic. Preregistration is required for each date and includes dinner.
Venue: Lake Dardanelle State Park
Date: Varies
Time: Varies
Admission: $20/ person
Contact: 479-967-5516
Geminid Meteor Shower Watch (Greenbrier)
Take time for reflection at this busy time of year. The night skies of Woolly Hollow State Park are the backdrop for one of the most spectacular meteor showers of the year.  At its peak — 90 to 120 meteors each hour. Head to the beach for a beautiful vista as the shooting stars fly into view. Bring lawn chairs or a blanket, warm clothes and water.
Venue: Woolly Hollow State Park
Date: December 14
Time: Evening
Admission: Free
Contact: 501-679-2098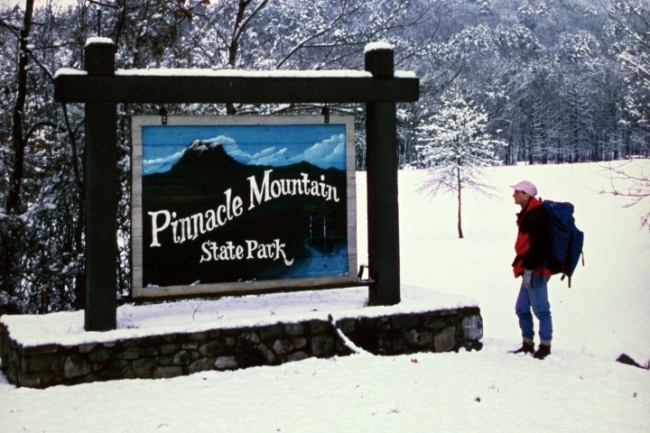 Caroling in the Forest (Little Rock)
Head to Pinnacle State Park and meet at the Kingfisher Trail to stroll into the forest, and sing your favorite Christmas carols along a paved trail. Bring a flashlight and your best singing voice. Visit with everybody afterward as hot chocolate is served around a campfire at the pavilion. This fun family activity has quickly become a tradition!
Venue: Pinnacle State Park (Kingfisher Trailhead) 11901 Pinnacle Valley Road
Date: December 15
Time: 7 p.m.
Admission: Free
Contact: 501-868-5806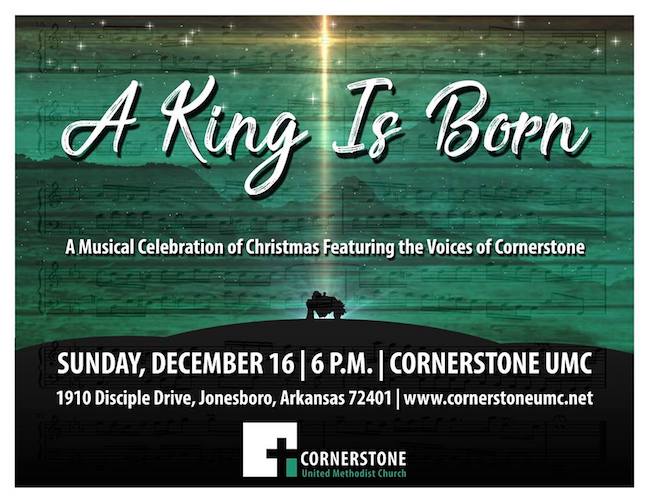 A King is Born: A Musical Celebration of Christmas (Jonesboro)
A musical celebration of Christmas featuring voices and musicians of Cornerstone UMC!
Head to Jonesboro to hear some favorite Christmas songs and new tunes this season! The chancel choir, children, handbell ensemble, and band members will all be sharing their musical gifts as everyone looks forward to the birth of Christ! A cookie reception will follow the musical performance.
Venue: Cornerstone United Methodist Church
Date: December 16
Time: 6 p.m.
Admission: Free
Contact: Click Here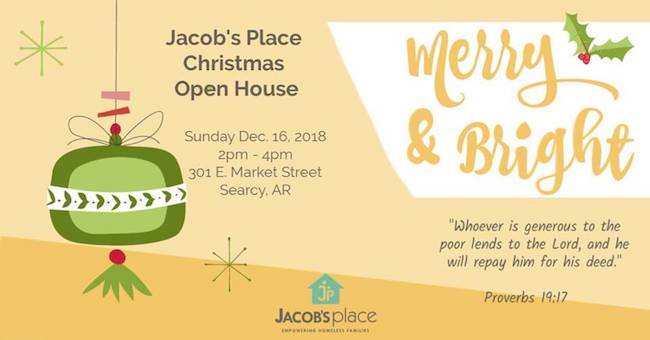 Jacob's Place Christmas Open House (Searcy)
Jacob's Place seeks to provide a hand up, not a hand out to families with children experiencing homelessness in White County. Visit their Christmas Open House to see the home and learn about their mission.
Venue: Jacob's Place Homeless Mission (301 E Market Ave, Searcy)
Date: December 16
Time: 2 p.m.
Admission: Free
Contact: Click Here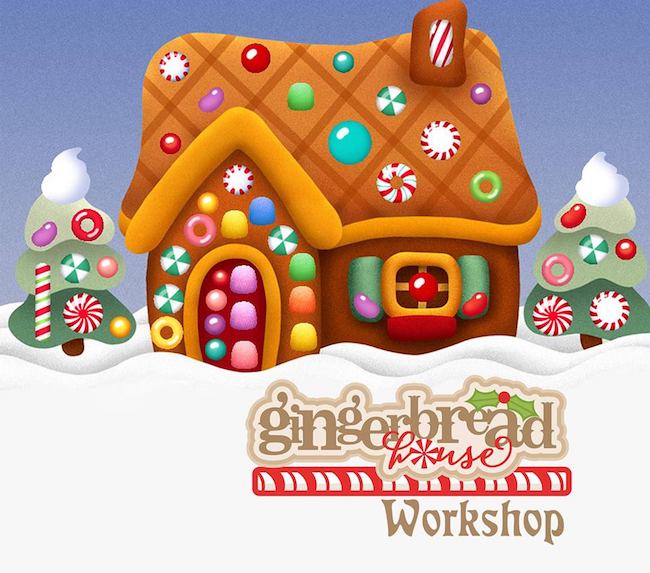 Gingerbread House Workshop (Rogers)
Join the holiday fun with Young Chefs Academy as they share decorating tips and tricks to bring your one-of-a-kind, sugarcoated gingerbread house to life!
Venue: Young Chefs Academy of Rogers (5208 Village Parkway Suite 6)
Date: December 14
Time: 4 p.m.
Admission: $40 per participant or $75 if you plan to attend with your child (2 participants)
Contact: Click Here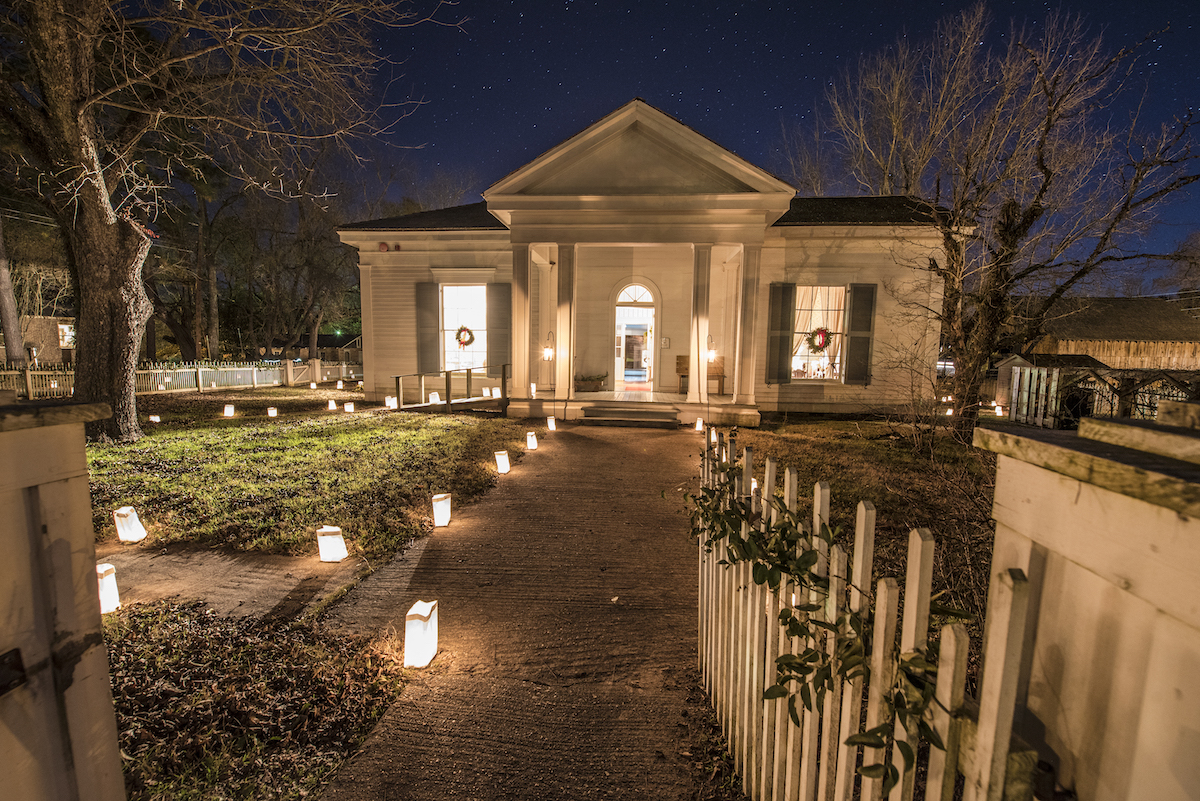 Photo Credit: Arkansas Parks and Tourism
Christmas and Candlelight  (Washington)
You and your family will be in awe of the natural beauty that candlelit streets provide as you stroll through our historic village. Decorations, music, and more set the mood for your historic holiday experience. The homes of yesterday are adorned with historic period decorations of pine cones, grapevines, magnolia, and evergreens. Daylight tours are from 1-5 p.m. Candlelight tours begin at 5 p.m. when thousands of luminaries will be lit and will continue until 8 p.m.
Venue: Historic Washington State Park
Admission: $10 adults, $6 children ages 6-12
Contact: Click Here