The weather is turning GREAT here in Arkansas and that means everyone is heading outdoors. Toads are hopping, crawfish claws are snapping and the burners are firing up on a fleet of hot air balloons. Every weekend there are lots of festivals and educational activities to choose from as well as live entertainment and arts. Arkansas has something to offer for everyone!  Where do you see yourself this weekend?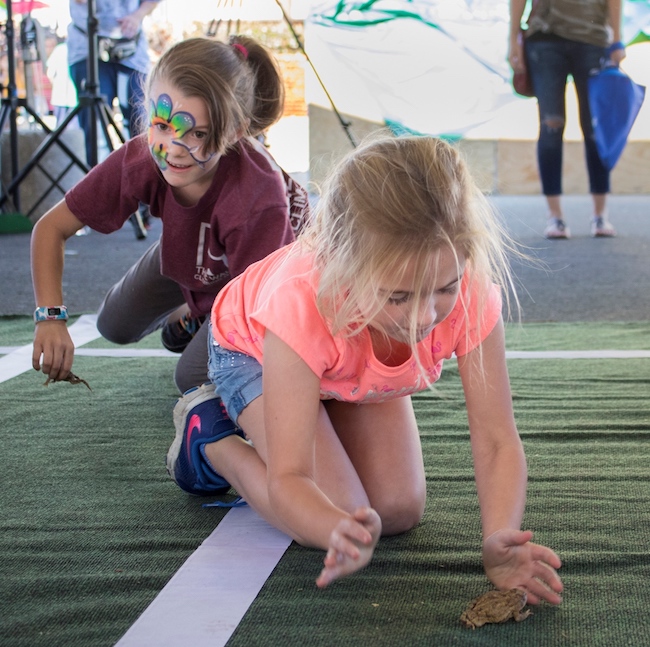 37th Annual Toad Suck Daze (Conway)
In its 37th year, Toad Suck Daze is one of the largest and most awarded festivals in the state. It is a free admission family festival and activities include live music, the Toadal Kids Zone, arts and crafts, concessions, a carnival, a 5K/10K race, and of course the World Famous Toad Races. In addition, the festival supports education in Faulkner County, donating more than $1.7 million to this cause.
Venue: Downtown Conway
Date: May 4th- May 6th
Time: Varies
Admission: Free
Contact: Click Here for details and schedule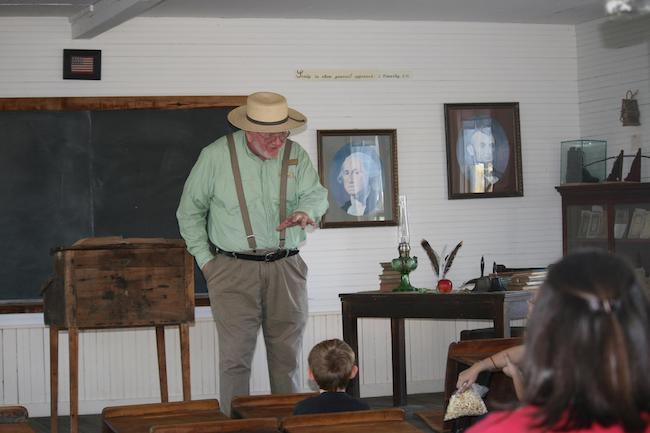 10th Annual Pioneer Village Spring Fest (Searcy)
This event includes costumed town characters, Civil War soldiers, pioneer crafters, chuck wagon cooking, live music, farm animals, square dancing, clogging, food, and pioneer demonstrations set in a collection of late 19th century buildings. You can also see farm equipment and other items of historic interest that have been saved from throughout White County by the White County Historical Society.
Venue: Pioneer Village
Date: May 5th- May 6th
Time: 10:00 am- 4:00 pm
Admission: Free
Contact: Click Here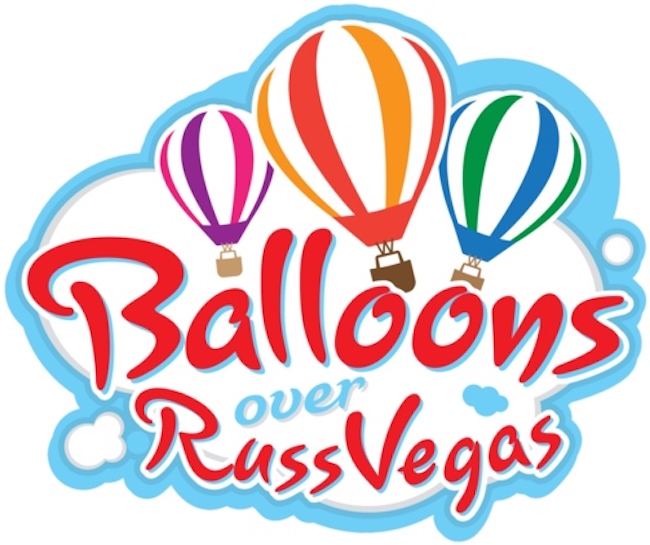 Balloons Over RussVegas (Russellville)
See more than 20 hot air balloons, take a hot air balloon, helicopter or powered parachute flight, and enjoy much more family fun. There is no admission fee, however, fees are required to participate in certain activities. 
Venue: Russellville Soccer Complex
Date: May 4th- May 6th
Time: Varies
Admission: Free
Contact: Click Here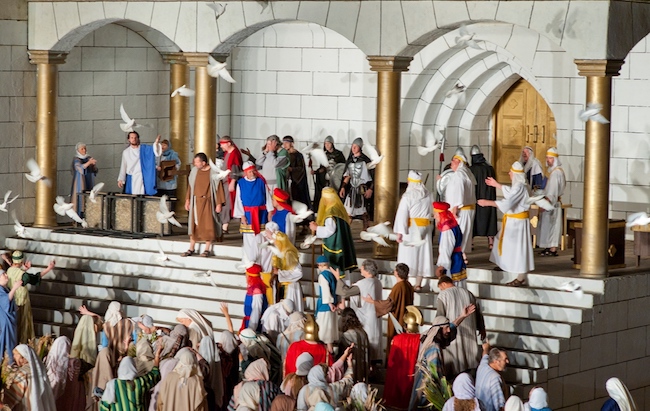 50th Annual Great Passion Play Opening Night (Eureka Springs)
The Great Passion Play takes you back 2,000 years to "The Greatest Story Ever Told." The Play is a reenactment of the last week of the life of Jesus Christ.
Venue: Great Passion Play (935 Passion Play Rd. Eureka Springs)
Date: May 4th
Time: 8:30 pm
Admission: 27 adults, $17 youth, $13 kids
Contact: Click Here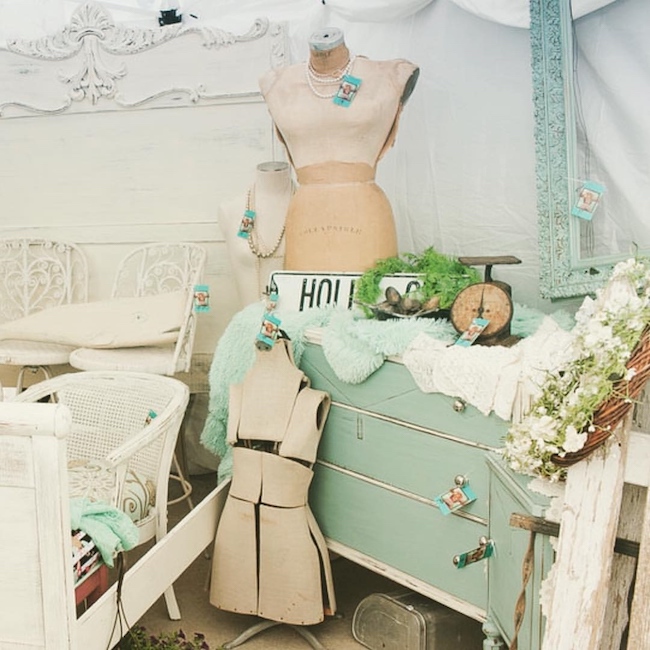 Vintage Market Days (Little Rock)
An upscale vintage-inspired indoor/outdoor market featuring original art, antiques, clothing, jewelry, handmade treasures, home décor, outdoor furnishings, consumable yummies, seasonal plantings and a little more
Venue: Outlets of Little Rock
Date: May 4th- May 6th
Time: 10:00 am – 4:00 pm
Admission: $10 Friday, $5 Saturday/Sunday; ages12 & Under are Free
Contact: Click Here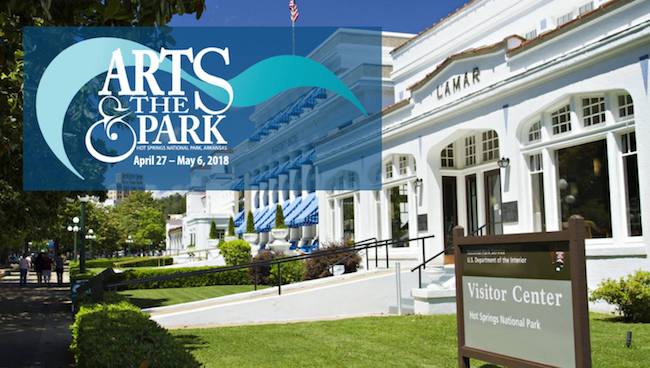 Arts & The Park (Hot Springs)
The Hot Springs Area Cultural Alliance (HSACA) is pleased to announce the return of Arts & The Park. This is a ten-day celebration of the arts in Downtown Hot Springs National Park, Arkansas. HSACA is excited about showcasing the thriving talent of local and statewide visual artists, musicians, dancers, poets, jewelers, potters, performers, authors, glass makers, sculptors and more in the events that will be held during Arts & The Park 2018. There will be numerous arts events throughout the 10 days, including artist demonstrations at downtown galleries, artist workshops for all ages, poetry readings, concerts and more. On Saturday, May 5th and Sunday, May 6th, Arts & The Park 2018 will close out with Art Springs, a free two-day outdoor juried art festival and showcase bursting with fine artists and artisans, held at Hill Wheatley Plaza in historic downtown Hot Springs.
Venue: Historic Downtown Hot Springs
Date: May 5th- May 6th
Time: Varies
Admission: Free
Contact: Click Here for a schedule of events and details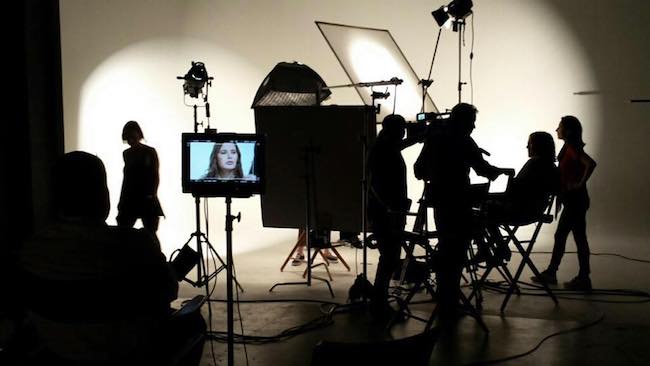 Bentonville Film Festival
Co-founded by Academy Award winner Geena Davis and Inclusion Companies CEO Trevor Drinkwater, the festival is a one of a kind annual event that champions inclusion in all forms of media. The year-long platform is culminating with an annual six-day festival. 
Venue: Downtown Bentonville
Date: May 1st- May 6th
Time: Varies
Admission: Varies
Contact: Click Here for details and schedule

Downtown Arkadelphia Crawfest
This family-friendly event is free and open to the public. The crawfish boil starts Friday evening in downtown Arkadelphia. The evening will feature a crawfish eating contest, live entertainment, vendors, plenty of kids activities, and much more. On Saturday, the Crawfish Crawl 5K and 10K and Southern Bancorp Andy Allison Super Kids Fun Run will be held. 
Venue: Downtown Arkadelphia
Date: May 4th- May 5th
Time: Friday May 4th (5:00 pm- 9:00 pm), Saturday (7:00 am- 10:30 am)
Admission: Free
Contact: Click Here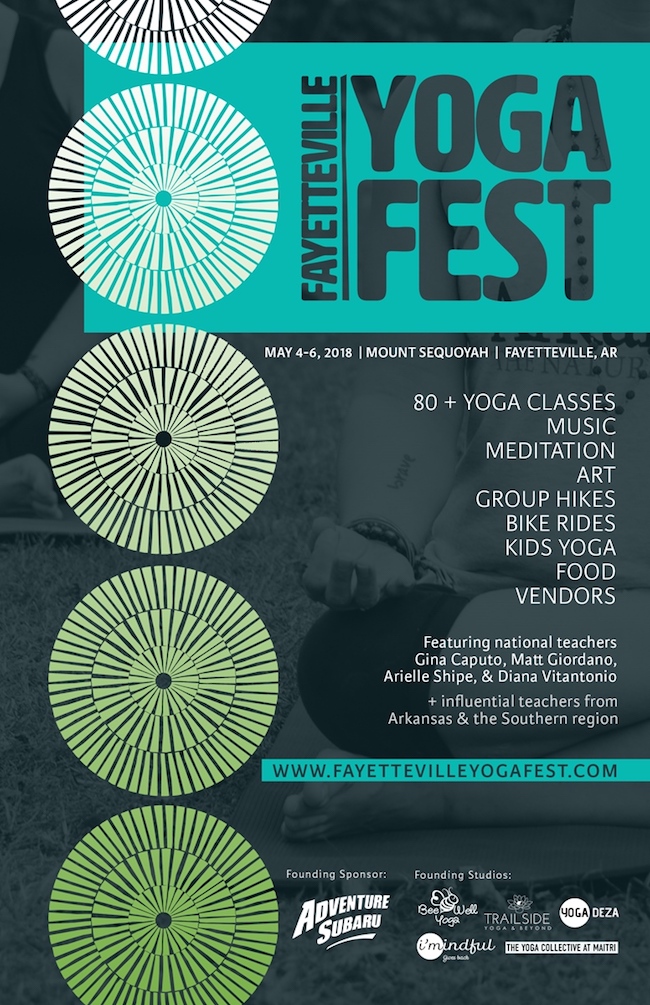 Fayetteville Yoga Fest (Fayetteville)
A three-day festival featuring over 80 activities including outdoor and indoor yoga classes for all levels and age groups. The festival also features meditation, presentations, music, kids yoga, group hikes, discussions and presentations, art, food, and local vendors.
Venue: Mount Sequoyah
Date: May 4th- May 6th
Time: Varies
Admission: Varies
Contact: Click Here for schedule and tickets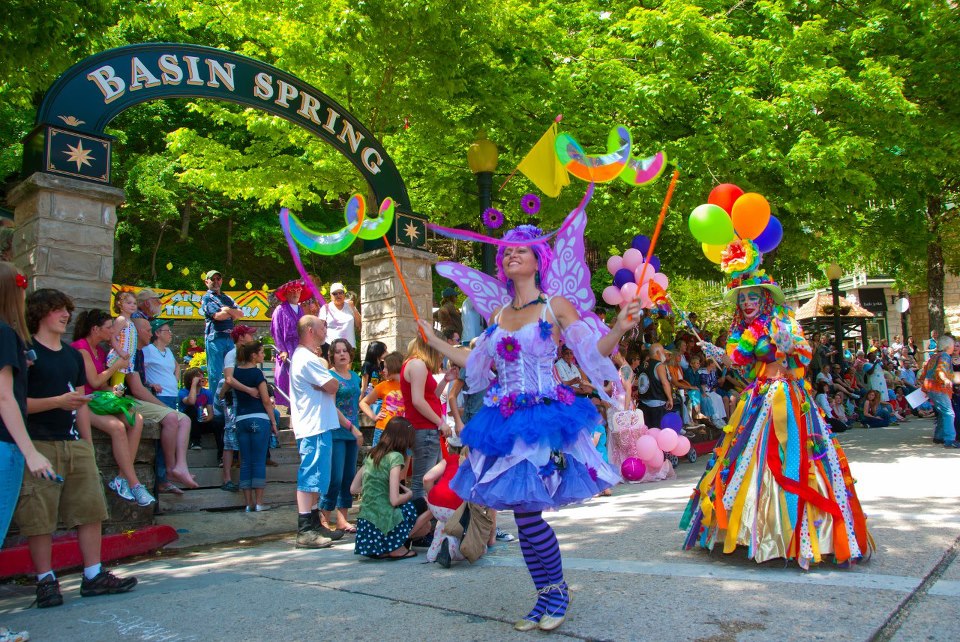 May Festival Of The Arts (Eureka Springs)
To say that Eureka Springs is a colorful community is an understatement. There's an overall creative vibe running through our historic arts village driven by more than 350 working artists in all mediums. During the month of May, we show it all off. Our 31st annual May Festival of the Arts is packed with art exhibits, demonstrations, performances, culinary arts, free music in the park, and a street party thrown by artists. 
Venue: Eureka Springs (Various Locations)
Date: May 1st- May 31st
Time: Varies
Admission: Varies
Contact: Click Here for details and schedule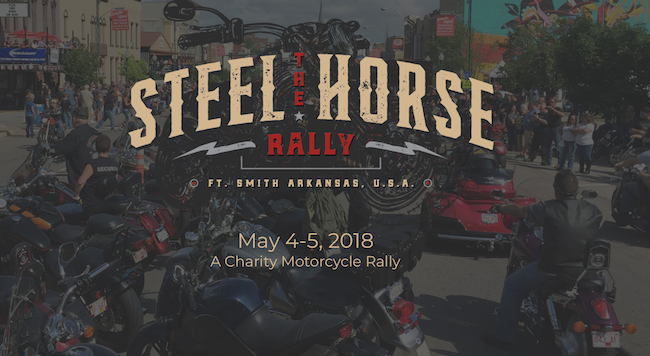 4th Annual Steel Horse Rally (Fort Smith)
A family-friendly motorcycle rally benefiting local charities and honoring all who serve.
Venue: Garrison Avenue
Date: May 4th- May 5th
Time: Friday 10:30- 6:30, Saturday 9:00- 7:30
Admission: Free
Contact: Click Here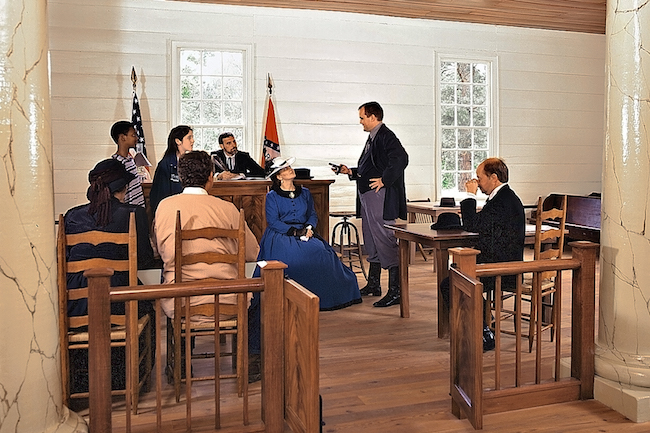 "NEW" Trial By Jury 1880 (Washington)
Experience justice in 1880 Washington as you take part in a new twist on the popular "Trial by Jury" series. This trial is a re-enactment of an actual murder trial that took place in the 1874 Courthouse. A meal at Williams Tavern Restaurant will precede the trial drama that convenes at 7 p.m. in the 1874 Courthouse courtroom. You won't want to miss this!
Venue: Williams' Tavern Restaurant
Date: May 5th
Time: 6:00 pm
Admission: $25 adults, $20 children under 14
Contact: Click Here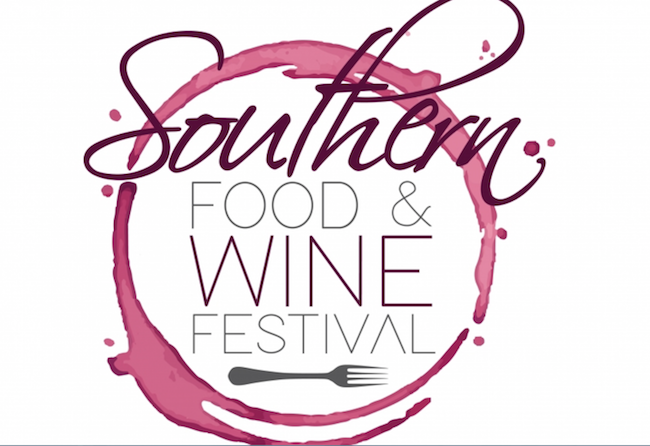 Southern Food And Wine Festival (El Dorado)
The festival will include a multi-winery Grand Tasting at the MAD Amphitheater and will coincide with El Dorado's annual Mayhaw Festival.  There will be several musical performances during the day at the MAD Amphitheater stage. The afternoon wine pour will include renowned wines from around the world. Tickets for entertainment and Grand Tasting are $20. Food will be available for purchase from several food trucks parked around the amphitheater. The grand tasting will begin near the end of the El Dorado Mayhaw Festival and runs until 6 p.m. There will be a performance of Grammy award winner, Jason Isbell and the 400 Unit in the Griffin Music Hall later that evening. Jason Isbell's show will be opened by British guitar legend and singer Richard Thompson. 
Venue: Murphy Arts District Amphitheater
Date: May 5th
Time: 3:00 pm
Admission: $20
Contact: Click Here for a schedule of events and details