Over the last six months or so, we made plans to attend Rendezvous in the Ozarks. We were really excited to finally see an event like this in our neck of the woods.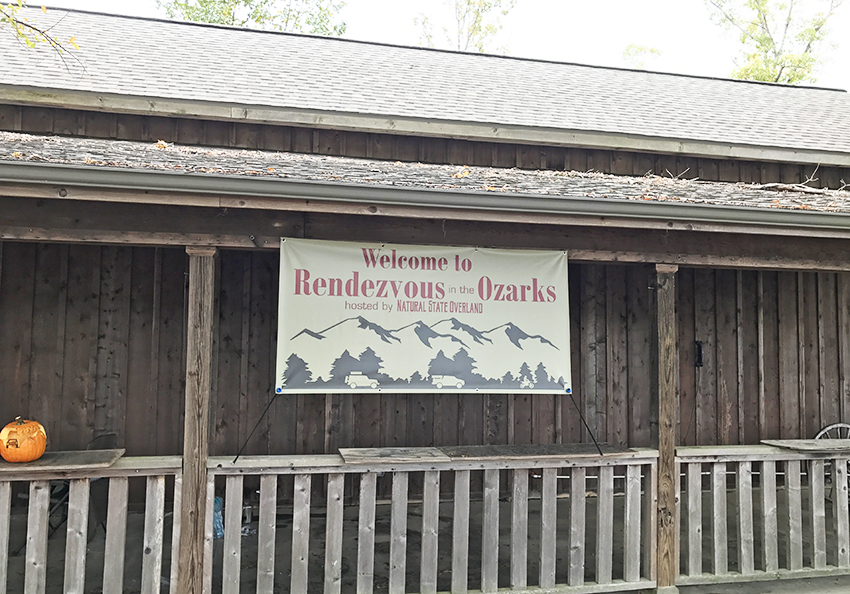 Rendezvous in the Ozarks, organized by Randy Putt of Natural State Overland, is an event geared toward the overlanding lifestyle, and that's not all. To quote…
Natural State Overland is not just about overland style travel, it's a state of mind. It's making a conscious choice to get out and enjoy our beautiful country and to be an active member of the off-road community in support of Tread Lightly principles. We believe by being good stewards of our natural resources and being active in both local and national efforts to keep trails open, we help preserve access to our public lands for future generations.
While work and other commitments kept us from actually camping and attending the entire weekend's festivities this time around (boo!), we still made it down to enjoy at least a day of the event. We came back with all sorts of ideas and a renewed sense of purpose and love for this amazing outdoor lifestyle we enjoy together.
Personally, I love Natural State Overland's list of Top 10 Reasons You Don't Want to Miss This Event, including tall tales of overland adventures around the campfire AND falling asleep to the chirping of the Jeep versus Toyota guys. But there were a LOT of reasons for making sure we made it to the Rendezvous.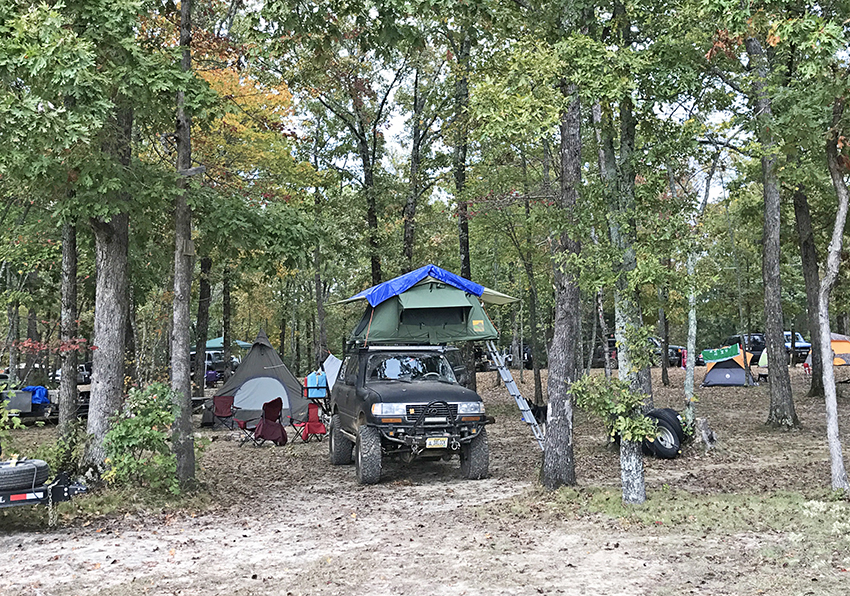 5 Reasons to Attend the Next Rendezvous in the Ozarks
The opportunity to get to know other people who love overlanding just as much as you do…
Let's face it, not everyone is into this lifestyle. Not everyone enjoys camping in the middle of nowhere, away from all civilization, away from all light pollution, away from all people-y noise. And that's ok. But when you find someone who does, it's like finding a "kindred spirit," as Anne would say. It gives you the opportunity to swap stories, share tips, get ideas, and so much more.
Trail rides into the beautiful Ozark Mountains of Arkansas…
There are several opportunities to head out on the trails with fellow overlanders. And if you're a newbie, no worries… There are different levels of trail rides, as well. It's the chance to find new places to explore and maybe even find a few places you had no idea existed. Not to mention the amazing photos of fall foliage you'll come back with.
To learn from others…
While there's something to be said for sharing ideas and swapping stories one-on-one (one of the BEST ways to learn, in my opinion), the Rendezvous also offers the opportunity to learn from scheduled sessions, or classes.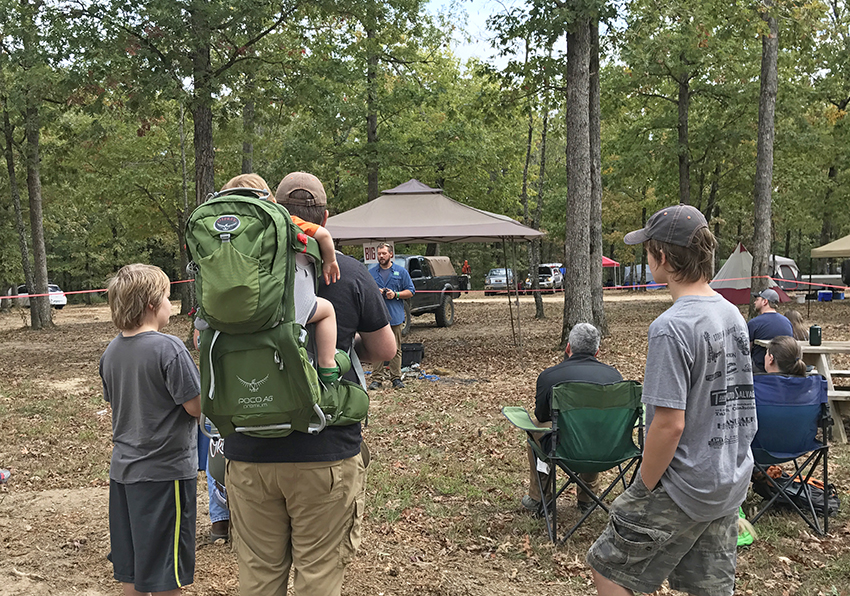 There were so many interesting topics to explore, things like Basic First Aid, Navigation 101, Photography on the Trail, Videography, Dutch Oven Cooking, Trail Comm, Basic Survival Kit, Trip Report, Overlanding 101, Recovery Gear Overview, 4WD System Overview, Basic Winching, Knots for the Trail, and more.
Of course, they also had fun activities for the kids (because whole families attend), like a Pumpkin Carving Contest and a Kids Outdoor Movie.
See other people's builds…
I've shared our camp trailer setup, including our own homemade trailer. Imagine getting together with 100+ other overlanders, many of who have built their own setups, as well.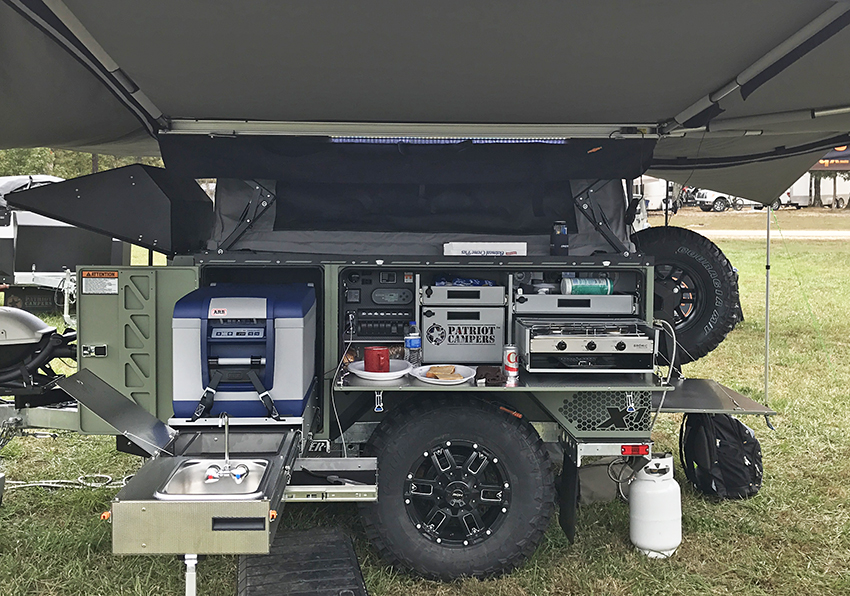 And to see newer rigs, even if they're not homemade… Well, it's inspiring. It's motivating. We drove away from the Rendezvous with so many ideas and possibly even plans to make our setup even better, things to make life easier when we're out on the trail.
This was one of my favorite parts of the entire experience, whether we were walking around the campground looking at different setups, meeting up with online friends to finally see their setup in person, or even chatting with vendors who'd set up camp trailer displays we could look at and examine.
Get to know vendors…
There were several vendors from several different states at the Rendezvous. A few stick out in my mind because I walked away after chatting with them, my mind blown. There are just so many interesting ways to experience the outdoors, whether you're packing all your gear on an inflatable paddleboard and sleeping in a hammock or designing a camp trailer that meets the needs of a family camping with their kids all over the Australian Outback (and wherever else you may roam).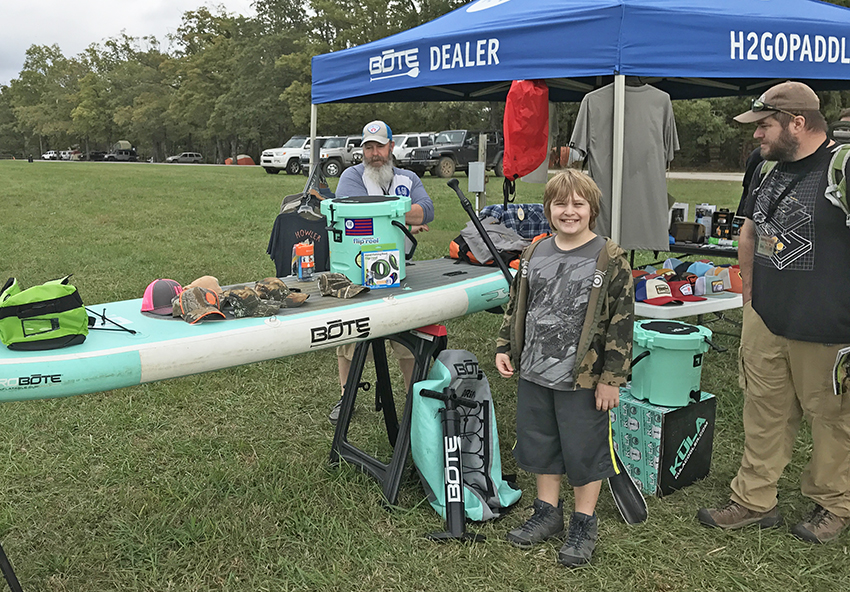 Bonus Reason: Raffles!
Oh yes, there were raffles and loads and loads of prizes, including rooftop tents, gift cards, recovery kits, camping gear, a winch, and so much more. Dan actually won a pretty cool shovel from Quadratec AND a $100 gift card!
For us, Rendezvous in the Ozarks was an opportunity to find others who love spending time in the great outdoors just as much as we do. And like I said, we walked away with so many new ideas and a somewhat fresh perspective on where we're headed with our own overlanding adventures.
Questions? Curious about overlanding and camping the way we do? Ask away in the comments. I'd love to chat!