There is not much that calms my nerves or soothes my soul like a really good cup of coffee. If you are a Java judge like I am, you dig the vibe of a coffee shop and most importantly, appreciate the craft of the cuppa. In my travels across the great state of Arkansas, I have stumbled across some off-the-grid coffee cribs that are most assuredly worth the journey. No longer just a staple of big cities, these small-town coffee shops will make you glad you stopped to savor their beautiful brews.
Nine Off-the-Map Coffee Stops to make you pull over: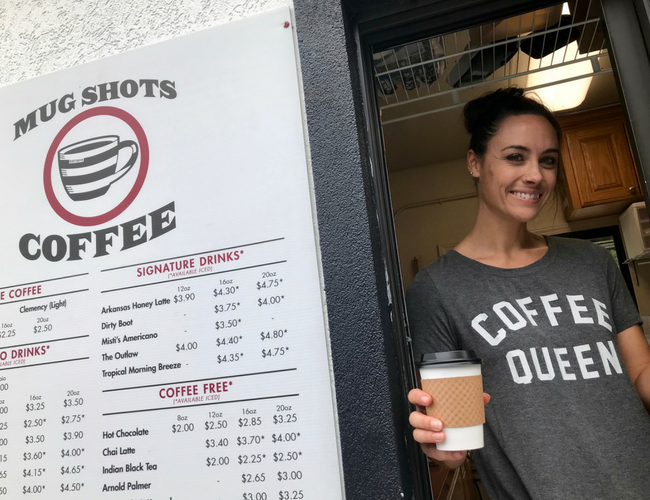 These coffee huts are spot on for morning commuters coming into Hot Springs from Airport Road or on the north side of Malvern on the 270 Bypass. Committed to using locally sourced ingredients, the Mug Shots crew serves Arsaga's roasted coffee and syrups from Pink House Alchemy. Just in time for fall, I highly recommend their signature drink, the Arkansas Honey Latte. Mug House Coffee also serves up Italian sodas, sparkling lemonade, pastries and teas.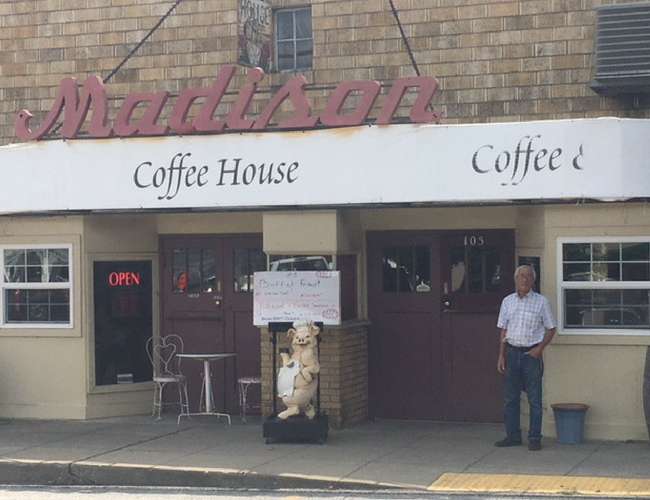 This stop is in the old historic theater on Huntsville's historic downtown. Newly renovated and under new ownership, the menu has been expanded to include breakfast and lunch along with more "coffee flavors than Starbucks." The big pig in front points to the daily lunch special, and the staff is small-town friendly and inviting. Madison Coffee House is a great Wi-Fi spot for travelers and locals alike, and the unique and fun venue can be rented out for private meetings or events.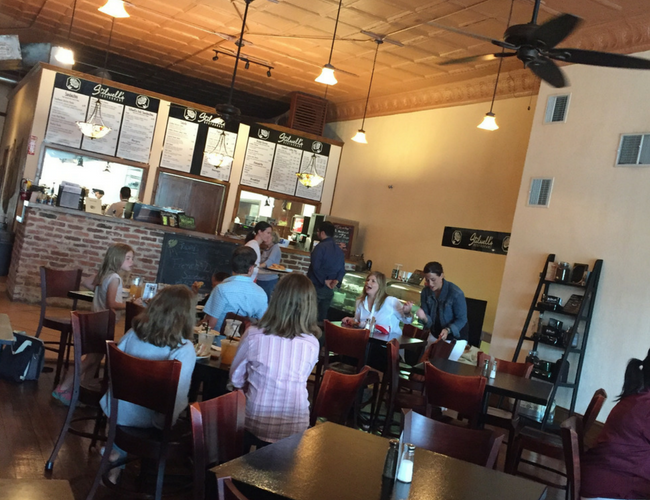 Named for community founder, Arthur Stillwell, this coffee and sandwich shop sits on the square in De Queen, Arkansas. More often than not, it is filled with business and courthouse professionals, students seeking Wi-Fi and a place to study, or community members gathering for meetings and lunch conversation. Stillwell's is open for breakfast and lunch and offers a variety of sandwiches, salads, baked potatoes and a daily special. While you wait, check out the dessert counter and try a hot or iced mezcal or an "Arthur Stillwell."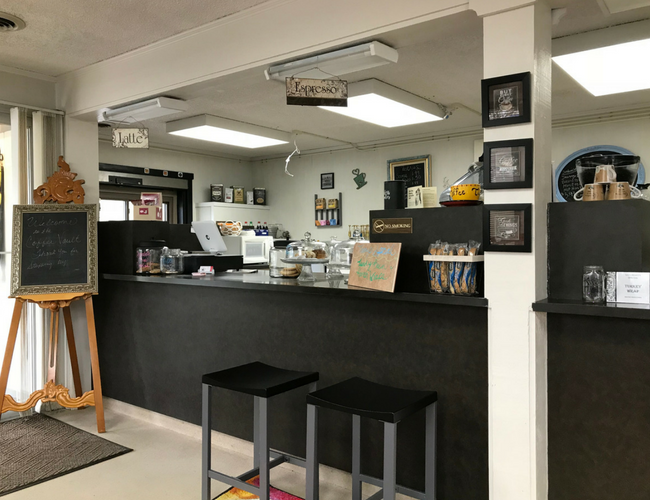 Located in a former bank branch off old Highway 71 in Cove, this stop took me by surprise. With its actual bank vault, the coffee and lunch spot serves a veritable treasury of yummy foods and beautiful brews. Visitors can hold a meeting in the boardroom or secure their coffee in the safe. I loved the Strawberries and Crème coffee which is sure to warm up that Razorback spirit if you are headed north for a football game this fall.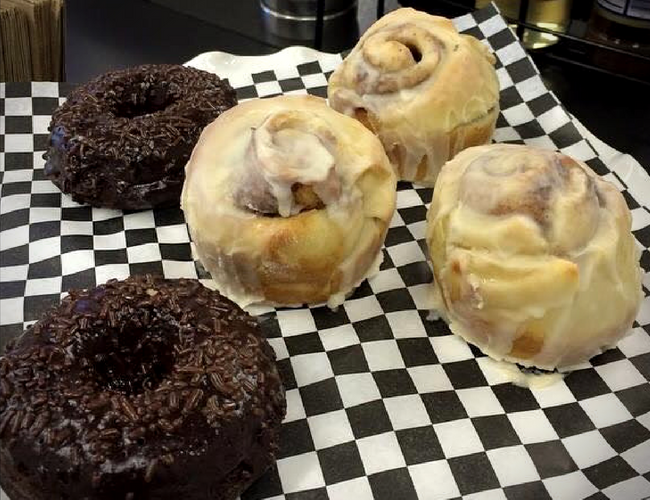 The homemade breakfast pastries at Central Perk are reason enough to detour to Foreman. This former gas station is remodeled, and its cheery 1950s diner design with its high tables is open 7 a.m. to 1 p.m. weekdays. It offers breakfast kolaches, homemade chocolate croissants, hand-iced doughnuts, and cinnamon rolls to dunk in their exceptionally lovely personalized lattes. Central Perk is a divine destination where the people and atmosphere are java-licious. And the pumpkin spice latte is available year-round!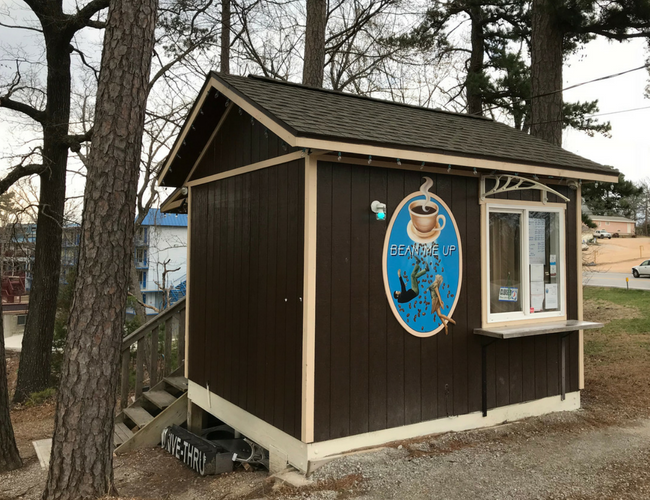 Nestled on a tree-shaded gravel drive in the heart of Eureka Springs, Bean Me Up Arkansas Espresso hut is a quirky and fun drive-up stop that is, arguably, the best coffee in the city. Serving Mountain Bird Roasted beans, the booming barista serves hot, iced and blended beverages. Follow their bright blue signs to hit the drive-thru, and drive away with a cuppa awesome.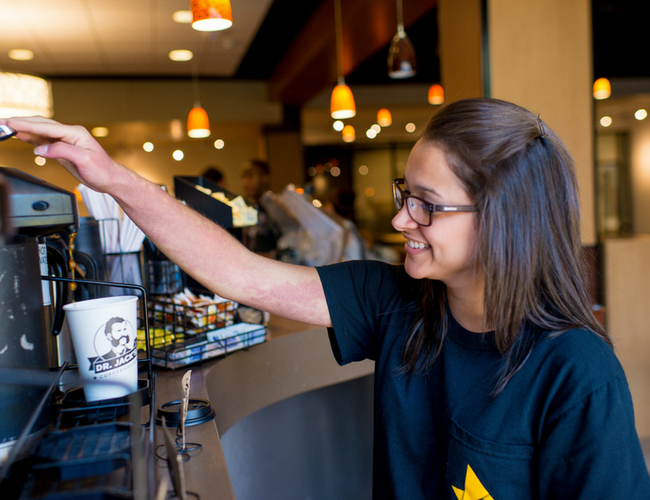 In 2012, a group of Ouachita Baptist students saw a bunch of empty orphanage beds on a Honduras mission trip. Wanting to make a difference, they partnered with two farms in Rwanda and Brazil to cultivate and package coffee beans. Dr. Jack's is located in the Student Center at OBU. Net profits from the coffee shop go to support the Enactus student organization and World Gospel Outreach that help the orphanage. Students also work with orphanage personnel to train administrative staff. It's a great place to rest and look out over the Ouachita River while you work, meditate, read or reminisce. The shop is open to the public and also features live music on Fridays.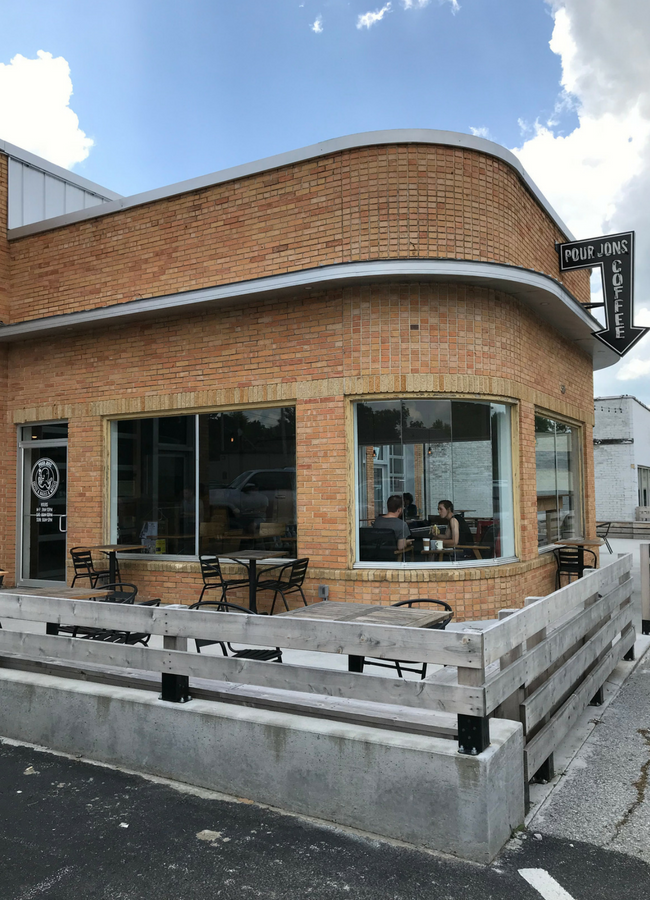 With an urban vibe, this restored building offers a  charming "third space" where community comes together with coffee crafting. A place for the community, the owners dedicate themselves to educating and facilitating the tradition and science of coffee making. Adjacent to John Brown University, it is a place for those looking for relaxation and that perfect cup of joe.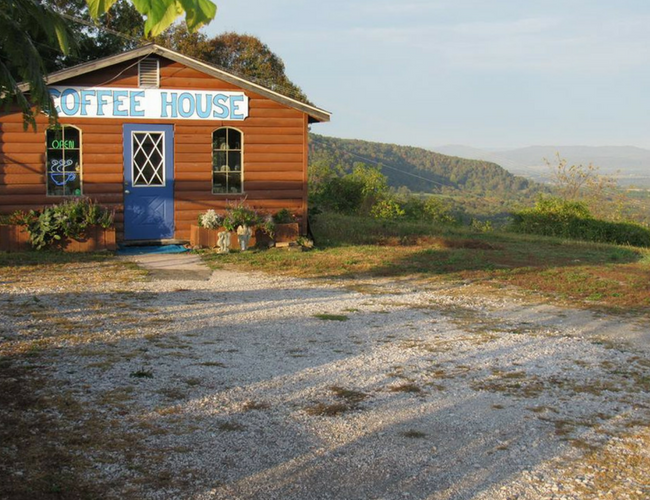 If you're looking for a beautiful view to go with your bodacious brew, this quaint local stop offers a picturesque view of the scenic mountain overlook along Highway 65. Made fresh from local sources, Rock N Java features daily lunch specials and homemade Boston Crème Pie along with the "best espresso on the mountaintop!" Word on the street is the Dirty Chai is the way to go, or maybe the Mocha Frappé is more your style. Either way, you can order and sip while you shop for local art (featuring Morrisette Pottery) or take in the breathtaking vistas. 
Whether you consider it your morning fix, the elixir of the gods or go juice, the appeal of the drink is as unique and varied as the places that serve it. Do you have an Off the Grid Coffee Crib we need to know about? If so, latte us know!