It's the second weekend in May, and crawfish claws are snapping in Conway, movie lovers are heading to Northwest Arkansas, wine tasters are flying south, and treasure hunters are going to Little Rock! The Conway Crawfish Boil was a success last year and returns for its second year. The Bentonville Film Festival is expected to draw people from all over the country. Keep your eyes open as you may spot a celebrity or two!  Wine lovers will not want to miss the adult-only food and wine festival in El Dorado, and those who love vintage and upscale vintage décor will want to check out Little Rock for Vintage Market Days. Where do you see yourself this weekend?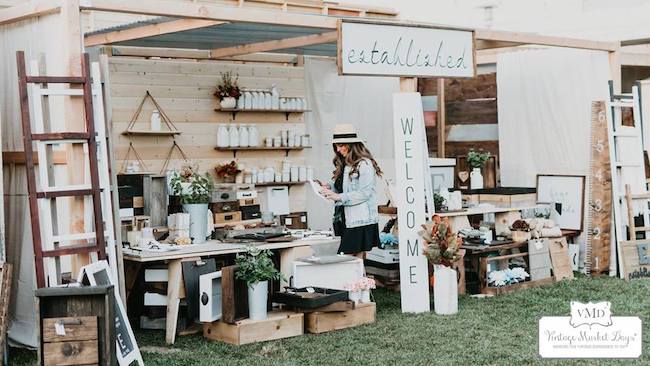 Photo Credit: Vintage Market Days
Vintage Market Days® — "Freshly Picked" (Little Rock)
For three days some of the very best vintage vendors from the Arkansas area and across the nation will be in Little Rock. Vintage Market Days is an upscale vintage and vintage-inspired indoor/outdoor market featuring original art, antiques, home décor, clothing, handmade treasures, jewelry, outdoor furnishings, consumable yummies, seasonal plantings and a little more. It is a truly unique one-of-a-kind shopping experience!
Venue: Arkansas State Fairgrounds
Date: May 10-12
Time: 10 a.m. — 4 p.m.
Admission: $10 for early buying, $5 general admission
Contact: Click Here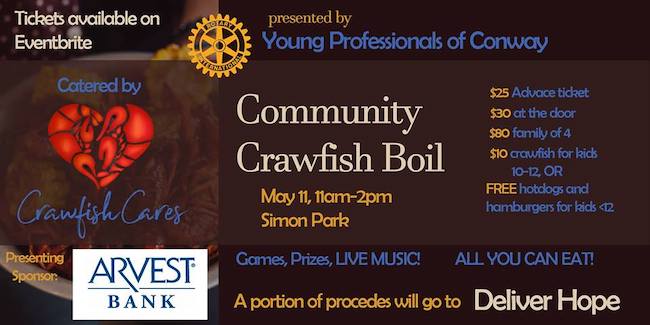 Community Crawfish Boil (Conway)
Young Professionals of Conway are hosting their 2nd annual Community Crawfish Jubilee, sponsored by Arvest Bank! Head to Simon Park on Saturday, May 11 between 11 a.m. — 2 p.m. to enjoy food, games, prizes, and LIVE MUSIC! Crawfish Cares will cater the event, and a portion of the proceeds will be donated to Deliver Hope. This event is ALL YOU CAN EAT! There will be free food for kids 12 and under and kids 10-12 can eat crawfish for $10. Tickets for anyone 12 and up are $30, or $25 if you order in advance through Eventbrite. A family of four can buy a package deal (4 tickets) for $80.
Venue: Simon Park
Date: May 11
Time: 11 a.m.- 2 p.m.
Admission: Tickets Required
Contact: Click Here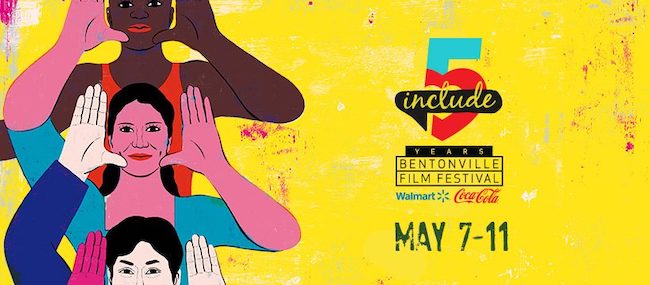 Bentonville Film Festival  (Bentonville)
Co-founded by Academy Award® winner Geena Davis & Inclusion Companies CEO Trevor Drinkwater, the Bentonville Film Festival is a one of a kind annual event that champions inclusion in all forms of media. The film festival is a yearlong platform culminating with an annual six-day festival, in partnership with founding sponsor Walmart and presenting sponsor Coca-Cola. Connecting engaged entertainment industry leaders and major corporate changemakers with a diverse array of storytellers affords Bentonville Film Festival the unique opportunity to amplify commercially viable content, solutions and initiatives that adequately represent the world.
Venue: Multiple Venues
Date: May 7-11
Time: Click Here for a schedule of events
Admission: Tickets Required
Contact: Click Here

Mayfest (Blytheville)
Head to Blytheville for Mayfest! There will be food trucks and vendors up and down Main Street! There will be live music by The Lucky Brothers, an acrobatic show put on by Flying Wallendas, a fire truck pull and the Annual Humane Society Dog Show. Check out the fun!
Venue: Main Street Blytheville
Date: May 11
Time: 10 a.m.- 4 p.m.
Admission: Free
Contact: Click Here

Photo courtesy  DCASTRO.US
National Astronomy Day (Little Rock)
Discover astronomy with members of the Central Arkansas Astronomical Society this weekend. There will be indoor presentations throughout the afternoon followed by outdoor viewing opportunities. Clouds permitting, the evening's telescopic sights typically will include several planets, the moon, and other celestial objects depending upon what is in the sky at a given time. This is a great family-friendly activity for all ages to experience!
Venue: Pinnacle Mountain State Park
Date: May 11
Time: 2 p.m. — 10 p.m.
Admission: Free
Contact: Click Here or Call 501-868-5806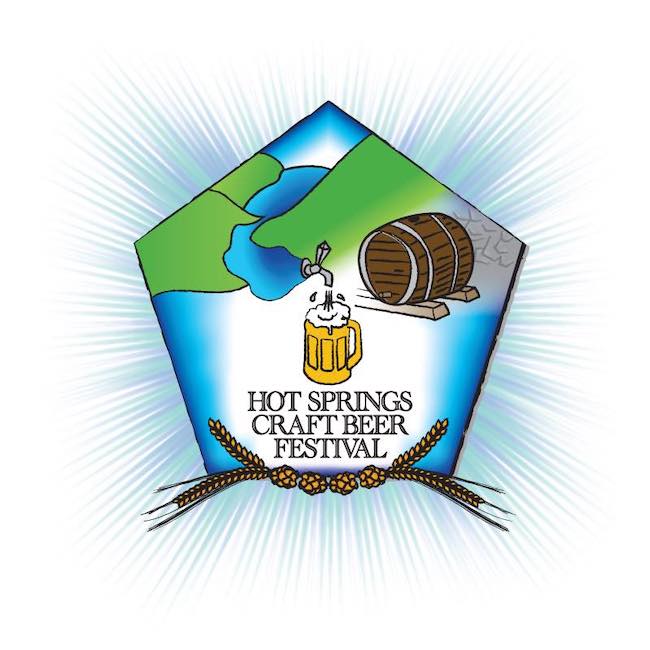 3rd Annual Hot Springs Craft Beer Festival (Hot Springs)
This event, which benefits the Hot Springs Blues Society, will include sample craft beers, local food and prizes! You must be 21 or older to join in the fun, so this makes a great date night event. For 2019, along with the popular Five Beer Five K, and the Hot Springs Craft Beer Festival, there will be the Hot Springs Poker Ride (a fun bicycle event), and the Hot Springs Beer Brunch (beer-based breakfast, yummy). If you're interested in more than one of these events, you can get a package deal on the tickets.
Venue: Hot Springs Convention Center
Date: May 10-12
Time: Event times vary
Admission: Tickets Required
Contact: Click Here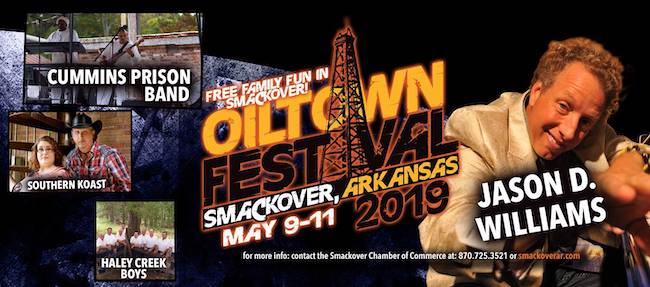 48th Annual Smackover Oil Town Festival (Smackover)
Join Smackover for the 48th Annual Smackover Oil Town Festival for free family fun. This family festival features free concerts every night. Attendees can enjoy horseshoe pitching, arm wrestling, turtle races, bingo, Bunco, rod wrenching, a drill bit toss, pipe tote, rib cook-off, children's activities, 3-on-3 basketball tournament, the world famous yellow duck race down No Name Creek, a myriad of vendor booths and festival food favorites and much more.
Venue: Downtown Smackover
Date: May 10-11
Admission: Free
Contact: Click Here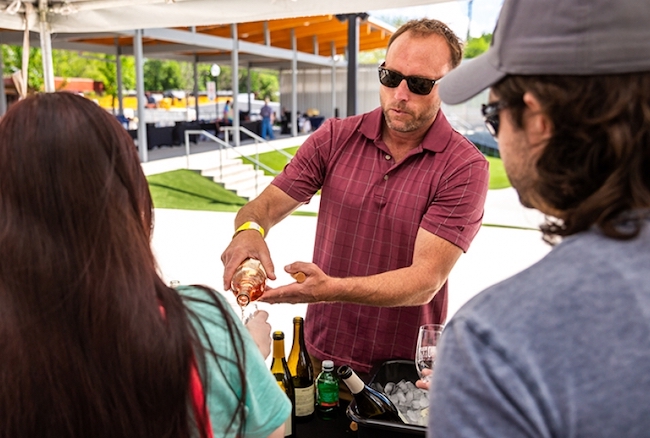 Southern Food & Wine Festival (El Dorado)
What happens when some of the most celebrated chefs and sommeliers from around the world come together for one night? You get the 5th annual Southern Food & Wine Festival at Murphy Arts District (MAD). Building on last year's highly regarded and sold-out event, MAD's Executive Chef Austin Johnson and Sommelier Eric Railsback have gathered nationally recognized guest chefs and sommeliers to create a memorable weekend. Over three days, Thursday, May 9 through Saturday, May 11th, MAD will present several foods, wine and music events for your enjoyment. This event is 21+
Venue: Murphy Arts District
Date: May 9-11
Time: Click Here for the event schedule
Admission: Tickets Required-Prices vary per event
Contact: Click Here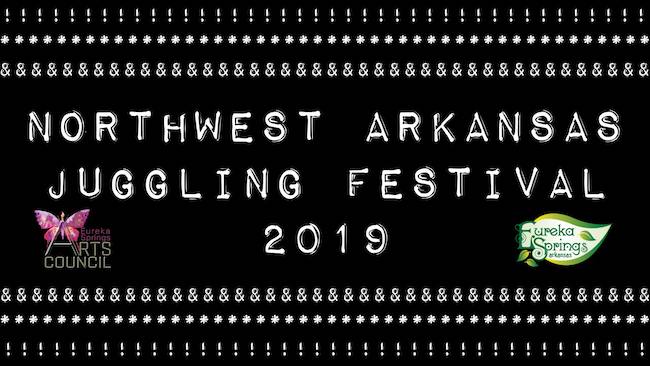 Northwest Arkansas Juggling Festival (Eureka Springs)
The Northwest Arkansas Juggling Festival brings local communities together with jugglers from all over the country for a fun-filled weekend of juggling-related madness. Enjoy creative play through games, workshops, social circus, demonstrations, and shows. All skill levels and prop types are welcome. The general public is invited to come and watch the activities in the gym and to learn how to juggle for free. There will be a show on Saturday at 7 p.m. featuring two world champion bubblers and other highly skilled professionals that require tickets ($10).
Venue: Eureka Springs Community Center
Date: May 11
Admission: The festival and juggling classes are free. The Saturday evening show is $10/person.
Contact: Click Here
Header Photo Credit: Arkansas Parks and Tourism