Markham & Fitz in Bentonville is a unique chocolate venture. If you don't believe me, then just take one step inside. It's clear to see the folks in the 8th Street storefront are delving into a little bit of everything associated with chocolate.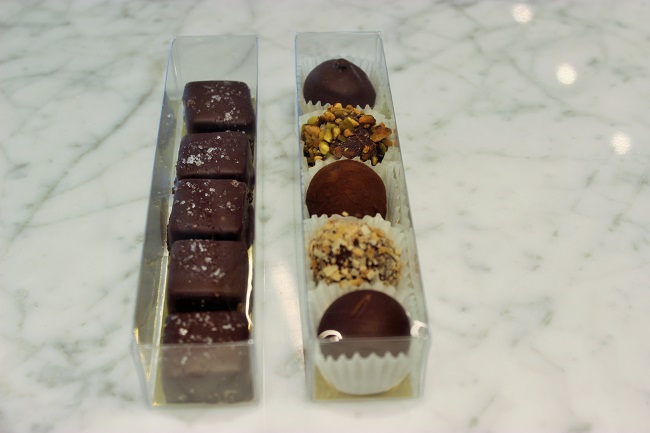 "We serve everything from chocolate drinks, chocolate cocktails, coffee, wine, and beer, to a variety of chocolate desserts, confections, and of course, chocolate bars. We have several prepackaged products for customers to make drinks at home–cocoa tea and drinking chocolate, as well as a fun chocolate snack called Cracked Cacao," says co-founder and CEO Lauren Blanco.
And did I mention Markham & Fitz is a small chocolate factory?
The bean-to-bar experience starts by sourcing beans from Haiti, Dominican Republic, Bolivia, and Nicaragua, and continues with the chocolate-making process in plain view of customers in Bentonville.
For Blanco, the decision to dive into the world of chocolate was based on many aspects.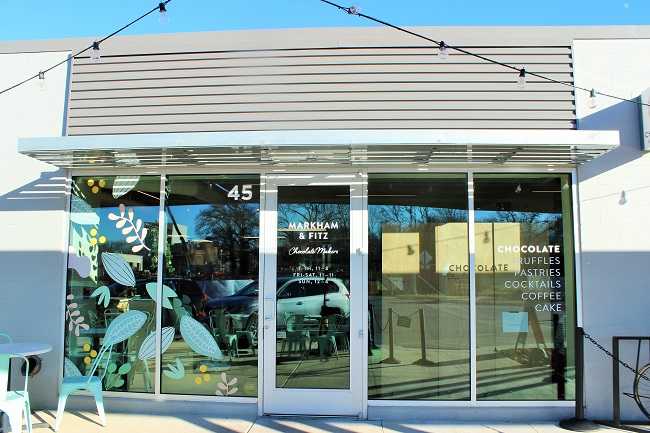 "My business partner, Preston, and I both came from different backgrounds with a unique passion for chocolate. I had a passion for grassroots economic development and saw how business could be an effective force of good in the world. I wanted to learn the ins and outs of business, and cocoa became the supply chain that connected me to other places around the world where I had worked in economic development. Preston studied chemistry in college and wanted a way to put his science mind to food. We were inspired by the craft movements in other industries and wanted to see what we could make of our own."
You may have noticed cocktails were mentioned up above. No, that wasn't a typo. Markham & Fitz makes craft cocktails, and I can tell you from firsthand experience that they are fantastic. The Dark Night, a sweet cocoa tea play on a Black Manhattan with Averna, rye whiskey, and bitters, is rich, intense, and absolutely delicious, as is Midnight in the Orchard with house-infused chocolate bourbon, apple cider, and Allspice Dram.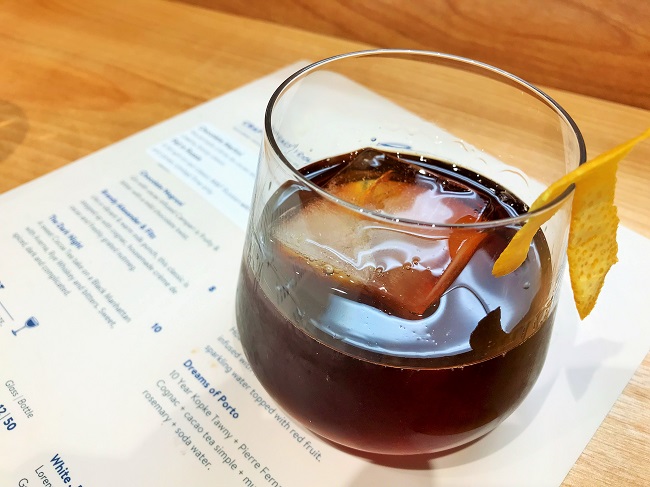 "I can hardly remember why I wanted to do cocktails. I just remember sketching my dream chocolate shop layouts years before it would be a thing. I remember being convinced that chocolate is this blank canvas, and our job was to paint it as vibrantly as possible. I wanted to choose all the major ways we could transform craft chocolate into a beautiful culinary experience. A major application of this was infusions, alcohol a perfect medium. I've always had an appreciation for really nice cocktails, and I wanted to bring my own flair to that realm. We're known for our chocolate martini and M&F Russian–probably our most popular sellers. They're creamy with a sophisticated presentation of chocolate through alcohol. I think some of our most creative and impressive cocktails are the non-dairy ones: our Chocolate Negroni is probably my favorite creation. We steep cacao nibs in Campari to make this drink unique," says Blanco.
Whether you're looking for a hunk of cake, a cocktail, chocolate covered caramels, or a dark chocolate Sea Salt & Almond bar, there really is a little something for everyone at Markham & Fitz, and as rewarding of an experience as it is for the customer, it's the same for Blanco and her team.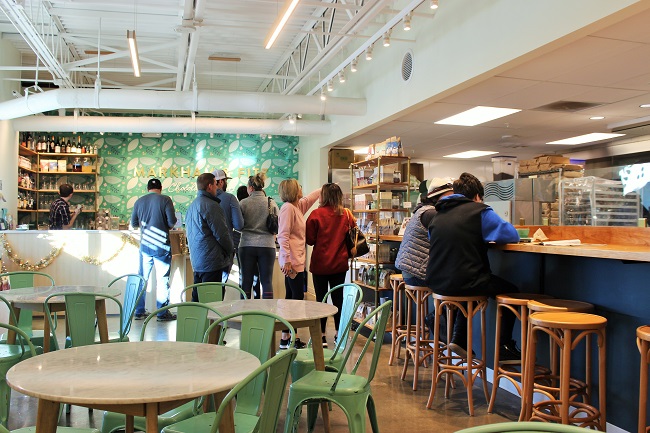 "A lot of people ask me 'was it worth it,' which has some sort of implication that I might have regrets. I think the most rewarding part for me is being able to provide fun jobs for people. I get the most joy from seeing happy employees who really enjoy their jobs, and also seeing them excel in their roles. That one is huge. Managing people is also the most difficult part of my job. But somehow that must contribute to its greater reward. I also love the team atmosphere and camaraderie that we've cultivated. There are moments when the majority of staff are working in the shop, customers aren't around, and someone's cracked a joke, and everyone is laughing and happy. Everyone's in on it. Those are moments that feel like we all belong to something and that means a lot to me."
And to us.
Markham & Fitz Chocolate
801 SE 8th Street #45 (Bentonville)
Phone (479)-235-6236
Hours: Tuesday-Thursday 11 a.m.-8 p.m.; Friday & Saturday 11 a.m.-11 p.m.; Sunday 12 p.m.-4 p.m.; Closed Monday