It's time for Arkansans across the state to make Saturday treks to the mecca — Donald W. Reynolds Stadium in Fayetteville. The drive to Northwest Arkansas from Central Arkansas (where many folks will come through) has some amazing stops to find delicious eats. So while the team and the spirit squad prep for the game, you've can prepare to call those Hogs by eating well. After all, you'll want to have the energy to walk up the hill once you arrive in Fayetteville. Check out a few of these great places along I-40 for the perfect pitstop on your way to Hogland.
1. Breakfast in Conway: The Patio Café or Bob's Grill
Just off the US-64/Oak Street exit in Conway, you'll find the perfect spot for breakfast. The Patio Café offers specialty coffee and a great selection of bakery items. They have a full hot breakfast menu as well with specialties that range from southern staples like pork chops and eggs to more unique finds like savory and sweet crepes, such as these peach cobbler ones.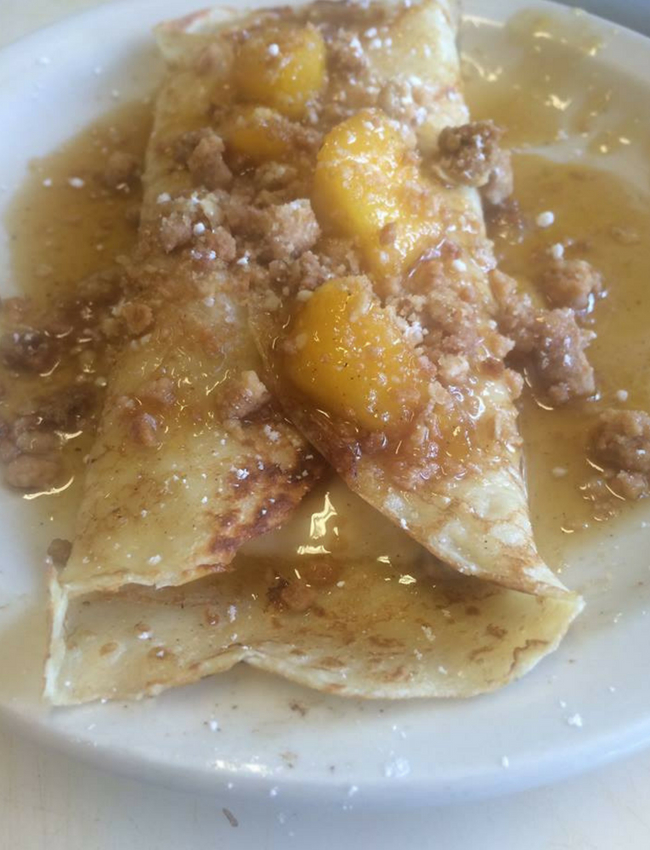 At Bob's Grill, you will find good ol' country cooking. Their slogan is, "If it happens in Conway, it's talked about at Bob's."
All the locals eat here, so it's the perfect spot to stop on your way out of Central Arkansas. Their menu changes daily, but the staples stay the same. Don't miss the biscuits and chocolate gravy. It's the dish everyone raves about.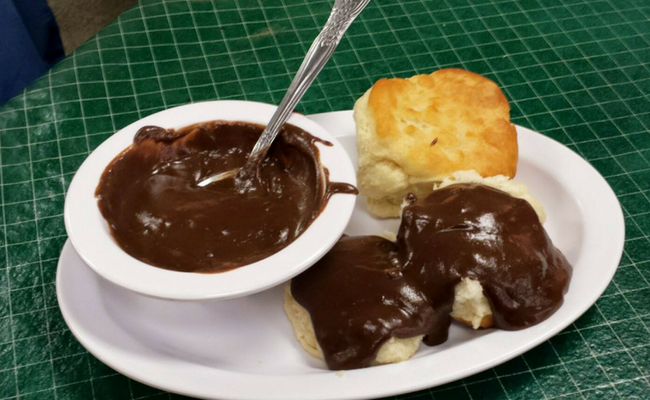 2. Burgers in Russellville: C-J's Butcher Boy Burgers
At exit 81, you'll find a local joint serving juicy burgers and delicious fries: C-J's Butcher Boy Burgers. They grind their own fresh chuck and hand cut their fries, and you can taste the difference. The menu is pretty simple. Choose your burger size (1/3 or 2/3 lb.), pick your toppings (cheese, grilled onions, bacon, mushrooms, jalapeños, tomato) and add fries, a shake or a malt. And if you're feeling extra hungry, you can add endless fries to your order for just 99 cents. The burgers, cooked on a flattop grill, get that delicious crispy char and the cheese gets perfectly melted. It's the ideal road trip food.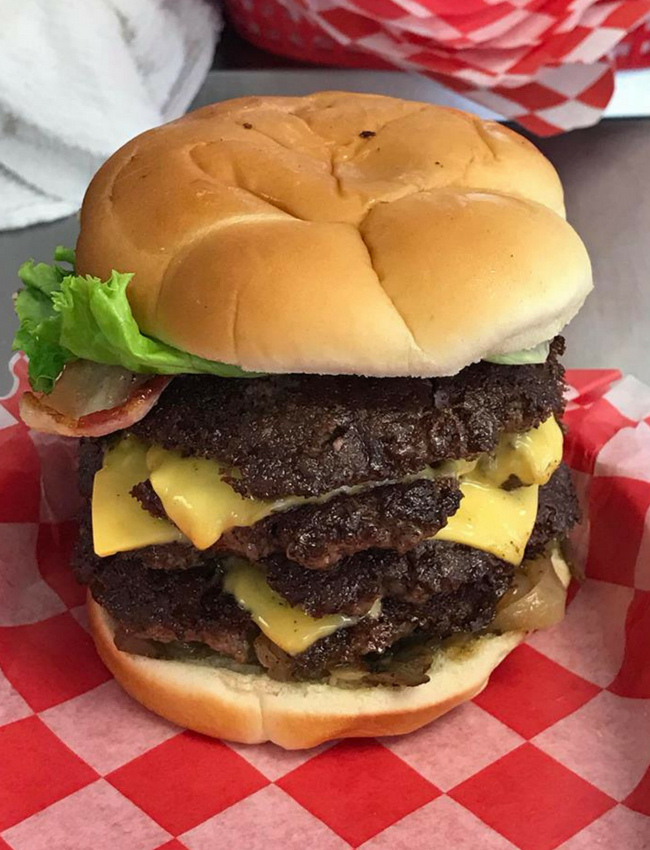 3. A pit stop in Ozark: Workman's Travel Center
At first glance, Workman's Travel Center looks like a traditional truck stop, but it's actually a full-service restaurant, cooking up some the best grub along the route. Their menu at Hillbilly Hideout, which is open 24-hours a day, has favorites like the Razorback Burger (a beef patty topped with pepper jack cheese, jalapeños and pulled pork) and everyone's favorite country fried steak. Daily specials range from chicken and waffles to a "rise and shine" burger topped with hash browns and a fried egg. If you are hungry but don't have a lot of time, they have selections like fried catfish and chicken strips and a great assortment of drinks and snacks. If you are on your way to Fayetteville for a morning game, be sure to check out their breakfast menu. And if you're just looking for a sweet treat, don't miss their fried pies, best served a la mode.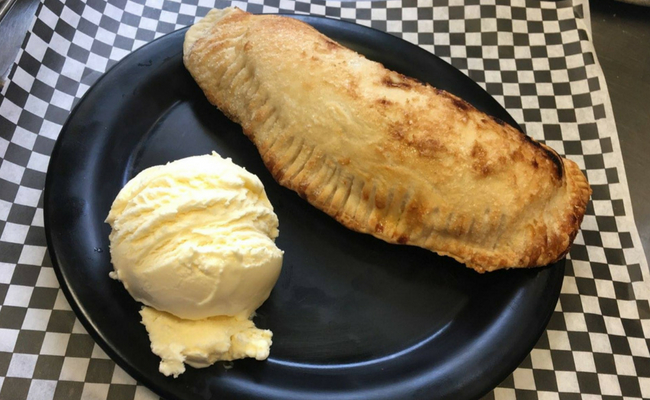 4. Catfish and Fixin's – Catfish Hole in Alma
Just before you get to the I-49 interchange, take exit 13 in Alma to the Catfish Hole. You might be familiar with the location in Fayetteville, but this location offers the same delicious home cooking and won't be nearly as busy on game days.  Even though they're known for their fried foods  — catfish, shrimp, scallops, clams and chicken — they also have some surprising healthier choices like lemon pepper catfish and Cajun trout. The "fixin's" come with each meal or you can just choose a "fixin's plate" which includes all-you-can-eat housemade hushpuppies, coleslaw, pickles, onions and green tomato relish as your meal. The green tomato relish is chunky, sweet and a bit sour. It's a customer favorite that pairs with the fried food perfectly. If you're not stuffed from dinner, their cobbler, fried pies and apple blossoms are to die for!
5. Last stop for deliciousness: Rick's Iron Skillet
Rick's Iron Skillet in Fayetteville is a local institution. They serve breakfast and lunch, so no matter what time you roll into town, they can fill your belly. Breakfast is a full spread ranging from country scramblers to omelets. But the star of the meal is their big, fluffy biscuit with a side of sausage gravy. On the weekends, they serve a breakfast buffet, so you have the opportunity to sample it all.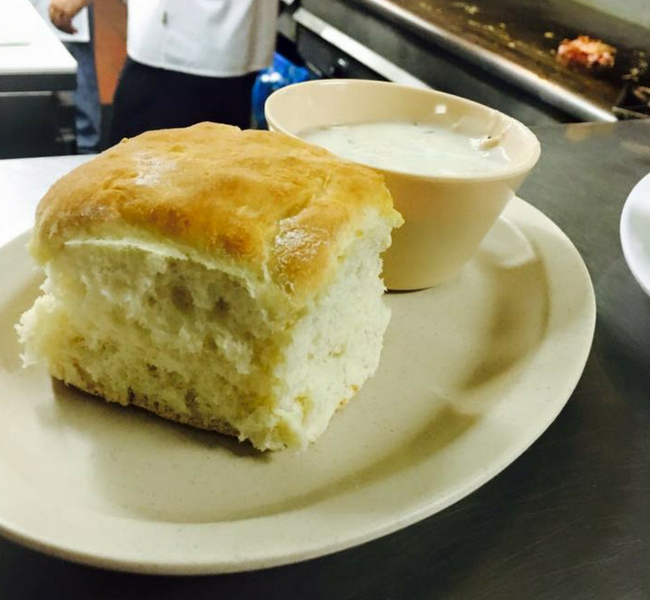 At lunch, Rick's is all about the sandwiches. Patty melts, French dips or open-face sandwiches smothered in gravy will all wet your whistle and give you the boost you need to cheer on the Hogs.
While you travel that long road to Fayetteville, take a moment to brush up on your game day etiquette. Woo Pig Sooie!
Do you have a favorite stop on the road to Hogland? Let us know in the comments below!