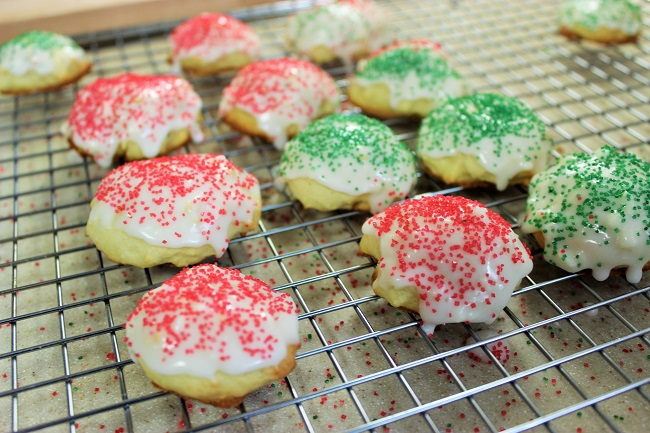 Who doesn't love a good cookie, especially during the holiday season?  Whether we're baking them ourselves to bring to friends and family or are on the receiving end of a deliciously baked creation, a Christmas-theme cookie always hits the spot during the month of December.
For me, the simpler, the better. A nice sugar cookie with an appropriate amount of icing and some red and green color is what I'm looking for, and it's what prompted me to find this Italian Christmas Cookie recipe.
My mother made a version of this cookie last Christmas and it was borderline disturbing how quickly our crew devoured them. Simply put, there's just something so wildly addictive about this cookie. I'm guessing it's the ricotta cheese, which I absolutely love to use in my cooking throughout the year.
Click on the recipe and give it a good once-over, but you'll also probably want to follow a few of these suggestions:
Most of us are really strapped for time during the holidays, and that's one of the true benefits of this recipe. It's simple and includes eight ingredients for the dough, five for the frosting, and has three major steps in the directions. I don't suggest making any modifications. Stick to the plan.
Make sure to set the butter out for at least an hour or two. You want it to get room temp so it softens and mixes evenly throughout the batter.
The batter is super easy to make but it ends up being quite thick and somewhat difficult to handle. If you're not in a rush, I suggest putting the batter in the refrigerator for a couple of hours. This will allow you to handle it with much more ease(it won't stick to your hands), and thus creating a more uniform and prettier cookie. I didn't do this with my first batch and the cookies definitely turned out a bit more rustic than I wanted.
When the cookies are done baking, remove them from the oven and place on a cooling rack for at least 30 minutes before you apply any of the icing. Warm cookies will melt the icing and reduce its thickness quite a bit.
Speaking of icing, make sure to not add too much milk to the powdered sugar. The suggested amount is perfect. Also, to keep things simple, take each cookie, flip it over, and dunk the top into the icing by hand. Once the icing goes on, return the cookies to the drying rack and blast them with a preferred amount of sprinkles. Obviously, red and green sprinkles are preferred.

If you are gifting these cookies, please keep them separated for a good amount of time. Stacking the cooking on top of each other too soon after the drying process will create a messing looking final product.
You will love these cookies. They aren't overly sweet, and they have a wonderfully soft texture with a crisp bottom. Just be sure to bake a few batches.
They won't last long.