The tiny town of Redfield is only a short 20-minute drive from Little Rock. The main draw, at least for the past 52 years, has been The Mammoth Orange, a brightly colored, dome-shaped dairy bar on the corner of Sheridan and Highway 365. And yes, it's orange. Six bolted down stools surround the exterior, and there's even a small opening in the window where people can order and receive food. Several years after the initial construction, they added an inside, sit down area. It's now comprised of about a dozen brightly colored booths, dated wood paneling, and dull green concrete walls with only slivers of windows along one side.
The place oozes with history and character. Faded pics of sponsored Little League baseball teams, plaques of recognition throughout the years, and an out-of-order gumball machine all immediately caught my eye.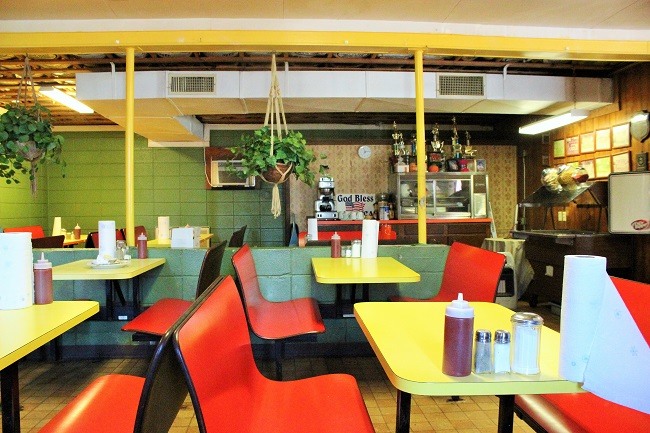 We were there because my friend called me up and said I needed to finally pay a visit to The Mammoth Orange, a place he'd spent many afternoons 30+ years ago, running up to the building from his nearby grandma's house for shakes, burgers, and fries.
And guess what?
According to him, not much had changed.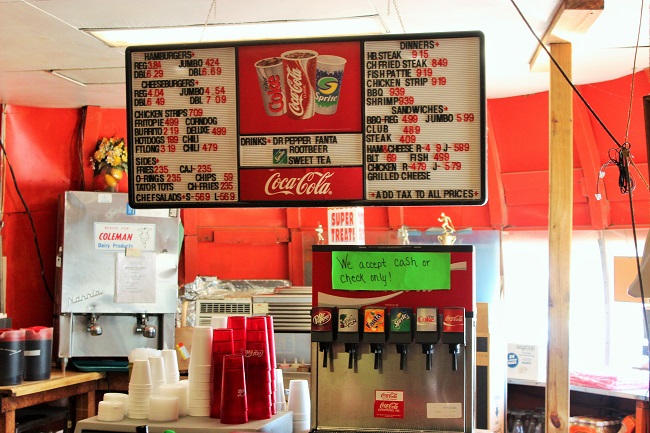 Once that metal door slams behind you, just walk up to the counter and take a gander at the hanging menu. It's small, comprised mostly of burgers, fries, tots, onion rings, and chili dogs. If you're feeling wild, they even make plate lunches with options like chicken fried steak and hamburger steak. Friday is fried catfish day, offered at both the lunch and dinner service. Based on the way the two friendly ladies behind the counter described it, I need to make my way back on a Friday.
But on this day, we each ordered cheeseburgers. You have the option of getting a "regular" or "jumbo" and even doubling up the patties. I chose the smaller, 2-patty cheeseburger with a side of cheese fries and also snuck a few of my tablemate's onion rings. The burger was a simple, well-cooked and traditional rendition of an American classic, highlighted by hand-formed, flat top-cooked patties and a small mountain of traditional fresh fixings.
The burger was satisfyingly delicious, as was the chocolate shake we decided to share. I may have even dipped one of my cheese fries into the shake. Our entire meal was an excellent value, but just make sure to leave your credit cards at home, as the restaurant only accepts cash or checks.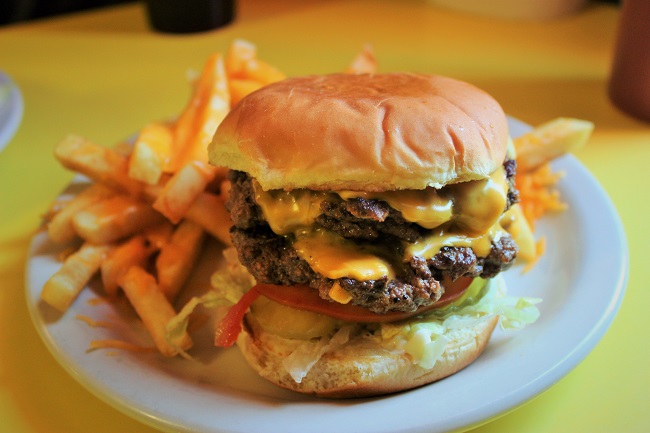 I could see my friend was very happy. To have a place like The Orange Mammoth still around –a place where time stands still and you can recapture childhood memories–is very important. Listening to the ladies talk about the food, The Orange Mammoth's history, and how proud they were to work there, really made for a memorable experience.
One of these Fridays, I'll be making my way back to the corner of Highway 365 and Sheridan in Redfield.
That fried catfish is calling my name.
The Mammoth Orange
103 AR-365 (Redfield)
Phone: (501) 397-2347
Hours: Monday-Saturday 8 a.m.-9 p.m.