Fresh, perfectly ripe Arkansas tomatoes are everywhere this time of year. If you don't believe me, just head to your farmers' market. A local tomato only needs some salt and pepper, but if your taste buds require a little more of an in-depth recipe, then check out this Tomato and Smoked Salmon Salad.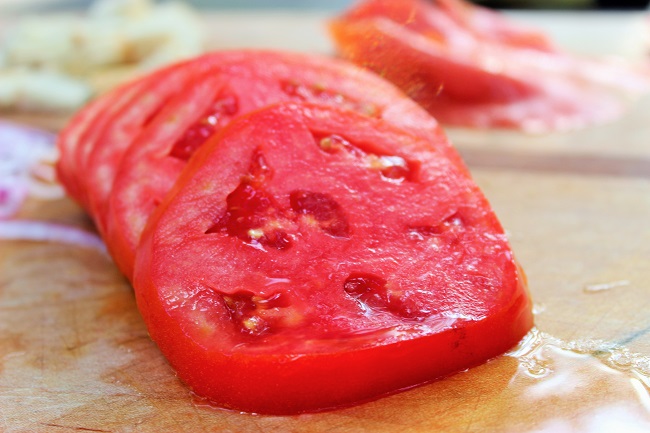 I purchased my tomatoes from the Hardin Farms booth at the Hillcrest Farmers Market in Little Rock. This farmers' market (located at 2200 Kavanaugh Blvd) is open year-round on Saturdays with summer hours from 7 a.m.-noon. With any farmers' market, I always encourage folks to arrive early.
The key to a good recipe featuring local tomatoes is to keep things very simple. Don't hide the main star with a ton of secondary ingredients. This 10-minute prep recipe includes only eleven items, all easy to find.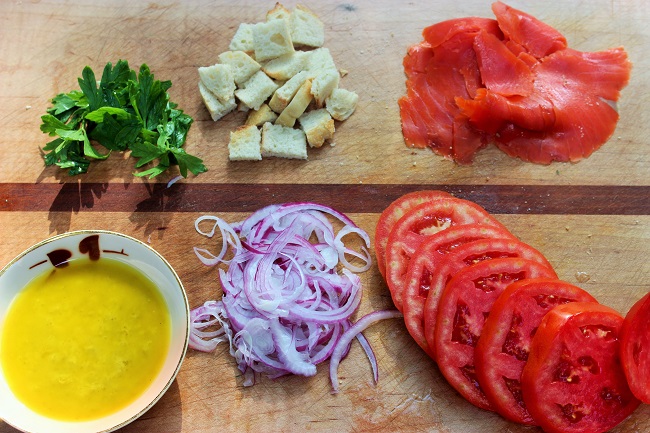 Here are a few tips to help make it a hit:
1. Each slice of tomato should be about a ¼-inch thickness. You want a nice, meaty heirloom tomato slice that will hold up to the other ingredients on the plate.
2. I love using red onion in my cooking and this recipe is no exception, but remember that a little goes a long way. That's why I recommend using a mandoline slicer (if you have one) to keep the onion almost paper thin. It makes for a wonderful presentation and provides an overall balance to the dish. A thicker slice or chunk of red onion would definitely overpower the other ingredients. Please note, however, that you must be very careful when using this kitchen utensil. Mandolines can be very dangerous when not used properly. Please take your time and always use the guard.
3. The caper is another very strong ingredient. As suggested, you will definitely want to give them a rough chop before adding to the vinaigrette.
4. Make sure to not over-toast your sourdough bread. Yes, you want to end up with croutons, but nothing that is super crunchy and golden brown. Once you've toasted the bread for about a minute, cut into 1-inch pieces.
5. Smoked salmon is easy to find in the cold section of your local grocery store. It's not cheap but you don't need much. Don't worry about cutting the salmon into uniform pieces. Just tear little bits with your hands and add to the salad. This will help give the dish a nice, rustic presentation.
6. Don't be afraid to add smaller tomatoes to the mix. Grape and cherry tomatoes burst with flavor and are beautiful.
7. I rarely speak of presentation, but for this recipe, I think it's essential to serve on a white platter. All the different colors–orange, reds, green, and yellow–are so vibrant, making a white background from the platter absolutely ideal.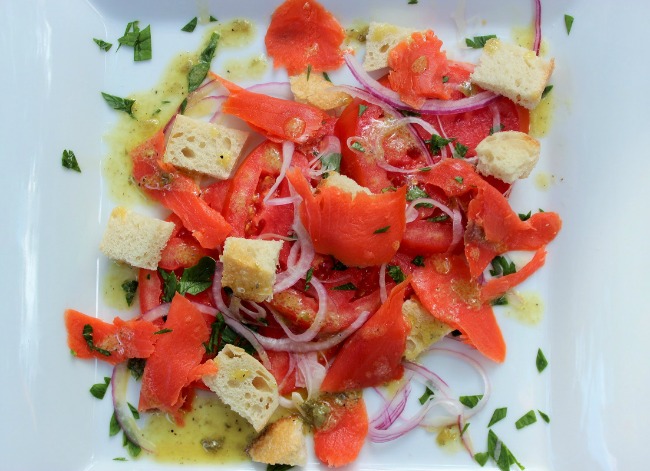 You will end up loving this quick tomato recipe. The powerful acidity of the tomatoes and vinaigrette is balanced by the saltiness of the smoked salmon, making for a refreshing and healthy dish.