The idea of snakes being both scary and bad is a long-standing one going back to the story of Adam and Eve in the Garden of Eden. Americans fear snakes more than anything else, including heights, public speaking, and spiders. Lack of education about the benefits of snakes often contributes to this fear. Learning to identify the snakes in Arkansas and learning their importance can shed new light on this often-misunderstood group of reptiles.
Arkansas's Snakes
Arkansas is home to 36 species of snakes including six which are venomous. Arkansas's venomous snakes include the copperhead, cottonmouth, western diamondback rattlesnake, timber rattlesnake, western pygmy rattlesnake and the Texas coral snake.
Arkansas is also home to the eastern hognose snake which is often mistakenly thought to be venomous. Often mistakenly called a "puff adder" the hognose snake will make its head appear larger if it feels threatened, leading many people to believe it is venomous.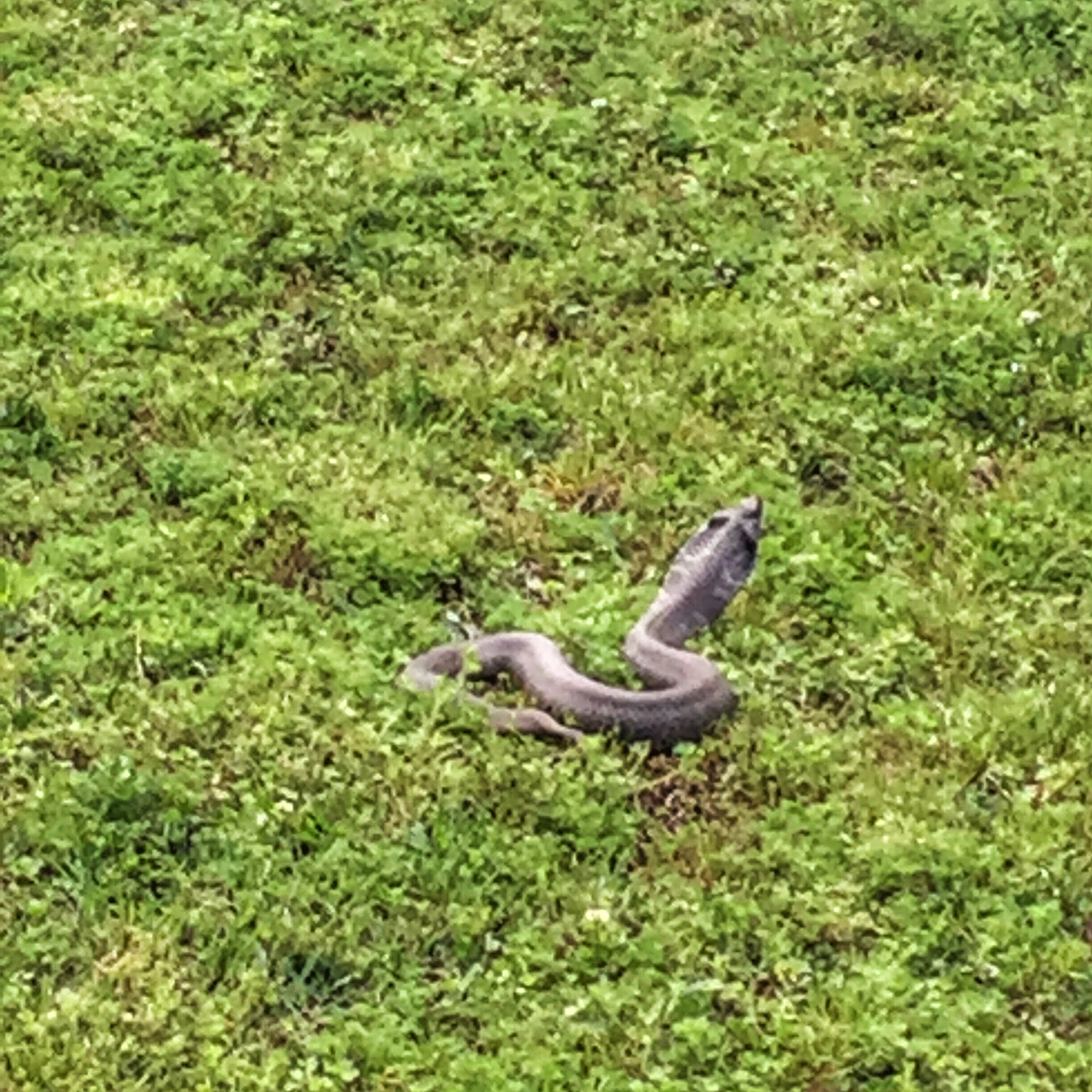 Eastern Hognose. Photo by Julie Kohl.
Many nonvenomous snakes have colors and patterns similar to venomous snakes. Some can even shake their tails against dry leaves and sound identical to a rattlesnake. These characteristics are intended to help protect snakes from predators. Sadly, misidentification leads many snakes to be killed for no reason.
You can read more about the snake of Arkansas in this article from 2016.
Benefits of Snakes
Snakes get a bad rap, but they are very beneficial to our environment, especially considering Arkansas's largely agricultural makeup. Snakes eat a diet that consists mainly of mice and rats. They also eat frogs, toads and fish. Snakes also serve as a food source to other animals like hawks, owls, bobcats and more.
Agriculture is one of Arkansas's biggest industries bringing more than $16 billion into the state each year. It is believed that in a single year, snakes can prevent nearly $2 billion in crop loss due to rodents. Snakes also play a beneficial role in controlling rodents that can wreak havoc on homes and wiring and likely prevent several million dollar's worth of damage each year in construction.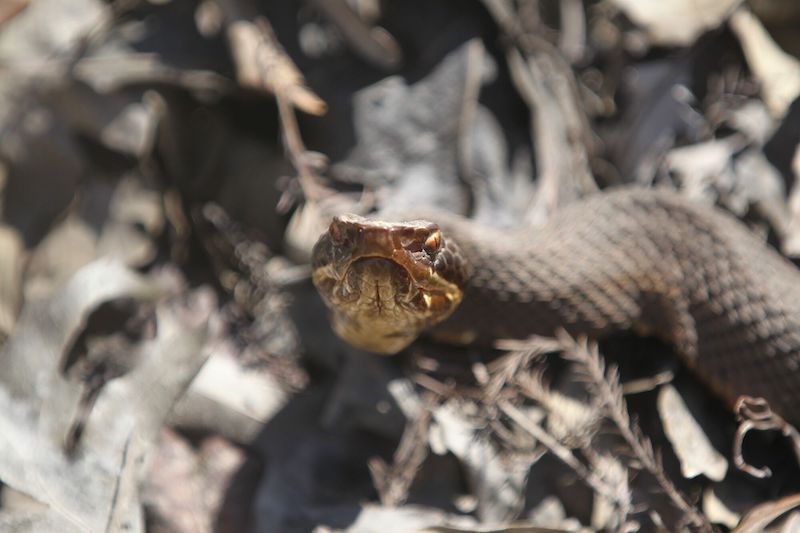 Killing Snakes is Illegal
Many of us grew up hearing our parents say, "The only good snake is a dead snake." Many of us still have that belief, but in Arkansas, it is illegal to kill a snake. Any snake. Including venomous snakes.
There are three main reasons it is illegal to kill snakes in Arkansas:
There is no definite "season" for snakes. Snakes can be found any time of year and their breeding season will vary; therefore, AGFC cannot determine a viable hunting season for snakes.
Snakes prevent agricultural losses and are extremely important to our economy.
Many of our native snakes are being listed as "species of concern."
The law does have a caveat which states that a property owner may kill a snake if it "poses reasonable threat or endangerment to persons or property." People are still killing snakes that pose no threat whatsoever, and that is primarily due to lack of education and the inability of people to accurately identify the snakes of Arkansas.
AGFC does enforce the law whenever possible, but it can be challenging to do. Citizens regularly report people to AGFC, and social media is another way they can build a case. Officials are often alerted to someone making claims about killing a snake and then posting about it on Facebook or Instagram. AGFC can and will use these types of posts as evidence against you when enforcing the law. The same rules apply to any non-game species in Arkansas.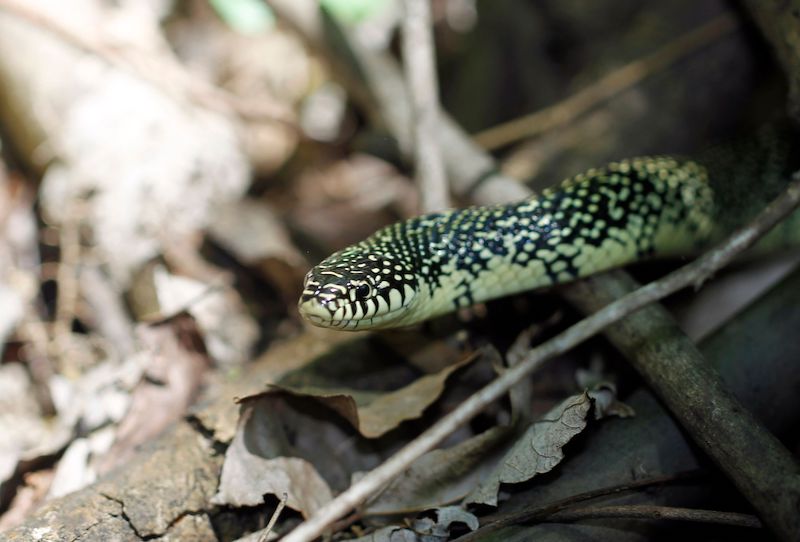 Identifying Snakes
Being able to identify snakes correctly is beneficial to both humans and snakes. Proper identification can prevent injury to humans, and it can stop the senseless killing of snakes. In general, snakes will try to avoid humans, so most snake bites occur when someone is aggravating (trying to kill) a snake.
Lori Monday is a regional educator with Arkansas Game and Fish Commission.
"People don't realize how damaging it can be when they kill snakes.  We're eventually going to suffer the consequences and see an increase in mice and rats. If you have snakes, it's because there is a food source. Enforcement [of the law] will not change people. Education will change how people behave."
Monday and others with AGFC have developed educational programs to help people understand the benefits of snakes and also learn to identify them accurately. The Snakes of Arkansas – How to Identify from Far Away class is offered regularly at the nature centers and education centers across the state. Additionally, AGFC will send someone to speak to community groups, scouting groups and more. All of this is provided free of charge thanks to the conservation tax.
According to Monday, identifying venomous snakes by head shape and pupil shape alone is unreliable.
"The Texas Coral snake is a great example of a venomous snake that doesn't have a diamond-shaped head. The key is to know several defining characteristics of the six venomous species. If you can recognize these from a distance, you will know whether the snake poses a potential threat. Even after identifying, it is best to leave the snake alone. 99% of the time, the snake will go away on its own, or you can go around it."
Monday gives the following traits for identifying a copperhead:
Color:
Copperheads have a distinct copper, beige, golden color.
Markings:
From the side, copperhead markings will have visible a Hershey kiss candy shape
From above, copperhead marking with have an hourglass shape
"Learning the six venomous snakes and being able to identify them based on a few identifying factors from far away will help you out 100% of the time."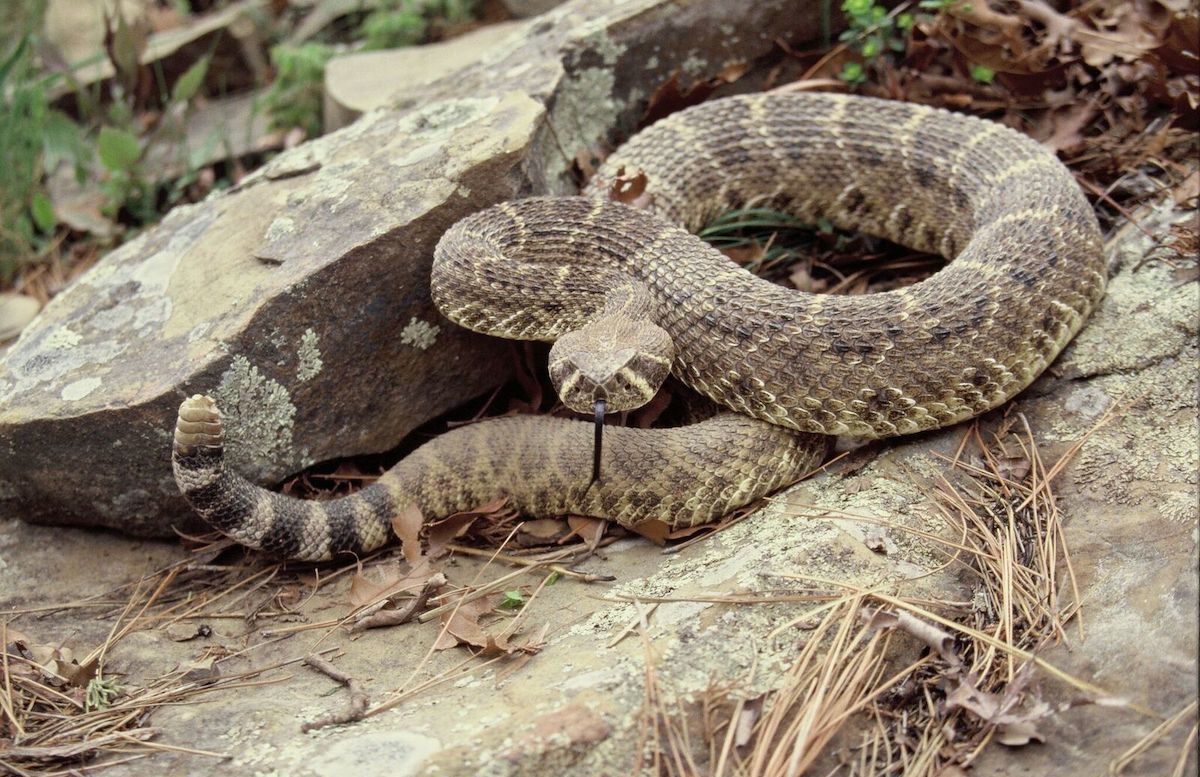 Preventing Snake Bites
Most snake bites occur because people are trying to (often unnecessarily) kill snakes or are trying to capture them for a social media photo or video. Most of the time, the snake bite would have been completely avoided if the human had let the snake be.
Remove the food source.
Snakes are going to go where there is a food source. If you have mice and rats, you will likely have snakes. Keep grass mowed and remove brush piles around your home to help prevent both rodents and snakes.
Be weather aware.
Snakes like warm sunny weather. In Arkansas, they will be most active during spring, summer, and fall and less active during the winter.
Be time aware.
While snakes can and will be active at any time of the day, most snakes in Arkansas are more actively hunting food at sunset and sunrise. Snakes will move from place to place at any time of the day.
Be cautious of camouflage.
In general, the chance of getting bitten by a copperhead is slightly elevated above other snakes merely because they blend in so well with most forest floor cover.
Dress appropriately.
Long pants and close-toed shoes can help provide a barrier if you do encounter a snake. They can prevent or lessen the severity of a bite.
Leave snakes alone.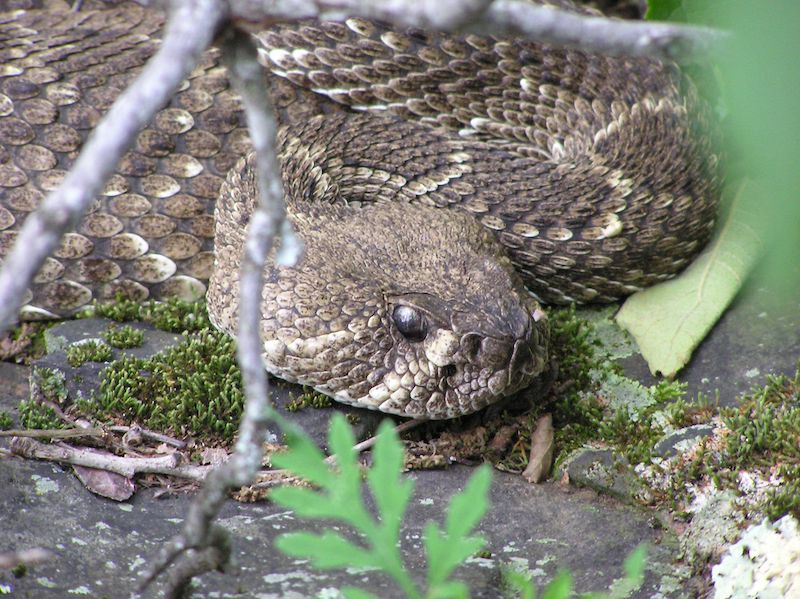 What to Do if Bitten
Even if you do everything you can to prevent a snake bite, there is always a possibility you could be bitten if you spend time in places snake inhabit. Fortunately, Arkansas has an anti-venin that is a mix for all pit vipers (venomous snakes), so it is no longer necessary to identify the type of snake that bit you.
Remove all jewelry.
Place the bite below your heart level to slow the blood.
Keep Calm
Call 911/Get to a hospital
According to the National Safety Council, the odds of dying from snakebite are 1 in 50,000,000. The odds of dying by a lightning strike are 1 in 218,000. That means you almost 23% more likely to die of a lightning strike. The chances of a snake biting you are low, the chances of you dying are even lower so leave the snakes alone!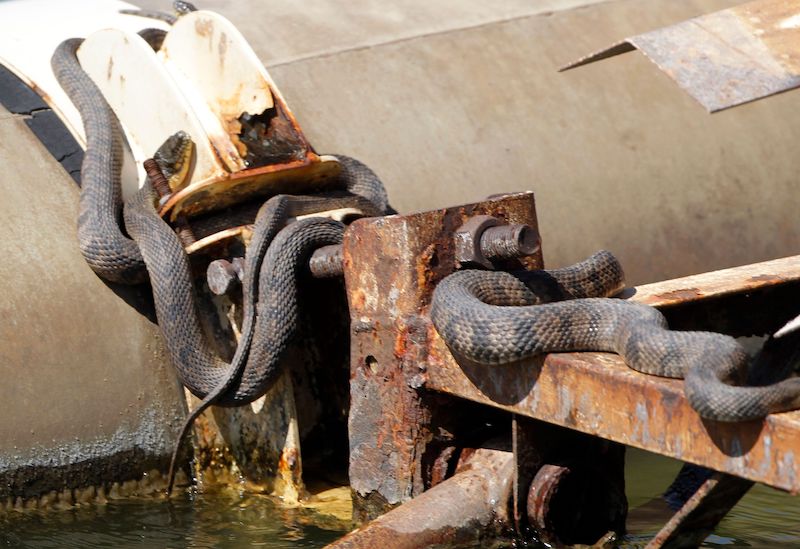 Relocating Snakes
We've already learned that attempting to kill or capture a snake will significantly increase your risk of being bitten. If you have a snake that is near your home or some other inconvenient area, there is help available to have the snake relocated without killing it.
Cold Blood Warm Hearts is an organization of volunteers that will come to you and relocate a nuisance snake at no charge. The volunteers are trained and equipped to properly catch and handle the snakes to minimize the likelihood of being bitten. If you have a snake you would like removed, contact Cold Blood Warm Hearts via their Facebook page or by calling 479-769-5783.
If you are interested in learning more about snakes, you can attend a workshop at your local AGFC Nature Center or Education Center. Contact your local center to find a class. If you are interested in having an AGFC Educator speak about snakes to your community group, you may contact Lori Monday via email at lori.monday@agfc.ar.gov or by calling 501-353-7779. The program is very educational, and you will leave knowing how to identify the six venomous snakes of Arkansas. Participants in the class will also earn their beginner level Watchable Wildlife badge as part of the new AGFC Outdoor Skills badge program.
Photos provided by Mike Wintroath of Arkansas Game and Fish unless otherwise noted.