Endless activities, colors like a New England hillside, and Razorback energy are magnetic. Whether it's a scenic drive, exploring native wildlife, hiking to colorful vistas, or searching for the paranormal, Northwest Arkansas is the place to be this fall! We broke it down into five categories to make your trip planning easier: Drives, Eats, Stops, Walks and Scares.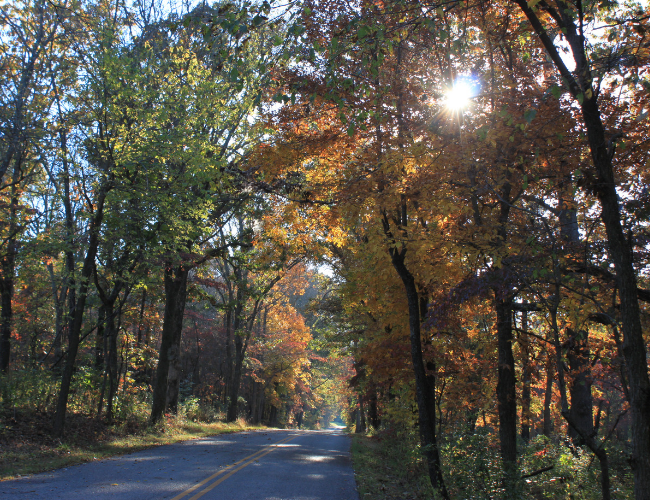 DRIVES
Fall is the best time of year to do some extra exploring in Northwest Arkansas. The days are warm, the colors are glowing  and the open road is calling your name. Here are some ideas for road trips to make this fall. The last weekend of October tends to be a peak time to plan and do some leaf watching.
Historic Highway 62 — The length of US Highway 62 runs from El Paso, Texas to Niagara Falls, N.Y, but the Arkansas section from Garfield to Harrison is most widely known for its winding pathways that meander by Pea Ridge Military Park, Thorncrown Chapel, through the heart of Eureka Springs, across Carroll County and into historic downtown Harrison. Do not miss the trees in their town square.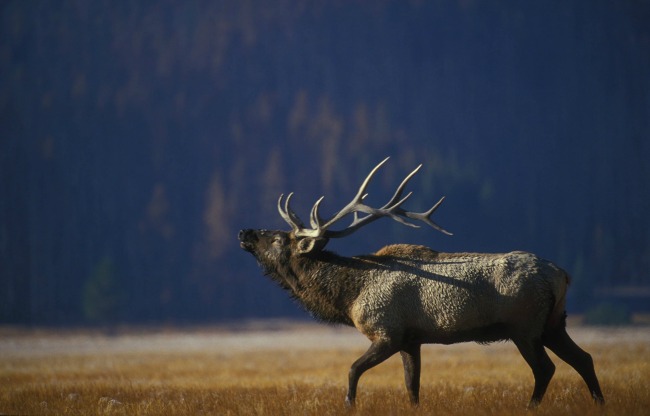 Boxley Valley — I remember when I first moved to Northwest Arkansas, and someone told me there was an elk population. I made them prove it to me. And an annual trek has ensued. Near the town of Ponca, there are waterfalls, hiking trails, cozy cabins and ELK! Make sure you map your route before you arrive – the area has poor cellphone service.
Pig Trail (Hwy 23) — named for the many Razorback fans who originally used this road for passage to cheer on their Hogs, this route is now paved with motorcycles as it winds up the mountain. The path is part of the Boston Mountains region of the Ozark Mountains and boats beautiful views along the way. The route gives a glimpse of what this area looked like to early settlers since it is largely undeveloped.
Scenic Hwy 7 — Whether traveling in an open-air car, by motorcycle or in an SUV, open your eyes and enjoy. This route is considered by many to be one of America's most beautiful drives. Make sure you pull off to view Arkansas' Grand Canyon along the way and again end your route in Harrison around their downtown square or the 1929 Hotel Seville, Courthouse or Lyric Theater.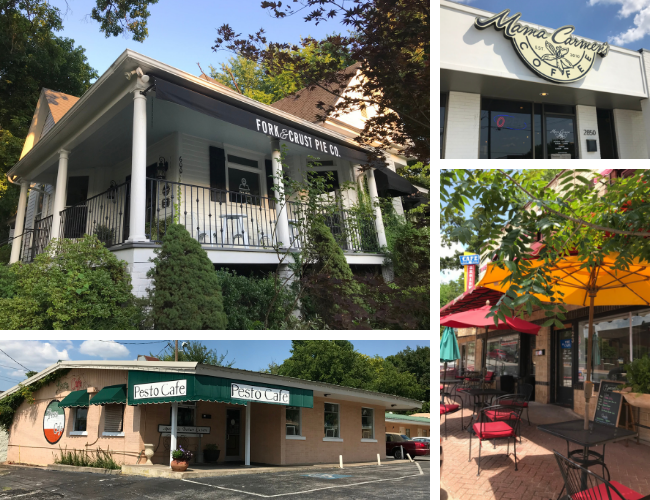 EATS
Café on Broadway in downtown Siloam Springs boasts a daily special, season beverages, homemade soups and always fresh sandwiches, stacked just as you order them. A bowl of soup on the sidewalk porch is something to plan to come back to again and again. Don't worry; you can walk it off in the shops along Main Street when you finish.
A Mama Carmen's Espresso Cafe pumpkin latte needs to be on your fall short list of treats. This mixin does not come in a plastic bottle with a pump on top. They make their own pumpkin puree with spices and hand stir it into each cup. Mama Carmen's is the kind of coffee shop where artisans serve up your order in ceramic mugs on saucers, you can shop for items that make a difference, and their beans tell a story.
Don't let the outside of the Pesto Café keep you away from what's on the inside. Gameday weekends or when craft season abounds, this Fayetteville treasure has cars circling the lot to find a spot. Let me recommend the vegetable lasagna. But the menu is full of many homemade pasta dishes with warm, gooey, cheesy centers. Come early, bring a date and enjoy the quiet company.
Across from the Newton County Courthouse, where Highway 7 winds into a valley sits a legendary diner — the Ozark Café. Originally opened in 1909, it is, as the sign on the front says, "A North Arkansas Landmark." It's a place where swapping stories over cups of coffee is as important to the locals as getting a good plate of inexpensive food. While the daily lunch buffet is an option, the newspaper-style menu is the way to go. A chicken-fried steak or a big hatch green chile burger is what I usually pick!
What is fall without pie? Whether its to help with your festivities or to enjoy a moment on your own, Fork and Crust Pie Company is the place to stop. They have locations in Fayetteville and Rogers and the menu changes by season. And, if eating pie is not your thing, then you can have your pie blended into a milkshake! (yes, really). It's time to get out of the office and move your meeting location.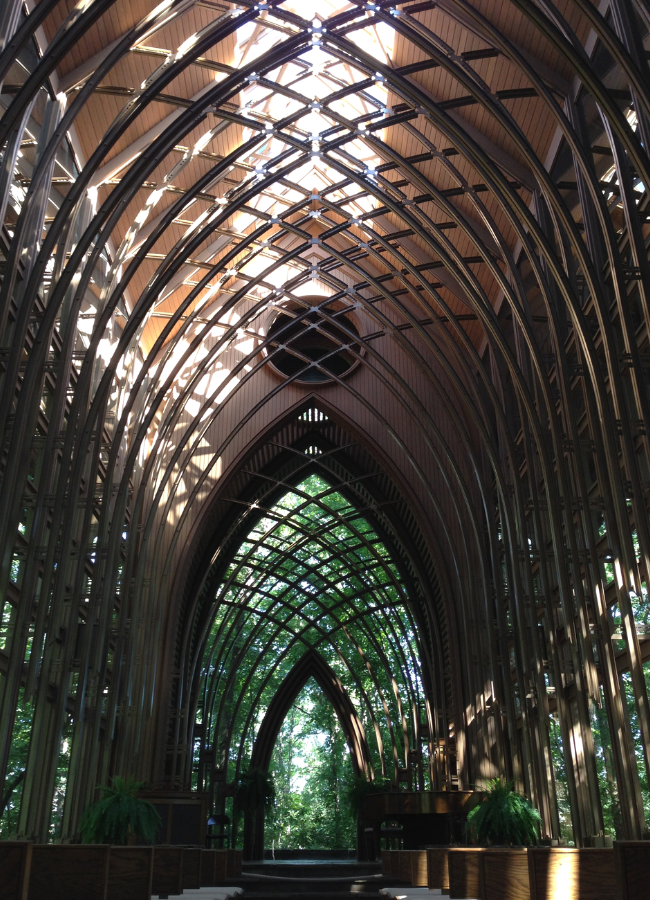 STOPS
Mildred B. Cooper Memorial Chapel is a beautiful sanctuary and quiet oasis any time of year, but the vaulted glass ceiling comes alive in the fall as the foliage outside almost leads you to worship on its own. Built to honor her life, the family enlisted E. Fay Jones and Maurice Jennings to design the structure, and they choose a Gothic style, reminiscent of fourteenth-century Europe. The view overlooks a walking trail and Lake Norwood on the edge of Bella Vista.
Hobbs State Park and Van Winkle Hollow are two great stops along Hwy 12 just north of Rogers. Hobbs is the state's largest park and only one to allow regulated hunting on its grounds. The Visitor Center is a special place that explores the local ecosystem, including a limestone exhibit and an interaction with the bat system in the area. Van Winkle Hollow is a trail that covers the homesite of the Peter Van Winkle family and later owners. It's a quiet, peaceful trail that has tours led by Park Interpreters, or you can explore on your own. Benches and picnic spots make it a perfect family outing. It's a fascinating look at an area known only to early settlers and cave dwellers (and a few outlaws).
Lake Atalanta in Rogers has recently undergone some renovations after flooding damage a couple of years ago and is more spectacular than ever. Many come for the fishing, but the paved sidewalk trail around the lake is perfect for walking, running or riding. Its rustic sensory playground and treehouse make a special place for kids and families. Some mention it as a great place for a day date or evening stroll.
Off-Road biking in Bentonville has taken off in the last few years. Whether it's the trails behind Crystal Bridges Art Museum or the area Mountain Biking Community, Slaughter Pen Trail (night riding options) and Blowing Springs are two specific trail paths to check out and "master." Visit them if for no other reason than to say you mastered Armadillo's Last Stand.
WALKS
Historic Cane Hill is a community on the rise and is home to many "Arkansas Firsts," including first coed college, the first settlement in Washington County, the first public library in the state and first framed structure in Washington County. Eighteen properties are listed on the National Register of Historic Places. And the Carroll Drugstore reopened this fall as a New York-style art gallery. Four trails, named for community settlers and their homesteads, explore the history of the area and beautiful views overlooking Washington County. Arkansas' apple industry started here and was bigger than what we know today in upstate Washington or New England.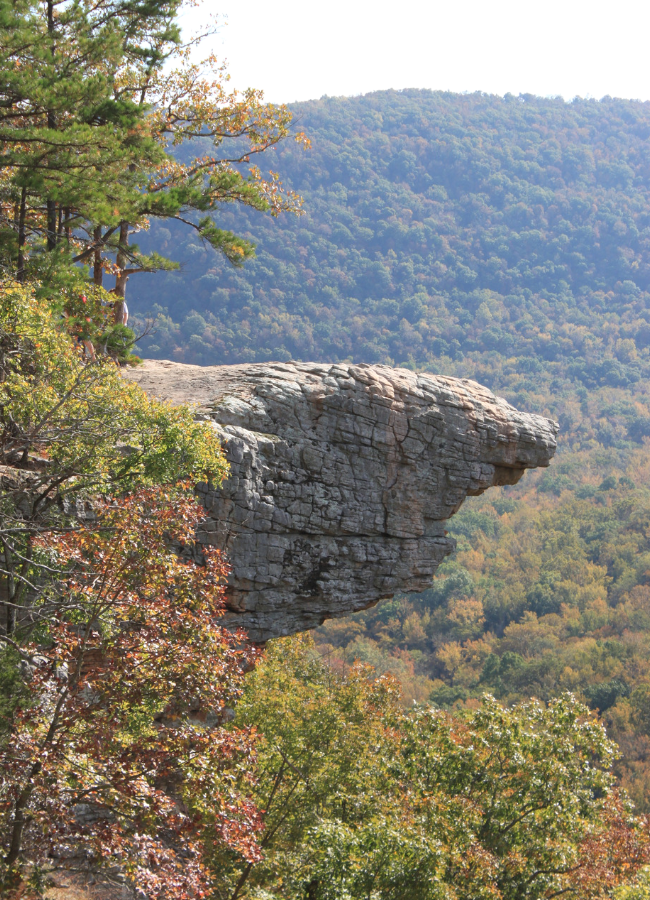 It is not a fall list in Northwest Arkansas without a mention of Whitaker Point (Hawksbill Crag). The view of the Buffalo River Valley and the path to get there really are like no other. An optical illusion with distance always makes it look like you are standing on the edge of a pointed cliff whether you are on the flat surface or too close to the edge. Primitive camping is available. And the photographer in you might like the early morning walk-in with fog rising off the bottom. Quick Fact: the opening to Disney's Tuck Everlasting was filmed in this spot.
Devil's Den State Park is listed as a spot on the Arkansas Preservation Passport. While the Yellow trail is my favorite, there are many other long and short trail spots for great views, quiet spots to hang in a hammock, or to picnic together under the canopy of an Arkansas fall. Special features to check out: scenic overlook under a rock pavilion, cabins for an overnight stay, camping for a weekend adventure and the Devil's Den Dam.
Two easy walks to waterfalls include Tanyard Creek Nature Trail in Bella Vista and Lost Valley Trail in Ponca. Both are mostly flat terrain along a marked path. Easy walks, and views worth the journey when you arrive at the end. While you don't want it to rain on your journey, you sure hope it's been raining during the week before you get there, so the runoff is that much better.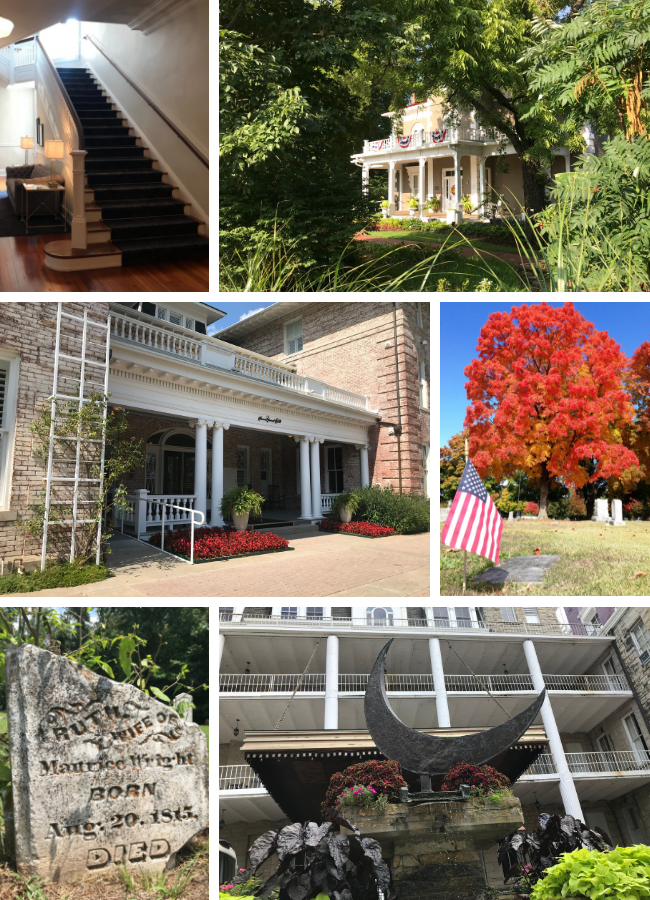 SCARES
The Crescent Hotel in Eureka Springs is not only a beautiful, historic location with a breathtaking view, but it is considered America's Most Haunted Hotel. Join the evening ghost tour and meet Michael, The Nurse or the Ghost in the Morgue for yourself! Better yet, spend the night and see if you have any extra room guests.
Inn at Carnal Hall was originally a women's dormitory, but today is a beautiful hotel on the edge of the University of Arkansas campus. While none of it is officially recorded or captured on video, some visitors see an apparition in a ballgown. Others have noticed light fixtures that turn on by themselves, and maybe even the shape of Mrs. Ella, a former English professor at the U of A who died from typhoid fever.
Across from the Walmart Home Office in Bentonville sits the Peel Mansion, built in 1875 and former home to Col Samuel West Peel, the first native Arkansan to serve in the U.S. Congress. Whether attending the Twilight Tales tour in October or just visiting on your own, look for Peel, his daughter or another young girl who lived in the house and died in a room they closed for 40 years after she left.
If haunted houses are your thing, you need to check out the Haunted Prison and Trail of Terror in Fort Smith. After all the hangings under the reign of Judge Parker, many share stories of men hanged over the years still roaming places like the Old Fort Smith Courthouse. Also, the Clayton House has a woman who guests and former staff have seen in the study wearing a linen shirt and brown skirt.
A Northwest Arkansas fright fest is not complete with a spin through Cane Hill. Nothing stands out in their history like the murders of members of the Wright family in 1839. Many homes in the area host extra guests. And former residents and the Wright daughters can sometimes be seen strolling in town.
The possibilities this fall seem endless. Driving around to see foliage, strolling down a path to experience it firsthand, eating treats and treasures across the region or experiencing history through paranormal activity. You really can't go wrong for a Northwest Arkansas fall. Just pick a path!