Fall is the ideal time for road tripping through Arkansas, and the state's most stunning scenery can be found along the Arkansas Wine Trail. Everyone knows Arkansas is the country's leader in rice and poultry production. And, yes, we have the only active diamond mine in America. But you may not realize grape production for Arkansas represents a $1.14MM industry.
In the mid-1920s, Governor Charles Brough (rhymes with "rough") said, "If a fence was built around Arkansas, the state would be self-sufficient." It's true. I could survive a long time with wine, rice and diamonds. Couldn't you?
But back to the Arkansas Wine Trail.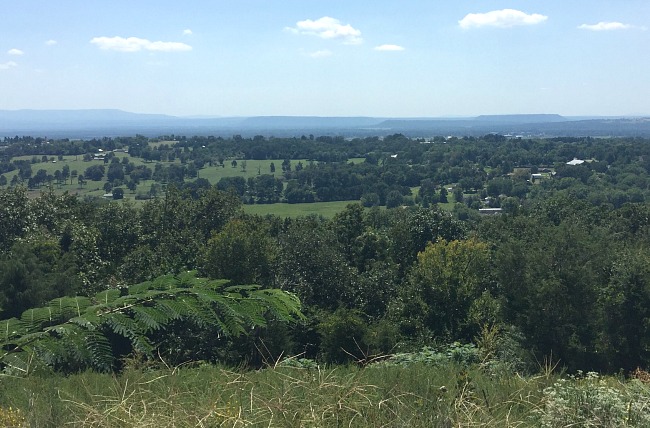 Three regions in Arkansas— Altus, Arkansas Mountain and Ozark Mountain— have been designated as American Viticultural Areas (AVA). A viticultural area is officially defined as a grape-growing region distinguishable by certain geographical features such as climate, soil and elevation. The greater Ozark Mountain region (which encompasses the Altus and Arkansas Mountain areas and spreads into Oklahoma and Missouri) covers nearly 3 million acres making it one of the largest single-state AVAs in the country.
Arkansas's wine heritage began in Altus when Jacob Post emigrated from Germany in 1872. A few years later, Swiss winemaker Johann Wiederkehr settled in the same area. The Arkansas River Valley offered ideal grape growing conditions with sandy, slightly acidic soil and altitudes similar to the settlers' native European homelands. Altus was declared a viticultural region before Napa, California.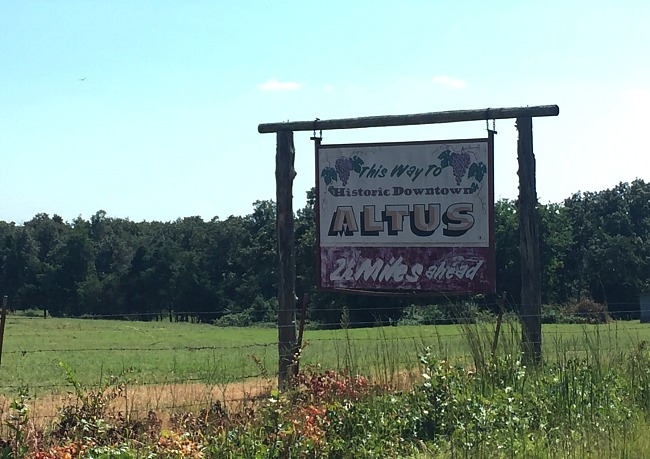 Located 6 miles south of Interstate-40 (Exit 41) between Fort Smith and Russellville, Altus and the surrounding area is now home to several wineries, along with shopping, restaurants and historic sites. Other vineyards are scattered throughout the Arkansas River Valley and into Northwest Arkansas. Whether your time is limited to a few afternoon hours or a leisurely weekend, grab a map and create a tour that fits your schedule and most convenient starting point. You'll soon be enjoying a relaxing autumn drive without the crowds or cost associated with a full-blown California vacation.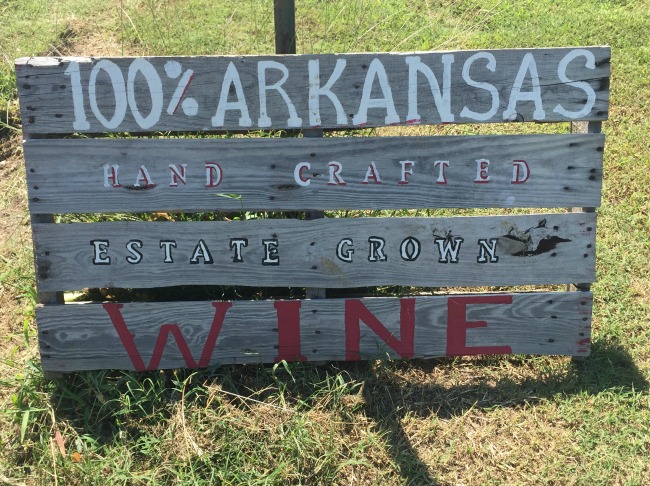 Post Familie Vineyards
1700 Saint Mary's Mountain Road
Altus, AR 72821
Post Familie is a fifth generation vineyard producing a variety of red, white, blush, port and dessert wines since 1880. Visit the new visitor center for tours and tastings. Get a head start on your holiday shopping with unique wine and gourmet gifts from the gift shop. If you visit Tuesday through Thursday, allow time for lunch at The Trellis Room at Post Winery. The Trellis serves local cuisine, 11:30 – 1:00. Reservations recommended.
Special Mention: Post is known for its 100 percent Muscadine. Give it a taste.
Mount Bethel Winery
5014 Mount Bethel Drive
Altus, AR 72821
Founded in 1956 by Eugene Post, Mount Bethel is the third oldest winery in Arkansas located at the site of the original Post family homestead. Mount Bethel produces several award-winning regional and national varietals. The hand-dug cellar is still intact and used for storage. The walls of the retail shop were constructed from hand cut stones taken from the same quarry as nearby St. Mary's Catholic Church.
Special Mention: Be sure to try Mount Bethel's Elderberry wine.
Chateau Aux Arc Vineyards & Winery
8045 Highway 186
Altus, AR 72821
Chateau Aux Arc is new to the Arkansas wine scene. In 2001, twenty-five-year-old Audrey House, a native of Oklahoma, purchased 20 acres from Wiederkehr, along with the state's oldest planting of Chardonnay grapes. Chateau Aux Arc is eco-friendly, using sustainable products and recycling water runoff. This vineyard offers an impressive 5,400 square foot tasting room. Plan to stay awhile and explore the scenic grounds.
Special Mention: Chateau Aux Arc is the world's largest planter of Cynthiana grapes, the largest American Chardonnay vineyard outside California, and the largest Zinfandel grower in Arkansas.
Dionysus Wine & Brew
9017 Highway 186
Altus, AR 72821
Dionysus is a boutique winery owned by members of the Wiederkehr family. Be sure to visit the tasting room and gift shop located on site. If beer is more your style, Dionysus specializes in home brew kits and supplies.
Special Mention: Primitive camping available as well as a single yurt rental.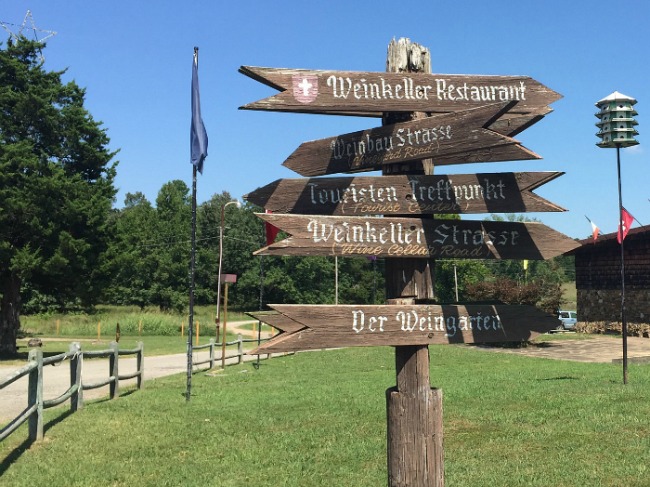 Wiederkehr Wine Cellars, Inc.
3324 Swiss Family Drive
Wiederkehr Village, AR 72821
Family owned and operated since 1880, Wiederkehr Wine Cellars is a destination in Swiss alpine style. The original wine cellar, hand-dug by Johann Wiederkehr, now houses the award-winning Weinkeller Restaurant, serving Swiss and European cuisine. Listed on the National Register of Historic Places, Weinkeller has repeatedly been voted "most romantic restaurant" by Arkansas Times readers.
Special Mention: 53rd Annual Wiederkehr Wine Festival, scheduled Oct. 22, 2016, includes arts and crafts, entertainment, food concessions, carriage rides, wine tours and tastings, and much more.
Neumeier Winery
3406 Hwy 186
Wiederkehr Village, AR 72821
Neumeier Winery, located on Saint Mary's Mountain in Wiederkehr Village, provides tours and tastings.
Special Mention: Best-known for its uniquely dry Muscadine wine.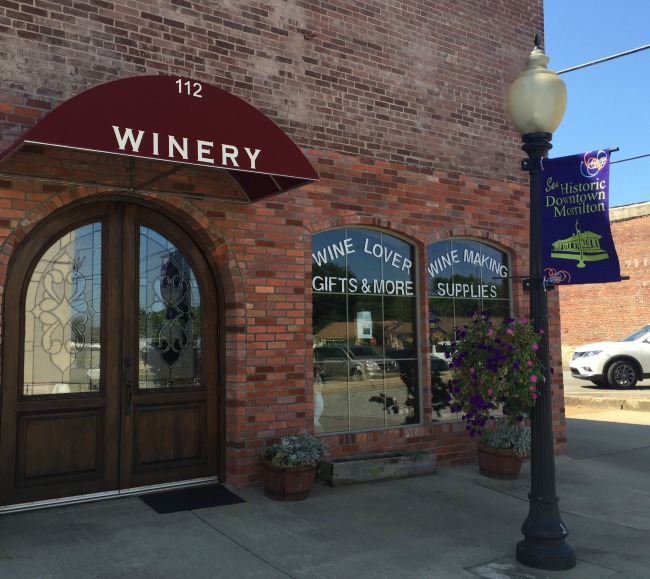 Movie House Winery
112 E. Commerce Street
Morrilton, AR 72110
Movie House Winery, located in the renovated Petit Jean Movie Theatre in downtown Morrilton, focuses on small batch wines. Movie House offers tastings and winemaking classes.
Special Mention: Movie House creates custom wine gift baskets and sells beer & winemaking supplies.
Cowie Wine Cellars & Vineyards
101 N. Carbon City Road
Paris, AR 72855
About 30 miles south of Altus, Cowie Wine Cellars & Vineyards is located in Paris, Arkansas. Cowie Wine Cellars vints an assortment of wines from locally grown grapes and has won over 150 awards in New York and throughout the south. The property is available for weddings and large events.
Special Mention: Arkansas Historic Wine Museum located onsite includes fascinating information on the history of winemaking in Arkansas.
BoBrook Farms & River Bottom Winery
13810 Combee Lane
Roland, AR 72135
Just down the road from Pinnacle Mountain State Park, BoBrook Farms & River Bottom Winery specializes in fruit wines grown on the 235-acre farm. The 4,000 square foot barn is a popular event venue with a capacity for five hundred guests.
Special Mention: The farm offers a pick-your-own pumpkin patch in October.
An Enchanting Evening Small Farm Winery
29300 Arkansas 300
Roland, AR 72135
An Enchanting Evening is a small wine manufacturer located 20 minutes west of Little Rock near Little Italy. Wine tastings (conducted in a yurt) feature wines produced from local grapes as well as classics. An expansive deck overlooks beautiful Pinnacle Mountain.
Special Mention: Wedding venue and luxury cabin getaway rental available.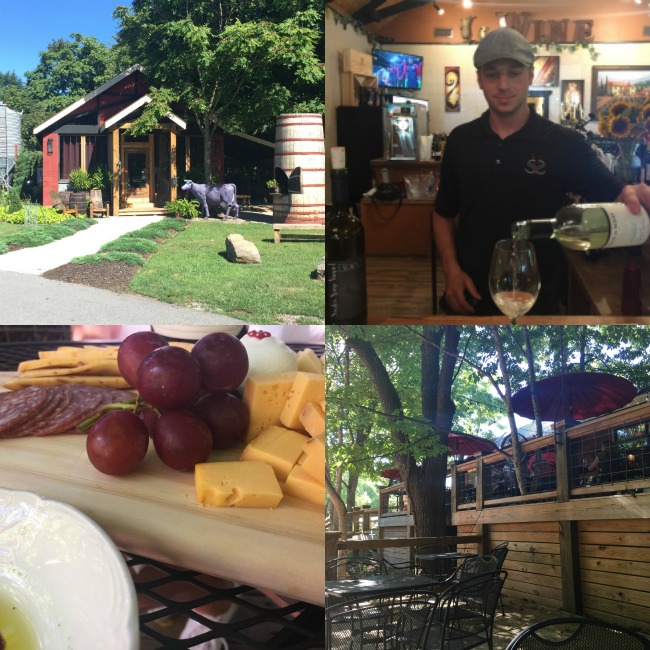 Sassafras Springs Vineyard, Winery & Events Center
6461 East Guy Terry Road
Springdale, AR 72764
Sassafras Springs serves locally produced Arkansas wine and beer as well as wine from all over the world. The impressive tasting room was converted from an old milking barn. A series of shady decks provides a peaceful spot for visiting with friends or family. Enjoy live music and dinner Friday and Saturday nights. Chapel Ruins provides a unique wedding venue. Newly renovated Stables accommodates large events.
Special Mention: Create-your-own cheese board available daily.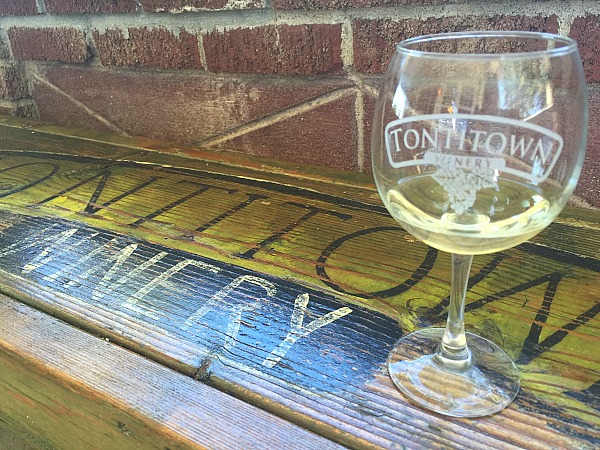 Tontitown Winery
335 North Barrington Road,
Tontitown, AR 72770
Tontitown Winery is located in the Taldo House, built in 1917. Wines are made onsite from Tontitown grapes grown nearby at Ranalli Farms using recipes handed down since 1923. Tastings offered seven days a week.
Special Mention: Live music on the deck Friday and Saturday nights, May through October.
Keels Creek Winery
3185 East Van Buren
Eureka Springs, AR 72632
Located in Eureka Springs, Keels Creek is a boutique winery offering eight varieties of wine along with tastings of other Arkansas-grown grapes.
Special Mention: This winery shares space with an art gallery showcasing regional artwork.
Railway Winery & Vineyards
4937 Highway 187
Eureka Springs, AR 72632
Eight miles north of Eureka Springs, Railway Winery is located along the route of the historic M&NA line. This small farm winery produces twelve varieties of grapes and several fruits. The gift shop offers local artisan products including jellies and coffee.
Special Mention: Bring your lunch and picnic on the grounds.
A FEW FINAL THOUGHTS for planning your perfect Arkansas Wine Tour getaway:
Combine your drive with the most spectacular landscapes by checking Arkansas's Fall Foliage Report HERE.
For ideas on area accommodations by region, visit the Bed and Breakfast Association of Arkansas.
Before you go, remember your tasting room etiquette (Wine Enthusiast):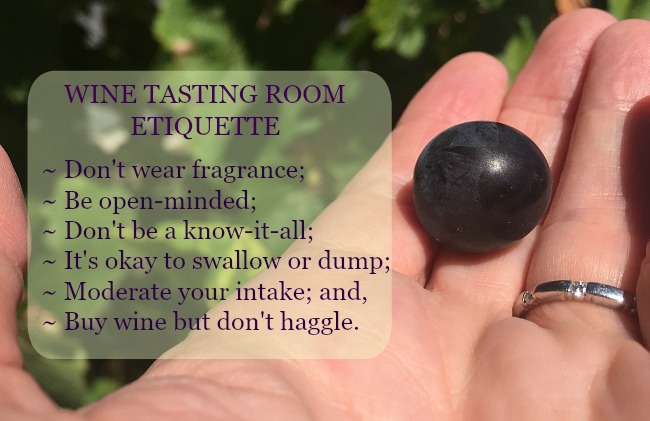 Happy fall wine tasting!