Thanks to the marvel of modern engineering, trains and automobiles have been finding it increasingly easier to cross the mighty Mississippi River by bridge since before the turn of the 20th century. Having grown up in eastern Arkansas, I've always been fascinated with the huge iron structures of the Memphis-Arkansas Memorial Bridge and the historic Harahan Bridge. For me, seeing the bridges always meant we were leaving the state on an adventure or returning home following one. For many years, as far as I knew, those were the only bridges that traversed that Old Man River; at least they were the only ones I ever saw.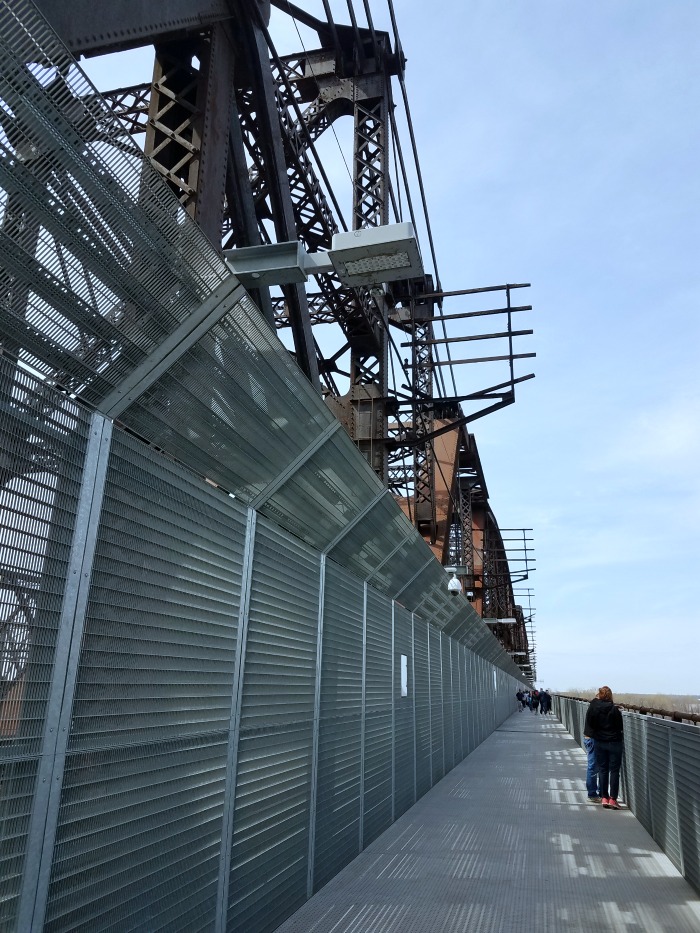 As I grew up and modern engineering became more modern, so did those bridges. Completed in 1916, the Old Harahan Bridge was the first and only combined train/automobile bridge to span the Mississippi in the South, and in doing so, it connected east with west, making Memphis a leading shipping and travel hub. After World War II, though, people were on the move, so the four-lane Memphis-Arkansas Bridge opened to traffic. Both bridges have gone through a century of updates and incarnations, but now, there is another way to cross the mighty Mississippi — on foot.
Whether you use that foot to walk or pedal, Big River Crossing (BRX) at the Harahan Bridge opened to public pedestrian traffic in 2016. As the oldest and longest active rail/bicycle/pedestrian bridge on the Mississippi, BRX provides easy access to entertainment, activities, and recreation on both sides of the river. Connecting the farmlands and flood plains outside of West Memphis to the downtown urban area of Memphis, the walk/ride is indeed an interesting and beautiful one.
Wanting to see firsthand what had been done to the bridges of my childhood, I dragged my always-up-for-an-adventure oldest child with me to check it out. To be honest, I was a little bit nervous at the idea of being that high up over the river, and my vertigo did a little bunny hop when, after a handful of strides, I realized I was no longer standing on solid earth, and there was a rather large, swift river many, many, many feet below me. But my jitters gave way to awe as I looked around. The views took my breath away, and despite the churning waters beneath me, the bridge felt very solid, and I felt very safe.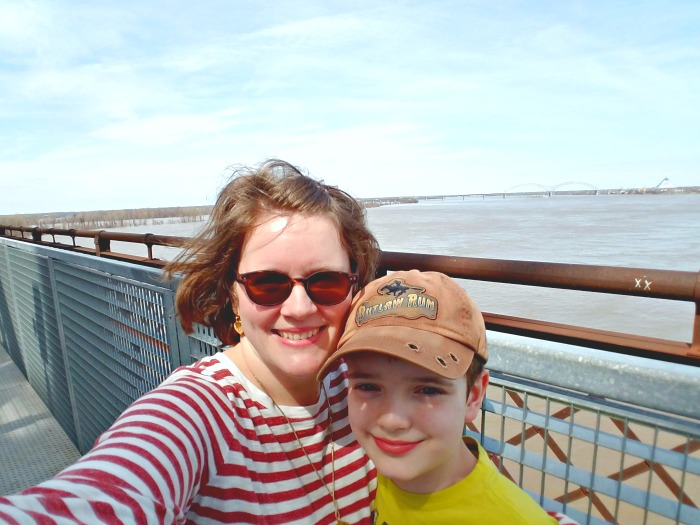 As we walked, I took it all in — boats and barges chugged along underneath us, freight trains rolled by next to us, and strollers, joggers, and cyclists buzzed around us. You really can't help but wonder what it must have been like for the explorers, pioneers, settlers and soldiers who came upon the Mississippi in their journeys and wondered just how to get to the other side.
Fortunately for us, we have the advantage of being able to walk right across it. And it's definitely worth seeing. I guess some things never really change. Now, when we visit Big River Crossing, whether heading east to the shops and eateries in Memphis or going west to check out the parks and outdoor activities in my home state, that old bridge still represents adventure and fun and home.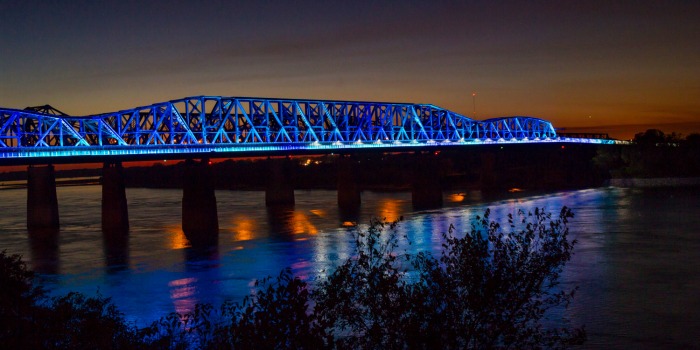 Photo Courtesy Big River Crossing
For early risers, the bridge opens at 6 a.m. You can watch the sunset from the bridge or catch the 100,000 Philips LED light show hourly from sundown until 10 p.m. when BRX closes for the night.
Both the Big River Crossing and the Big River Trail System were created to provide visitors with a way to experience the Mississippi River and come away with a deeper appreciation of its significance and grandeur. Since its opening in 2016, thousands of people have enjoyed crossing the river. Whether you are looking for family moments, fitness routes, photo ops, or you want to step out on a little adventure; you will definitely want to check out Big River Crossing.