Camping means a lot of things to many people. It can mean pitching a tent or hooking up a camper in a campground. It can also mean staying in a cabin in the middle of a state park. To our family, camping has come to mean something pretty special. With our rooftop tent we've adopted the popular motto that "Camp is where you park it." With dispersed camping, it really is just that.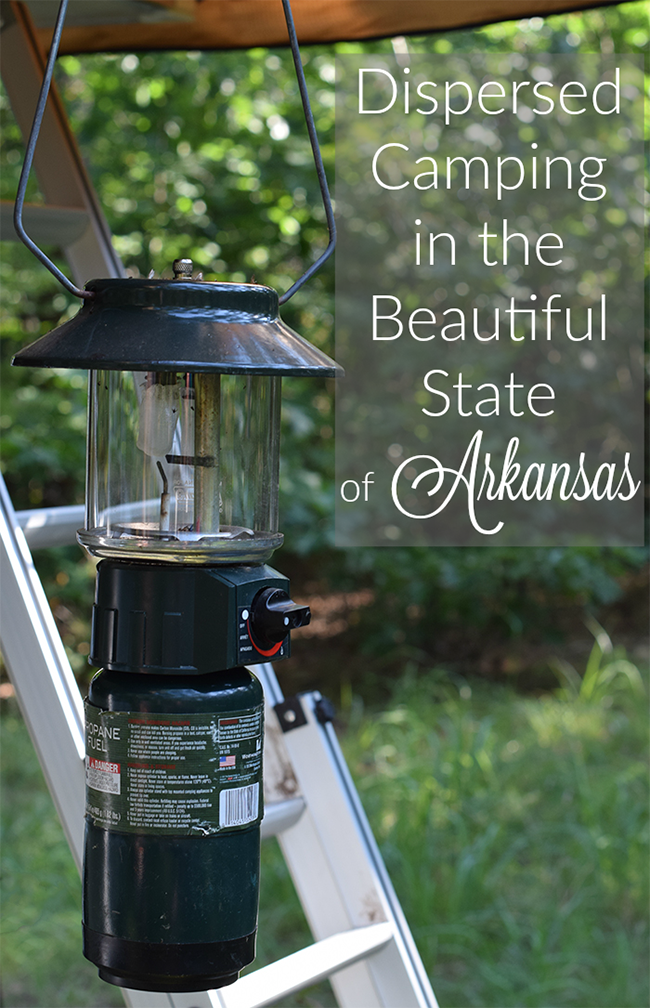 What Dispersed Camping Means
Dispersed camping means pitching a tent in the middle of nowhere, away from civilization, away from any facilities, away from any other human beings. According to the Forest Service, "Dispersed camping is the term used for camping anywhere in the National Forest OUTSIDE a designated campground."
For us, dispersed camping is the #1 way to get away from everything and just be together. It's a way for us to live in the moment and to see places we may not otherwise get to see. It's a way to enjoy nature and all that it entails.
Camping this way has allowed our family to camp in places we never imagined…  for example, at almost 10,000 feet in elevation next to a rolling mountain stream and an old abandoned mine… or in the middle of the Ouachita Mountains surrounded by the scent of pine and amazing options for relaxing in a hammock… or in the middle of a National Grassland with seemingly every star shining down from the heavens above.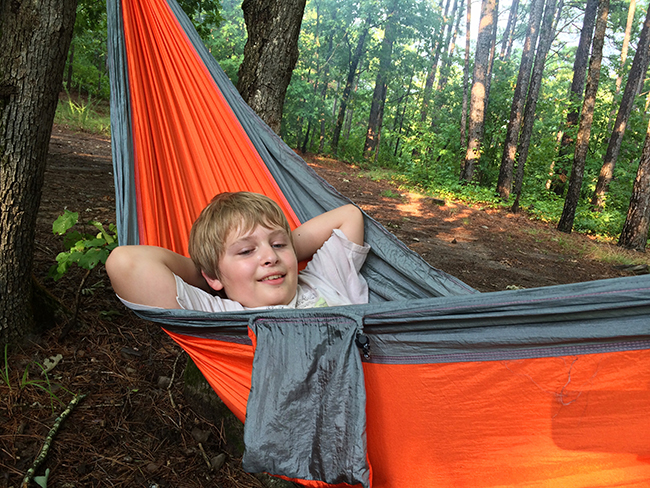 You've probably read the quote, "Reading takes you places." Well, so does camping. Dispersed camping can take you places you never imagined possible and inspire you to take the road less traveled more often than not.
Where to Camp in Arkansas
Arkansas National Forests and wilderness areas are a great place to start, including both the Ouachita National Forest and Ozark-St. Francis National Forests. Some campsites are walk-in only, used by backpackers. However, if you're driving, side roads off of main roads are where to look for established, roadside, dispersed campsites with already existing fire rings. For example, a gravel road that travels away from a main road in the National Forest… You'll likely find campsites in such areas. For off-roaders and ATV riders, the Devil's Den area has been a place for dispersed camping (though roads in the area are under construction at the present time). A word of caution, though: You do need to watch for Private Property and No Trespassing signs even in the National Forests, and make sure you're not camping on someone's private property.
Rules to Follow   
Normally, there won't be any fees for dispersed camping, meaning you camp for FREE! However, there are occasions where a permit is required, so it's important to check with the Forest Service for the area where you're planning to camp. Rules and updates are usually posted online.
It's also important to think and act sustainably. Stay on existing roads and trails. Don't hack your own campsite out of the forest. Instead, camp at an already established site; you'll know when you find the fire ring because most sites have one. You'll also want to make sure you're at least 100 feet away from any water source.
Be sure to check fire danger conditions before heading out, so you know if it's even permissible to have a fire.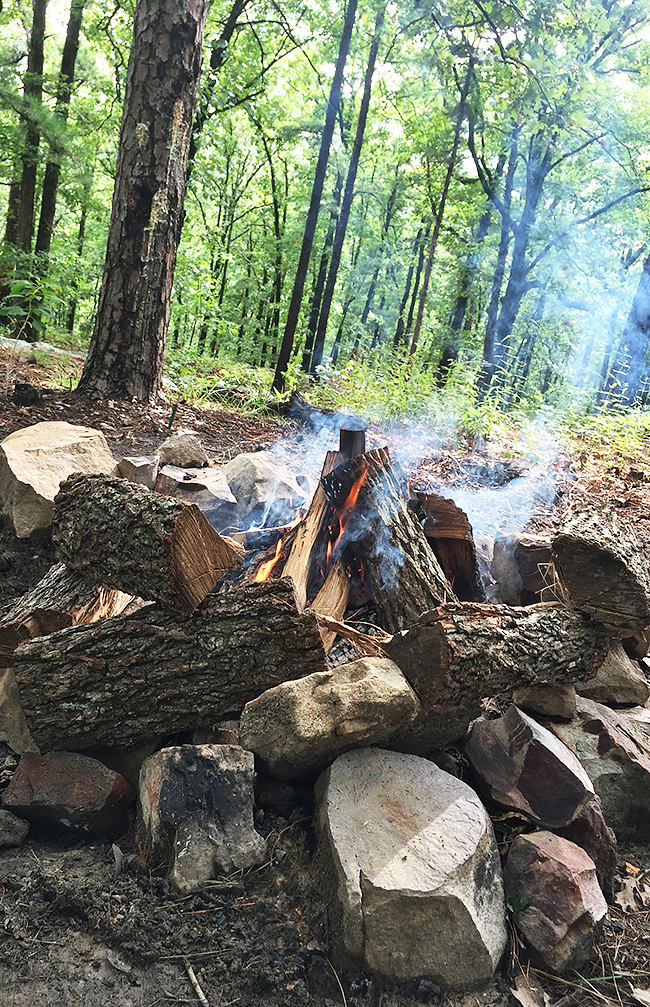 Also, check before carrying in your own firewood because there are places that do not allow you to carry in your own wood, due to insects or disease. If you're starting a fire, be sure to use only dead wood, never a live tree. Finally, make sure you have enough water to properly put out that fire before going to bed and before leaving the campsite.
And one more thing to think about… National Forests usually have a rule that you can only stay in a certain campsite for 14 days total; after that, you can't return to that campsite for a whole year.
Again, it's important to check with the Forest Service so you're up to date on all the rules and regulations for dispersed camping in the Natural State.
Tips for Dispersed Camping
While a camper or RV is certainly possible in certain dispersed camping sites, we've found that a tent is the easiest way to go. A rooftop tent, especially, gives you the option to camp just about anywhere your car can go.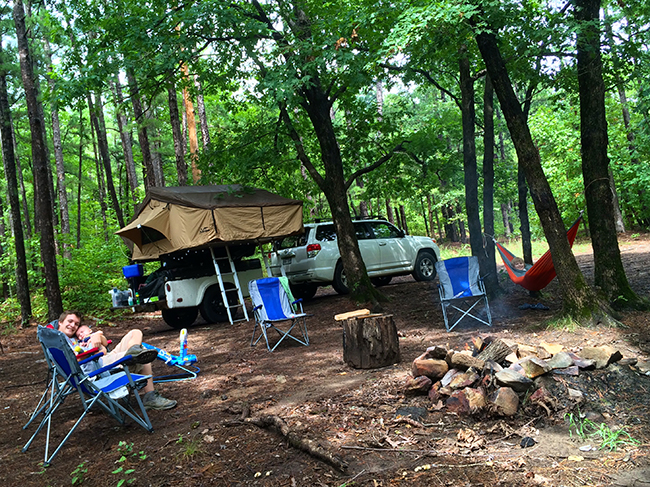 If you're worried about access to facilities, there are options besides digging a hole. A portable toilet is one option. We've actually built a box onto our camping trailer that holds ours, and while camping, we set it up in a small pop-up "bathroom" tent. While I'll admit, it is pretty gross, it can be emptied at any RV station when needed. Though I'm not above either, I'll take a tiny toilet over a shovel any day. It's that one comfort measure we knew we wanted when we decided to take on this travel style.
Minimalism is where it's at when camping. Pack as lightly as possible. A few of the supplies we recommend are headlamps, lanterns, large water jugs (with potable water for drinking, putting out the fire, washing dishes, etc.), Campsuds (amazing biodegradable soap for dishes, hands and body, hair, etc.), homemade hand and body wipes, rope, a knife, kitchen utensils and cooking pots, a camp stove, camp chairs, etc. Always pack lighter on clothes; you'll likely re-wear certain items. When camping in cold weather, layers are key. And when it comes to food, just remember there are animals, including bears, and food as well as trash will need to be locked up at night or hung from a tree.
Pack It In Pack It Out
Finally, when you're camping, take hold of this motto and never let it go… Leave No Trace. When you go to leave, make it look as though you were never there. Take care of nature. Know that others want to enjoy this slice of camping happiness just as much as you. Leave no Trace means leave nothing behind. Pick up that trash, and take it with you, every last piece. Come up with creative ways to hang your hammock and hang your lantern, besides hammering things into trees.
Why Camping? Why Break Away from It All?
John Muir says it best…
Keep close to Nature's heart… and break clear away, once in awhile, and climb a mountain or spend a week in the woods. Wash your spirit clean.