When it comes to hospitality, Arkansans are certainly no stranger to the concept.  Born of a slower time, when neighbors welcomed neighbors with open arms and good cookin', Southern hospitality runs deep in the Natural State. Merriam-Webster defines the term as "the friendly and generous reception and entertainment of guests, visitors, or strangers,"  and in Arkansas, most of us have had our own experiences that define what hospitality means to us today.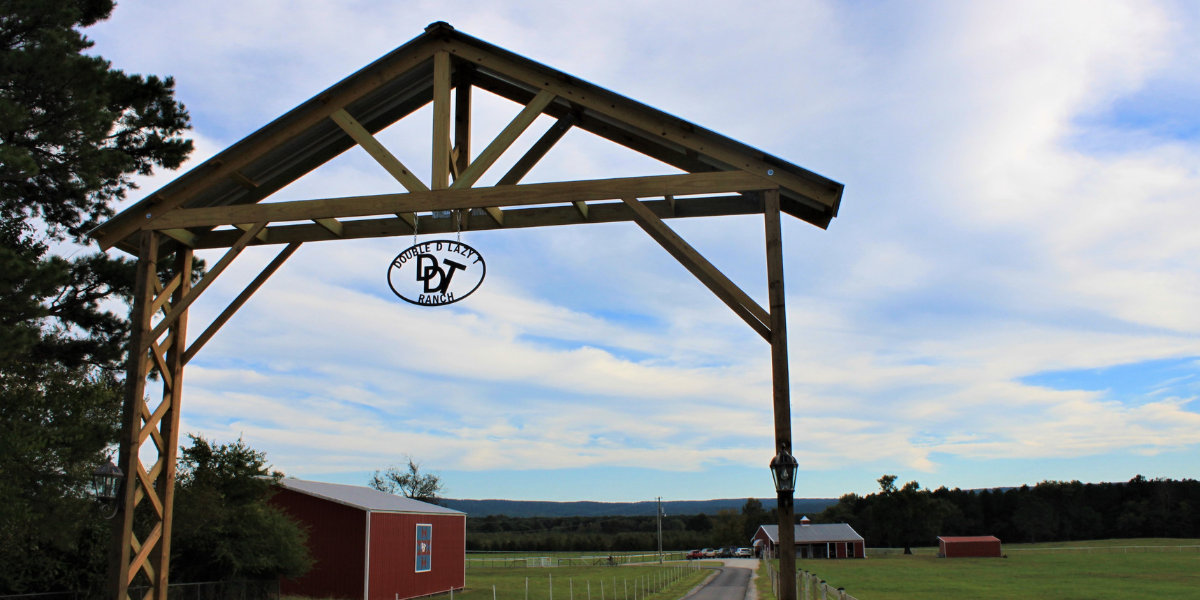 At its very best, hospitality is that circumstance where strangers become friends.  And that is exactly what happened when we met Tommy and Debbie Park, owners of the Double D Lazy T Ranch & Bed, Breakfast, & Barn in Perryville, Arkansas.
Both Tommy and Debbie grew up in Perryville and were best friends from the first grade on, though they didn't start dating until they were in their mid-20s. Life and career led the Parks to live in sixteen different cities over the course of 40 years until they finally settled in Heber Springs where Tommy took a job with the Corp of Engineers as a park ranger at Greers Ferry Lake. And Debbie, a former home economics teacher, opened a gift shop.
About ten years ago, Tommy and Debbie found themselves making the 70-mile trip between Heber Springs and Perryville frequently after both of their fathers were widowed.  Traveling "home" to take care of the Dads, the couple decided to convert an old horse barn on Debbie's father's property to a 3-bedroom weekend home so they would have a place to stay.
Hard workers with a deep-seated work ethic, Tommy and Debbie both loved their careers, but eventually, they decided it was time to "retire" to Perryville for good.  As it turns out, though, retirement wasn't all it was cracked up to be. That's when the couple decided to take over the working ranch and turn their horse barn weekend home into a Bed and Breakfast.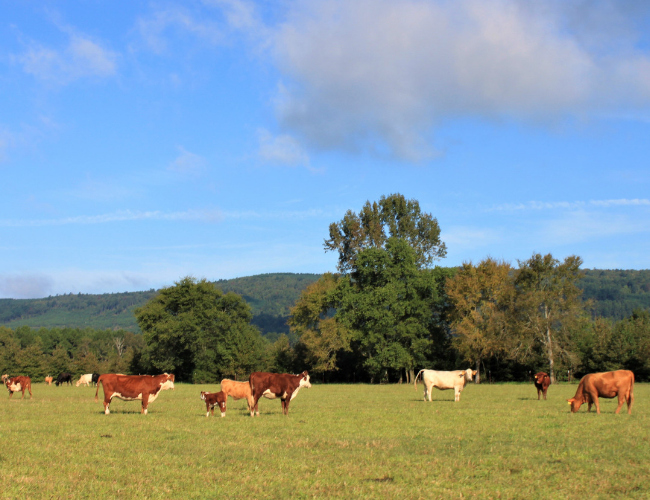 Tommy will tell you, "All I ever wanted to be was a cowboy, and Debbie's dad has always been my hero, so it's good to be back home." And Debbie will tell you that Tommy works harder in retirement than he did when he worked for the Corp of Engineers. But when you are doing something you love, it doesn't seem like work at all.
Their converted barn is not exactly grandma's shed. It has three bedrooms, each with a bed and sitting area, and the main room has a furnished kitchen, living room space, and fireplace. Warm, comfortable, and cozy, this hidden gem is well worth the drive. The real treasure of the Double D Lazy T, though, is the view from the back porch.  Whether you grab a cup of coffee and curl up in a rocking chair in front of the chimenea at sunrise or roast marshmallows over the fire pit as the day ends, a beautiful prize awaits.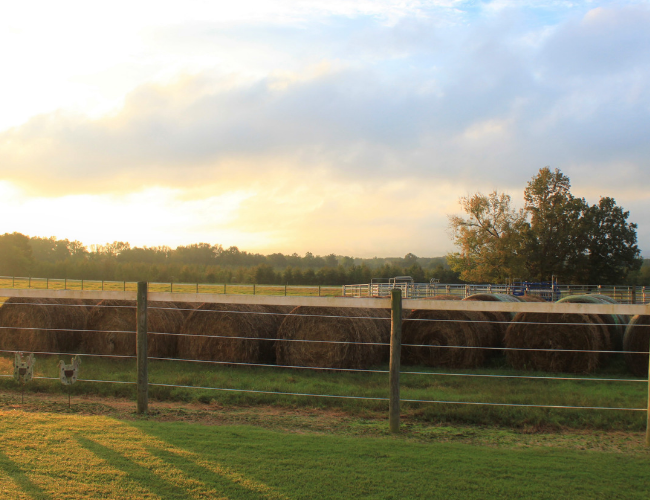 The Parks now live in their own home on the property, so mornings are especially welcoming with a gourmet breakfast at the "Big House" that includes homemade strawberry jelly and a bottomless cup of coffee. These two work in tandem together, so visitors are royalty, or better yet, family, for the length of their stay.
The Double D Lazy T Ranch and Bed, Breakfast & Barn is a favorite of bikers (both motorcycles and cyclists) who frequent scenic Highway 60 West that runs through the Fourche La Fave River Valley in the Ouachita Mountains.  A wonderful place to get away for a weekend, other guests include folks traveling in the area for work, extended families visiting neighbors or nearby friends, and out-of-staters looking to discover the serene beauty of the Natural State.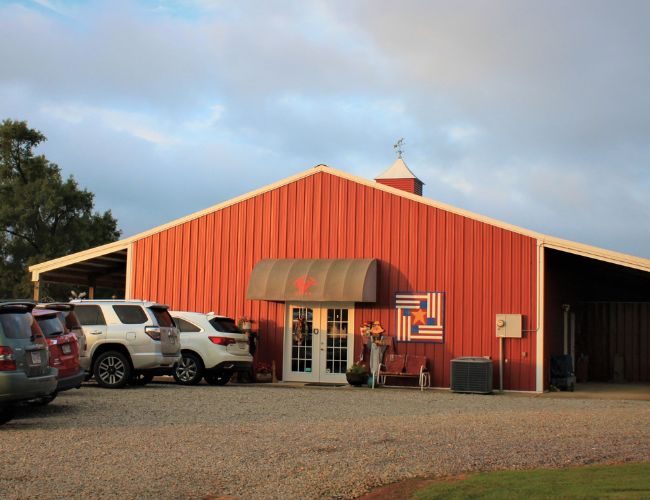 In addition to being close to Petit Jean State Park, the Winthrop Rockefeller Institute and the Heifer Learning Center at the Heifer Ranch, barn quilts are another attraction in the area. In fact, Debbie, who is also an artist, has helped establish Perry County as a part of the Arkansas Barn Quilt Trail route. After reading about barn quilts in Ohio in a copy of Country magazine, Debbie applied her home economics background and business savvy to drawing visitors to the small town.  Quick to tell you that she's not a quilter (she doesn't even sew), there was something about designing a barn quilt and seeing it come to completion that intrigued her. Visitors to the ranch will see Debbie's artwork gracing the property with pieces on their horse barn, on an old wooden barn, three on their equipment barn, and one on an old silo in their front field. Of the 15 quits in Perry County, seven were designed and painted by Debbie Park.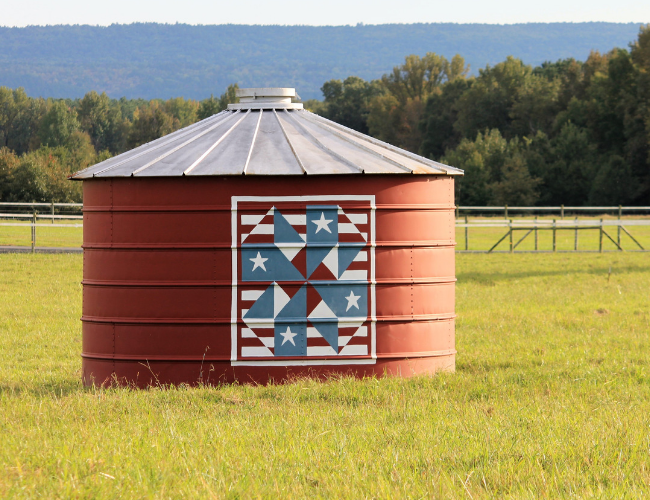 Visitors will delight in talking with the couple who are as open and hospitable as they come.  Tommy's face lights up when he talks about the farm.  You would think after a career as a park ranger and spending so much time outside he would want to rest. But the exact opposite is true. To hear Tommy tell it, he worked hard so he could play hard in retirement. And to him, playing hard is running a working ranch with 60+ head of cattle, a couple of horses, and rotating their land with hardwoods for timber production. Tommy is committed to conservation and restoration by reintroducing native trees and timberlands in the Ouachitas. Of course, that conservation also extends to restoring natural habitats for deer, beaver, and a variety of waterfowl that make their home in the wetlands on their property.
The Double D Lazy T Ranch & Bed, Breakfast & Barn is a Natural State hidden treasure that reminds us of a slower time when Southern hospitality made strangers friends.  This welcoming oasis in Perryville is a great place for an extended stay, a weekend getaway, or a peaceful night for those just passing through.  But beware, the breakfast is decadent, the barn is homey, and the view is grand.  A place where the hospitality runs deep, our weekend is one I will not soon forget.
The Double D Lazy T Ranch and Bed, Breakfast & Barn is located three miles west of Perryville, Arkansas on Highway 60 West. For more information or reservations, call 501-250-5833 or 501-270-0664.
Cover photo by Marissa Pilcher Photography.