I love to discover new places in Arkansas. And Hope has been high on my "South Arkansas Bucket List" for a while. When I moved back to South Arkansas two years ago, I told my husband I had a long list of places to explore. When I lived here for 12 years, I was too afraid to visit them alone. Now, I am checking them off my bucket list.
Hope is full of some FASCINATING gems, so plan a day to explore. Grab a camera and come along!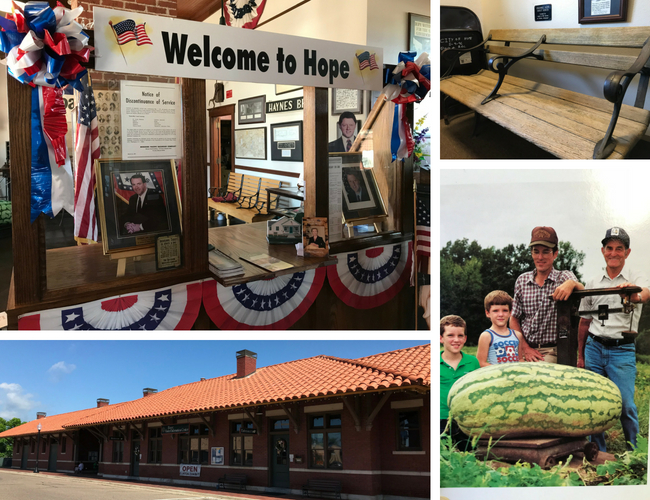 1. Train Depot
My first stop when exploring a new town is usually the Welcome Center. In Hope, that's the Historic Train Depot. On the National Register of Historic Places, this restored 1912 Train Depot currently runs as a major Amtrak stop in the region but will keep you entertained longer than a layover.
Bathroom memorabilia – The bathrooms alone make it a reason to stop. Make sure your party knows everything is okay because you could spend upward of 30 minutes checking out all the pictures and historical items on display.
Take your picture with Bill – You have a couple of opportunities for this. You can pick "Cool Bill" playing his sax in the room that holds many items from his childhood and video telling his story. Or, out in the main concourse is "Governor Bill" watching over the affairs of the state.
Replica watermelon – In 2005, Lloyd Bright brought in a large, award-winning watermelon. He and his brother grew them on the land their father Ivan owned east of Hope. The 2005 watermelon weighed in at 268.6 pounds and earned them a spot in the Guinness Book of World Records. This induction beat their own record of 260 pounds from 1986 when Bright's son entered the contest and won as a child.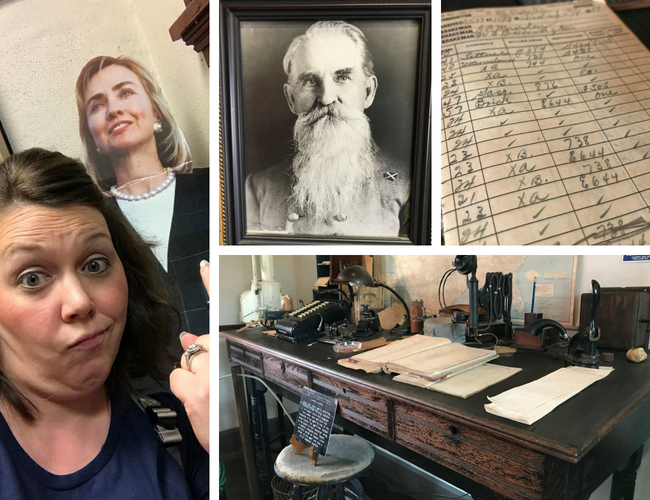 Confederate Army Veteran and local hero – As promised earlier, the bathroom walls teem with incredible stories and memorabilia. I was the only one in the place that morning, so I could look everywhere, including the men's restroom. On the wall by the door is a photograph of Confederate War hero Captain Charles A. Bridewell. But, in Hope, Capt. Bridewell is a local hero in education. The first public school opened in Hope in 1880. Capt. Bridewell was the first teacher. Before that, he had his own private school.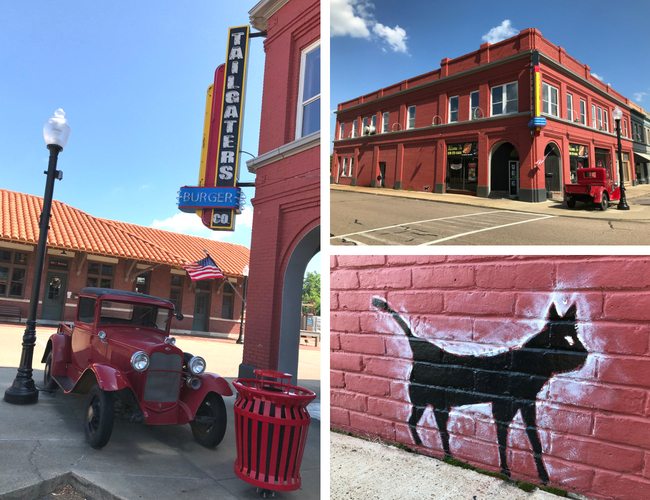 This burger joint sits in the lobby of the old Capitol Hotel and across the street from the Train Depot. But you wouldn't know that was the location from the authentic nature of this "corner restaurant" that the owners fully restored. The old car out front grabs your attention and draws you into a menu that includes the local favorite, "Heart Attack Hot Dog" and the Applewood Bacon Cheeseburger that made Delish.com's America's Top 50 Bacon Burgers in 2017. The unique decorations inside include a Schwinn bicycle and handmade table tops. And you can even dine on the back of an actual truck tailgate!
Car – With a beauty like this parked out front, it's no wonder Tailgaters is a popular spot on local cruise nights or after a car show. This Model A 31 belongs to one of the owners and is a popular spot for prom photos and tourists to the area. Santa even makes his debut in it each December to help kick off the holiday season.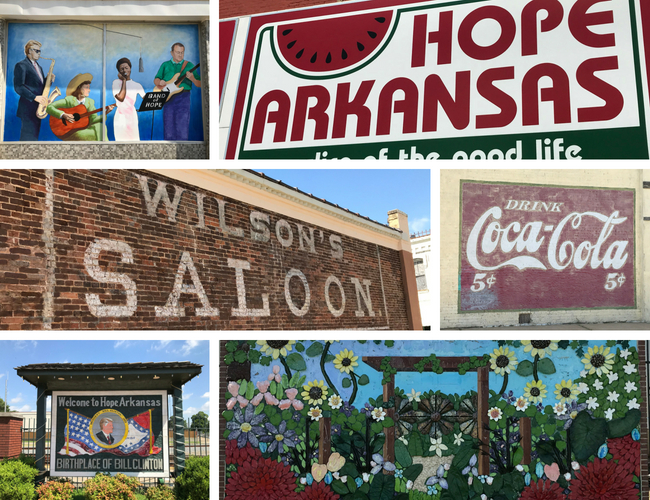 3. Murals and Art
When cruising around downtown and across the city, you can find random pieces of art hidden in public and down a few alleys.
Wilson's Saloon – This painting hangs in the alley behind Antique Row off Elm St. in downtown Hope facing the railroad tracks and City Hall. It lends itself to a time in history when exposed brick and simple paint were a necessity instead of nostalgia.
Coca-Cola mural – Along 2nd street between Main and Walnut Streets is a painted Coca-Cola mural. Of specific note is the National Building across the street from the mural. A standing example of Classic Revival Style commercial building space, this now free-standing building is probably the tallest example in the state of a commercial building in this style and dates back to 1916. It first housed the Bank of Hope, founded in 1893.
Hope Watermelon – While not exactly a painting, this town landmark was recently updated. A caricature of Bill Clinton can be seen playing the saxophone, and the five spaces at the bottom are used to announce and promote upcoming community events, including concerts at Hempstead Hall.
Musical Artists – At 101 W 2nd Street stands the former Hempstead County Bank that was constructed in 1891. While the front half of this building houses the Hope/Hempstead Co. Chamber of Commerce, the back half is the studio for the KTSS-TV station. The outside catches your attention as you drive by. One notable mural is the Band of Hope painting depicting former President Bill Clinton playing his saxophone, former Arkansas Governor Mike Huckabee jamming on his bass guitar, Ketty Lester, a singer and actress most known for her song "Love Letters," and Patsy Montana, who is considered by many as the "Queen of Country Western Music." Montana's 1935 recording "I Want to be a Cowboy Sweetheart" was the first by a female country singer to sell more than 1 million records.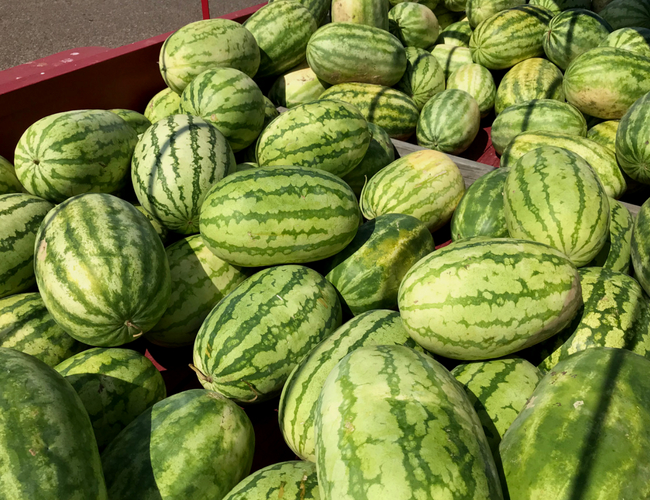 4. Hope Watermelons
This time of year, you can find them all over the city, in the back of a truck, on a trailer in a parking lot, or for many, in their backyards. A word of caution: If someone claims they are selling you a Hope watermelon, you should ask for authenticity. Not only does the sandy soil here set apart the opportunity to grow large watermelons, but the soil also makes the insides taste like candy! Giant Watermelons, a company owned by Lloyd Bright, a three-time Guinness World Record holder, can get you started with one of five varieties if you want to plant your own.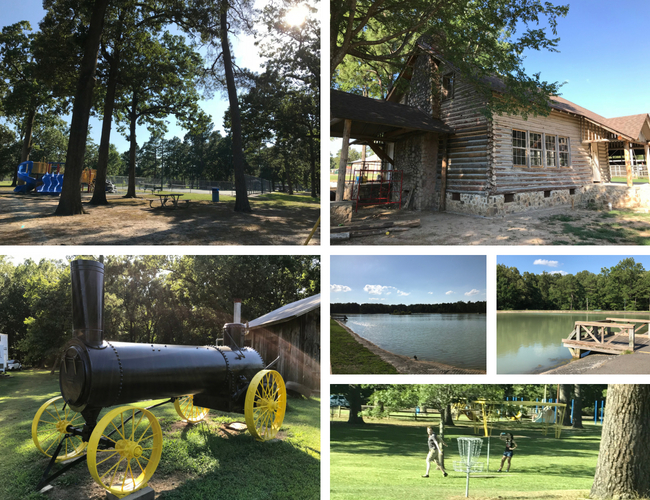 5. Fair Park
It's home to the Hope Watermelon Festival, held the second week of August each year. This year, the 42nd Annual Hope Watermelon Festival was the biggest, brightest, and sweetest one yet. The park was purchased in 1908 for $1,600 and included 40 acres. Over time, the park added 146+ acres, and today it includes almost 190 acres of public recreational space.
Girl Scout House – This house was listed on the National Register of Historic Places in 2015 and is currently undergoing renovations through an Arkansas Historic Preservation Program and Department of Heritage grant. The house is a learning environment and represents the home of a family with modest income during the 1930s and 40s. It is single story and was built from logs in 1938 with funding from a Works Progress Administration grant that constructed public places like parks, roadways, and public buildings in an attempt to end the lasting effects of The Great Depression. For 25 plus years, the structure also served as the gathering place for the local Girl Scout troop.
Mike and Janet Huckabee Lake – part of an Arkansas Game and Fish Commission 11-acre project, but most people visit the 1-acre fishing pond and walking trail. The small pond is part of a Family Fishing program open to those ages 16 years or younger or 65 or older. The ponds teem with bream, largemouth bass, and catfish. The bass are part of a catch and release structure. Somewhat hidden, the lake is down an unmarked road just past the basketball courts and RV park.
Rusty Wheels – Near a shaded section of the RV park sits large rusted pieces of train equipment. Rusty Wheels is a fun area for children to get up close to a train engine car and some large pieces of locomotive equipment. Parents will want to stay close if you have a climber, but it's a perfect spot for a party for the little conductor.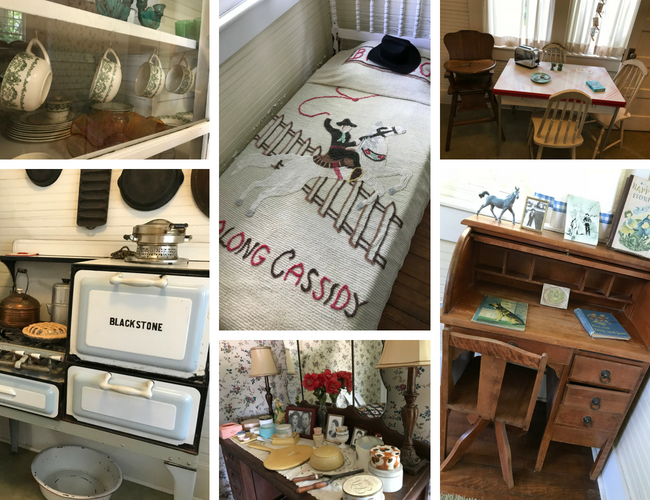 6. Clinton Birthplace
In the older part of Hope sits a modest two-story white house that was the first home to America's 42nd President. Bill Clinton was born just a few months after his father was tragically killed. He and his mother Virginia Blythe came here to live with his grandparents for the first few years of his life. This home and the surrounding land are now a National Historic Site owned by the National Park Service.
Family photos – In 1957, Clinton's grandfather passed away, and his grandmother sold everything. So, the furnishings in the home did not belong to the Blythes or Cassidys. But Virginia helped the Park Service refurbish it as she remembered it when they lived there. 
Frigidaire – Clinton's grandfather was an ice man. He delivered ice for 15 years before he got sick. Later, he owned a grocery store. This store was on the predominantly African-American side of town, but anyone could shop there. It was here that Clinton learned about people. He learned from his grandfather that it's what's on the inside that matters most.
Counting cards – Clinton's grandmother taught him numbers and how to count on playing cards. They are great reminders of a simpler period when you used what you had to teach what you knew.
Hopalong Cassidy was Clinton's favorite character growing up. You can see a room set up much like it would have been when he was growing up in the home.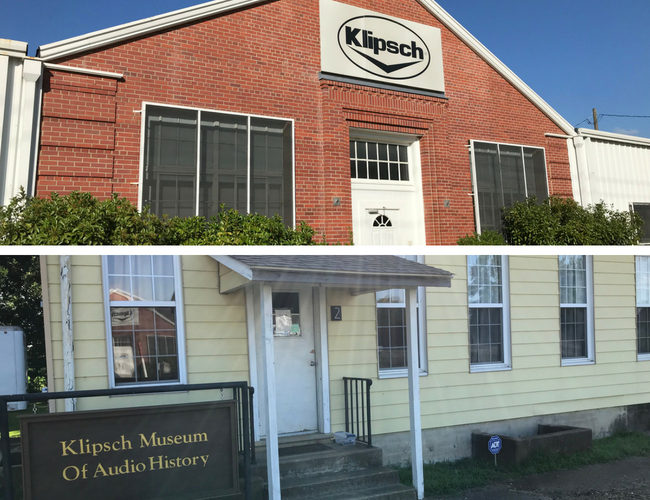 7. Klipsch legacy
Paul W. Klipsch was an eccentric man. Known for his wit and determined ways, he changed the sound industry from Hope, Arkansas. Stationed in Hope at the Southwest Proving Grounds during World War II, Klipsch spent his time tinkering on the loudspeaker and phonograph systems of the day. His goal was to make it better; at least, the way he liked it.
Company Factory – After the war was over, Klipsch followed the encouragement of fellow servicemen and founded Klipsch and Associates in 1946 after receiving a patent for his design in 1945. He made each instrument himself until he was able to add staff two years later. Today, Klipsch Audio Technologies is based in Indianapolis, Indiana and makes loudspeaker tools used in concert halls, movie theaters, churches, and large gathering spaces. The Klipschorn is the only known speaker that has remained relatively unchanged for over 70 years.
Area Downtown – Klipsch is an established local leader and has held Paul's commitment to the city of Hope. They have offices downtown, and in 2001 also added a distribution center on Highway 32. This specific area focuses on products sent to Hard Rock Café, Planet Hollywood, Regal Cinemas, and NCAA Hall of Champions as part of their Integrations Division. 
Audio Museum – This building, directly across the street from the current factory, was the telephone exchange building as part of the Southwest Proving Grounds during World War II. It held the entire manufacturing process in the basement from 1948-1952. Today it is the Klipsch Museum of Audio History. The museum holds relics like prototypes of new products and some of Mr. Klipsch's own tools, as well as pieces developed by some of the "giants" upon whose shoulders he stood.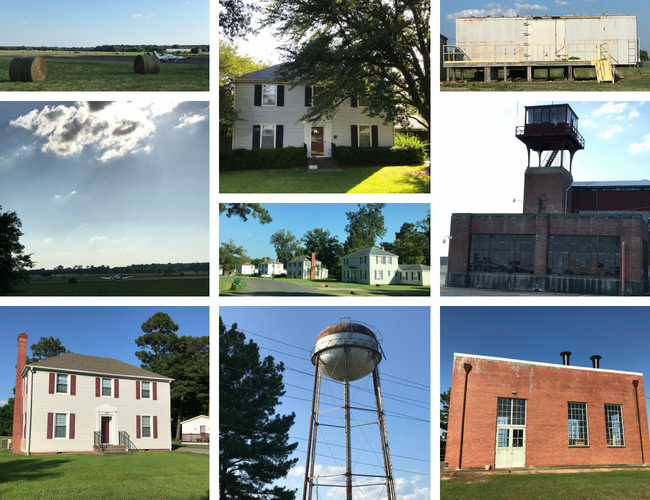 8. Oakhaven/Airport
This area of town was the Southwest Proving Grounds during World War II. According to the Encyclopedia of Arkansas, " In 1941, the Department of War acquired more than 50,000 acres in Hempstead County and spent approximately $15 million to build a testing ground for ordinance." This time in history changed the trajectory of many of the towns, moving them from purely agricultural to industrial.
Hangar and runway – The facilities you see today date to the summer of 1941. Established as the Southwest Proving Grounds, the airport was the third largest airport. It included a 5-mile long, heated runway that led technology at the time. Barracks built on-site for the 616th Army Air Corp Detachment, which tested the air bombs developed for combat. Today, the airstrip is a privately-used space. If you land here, make sure to watch out for the hay bales and chicken houses.
Red brick building – In 1999, the Airport Historic District was placed on the National Register of Historic Places. A group of local citizens is currently working on a museum in the Old Generator Building. "A Sentimental Journey to Southwest Proving Ground," will focus on the testing done here and on Senator George Lloyd Spencer, who was instrumental in opening Hope as the home site for this national contribution. 
The Oakhaven neighborhood was established in 1946 down Highway 32, just north of the airport. The homes were officer's quarters during the Southwest Proving Grounds days, but when the war was over, a small community formed out of the homes on this street.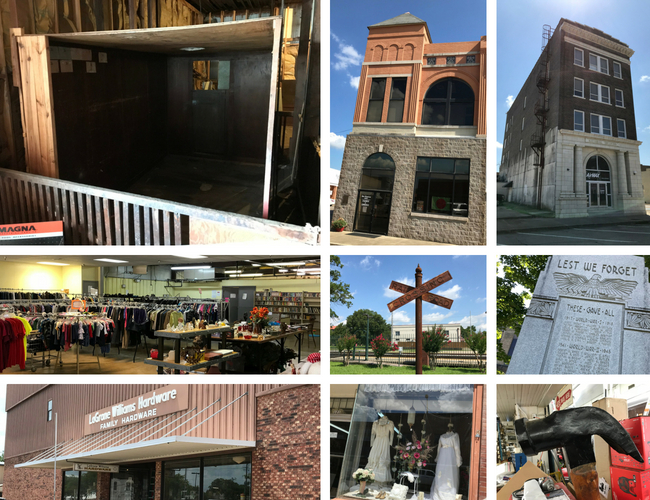 9. Around Town
LaGrone Williams Hardware Store – This family-owned hardware store opened in 1961. However, they were not always in this location. The building's walls have stories to tell. At one point, Model T cars were assembled on the second floor. Later, the building was home to Hope Hardware where you could buy just about anything from caskets to furniture. The Williams family bought the place from the Graves family and changed it to LaGrone Williams Hardware. Today you will find friendly and knowledgeable staff and shelves with many hidden treasures! 
Antique Row – One of the notable stops of visiting Hope, Arkansas is an area in downtown I call Antique Row. Bob's Antiques draws a crowd from across the state. But, his neighbor stores make for a unique antique destination on Elm Street downtown. Bob's specifically is a great place to stop for some local history and to see items related to some of the stories we've explored in this post.
Melon Patch and Sheltered Workshop – A local place with down-home cooking, the Melon Patch and adjacent Thrift Store are a part of a local program that employees adults with disabilities. The restaurant is open each day for lunch and serves a daily special as well as a standard menu. Both facilities are part of the Rainbows of Challenges Training Programs. These training sites allow those with developmental disabilities opportunities to participate in the local workforce. 
Hempstead Hall – On the campus of the University of Arkansas Community College at Hope, this venue holds a variety of events throughout the year. Most notable is their concert series each year. They host traditional indoor concerts, but the outside "V" shaped building also opens to a covered amphitheater space that the community often uses for outside concerts and movie showings.
Crepe myrtle trunk near Arts Center – Across the street from the Arts Council building, at the corner of Walnut and Division Streets is a crepe myrtle that has never been more beautiful. Take a moment to pull over and check out the trunk of the tree covered with yarn designs by local artists. 
Hempstead County Courthouse – The current Hempstead County Courthouse attracted controversy in the 1930s. For decades, Washington was the county seat. But in the late 30s, a local war of sorts ensued as the two cities battled for the seat ownership. In 1938, after six decades, Hope won by popular vote. November 29, 1939, the first cornerstone of the building was set, and construction was completed in 1940. The courthouse was added to the National Register of Historic Places in 1994. It still operates today. A fascinating feature, along with the old prisoner cells in the basement, is the lawn of the courthouse. The local Lions Club has constructed round benches built for intentional conversations. Also on the lawn are Veterans memorial gardens including one honoring Brigadier General Herbert Jack Lloyd. It tells the heroic tales of his service in Vietnam and Korea and serving on staff at West Point.
I can't wait to get back to Hope soon. Famous people may put a city on the map, but it's the everyday stories that keep a community flourishing.