Breathtaking views, magnificent sunrises, and majestic sunsets are just a few of the things you can expect to experience when visiting the ancient mountains of Arkansas.  The Ozarks in Northwest Arkansas is the largest mountain range between the Appalachians and the Rockies, but the graceful Ouachitas are home to some of the tallest peaks in the state.  The sweeping views aren't the only reason to visit the Natural State's tallest mountains, though. Waterfalls, hiking, biking, camping, wildlife watching, and outdoor adventures await just a short climb away!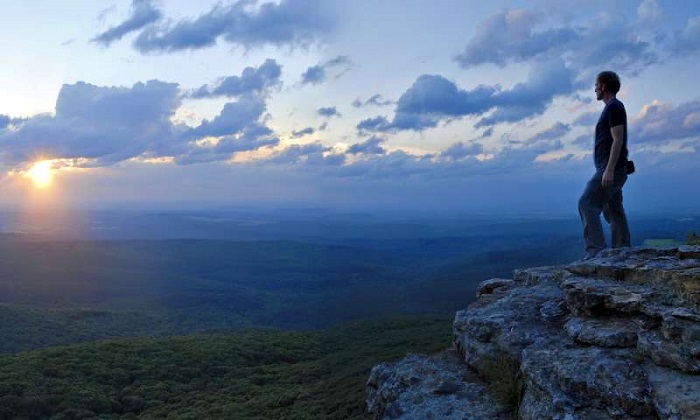 Photo Courtesy of Arkansas Department of Parks & Tourism
1. Mount Magazine: Signal Hill – 2,753 ft
Mount Magazine is not only the tallest peak in the state; it boasts two summits — Signal Hill which reaches 2,753 feet and Mossback Ridge that comes in just short at 2,700 feet.
Growing up in Arkansas, my family and I camped all over this beautiful state, and some of my most fond memories are camping at Mount Magazine.  It is the perfect destination to relax, explore, and study nature. With plenty of trails to hike and wildlife to watch, one of my family's favorites was watching the hang-gliders launch off the mountain.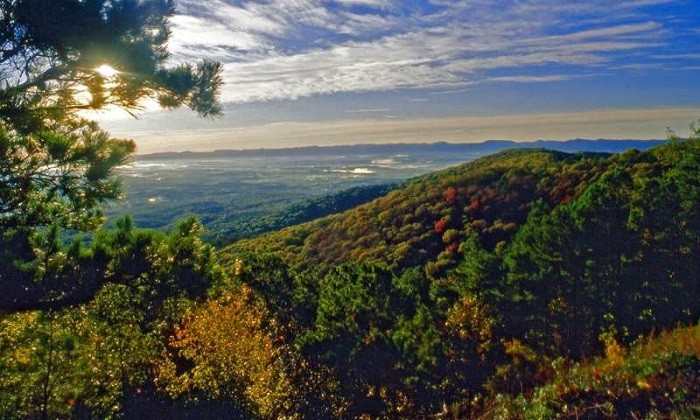 Photo Courtesy of Arkansas Department of Parks & Tourism
2. Rich Mountain – 2,681 ft
When you visit Rich Mountain at Queen Wilhelmina State Park, you'll want to tour the scenic drive along the Talimena Scenic Byway.  The views are expansive and gorgeous, and you can top off your visit with lunch or a stay at the beautifully renovated Castle in the Sky Lodge and restraint while you discover the intriguing history of inn and park and just why it involves a young queen from the Netherlands.
3. Poteau Mountain – 2,661 ft
Located deep in Poteau Mountain Wilderness in Sebastian County, this congressionally designated (1984) area is covered in dense pines and hardwoods. Once a hunting ground for the Osage tribe and later home to the Quapaw and Caddo tribes, the area is home to many scenic overlooks and outcroppings along with streams and deep wilderness. The area is rustic and remote, and there are no maintained trails, but hikers have been known to follow the overgrown logging roads to access the endless amazing views of the Ouachita Mountains.
4. Black Fork Mountain – 2,661 ft
Home to another congressionally designated wilderness area (1984), the Black Fork Mountain Wilderness spans the Arkansas/Oklahoma state line just west of Mena.  Tied with Poteau Mountain as the 3rd tallest peak in Arkansas, Black Fork Mountain is slightly more accessible with the rustic Black Fork Mountain Trail providing access into the wilderness interior. Seldom visited, this stunning hike boasts incredible views and quiet solitude.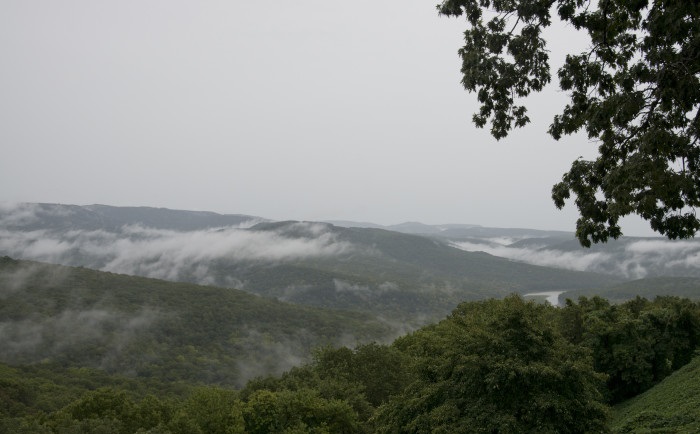 Photo Courtesy of Arkansas Department of Parks & Tourism
5. Boston Mountains: Turner Ward Knob – 2,463 ft
Connecting the Arkansas River Valley to the highlands of north-central Arkansas, the Boston Mountains make up the southernmost part of the Ozarks and is easily accessed via a beautiful drive on the Boston Mountain Scenic Loop between Alma and Fayetteville.  With some of the most considerable differences between valley and peak, elevations of Boston Mountains summits reach just over 2,560 — including five unnamed peaks. Turner Ward Knob is highest of the named peaks and is located outside of Fallsville in Newton County. The ageless Boston Mountains are also home to the headwaters of the White River, the Buffalo River, the Little Red River, and many more.  
6. Petit Jean Mountain – 2,441 ft
Atop beautiful Petit Jean Mountain sits Arkansas's first state park, Petit Jean State Park.  Approximately 5.5 miles long and surrounded by the Petit Jean and Arkansas Rivers, Petit Jean Mountain is a destination unto itself.  The State Park is home to one of the largest bluff shelters in the state, Rock House Cave, and more than 20 hiking trails are leading through and to magnificent forests and meadows, canyons, stream, and waterfall.  The spectacular 95-foot Cedar Falls will take your breath away. The park offers a rustic lodge, cabins, camping and even Yurts, making this destination a Natural State favorite.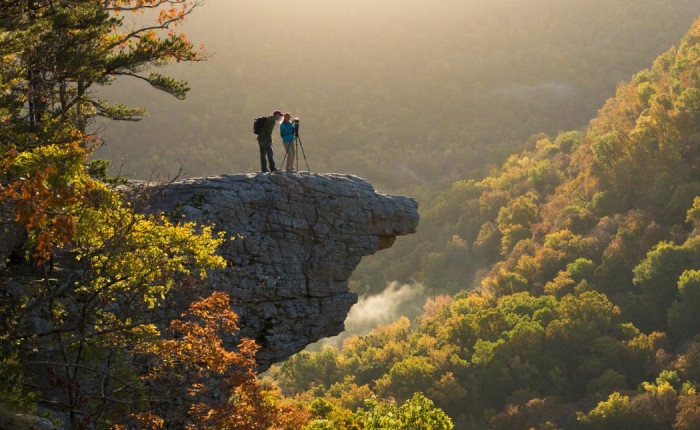 Photo Courtesy of Arkansas Department of Parks & Tourism
7. Whiting Mountain – 2,320 ft
8. Shepherd Mountain – 2,310 ft
9. Horn Mountain – 2,203 ft
Peaks 7, 8, and 9 are also located in the Boston Mountains.  The birthplace of many of Arkansas's rivers and streams, these heights long ago eroded to flat-topped plateaus.  Though lacking the dramatic cliffs and rough peaks of younger mountain ranges, the timeworn bluffs of the Buffalo National River and the ancient formations of Pedestal Rock and Hawksbill Crag are accessible by family-friendly trails that guide you through the serene natural beauty. From watching Elk at dusk in the Boxley Valley to floating the winding Buffalo to exploring the historic trails around Artist Point, the Boston Mountains are full of adventures for all kinds.
10. Deckard Mountain – 1,812 ft
Unique in that they run east to west rather than north to south like most mountain ranges, the beautiful forests and abundant water sources of the Ouachitas provide an ideal habitat for wild turkeys. Last on our top-10 list, Deckard Mountain is prime turkey hunting territory.  With over 7,400 acres to explore, including walk-in hunt areas, #10 is a go-to for Arkansas hunters and outdoor enthusiasts.
No matter what type of outdoor fun you enjoy, you will undoubtedly find it in the Natural State. From Fishing and hunting to hiking, camping, water activities, mountain biking, and wildlife watching, Arkansas' tallest peaks offer all kinds of options for people of all kinds of expertise and ability to enjoy.  So get out explore. I understand the view is excellent from up there.
(Disclaimer: Being from Arkansas, I am well aware that there may be local lore and geological facts that will argue taller mountains in Arkansas exist. Unfortunately, they are not listed in records available to me, so they didn't make my tallest mountains list.  Please excuse any unintentional errors. I tried to be as accurate as possible.)