Marlsgate Plantation, located near Scott, is a fantastic piece of Arkansas architecture. And while it is inarguably one of the queens of historic southern plantations, it also reminds me of The Great Gatsby and the roaring 20's period. I can't help but envision a southern take on Fitzgerald's "East Egg" mansions. It's easy to look at Marlsgate's grand columns and expansive grounds while envisioning late night revelers dancing the Charleston, women in beaded flapper dresses, and candlelit dinners attended by tux attired men. But whether this home conjures visions of Scarlet O'Hara or Daisy Buchanan, the overall ambiance is one of old money, history and luxury.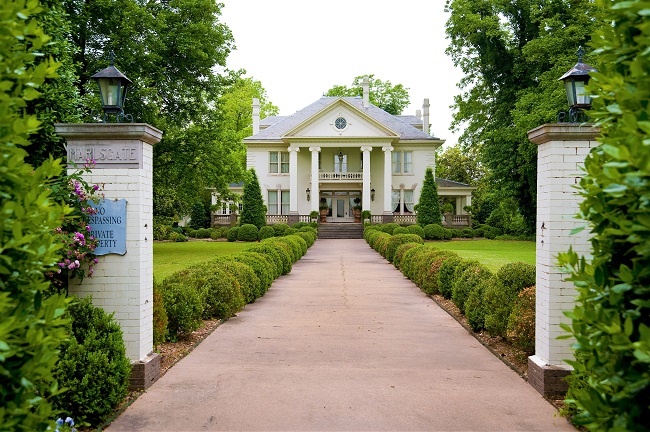 Marlsgate (located adjacent to the Dortch plantation), was built in 1904 by Arkansas architect Charles L. Thompson. Thompson was a prolific architect who created one of the first successful architecture firms in Arkansas, a firm responsible for creating more than 2,000 Arkansas buildings. Constructed on the site of a previous plantation house, Marlsgate is a grand structure with a second story balcony, two-story portico, and interior fourteen-foot pressed tin ceilings.
The original 1800 acres of Marlsgate property was a wedding present to William P. Dortch and his bride, Nettie Steele. This property adjoined the Dortch plantation, and the couple's success and wealth grew through the traditional delta crops of rice, cotton and soybeans. They built Marlsgate, and it became a grand home containing 11,000 square feet and thirty-two rooms. They went on to fill their home with luxurious details and furnishings, along with a large family of five sons.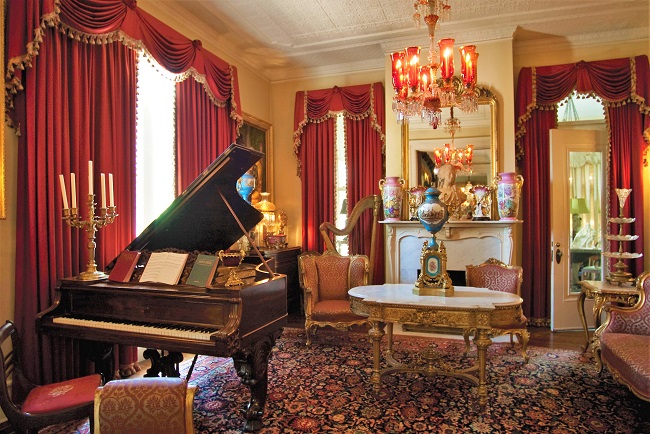 The Greek Revival mansion was constructed amid old trees and overlooks Bearskin Lake (an area famously known for the Plum Bayou Culture and Toltec Mounds). The home and farm were lived in and operated by Dortch sons and grandsons for many years. The manor was also notably owned by the family of David P. Garner, and now the current owners, Martha Ellen and Beau Talbot, share their residence as a site for elegant parties, weddings, and receptions with the help of a chef, gardeners, housekeepers, florists, and a business manager.
Added to the National Register of Historic homes in 1979, the mansion is in immaculate condition. Visitors will discover a magnificent central hall, grand staircase, drawing room, dining room, music room, a separate kitchen and servant's wing, and landscaping designed by P. Allen Smith. The flooring in the mansion was installed over a one-inch layer of horsehair insulation (horsehair was historically used in not only home insulation, but also as upholstery stuffing, fabric covering, and wigs that helped create the "Gibson girl" style). Other luxurious mansion details consist of Carrara marble fireplaces, sculpted ceilings, beveled glass windows, and forty feet tall Doric columns. The home's dining room is particularly grand, with a stunning crystal chandelier and space for over 20 people.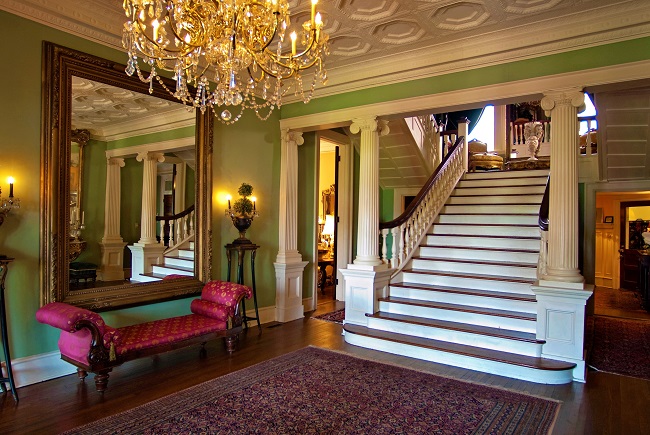 Marlsgate is a bride's dream, with its antebellum atmosphere, English style gardens, and nearby lake views. Weddings held on the grounds are done in the spirit of old south dignity and protocol. Event food is prepared onsite by a chef, and flower arrangements are created in the nearby Carriage House. History lovers can tour the property, and anyone searching for venues that host elegant teas, dinners or events will find the perfect southern atmosphere.
When perusing the home's website, I particularly loved these lines, "The mansion is not simply a home for one family. Its rooms, its furniture, its paintings, its countless mementos illuminate the rich historical and cultural heritage of the American South, the habits and traditions of its people, the triumphs and tragedies of its past." And whether this mansion reminds you of images from Gone with the Wind or the opulence of The Great Gatsby, this is a destination for all lovers of beautiful, historic homes.
For more information on group tours, weddings, or events, contact Marlsgate Plantation directly at 870-717-2789.
Photos courtesy of Arkansas Parks and Tourism.