Sam's Throne has got to be one of my favorite places that we've explored in Arkansas to date.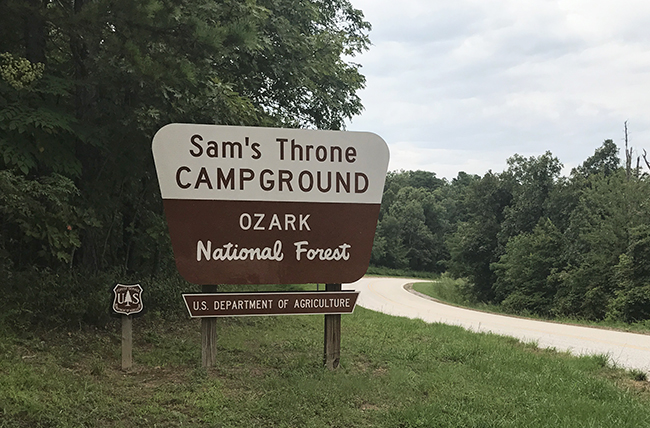 The views are breathtaking, the hiking is easy to moderate, and the people we've encountered along the way have been some of the nicest people you'd ever meet.
Located near the small town of Mt. Judea, Sam's Throne Trail is a rock climber's heaven. The area boasts at least 2 loop trails, a campground, and views of both Sam's Throne and the Big Creek valley.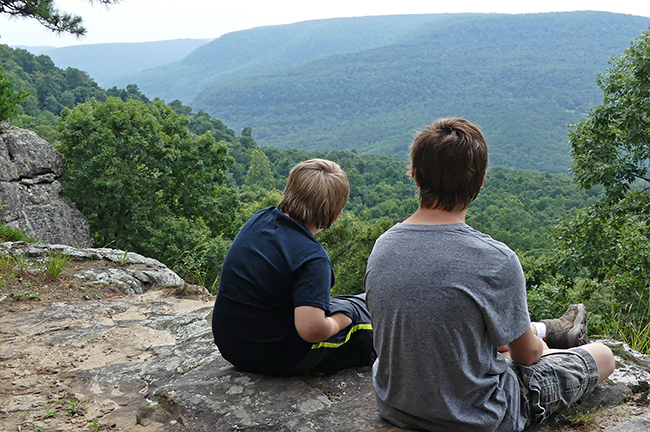 Upon arrival, we parked in a small turnaround area just past the campground. We sprayed ourselves with bug spray, said hello to a nearby copperhead (eek!), filled up our water bottles and headed for one of three trail entrances, the far right trail leading down to the bluffs.
The trail was rocky but easily navigable.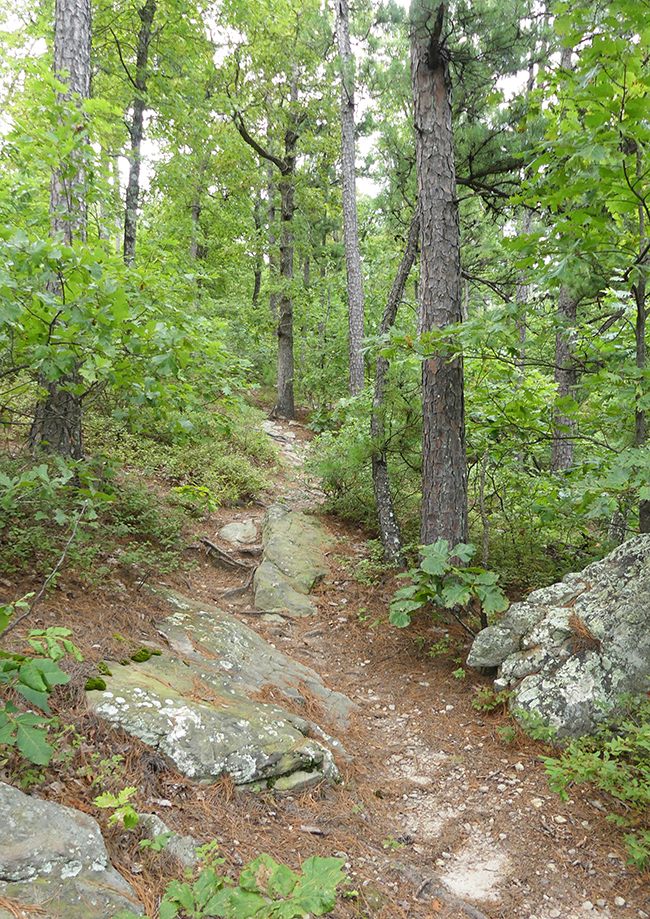 After 5-10 minutes, we'd made it to the first overlook, which promptly took our breath away. Cows looked like ants, barns looked like miniatures, and the entire valley was as green as it could be. While we were enjoying a mid-afternoon hike, I could only imagine how beautiful a sunset would be from this vantage point. Pictures just don't do it justice.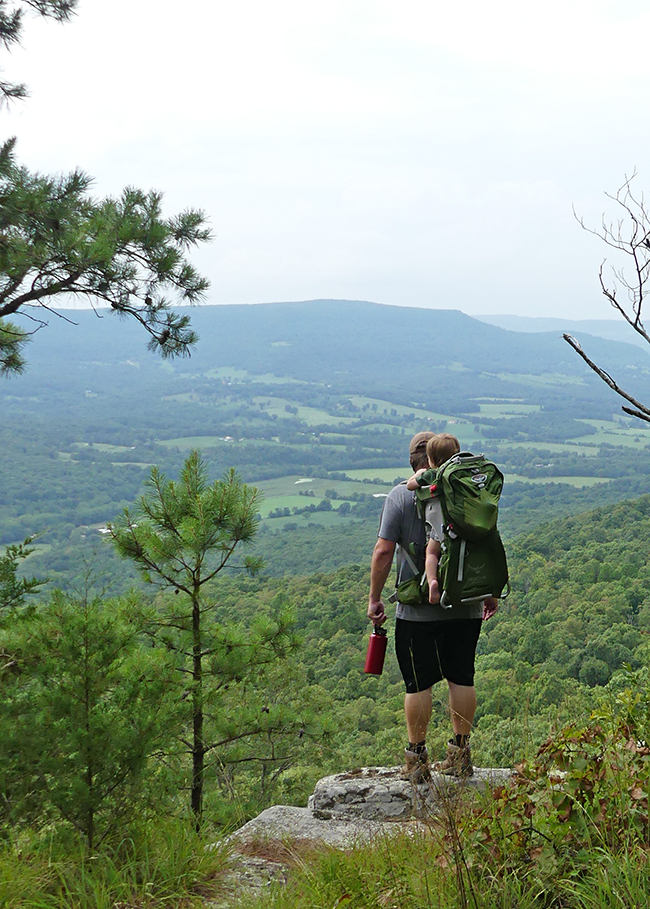 We continued to make our way around the bluff line, eventually coming to a spot on the bluffs where Sam's Throne was easily visible, right in front of us.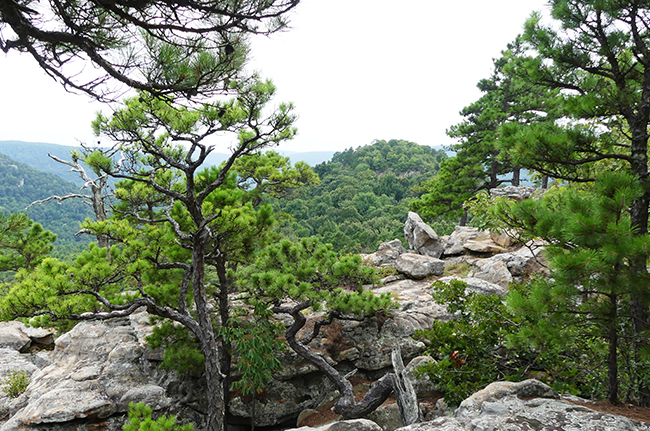 Sam's Throne is a rounded, tree-covered mountain that juts right up from the valley below.
We made it around to the far left side of the bluffs to a place called the Catacombs, where we stopped to rest and have a snack. All of a sudden, a hawk flew up from the trees. As we watched it soar, it gave us new meaning to the phrase free as a bird.
Nearby, rock climbers scrambled up the rocks.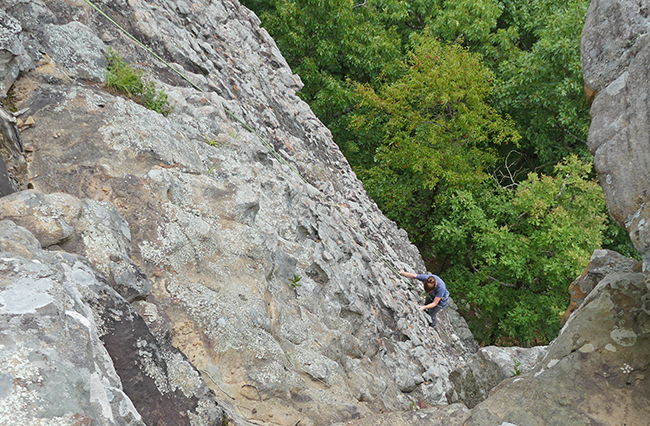 One of them was even kind enough to retrieve a certain 9-year-old's water bottle that had gone toppling over the bluff's edge. And let me tell you, that water bottle is a survivor; the first time it toppled down a New Mexico waterfall.
Watching the rock climbers was the most inspiring, motivating experience… I can't really explain it. The look of accomplishment on their faces as they made it to the top and the freeing experience of climbing up that bluff… It made me want to give it a try.
Finally, we decided to head back to the campground by way of the loop, enjoying all the beautiful wildflowers along the way.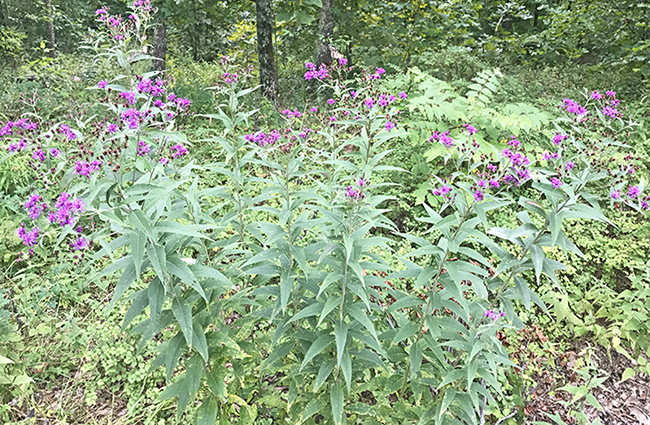 Keep in mind there are trails that lead over to the base of Sam's Throne, and you can even go to the top of the mountain. The trail we happened to be near required a steep climb down.
Things to Know Before You Go
Sam's Throne Recreation Area is located near Mt. Judea, Arkansas. We hiked about 2 miles that day just taking the loop trail around the top of the bluffs. If you hike over to Sam's Throne, the trail is longer, roughly 3.5 miles. The trail is not accessible by wheelchair, though you may be able to take a motorized chair back into the trail. The trail is dog-friendly (on a leash), so your furry friends can come along for an adventure.
There are vault toilets back in the campground and parking area, but there is no electricity and no running water.
The campground itself is quite nice. Many of the camping sites tuck back into the forest, so you have a bit more privacy and solitude. It was also very quiet while we were there on a Saturday afternoon. There were only a couple of nearby tent campers, probably rock climbers.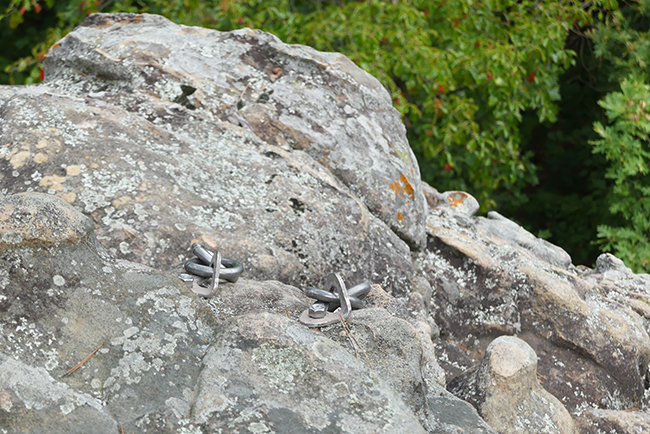 Take bug spray. You will need it.
We did see quite a few signs warning not to leave vehicles unlocked or leave valuables. In fact, we saw a few of these signs while in the surrounding area, so that may be something to think about. This area of Arkansas is absolutely beautiful, and there are so many more places to explore.
Have you been to Sam's Throne? What did you love about it?