Recently, I found myself with a bit of a conundrum: I was heading to Siloam Springs with my daughter and mother for a college visit to John Brown University, and I was looking for a place to stay. Of course, there are several lovely chain hotels in Siloam, but I was hoping for something different. I'd briefly driven through the adorable historic downtown on a previous visit, and I thought it would be fun to stay in that area. I took to the Internet, which is sometimes only as helpful as the information you already have, and I didn't have much. I began to think my bed and breakfast dreams were over.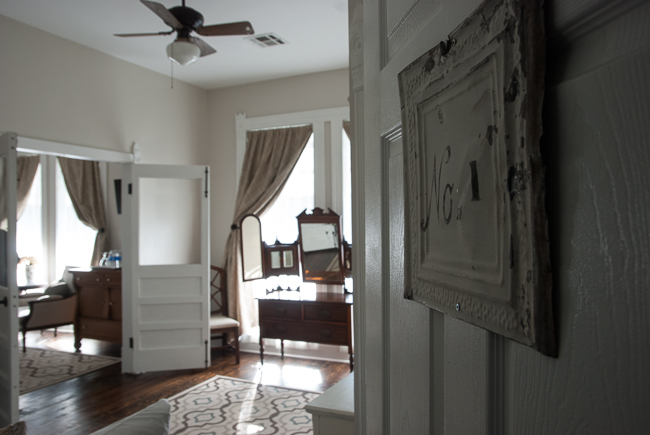 But then after a little more searching, I came across the Facebook page for Inn At The Springs, and I'm so glad I did. This beautifully renovated historic hotel has just been open for 10 months, so it's still a little bit of a secret outside of Siloam Springs. After the wonderful experience we had there, however, I can't imagine this gem will stay hidden for very long.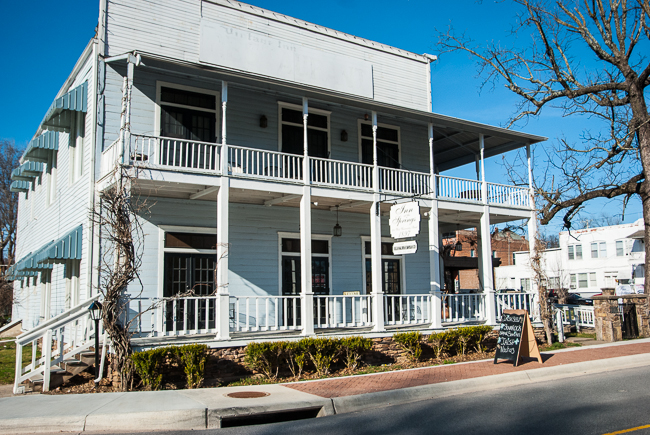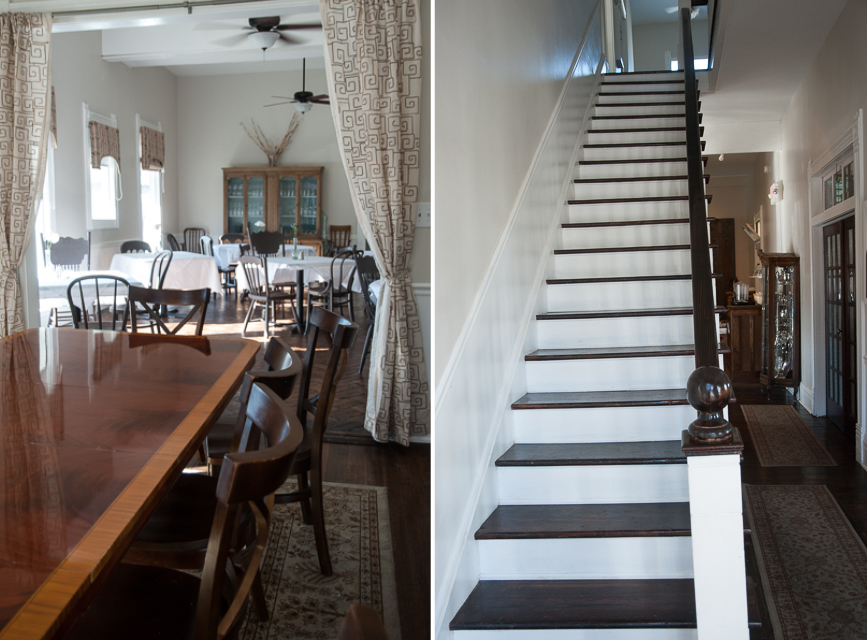 As soon as we arrived we were welcomed by Rosemary Junkermann, a whirlwind of a woman who is obviously dedicated to creating something special for every person she encounters, whether they are staying at the inn or coming in to the restaurant on the bottom floor. She toured us through the 4 rooms upstairs, the largest being a suite with a  king-size bed, separate sitting area, and private bath. The other three rooms have queen or full beds, and share two hallway bathrooms (each room also has it's own sink and vanity). We happened to be staying on a night when there were no other guests, so we had the whole place to ourselves.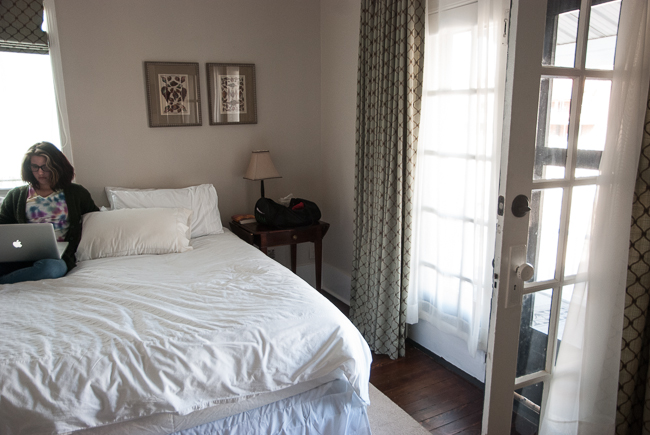 My daughter quickly made use of the wifi, and I just as quickly made my way out to the wraparound porch. Each room has a set of French doors leading directly out to the porch, which is filled with chairs and looks out over a little park and the springs that Siloam is named after. It's a perfect spot to sit with a glass of wine and while the evening away.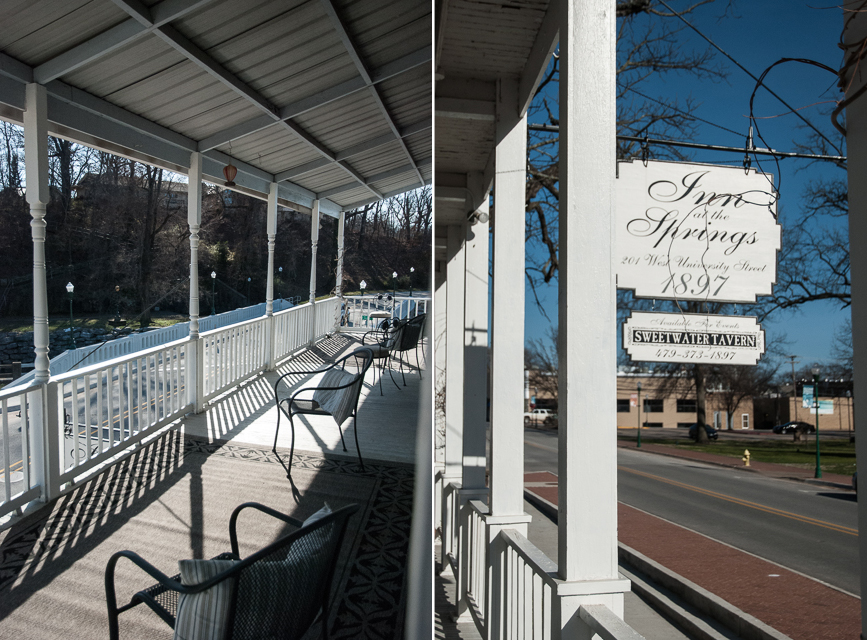 We loved everything about our rooms: the hardwood floors; the light, airy interiors; the very comfortable bed made up with good linens; the thick towels and mats in the bath. Rosemary remodeled the place along with her 3 sisters and various other family members. "We all learned to lay tile," she told me, "and my husband sanded all the floors himself – there were so many layers of paint on those floors!" The inn has a great balance between the historical character of the building, and niceties that fit modern travel, like plenty of space to store our clothes (and of course, the aforementioned wifi). There were also so many thoughtful touches, from cotton balls and q-tips in our room to locally made soaps from a shop down the street in the bathrooms.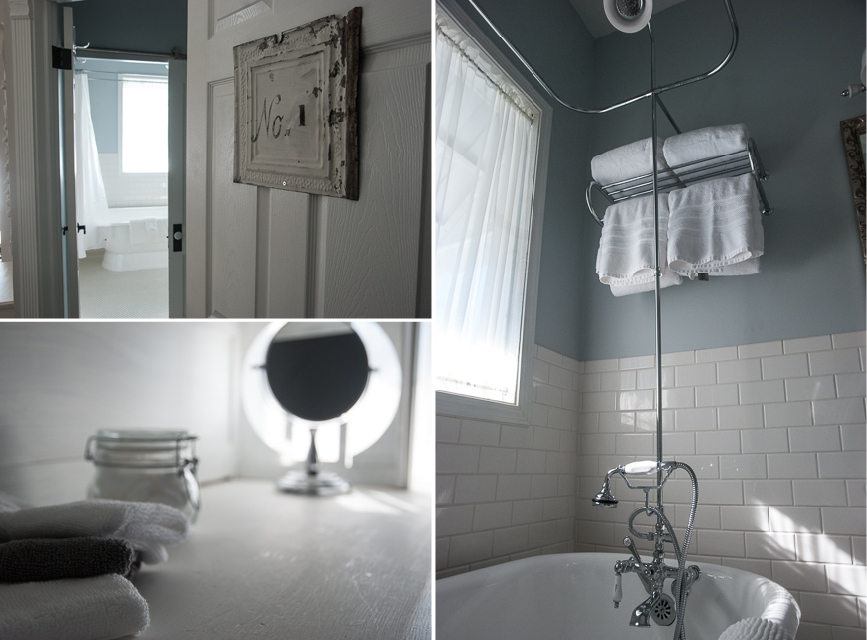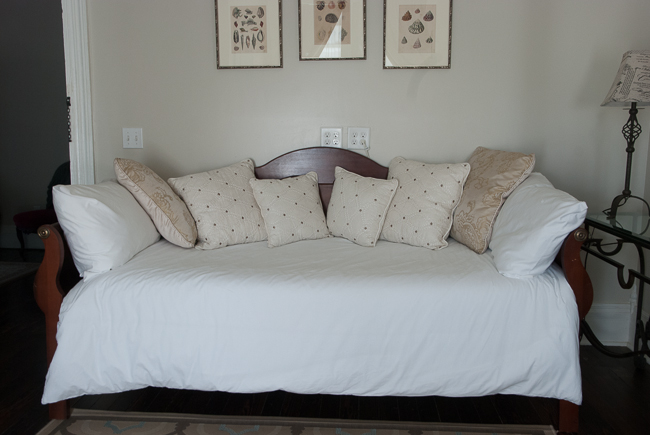 Usually when you stay at the inn, Rosemary brings you breakfast. However, we had to leave very early the next morning, so instead she prepared everything for us the night before and placed it in a small refrigerator. And when I say everything, I mean it. She left us a tray of fruit, another of thinly sliced meats and cheeses, and still another of pastries. She also left yogurt, and juice in tiny carafes, and coffee ready to brew. With all this for just two people (my daughter stayed with a friend at JBU), we felt more than taken care of. We felt…special.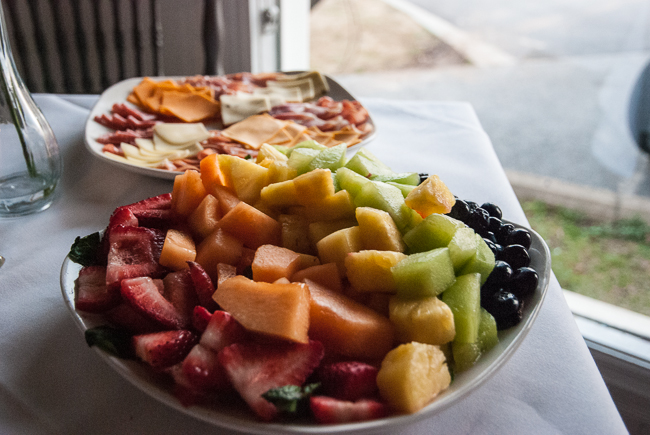 When I asked Rosemary how she ended up running an inn and restaurant, she surprised me by telling me she was Canadian, and got to Siloam Springs by way of Los Angeles. After visiting one of her sisters here over the years, her family was increasingly drawn to Siloam Springs and small-town life. When the opportunity came up to restore the inn, she jumped. "I had done a lot of entertaining, helping with parties and weddings in L.A., and I just thought this would be like one big long dinner party!" She laughed, "Obviously, I had a LOT to learn. It's so fulfilling though, you know – feeding people, giving them a unique experience or celebration, having a place for them to come together. That's my vision for this place. That's what I love."
And I have to say, that's definitely what made us love it too.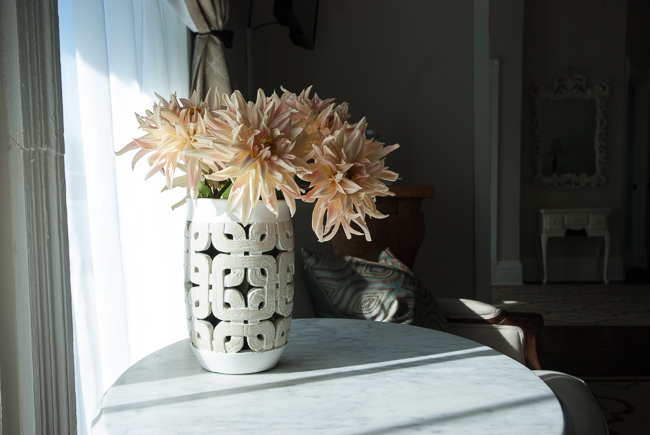 Inn at the Springs has 4 rooms on the top floor and a fully functioning restaurant, Sweetwater Tavern, on the lower floor. There's also a separate dining room that can be closed off for private functions. The restaurant has its own large porch, separate from the main structure, and a garden area that can accommodate up to 150 people. Any part of the building (or all of it) can be used for weddings, receptions, baby showers, tea parties, company gatherings – any kind of celebration.  The inn has proven popular among families traveling the area on vacation or having reunions, bridal or wedding parties, and local couples wanting a 'staycation.'