I discovered that contacting a basketball coach retiring after 42 years isn't always an easy feat—especially if that coach is John Hutchcraft of Guy-Perkins High School. No one will ever catch him sitting in a rocking chair, tapping his foot until the last day of school.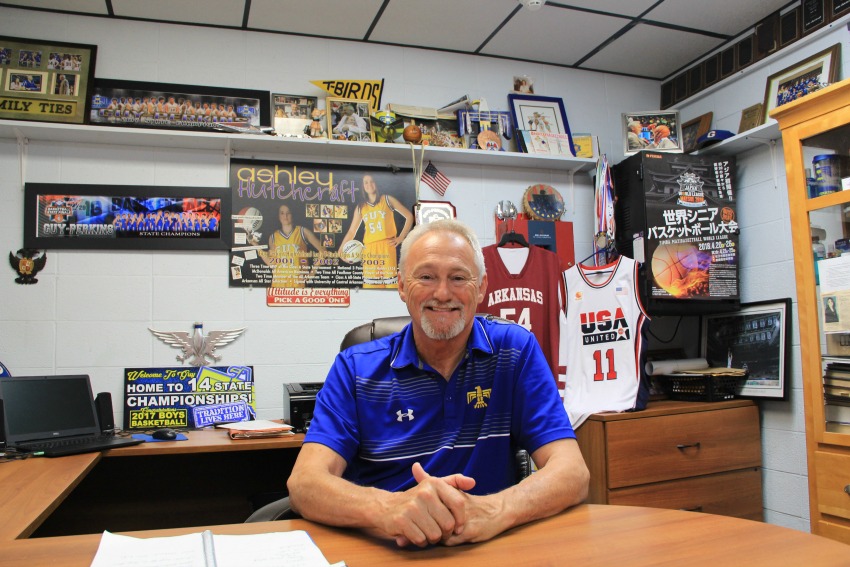 In late April,  Hutchcraft was in Japan playing basketball for the 60s-age category at the Fifteenth Federation of International Masters Basketball Association World Championship. A year ago, his team won gold in Italy. This year he and his team won silver.
Coach Hutchcraft's life story is one that should be written for a bestselling biography and a heartfelt movie inspired by true events. For those not familiar with the coach from Guy, Arkansas, simply google his name and discover innumerable articles, interviews and numbers of wins.
With no evidence of jet lag, Hutchcraft met my husband and me in his office on the backside of the Guy-Perkins Thunderbird basketball court. I tripped over my feet twice reading the banners lining the gymnasium for their 11 state championships and ten state finals appearances with his girls and boys high school basketball teams.
At 6-foot-8, Coach Hutchcraft recalls that as a boy he was always a head or two taller than his classmates. We can only imagine his capers during his childhood in the backwoods and riverbeds of Arkansas County. Born in 1953, he began helping his father, a commercial fisherman and duck hunting guide in the 1960s. Living in St. Charles, Arkansas, gave them easy access to three rivers—the White, Arkansas and Mississippi Rivers.
Those were hard times for making a living, not just on the river, but anywhere. His dad conjured up another source of income by making and selling moonshine whiskey which they sold out of their house. Hutchcraft did what he could to help his family earn a few dollars.
"I collected mussels in the White River to sell," Hutchcraft says. "I didn't have any diving gear, just what my grandfather created for me—a metal helmet weighing 125-pounds made out of a hot water tank with a long hose."
His love for basketball began as a child, and he played throughout his high school years. When he earned a scholarship to what is now UCA, he saw it as an opportunity to build a better future while doing what he loved—playing basketball.
"So did you really hitchhike to get there?" I ask.
"I did. I even walked by the area in Little Rock and the Arkansas River where the Statehouse Convention Center is now built." He recently found himself there again; being inducted into the Arkansas Sports Hall of Fame.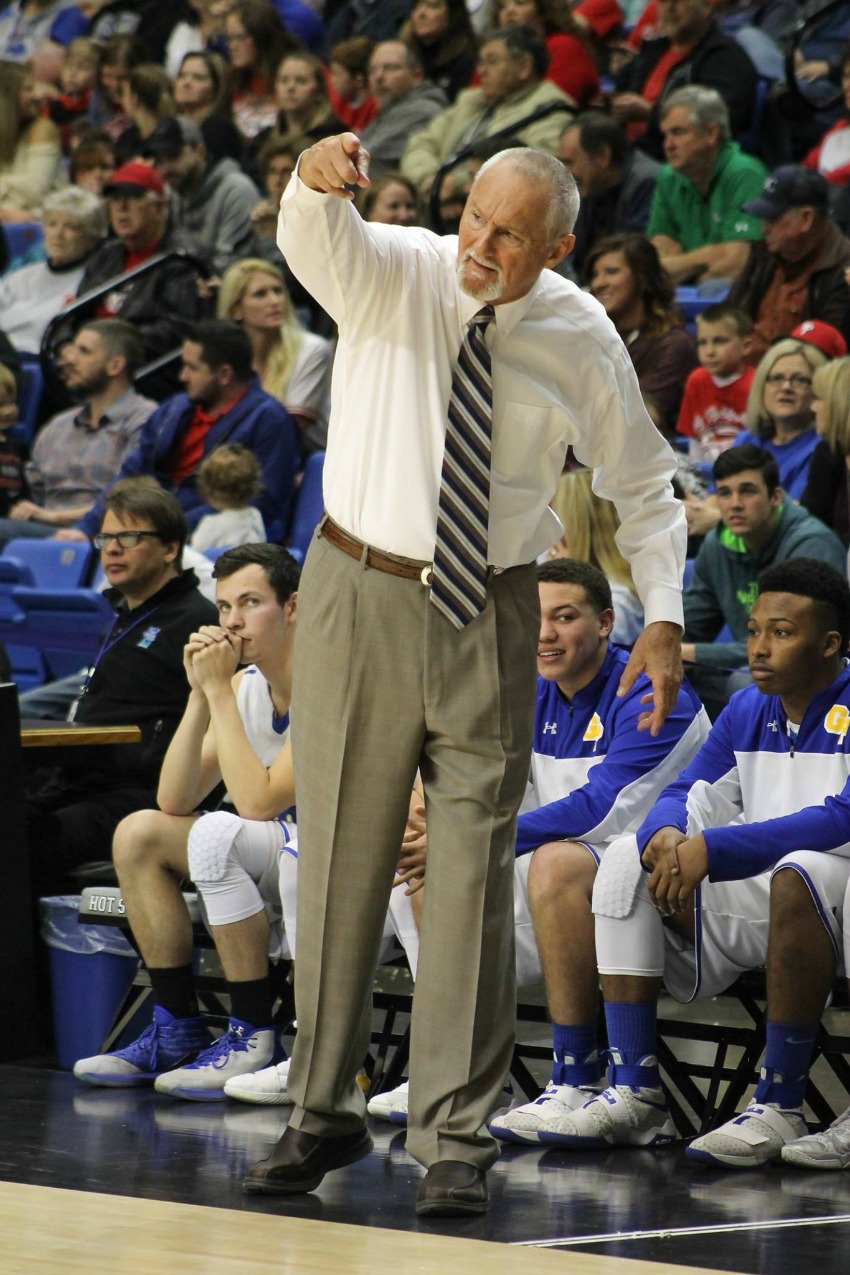 What fills-in his in-between years is a thick volume of record-winning games, championships and accolades galore. 
A 1976 graduate of Arkansas State Teachers College, now University of Central Arkansas (UCA).
He holds the career UCA record for 1,162 rebounds, 962 defensive rebounds and a defensive rebound average of 8.8.
He was inducted into the UCA Sports Hall of Fame in 2006.
After graduation in 1976, he coached in Hazen for one year, Grubbs in the next year, before finding his home in Guy for the next 40 years.
For the first 25 years, Hutchcraft coached the boys and girls teams in both junior and senior high. For the last fifteen years, he was able to focus on the senior high school boys and girls teams.
Over those 40 years as head coach, he took his teams to 21 state championship games, winning 11 state high school titles—six boys and five girls—and made it to the state finals ten times.
Hutchcraft is a believer in the up-tempo approach—if the ball is in your hands and you have a chance to shoot, then go for it. He believes pressure defense, three-point shooting and high scoring make for fast, exciting and memorable games. Obviously, it works—his career coaching record is 2,103 wins to only 617 losses over 42 seasons.
He was selected to coach the West Team at the 2015 McDonald's All-American games held in Chicago. The teams were made up of the top high school seniors nationwide. For his assistant coaches, Hutchcraft chose his daughter, Conway High School Girls' Basketball Coach Ashley Hutchcraft Nance, and another Guy-Perkins alumnus, Victor Rimmer, the Fayetteville High School girls' coach. Their team won 89-87.
He received the prestigious Morgan Wooten Lifetime Achievement Award for coaching his girls' team in March 2018.
In 2017, he played on Team USA for the 60s-age category for the Fourteenth Federation of International Masters Basketball Association World Maxibasketball Championship in Montecatina-Tuscany, Italy. They won the gold medal, beating Italy 80-53. He returned to play in Japan in 2018, and their team won the silver medal.
He also plays with the Arkansas Travelers basketball team, having won gold three times in the Senior Olympics World Tournaments held in Utah.
He was inducted into the Arkansas Sports Hall of Fame in April 2018.
He celebrated his 65th birthday on March 10, 2018, by coaching the boys' Thunderbirds team to their second consecutive state title.
One of his greatest achievements was being able to coach all three of his children—daughters Charlotte Sober, Ashley Nance and stepson Jason McGinty, along with his grandson, Wyatt Spires. Their accolades, along with Hutchcraft's accumulate into the uncountable.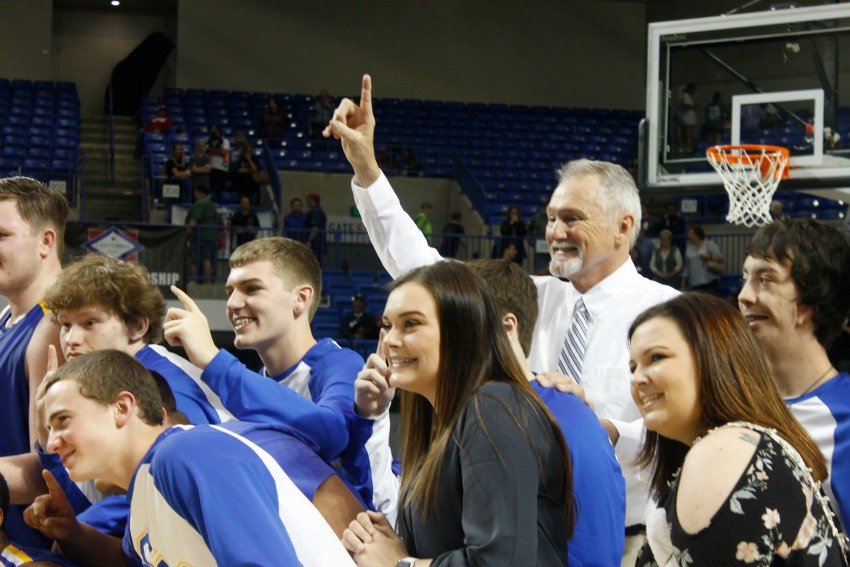 Other interests include being a Constable the last five years and running his own auction company for 35 years.
"I've always been a collector of unusual items," he says.  "I started buying and selling with my mom in the 70s. I opened Hutch Auction and Recovery Service in the 80's as a side job and it grew from there."  
Hutch Auction and Recovery Service was even featured on History Channel's American Pickers.
His secrets to basketball success? Getting to know his players, bond with them and make it fun for them. His influence on his students goes all the way back to his own mentor in his early days in St. Charles. Hutchcraft's only reason to show up for school was that it was mandatory if he wanted to play in the basketball game that night.
Bob Broach, one of St. Charles' administrators,  had reached out to Hutchcraft to study, go to college and change his path of life. Broach spoke at Hutchcraft's recent induction to the Arkansas Sports Hall of Fame.
Broach shares, "From a barefoot free-spirited boy of 9 or 10, I've watched him grow to legendary status in the sports world. As he matured, he realized he had a greater goal, both personal and professional, in life.  And he never lost sight of his dream.  He loved the game of basketball, he knew the game, and he wanted to instill in his teams the joy of winning, both on the court and in the 'game of life.'"
Yes, what Coach John Hutchcraft has lived in 65 years is only what most of us have seen in movies. He is truly a local legend.