Connor Limpert knows his father would have been proud of him.

So much has gone well already.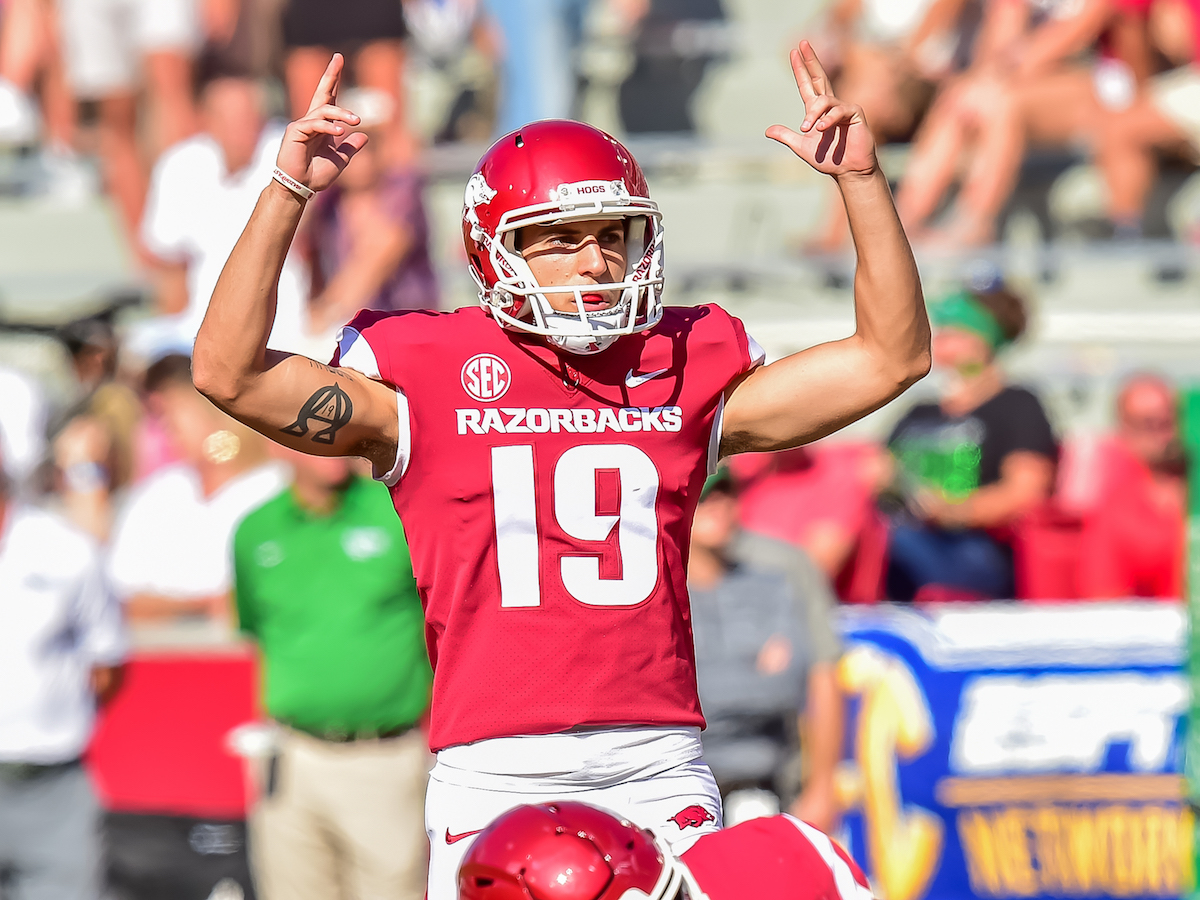 Last year, there was the game-winning field goal in Oxford, Miss. Then, earlier this season, Razorback coach Chad Morris announced Limpert was one of three walk-ons to be awarded a full athletic scholarship. Now, this: After making 20 of 24 field career goals, Connor Limpert has become the most accurate Arkansas Razorbacks kicker ever. With an 80% career conversion rate, he surpasses Zach Hocker (77.2%), Todd Wright (75.9%) and Kendall Trainor (73.9%).
Of course, there's still a ways to go in the junior's career. His hold on the No. 1 spot could slip away quickly, like life itself.
---
It's been more than three years since Scott Limpert suddenly died. Scott had grown up as a die-hard soccer fan in New Jersey and kept playing three times a week in Allen, Texas, where he and his wife Lisa raised Connor and Connor's older sister Nicole. Scott passed on his love of sports to Connor, who starred as a kicker for Allen High School.
@connorlimpert happy birthday make year 19 special pic.twitter.com/QEt0LBGiPl

— Lisa Limpert (@LImpertL) October 17, 2016
Heading into Connor's senior year, he and his father shared three weeks on the road attending college camps to highlight Connor's kicking talent. They missed the Razorbacks' special teams camp, but Scott made sure to take Connor to a regular players' camp in Fayetteville instead. Although sister Nicole already attended the University of Arkansas, Scott knew coaches needed to see Connor kick live for him to have a chance at the team.
On July 17, 2015, Scott headed out off to an indoor soccer facility and never returned. He had died of a heart attack. Within three weeks, Connor got good news: Former Hogs coach Bret Bielema offered him a preferred walk-on spot. He accepted.
Connor Limpert has helped keep his father's legacy alive. Before last season, he wanted to switch jersey numbers to No. 19 to honor the number Scott always wore in soccer. Bielema allowed it. Connor said wearing No. 19 means a lot to him. "[Scott] can just look down," he said. "It's like he's with me, he's always with me."
Scott would have been smiling last fall when his son made a game-winning 34-yard field goal against Ole Miss. Connor Limpert's most recent performance against Ole Miss, in a close loss a week ago, was arguably more impressive. In rainy conditions, he made four of four field goals — the first time a Razorback kicker had done that against an SEC opponent since 1992.
Limpert knows such kicking records are not truly "individual." He credits teammates, like holder Jack Lindsey, whose skills don't produce stats tracked in media guides. "He knows how to handle those low balls," Limpert said of Lindsey. "If it gets skipped back to him, he's great at trapping the ball and getting it up really quick, so I don't have to slow down my steps at all."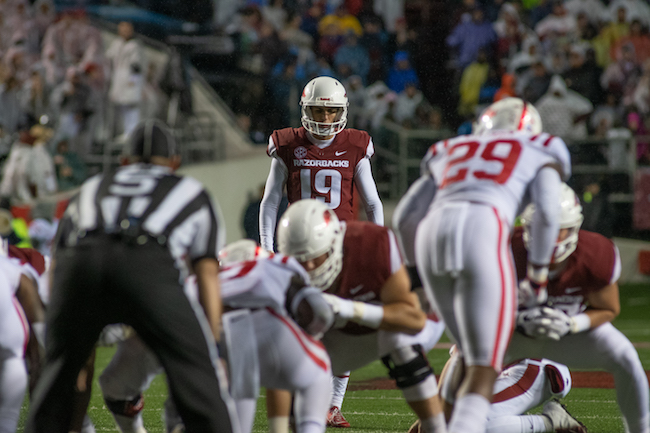 Limpert has become an extraordinary weapon for the Hogs, but a big question is if this will translate into actual wins — and how many. In the short term, the answer depends on whether the Razorback defense can tighten, and whether quarter Ty Storey and running back Rakeem Boyd can stay healthy after injuries against Ole Miss.
Long-term success hinges on finding the right dual-threat quarterback to make Chad Morris' offense click. To that end, Kelly Bryant, a former star quarterback at Clemson, may be the solution. When Morris served as Clemson's offensive coordinator, he was Bryant's primary recruiter.
Now that Kelly Bryant has announced he's transferring for the 2019 season, Morris is recruiting him all over again. This weekend, Bryant will visit the Arkansas campus and attend the Hogs' home game against Tulsa. "I've heard so much about Arkansas, and I just want to see what all they have to offer," Bryant said on Sports Talk with Bo Mattingly. He added that he and Morris have a "real strong" relationship. "I've been talking to him, and it seems like we're picking up where we left off when I was a senior coming out of high school."
With all the possibilities at key positions, not to mention ongoing issues with depth, there's a lot that could concern Hog fans. Fortunately, the kicking game isn't one of them. "We've got a groove going, and I'm loving it," Limpert said last weekend. "We've got to keep it going through the rest of the reason."