March introduces a dry season for football fans, a time when my husband keeps a mental count of the days until the first games in September. Our family loves autumn when football brings opportunities to travel and watch games with family and friends.
When two of our sons were in college, we traveled to watch games together. I'll always remember one Arkansas game at Auburn: son Nick wore his Auburn t-shirt while our other son, Whit, sported his Ole Miss shirt, and Bill and I donned our Razorback red. An elderly gentleman sat down on the end of the bleachers next to Nick. He was also wearing Auburn orange and navy. Leaning forward he asked with a familiar Southern drawl, "Are you all one family?" We nodded with a smile. Shaking his head, the silver-haired gent looked at Nick and said, "Son, you have one mixed-up family."
After we moved to Searcy, we quickly learned that Harding University Bisons fans, across our state and the nation, have no such divisions. Their 2017 season was the stuff of fairytales, or perhaps more fittingly, a victory story straight out of the Old Testament.
The previous year saw the Bisons win their way into the NCAA Division II quarterfinals, culminating in Ronnie Huckeba's tenth year as head coach as he retired after 31 years on the Harding University coaching staff. The team also graduated 24 seniors, another challenge for new Head Coach Paul Simmons.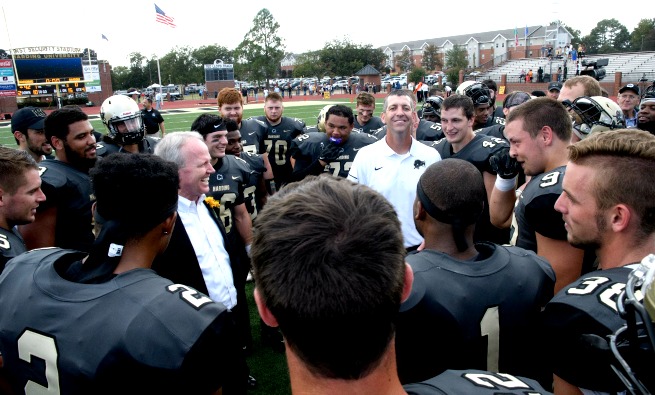 "How do you follow a legend," I asked Simmons, "especially with his final year's quarterfinal success?"
"I never worried about being in Coach Huck's shadow," Simmons says in reflection. "He included all of us as coaches and players, so our season's accomplishments were what we achieved together."
An All-American defensive end and linebacker for Harding from 1992-1994, Simmons was inducted into the Harding Athletics Hall of Fame in 1999. He became an assistant coach in 2007 and was designated defensive coordinator in 2010.
The son of missionaries Don and Roberta, Simmons was born in the Namwianga Mission in Zambia. At the age of four, his family moved to Ashdown where he, his brother Shawn and sister Jill grew up. Playing football was what Paul enjoyed, and he was offered scholarships from many of the Division II schools around the state, as well as the University of Central Arkansas, Arkansas State University and the University of Arkansas before accepting Harding University's invitation. In 2001, he married Kimberly Hatcher, and now with their three children, they've opened up their home and their lives to the extended Bisons family.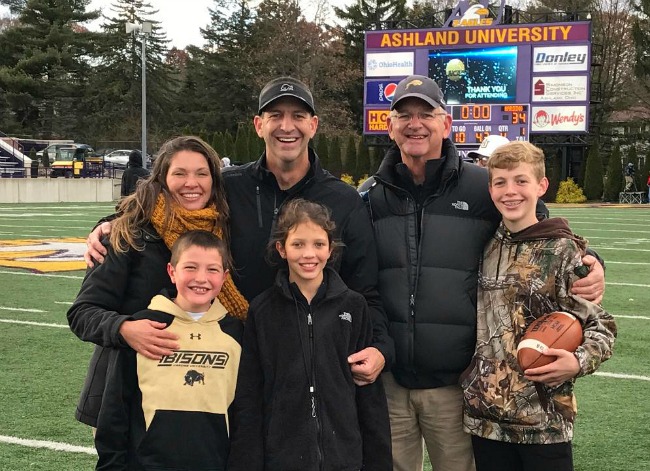 Kimberly, Paul, his father Don, and sons Wyatt (in front) Tanner and Drew.
The 2017 season didn't start out as a fairy tale for the new head coach: the Bisons lost their first three games.
"Losing the first two was tough, but not totally shocking because those are two strong programs," he says, referring to Henderson State and Southern Arkansas. "However, in the third game, we lost to Southern Nazarene, after leading by 14 points with less than a minute to go. That loss had me questioning everything about myself and my ability to lead this program."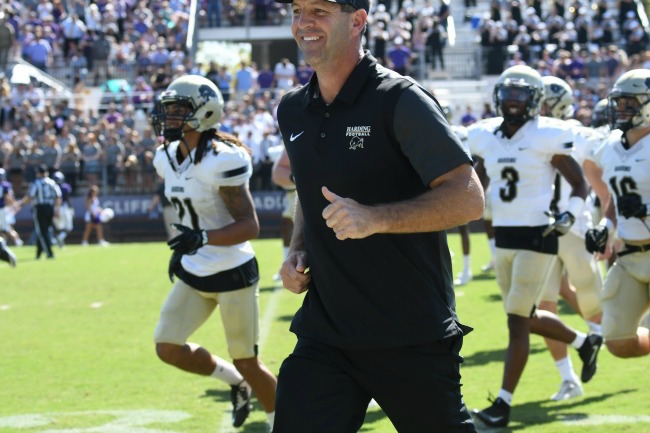 "Let's just say I wasn't getting much sleep and I was doing a lot of praying."
The Sunday night meeting following their third loss was somber. Simmons shared the story of three men from the book of Daniel, Shadrach, Meshach, and Abednego, who wouldn't bow down to idols. The king had them bound and thrown into the fire.
"How are we, as Christian men, supposed to respond in the face of adversity?" he asked his players.
Simmons didn't just see a crowd of football players huddled around him. They had been recruited to Harding University for more than their athletic abilities. He reminded the men of the list of attributes they each possessed: godly characteristics in their attitudes, their warrior spirits, and their servant's hearts.
Simmons worked to build the young men into a team, raising their expectations of who they were meant to be, not focusing on the Xs and Os.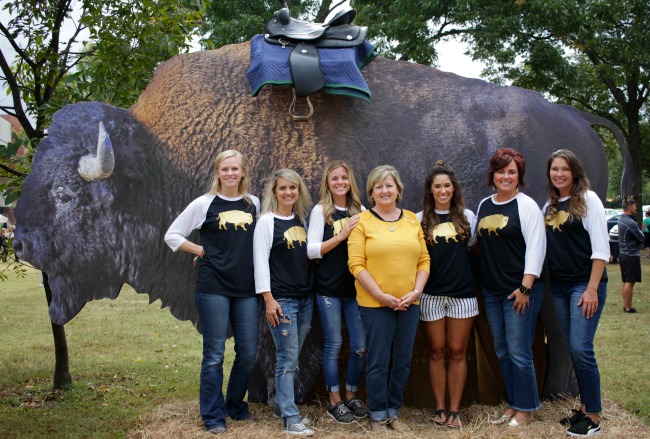 The Coaches' Biggest Support Team-Their Wives:
Liz (Matt) Underwood, Kim (Roddy) Mote, Jenni (Kevin) Chism, Libby (Kenny) Wheaton, Amy (Luke) Tribble, Elaine (Chris) Hill, Kimberly (Paul) Simmons
In the games that followed that meeting, the Bisons experienced one victory after another. For the playoffs, the players, coaches, wives, trainers, and busloads of fans traveled to the University of Indianapolis game in Indiana (27-24), the Ashland University game in Ohio (34-24), and on to win at Ferris State in Big Rapids, Michigan (16-14). At the semi-finals, without their starting quarterback, they lost to Texas A&M-Commerce in Texas (31-17).
Harding became the only number seven seed in Division II history to become Regional Champions and advance to the Final Four. After losing three straight games to start their season, Harding won 11 consecutive games, with eight of the victories on the road. Their 2017 season was the second-longest winning streak in Division II. They finished the year ranked number six in the country in the final American Football Coaches Association Poll.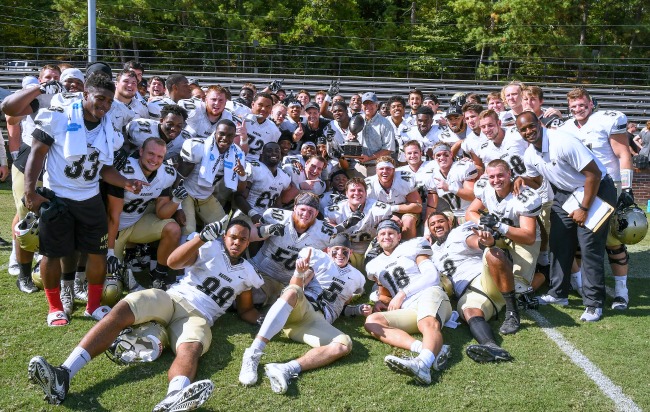 And Simmons couldn't be prouder of the student-athletes on the team.   
"Do you know we have 63 players whose grade point averages are at least 3.0? Fourteen of those have a 4.0," Simmons says. "There are 169 schools, and 22 All-Americans were selected. We have two of them, and they both have 4.0 GPAs."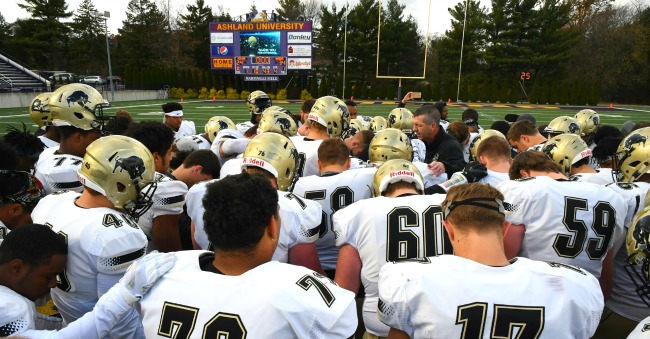 Simmons is also appreciative of the team of coaches he works with. All of the full-time coaches played football for Harding, and share a goal of instilling a solid work ethic and creating a culture of high standards for each player to develop his own faith in God.
Out of earshot, one player shares, "Coach Simmons demands respect, but he more than earns it." The young man pauses, then adds, "He's ferocious when he reminds us he's the gatekeeper, responsible for why we're his representatives on the campus. He's loyal to us and to his convictions."
With all the demands on Simmons' life, usually waking up an hour before his 5 a.m. alarm, what keeps him balanced? He credits his wife Kimberly, who is always encouraging and sharing scriptures to inspire him. His favorite verse is Jeremiah 17:7-8:
"But blessed is the one who trusts in the Lord, whose confidence is in him. They will be like a tree planted by the water that sends out its roots by the stream. It does not fear when heat comes; its leaves are always green. It has no worries in a year of drought and never fails to bear fruit."
Photos courtesy of Jeff Montgomery/Harding University