There's a lot more to Isaiah Joe than that one thing he's known for.
He comes off as a nice, bright guy who doesn't carry himself with the air of someone on the brink of stardom. The University of Arkansas freshman chose to study finance instead of computer science and doesn't try to sidestep the reason either: "Hey, I really like money, so you can't go wrong with that."
One day, if Isaiah Joe keeps improving, he'll make lots of it without needing to crunch numbers at all.
About two-thirds through this season, this 19-year-old Razorback is torching the Arkansas basketball record books. Through the first 24 games, Joe made 3.6 three-pointers a game at a 43.9% clip.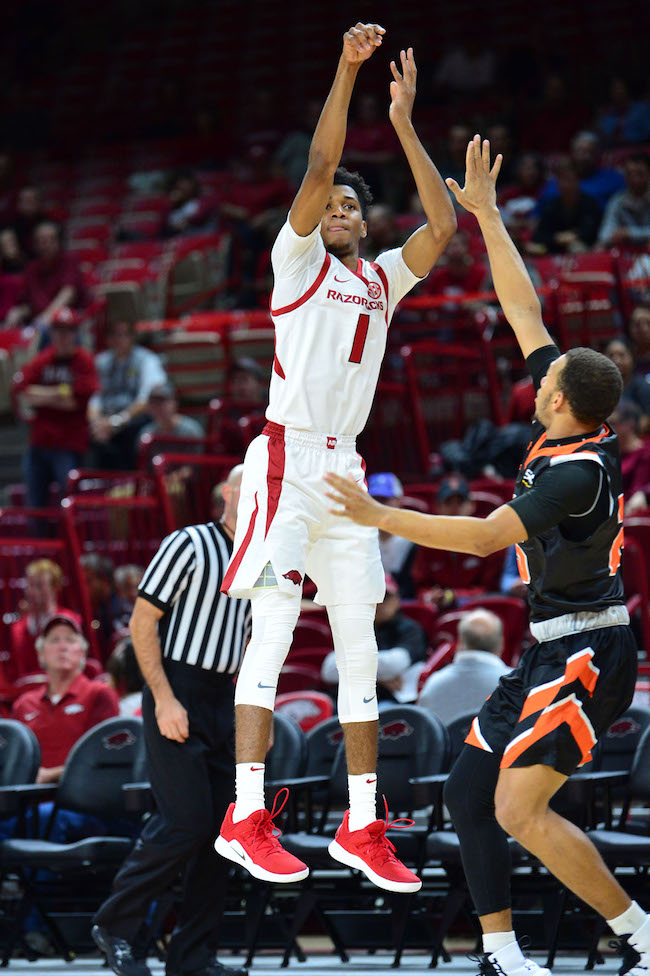 That's No. 1 all-time among Razorback shooters.
Yes, it's early goings. And yes, things may get harder next year if Hog star Daniel Gafford bolts to the NBA. But there's no denying the feat is impressive. Joe doesn't try to Euro-step around how much it matters to him, either.
The record "means a lot to me," he told me in an interview. "To know that I'm up there with the greats, people like Coach Thurman who came through here that can shoot the ball extremely well. To know that I'm on the same level, maybe better, is just a great honor."
"Coach Thurman," of course, is Scotty Thurman, the patron saint of all Razorback long-distance shooters. It's Thurman who hit the go-ahead three-pointer against Duke in the 1994 National Championship game which catapulted Arkansas to its title. Thurman, too, is at or near the top of many Razorback three-point records. He's No. 1 in career three-point percentage (43.2%), for instance.
Thurman is now an Arkansas assistant coach. "He's helped me a lot," Joe says. "Before I came here I was just a spot-up shooter, a catch and shoot shooter. But he's helped me practice to pump fake, get them off the ground, step backs, screens, popping out, just creating a little bit of space."
Right now, Joe still shoots the vast majority of his attempts as a catch and shoot spot-up shooter. But he's working to change that. In fact, Joe studies a certain NBA sharpshooter to hone his ability to shoot off the dribble.
"I've studied a bit of JJ Redick, just moving without the basketball," he said. "Because in high school I had the ball in my hands a lot of the time. But we have a true point guard [Jalen Harris] now, so moving without the basketball is a big key to my game. Setting screens for other people, getting them open and eventually getting yourself open."
The Razorback offense has been up and down this season. Joe himself has been erratic. Recently, he went a combined 1 for 8 from three-point range against Georgia and Texas Tech. Much of that was because he was sick.
He soon recovered, though, and so did his shot. In wins against LSU and Vanderbilt, he went 10 for 18 on threes, including one particularly torrid three-minute stretch against Vandy in which he nailed four of them.
This Saturday, against Mississippi State, Arkansas could use one of Joe's best efforts. It's a big home game against another strong SEC West team. And every win counts towards the postseason. With a 14-10 record, Arkansas' hopes for the NCAA Tournament are on life support. Still, knocking off a 17-7 Bulldogs squad would keep oxygen in the tubes.
Plus, there's another, more personal angle for Joe. One of Mississippi State's standout freshmen, Reggie Perry, played for years with Joe in the Arkansas Hawks AAU program. Perry, 6-10 and 245 pounds, originally committed to the Razorbacks. Then he switched allegiance to Mississippi State.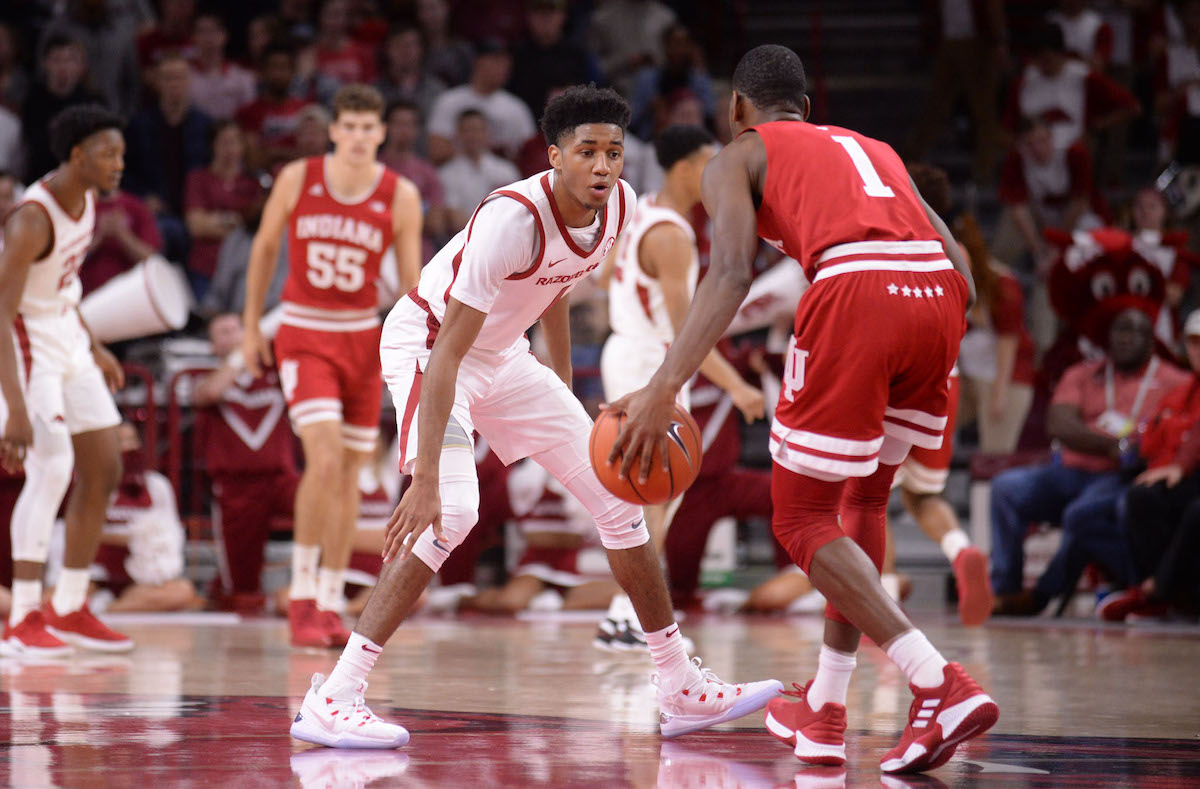 Joe's ready to rumble: "I just talked to him yesterday. I think it's gonna be a fun game, definitely cool to play against someone you played with in the past with the emotions in there and all."
Joe is diplomatic when it comes to how he felt when Perry, an inside bruiser whom the Hogs could really use this season, de-committed. He says he wasn't so much disappointed, but that "it was a weird feeling." Still, "Reggie's my friend… I'm gonna support whatever decision he makes. I wanted the best for him, so wherever he went, I wanted him to do good."
Except, of course, when Perry plays a certain team. There will be a little bit of friendly trash talk, Joe said, laughing. "You know, on the court, nobody's friends."
Photos courtesy of Arkansas Razorback Communications.