A message from the 🐐

👊@dmcfadden20 pic.twitter.com/70Zss67dBH

— Arkansas Razorbacks Football (@RazorbackFB) October 6, 2018
Boyd's off to one of the best starts in Razorback running back history.
It's been three years since Arkansas won the Golden Boot trophy in its rivalry game with LSU. Taking it back Saturday, against a formidable No. 7 team, will require superhuman efforts by a few Hogs.
Razorback sophomore Rakeem Boyd is better poised than most to provide one.
Boyd showed why in a recent episode of "Last Chance U," a reality TV football series on Netflix. Last fall, cameras tracked his Independence Community College (Kansas) team and caught some of Boyd's most electrifying moments. In one, he takes the ball from his quarterback and finds a crease to jet into the open field. Fifteen yards downfield, a defensive back approaches him head on, leaning down to take out Boyd's legs.
Instead of trying to feint the defender, Boyd hurdles the young man. Flying about 5 feet high, he lands 5 yards downfield, retains his balance and scampers for a few more yards before someone else tackles him. The sequence sparks wild cheers across the crowd and a few not-so-family-friendly exclamations of wonder in his team's coaching booth.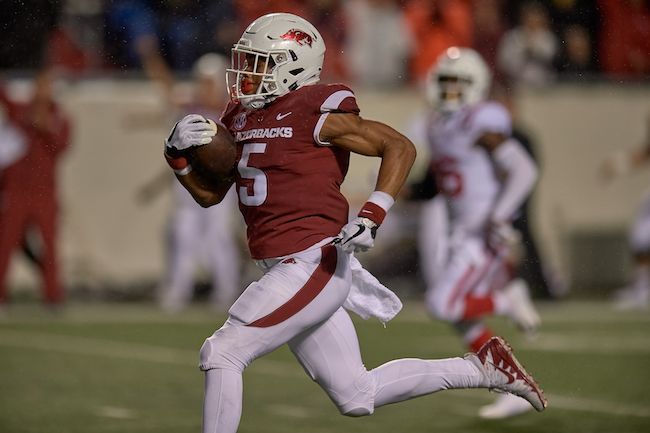 Boyd's skills have been impressive enough to catch the attention of Razorback football's own version of Superman: all-time leader rusher Darren McFadden. Before this year's Alabama game, McFadden visited with Boyd in the Arkansas locker room.
"'Hey man, I like what you're doing," McFadden said, Boyd recalls. "Keep doing what you're doing. Nobody can stop you."
Boyd, who like McFadden wears No. 5, then went out and racked up 102 yards. It was the first time a Razorback running back had broken the 100-yard rushing mark against Alabama since, you guessed it, Darren McFadden.
That performance came in the middle of a five-week stretch in which Boyd led all SEC running backs in yards per carry, receiving yards, yards after catch and catches. One of his most impressive runs was a D-Macesque, 69-yard touchdown tear through the Ole Miss defense that showcased elite acceleration and speed.
The 6'0", 200-pound Boyd is "probably an NFL first-rounder," said Jason Brown, Boyd's head coach in junior college. "He's as good of a back as I've had, and I've had some great ones. I've got 27 guys in the NFL, and he's as good as any of them."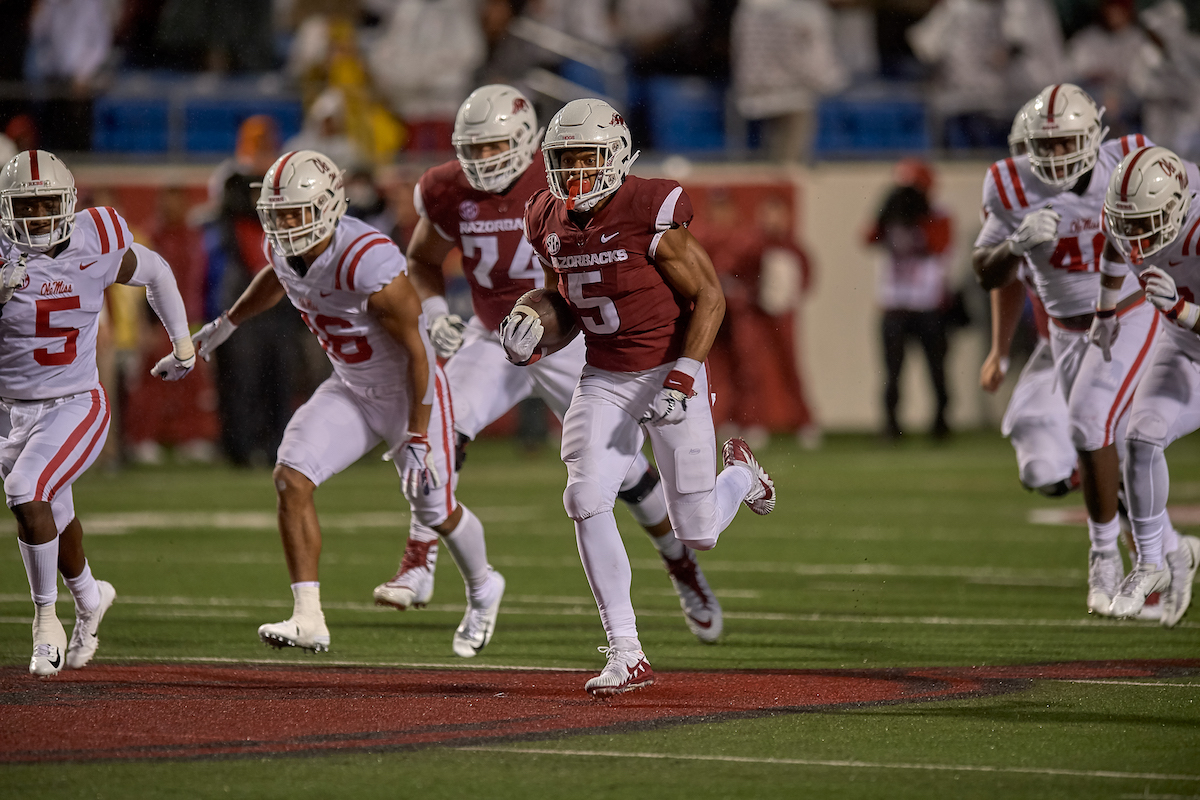 Boyd has gotten carries in eight games so far in his Hogs' career. His start ranks among the best first years by Hog running backs in the SEC era, with guys like Felix Jones, Cedric Cobbs, Alex Collins and of course McFadden. Joining such a pantheon "means a lot," Boyd said in a phone interview. "I still have a lot to learn, a lot I got to do. It's a blessing to be in that category with those guys."
Boyd knows what a blessing life itself is, as well.
He spent his early childhood in New Orleans so, no surprise, was an LSU fan. "We're LSU people," he said of his mother and father, who are both from south Louisiana and have families full of LSU fans. Indeed, in another life, perhaps Boyd would suit up for the Tigers instead of the Hogs.
But when he was 5 years old, something happened that changed his life forever: Hurricane Katrina hit New Orleans. "My kids saw a lot," Boyd's mother Veronica Bowman recalled in "Last Chance U." "People getting hosed, people getting shot … We didn't have anything to eat for five days. They were throwing down the Army food, the packages, like we were savages. We had to fight for it. That's where the looting came in. And a lot of people don't know what looting is. Looting is: no stores are being opened — all the business owners had left — so there's nowhere to purchase food. That's looting. Looting is not just coming and just stealing your stuff."
Boyd recalled waiting on a small bridge, many people crying and "people dying just in front of you."
The trauma swept Boyd to Houston, where he became a high school star and spent one season at nearby Texas A&M. For a while, he didn't closely follow the LSU-Arkansas rivalry but that has changed these last two weeks. One of his Texas-born friends on LSU, receiver Jonathan Guiles, contacted him this week to initiate some good-humored trash talk. No doubt Boyd's hearing it from some relatives, too.
"I've got a little bit on my shoulder to take 'The Boot' back," he said.
Few people give the 2-7 Razorbacks a chance against LSU. The visiting Tigers are favored to win by more than 16 points. Boyd doesn't care. He's ready to rumble for more McFaddenesque moments and help his team shock the world. "We're about to turn it around — starting this weekend."