Throughout the history of Razorback sports, fans have seen many promising young athletes come into their own as they competed in the cardinal and white uniforms for Arkansas. Though there are too many Razorback record holders to feature in one post, here are a few standouts that exemplify what Razorback athletes can achieve.
Baseball
2018 brings the 96th season of collegiate baseball to Fayetteville. Although the team has a long history, the Razorback record holder goes to one of its most recent players. Andrew Benintendi wowed Razorback fans and baseball aficionados around the country in 2015. The then-sophomore Diamond Hog had a record-breaking season. He hit 20 home runs and maintained a .376 batting average and also stole 20 bases. He helped lead the team to a 40 win season and a spot in the College World Series playoffs.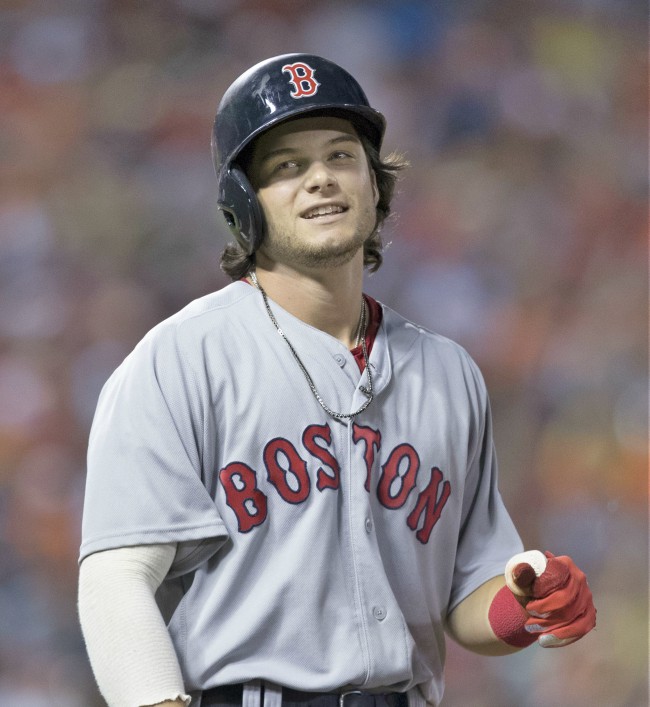 Photo Credit: By Keith Allison on Flickr
Along the way, Benintendi picked up the most awards of any Razorback baseball player, including the Golden Spikes Award and the Dick Howser Trophy. He is the only Razorback to have won these two coveted awards. Benintendi was also Baseball America and Collegiate Baseball's National Player of the Year, SEC player of the year, the SEC Male Athlete of the Year and named to numerous First Teams. Andrew Benintendi was chosen as the No.7 overall draft pick for Major League Baseball and currently plays for the Boston Red Sox. 
Football

While Arkansas football fans have seen a number of talented players over the years, Darren McFadden stands out as one of the most accomplished players in Razorback history. McFadden joined the team in 2005 as a Parade All-American out of his hometown of Little Rock. In his first season as a Razorback running back, McFadden rushed for 1,113 yards and 11 touchdowns, a number that would only get better in his next two seasons. He won SEC Freshman of the Year.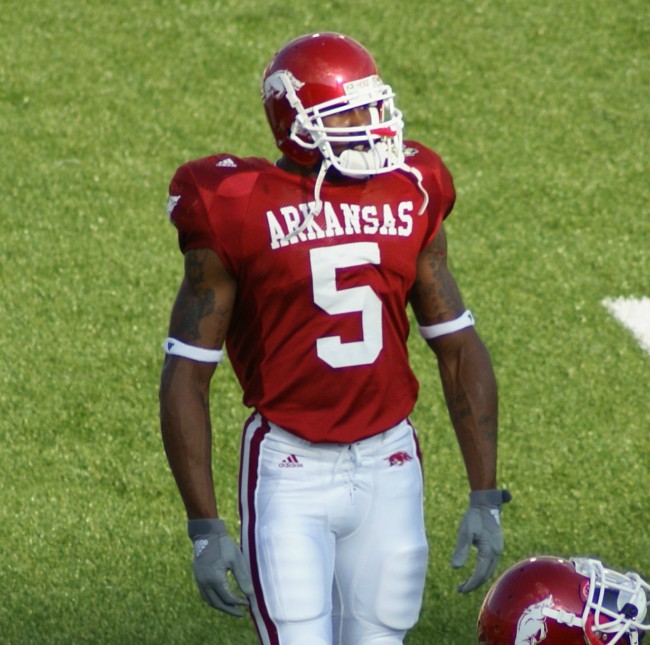 Photo Credit: By Belinda Hankins Miller – Flickr
In his sophomore season, he rushed for 1,647 yards, only to break that number his junior season with 1,830 yards. He holds the record for the most yards rushed in a single game, 321 against South Carolina in 2007, and is tied for first place for the most 100-yard rushing games in a season at ten games. Fans knew from day one that McFadden was a special player. He was runner-up to the Heisman Trophy in both his sophomore and junior seasons. McFadden was an All-American in 2006 and 2007, and he also won the Walter Doak award both years. He eclipses all other running backs in career rushing yards with a total of 4,590 yards in three seasons. McFadden was chosen fourth overall in the NFL Draft in 2008, one of the highest draft picks in Arkansas Razorback history. 
Basketball

In 1975, Sidney Moncrief walked onto the University of Arkansas campus at the beginning of a new era for Razorback basketball. Coach Eddie Sutton had taken over the program only the year before and was determined to make basketball a winning program again. Moncrief became a cornerstone in Sutton's success over the next four years. Moncrief helped lead the team to Southwest Conference regular season and tournament titles in 1977, a regular season title in 1978 and again in 1979, this time along with the SWC tournament title. Moncrief and the Razorbacks made it to the NCAA Final Four in 1978, although they missed out on the title game.
Moncrief garnered many records in his career at Arkansas. He held the all-time leading scorer record with 2,066 points until Todd Day broke that record in 1992. Moncrief remains second on that list. He's also first in career free throws made, with 588 in his four years at Arkansas, and in career rebounds with 1,015. He also makes the top ten in a number of other records, including scoring average per game and field goal percentage per game. With numbers like these, Moncrief was drafted as the fifth pick overall in the 1979 NBA draft, making him the top Razorback basketball draftee in history. He went on to have a long, prolific NBA career with the Milwaukee Bucks.
On the women's side of the game, Hot Springs native Shameka Christon set a number of records that are hard to ignore during her four years of basketball as a Razorback. As a freshman in the 2000-2001 season, she came alive during SEC play to garner a total of 327 points at season's end. Christon scored more points each consecutive season to add to her total, eventually tallying 1,951 points as a Razorback, second only in total points to Bettye Fiscus. Christon led the team to three NCAA appearances during her tenure. She was the first Razorback player named to the Associated Press All-American third team. Christon was also named SEC Player of the Year in 2004. She closed out her career by being the first Razorback to be drafted in the first round of the WNBA draft. She went fifth overall and enjoyed a long pro career, including an all-star selection in 2009. 
Track and Field
With numerous events in track and field, it's hard to choose just one record holder, but Veronica Campbell Brown made her mark on Razorback record books. Veronica Campbell spent the 2004 season at the University of Arkansas after transferring from Barton County Community College. Campbell made her short time on the track for the Razorbacks count. She set university records in the 60-meter and 200-meter race in indoor track and picked up an NCAA national championship title for the 200-meter race while establishing a new collegiate record time of 22.43 seconds. She won the SEC titles for both the 100 meter and 200-meter races in the outdoor season and still holds the record times at the U of A for both events. After the 2004 season, Campbell decided to go pro and compete for her home country of Jamaica. With eight Olympic medals under her belt, she is the most decorated Olympian associated with the University of Arkansas.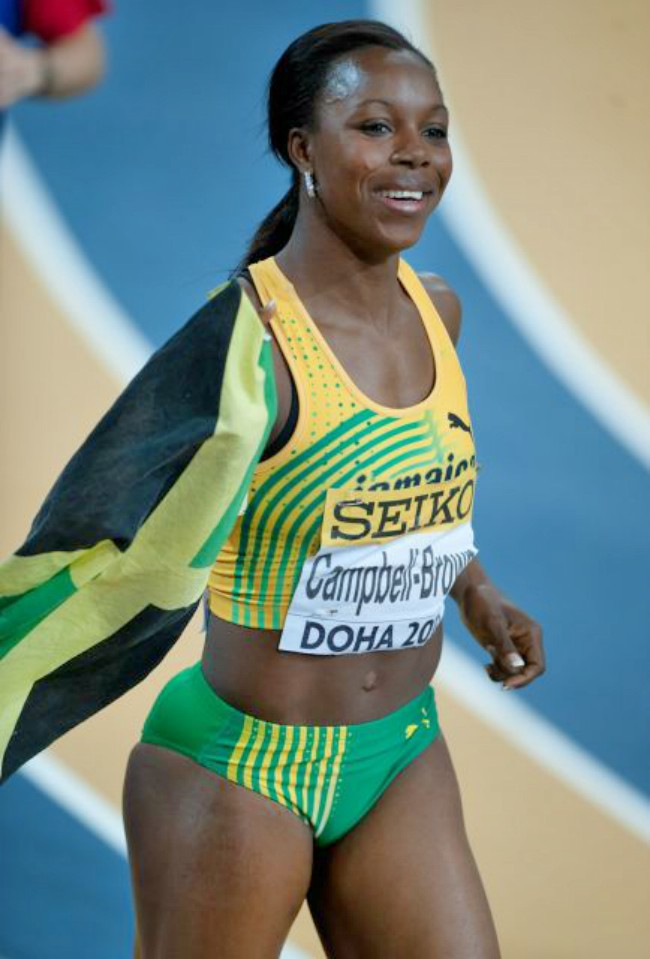 Photo Credit: By Erik van Leeuwen, (Wikipedia).
Golf
When Stacy Lewis was diagnosed with scoliosis as a child, she didn't let that stop her from achieving her dreams as a Razorback athlete and a professional golfer. Lewis had to redshirt her freshman year to have back surgery. After recovering from the surgery, Lewis never looked back but set out to become the most successful female golfer in program history. In her first year of competition in 2005, she won the SEC championship, was named the SEC freshman of the year and was named a National Golf Coaches Association All-American, an honor she earned all four seasons at Arkansas.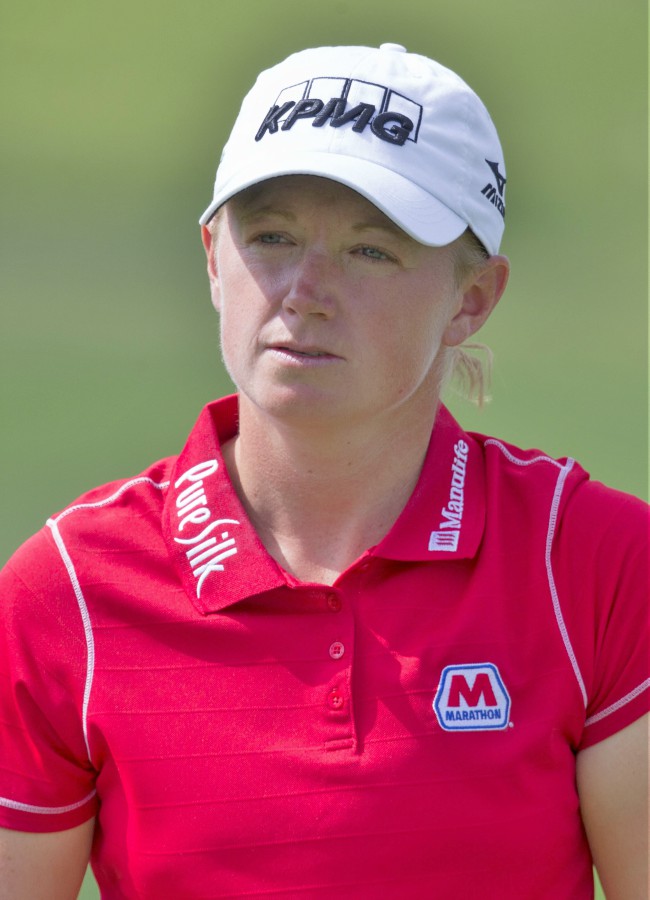 Photo Credit: By Keith Allison from Hanover, MD, USA
Lewis holds numerous records as a Razorback, including 12 tournaments wins, a record no other Razorback golfer comes close to achieving. She had 60 par or better rounds during her days as a Razorback, again a record for the team. Her junior season, Lewis won the NCAA individual national championship, the only Razorback to do so. Her senior season she again nabbed the SEC championship. While competing at Arkansas, Lewis also had a successful amateur career that helped launch her into her professional career on the LPGA tour.
The records these Arkansas Razorbacks established, and their successes, lift the level of play for every athlete who puts on the Razorback uniform and paves the way for those records to be broken by the next generation of Razorbacks.