Springdale resident Julianne Thompson has enjoyed hiking since she was a child. She speaks of idyllic days spent with her grandparents at their cabin on the Buffalo River in Buffalo City, where she fondly recalls she and her siblings "had free reign wandering the woods, the train tracks by their house, and walking down to the river to fish and swim." Thompson's grandmother, a painter, would ask the children to bring back river rocks for her to paint. When a cabin on the river wasn't rustic enough, Thompson's grandparents would take her, her siblings and cousins camping at the Buffalo Point Campground. There, they would find swimming holes, float and fish the river, and hike the trails.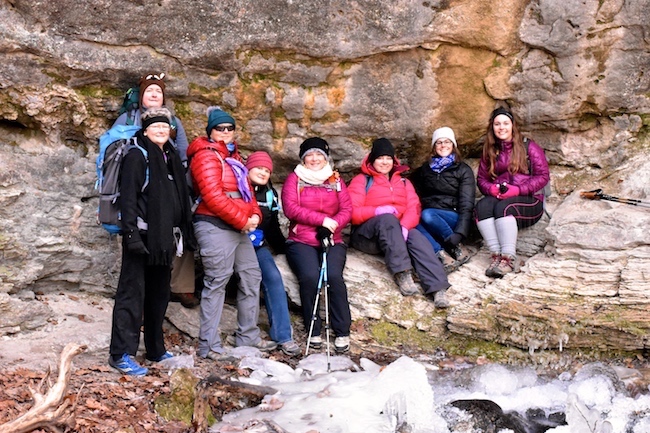 The cabin remains in the family, and Thompson retains a love for the outdoors. Thompson, a blogger who works in marketing, says she wanted to teach her four-year-old son to enjoy the outdoors and instill in him his own appreciation. After noticing a friend hiked with her young child, Thompson began bringing her then-toddler on the trails and looking for opportunities to hike. As she began prioritizing hiking, she encountered the 10K Women Trail Project. Sponsored by Hike It Baby, an organization that promotes families hiking with babies and children, the 10K Women Trail Project was funded by a grant from REI to encourage women to hike. To that end, the 10K Women Trail Project sought trailblazers to represent the project and help create hiking events. Thompson applied and was selected as Arkansas' sole trailblazer.
In addition to being a trailblazer for the 10K Women Trail Project, Thompson is also one of two leaders for Girls Who Hike in Arkansas. Girls Who Hike is an organization that helps women network and hike together. Since her involvement with these two organizations, Thompson has been surprised to learn how enjoyable it is to hike in groups: "I don't know why I never went hiking with a bunch of people before because this is more fun than hiking by myself!" Her hikes generally have 1-10 fellow hikers on them, often including the families of the women she hikes with. And, whenever possible, the hikes include her husband of 11 years, Jeremy, and their son, Coen.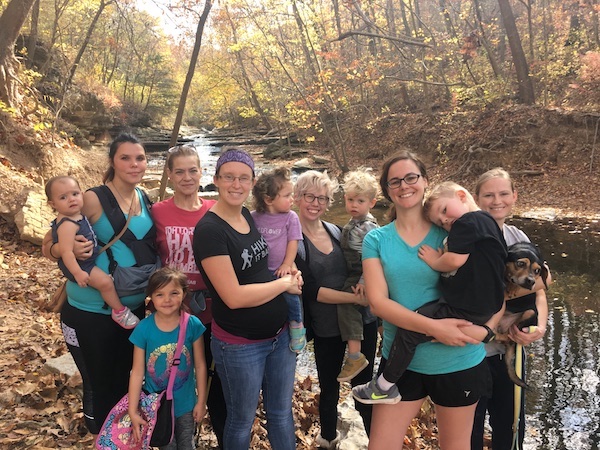 Her first hike as a trailblazer was Bashore Loop at Hobbs State Park with three adults and two children. "We got to an overlook of Beaver Lake right when the sun was setting," she remembers. Her longest hike was Pigeon Roost Trail at Hobbs State Park, about eight miles. When asked about her favorite trail, she demurs: "The last trail I hiked ends up being my favorite. [War Eagle Trail] is really pretty though. You get to walk out on the bluff and see the river." In January when it was very cold she led a hike of the Indian Rock House Trail near Yellville, a trail she knows very well from hikes with her grandparents: "It's got caves, a waterfall, if it's during wet season there's a creek that you walk along, and there are some places you can even get up and look over and see the river."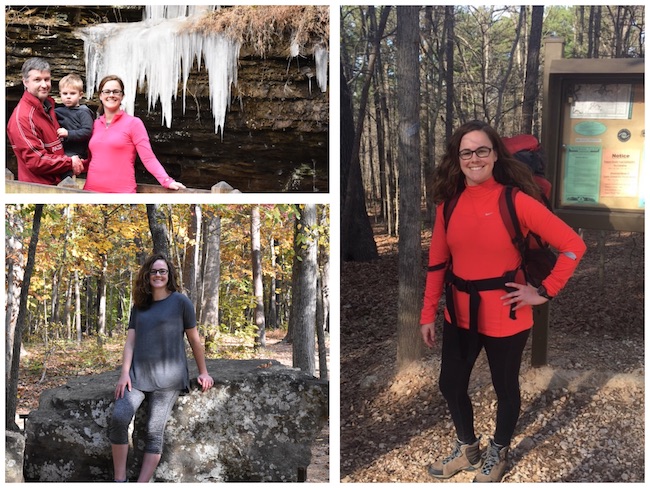 For Thompson, the joy of being an ambassador for these two hiking programs is in both the encouragement she feels to get out and hike and the connection she creates with likeminded women. She loves to hear the stories of her fellow hikers and learn what motivates them to hike. Of her experience hiking in Arkansas, Thompson says she appreciates that the topography and hikes are varied but uniformly beautiful. "I always find something really incredible. [On the Pigeon Roost Trail] you get to see the lake from there, and I enjoy seeing the really different rock formations, and I think there are sinkholes on that one. Every hike I've been on I find something gorgeous that reminds me of what went into the creation of our earth, and Arkansas is just gorgeous. They don't call it the Natural State for nothing."
Thompson has a hike scheduled for April 15 at Cedar Falls Trail in Petit Jean State Park, and another for April 22 on the Bashore Ridge Loop Trail at Hobbs State Park. In honor of Earth Day, hikers will be picking up any trash they spot along the trail. Women interested in getting involved can start by joining Thompson's Facebook group where hiking opportunities are shared, and then by visiting Hike It Baby's webpage to join the 10K Women Trail Project. After signing up, make an effort to join Thompson on the trails. Don't forget to bring a friend!
Banner Photo Credit: Kaci Stringer
All other photos provided by Julianne Thompson