The White River National Wildlife Refuge is my father's happy place. Whenever I hang out with my dad he likes to tell the tales of fishing, hunting deer, hiking the woods, and camping trips with his friends. Always an outdoorsman, he's spent his life learning the signs of tracks in the woods, animal sounds and calls, and some of his best experiences have been at the White River Refuge.
It wasn't until I was older that I learned exactly what these "wildlife refuges" were. The concept of a National Wildlife Refuge began in 1903 when Theodore Roosevelt designated Pelican Island National Wildlife Refuge in Florida as public lands and waters set aside to conserve fish, wildlife and plants. Since then, the wildlife refuge system here in the United States has grown to over 562 refuges and 38 wetland management districts, designated by more than 150,000,000 acres.
Arkansas is lucky enough to have a veritable treasure trove of National Wildlife Refuges. In fact, we have 10 of them that span the state in various locations, creating easy nature access for all Arkansans. Let's explore them, including what makes each of them so unique to the Natural State.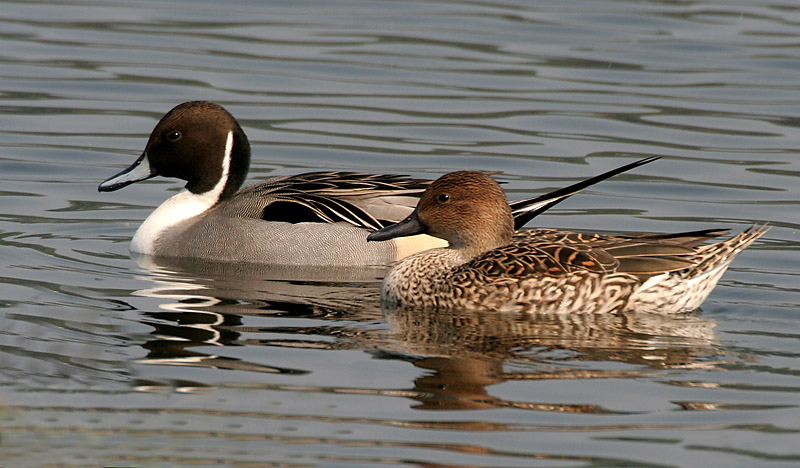 Bald Knob National Wildlife Refuge
Bald Knob National Wildlife Refuge was established in 1993. Comprised of 15,022 acres, its defining feature is its large number of migratory waterfowl and bald eagles during winter. Rice, soybeans, corn and millet are grown there and provide food for the birds. All manner of ducks and geese (especially the pintail duck) use the Bald Knob National Wildlife Refuge as a winter stopover for migration. Public access is by foot or use of an all-terrain vehicle.
Big Lake National Wildlife Refuge
This area of Arkansas was originally called "Great Swamp" by its earliest settlers. After the Civil War, professional hunters, hunting clubs, and timber companies began to deplete the area of deer, ducks, and fish, depriving local residents. Legal issues and fights were common between 1870 and 1915, at which time the federal government established Big Lake National Wildlife Refuge, the third oldest inland refuge in the country. The refuge has over 11,000 acres and is a winter stopover for migrating birds. Over 200 species of birds call Big Lake home, and Arkansas' largest recorded largemouth bass was caught there in 1976, weighing in at 16 pounds and 8 ounces.
Cache River National Wildlife Refuge
The Cache River Refuge owes its origin story to duck hunter protests in the 1970s. They prevented the Army Corp. of Engineers from straightening the Cache River, a conservationist movement that led to the official founding of it as a National Wildlife Refuge in 1986. Located on over 68,000 acres and near Stuttgart, the Cache National Wildlife Refuge is part of the Ramsar Wetlands. In 2005 a team from Cornell Lab of Ornithology claimed they had a recorded audio call of the ivory-billed woodpecker (thought to be extinct for 60 years). The refuge is also deemed to be the most important location for mallard ducks wintering in North America.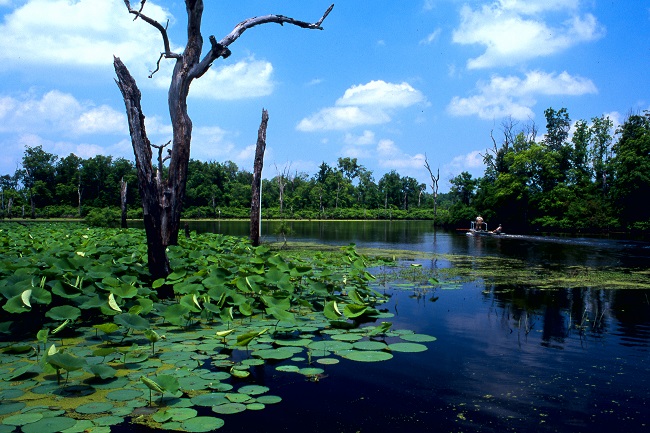 Photo courtesy of Arkansas Parks and Tourism
Felsenthal National Wildlife Refuge
Felsenthal is a German word meaning "rocky valley." Created in 1975 near a town of the same name, this national wildlife refuge provides protection for the red-cockaded woodpecker, bald eagles, and the American alligator. Located on over 65,000 acres, it's low lying geography and abundant water sources create a system of creeks, sloughs and swamps. The refuge contains numerous Native American archeological discoveries and historical artifacts from the Caddo tribe that called the area home 5,000 years ago.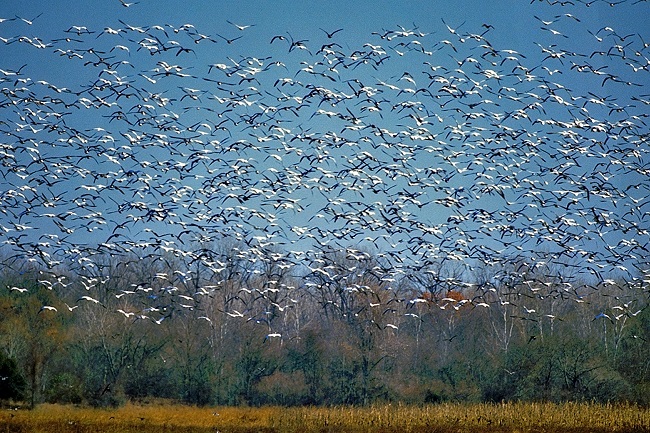 Photo courtesy of Arkansas Parks and Tourism
Holla Bend National Wildlife Refuge
With a catchy name like Holla Bend, one immediately wonders about the origin of such a moniker. In the early 20th century, a large group of people lived and farmed the area. A massive flood struck in 1927, washing in up to four feet of sand in some areas. The residents left the area behind, and likely the origin of the area's name was lost amid the floodwaters and the vacated community. The refuge is bordered on one side by the Arkansas River, and on the other side an oxbow lake constructed by the Army Corps of Engineers. The area provides refuge and a winter home to up to 100,000 migrating ducks and geese.
Logan Cave National Wildlife Refuge
The 455th National Wildlife Refuge in our country, it was founded in 1989. With a comparably small area comprised of 123 acres in the Ozarks, it is located near Fayetteville. It boasts its very own limestone cave, noted as one of the highest quality caves in the region. Its spring-fed creek, originating in the cave, hosts numerous kinds of fish, ponds, and a fish hatchery. Its special ecosystem provides a home to endangered crayfish, the endangered Ozark cavefish, and the equally endangered gray bat.
Overflow National Wildlife Refuge
Located on over 12,000 acres in Ashley County, this refuge was created in 1980. In addition to being a habitat for bald eagles and a migratory haven for waterfowl, it's also a greentree reservoir created to protect hardwood forests. Overflow has old growth Sugar Maples and an American Beech forest. Willow Oaks are also found in abundance, producing acorns that are a food source for the migratory birds.
Pond Creek National Wildlife Refuge
Established in 1986, Pond Creek National Wildlife Refuge was established to protect over 27,000 acres of wetland and bottomland habitats near De Queen.  Located at the intersection of the Mississippi and Central Flyways, it is an important location for winter migratory birds. Pond Creek's geography consists of oxbow lakes (crescent-shaped lakes located alongside rivers), sloughs and hardwood bottomlands.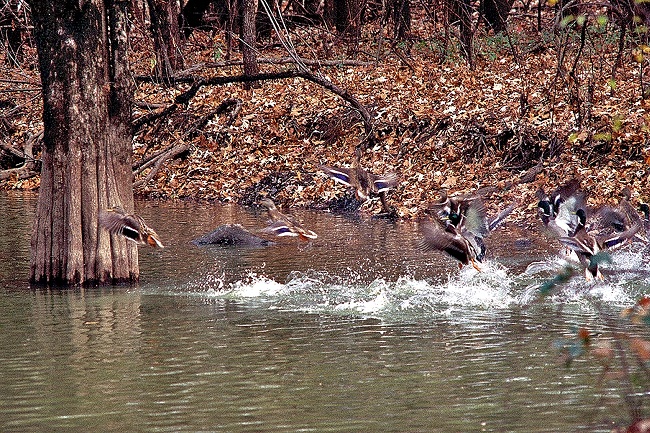 Photo courtesy of Arkansas Parks and Tourism
Wapanocca National Wildlife Refuge
Established in 1961 from a former hunting club, Wapanocca is located on over 5,000 acres near Turrell, Arkansas. The original hunting club dated from 1886 and was called "Wapanocca Outing Club." It was a location frequented by member Nash Buckingham, a famous outdoor writer. Its lake was formed 5,000 years ago when the Mississippi River changed course, and the entire refuge is a home for birds. The blue heron and the bald eagle call the area home, and neotropical birds use it as a stopover as they go to and from Central and South America.
White River National Wildlife Refuge
Established on over 160,000 acres in 1935, my father's favorite refuge plays host to migratory birds (ducks and geese), bald eagles, and a large black bear population. It contains old-growth forests filled with American sweetgum, Nuttall's oak, willow oak, sugarberry, American sycamore, and bald cypress trees. The refuge also includes 3 miles of the Arkansas Post Canal. In 2014 it was officially renamed "Dale Bumpers White River National Wildlife Refuge" and in a speech given by Daniel Ashe, he praised Senator Bumpers conservation efforts for "some of Arkansas' last wild places." And that is what these National Wildlife Refuges truly are, they are the last of our state's wild places. They are areas where the natural forests, birds, and animals live as they always did, untouched by mankind's advancement.