Sabine Schmidt is an artist/photographer based in Fayetteville, Arkansas. Originally from Germany, Sabine came to Arkansas to attend graduate school. While here, she fell in love with Fayetteville, with its welcoming atmosphere and affordable cost of living. She says that also, "The hills remind me of home."
Sabine has worked as a writer, translator, photographer, and teacher. She still currently does translation work for the German edition of National Geographic magazine.
Sabine Schmidt's work will be featured with Art in its Natural State, coming up soon on Petit Jean Mountain.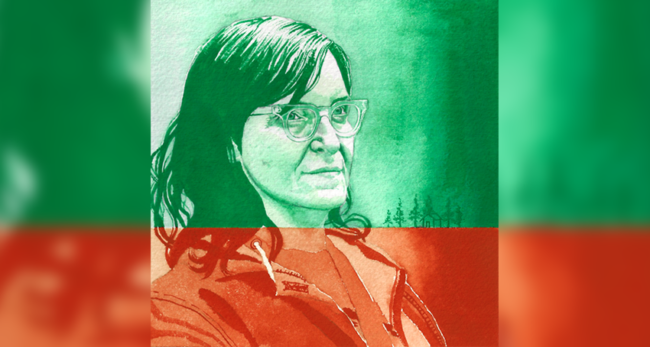 Sabine's Medium of Choice
Sabine's very first piece of art was likely a miniature house built either from sticks, moss, feathers, and leaves; or built from a shoebox. Her love of miniature house building began as a child.
When asked why she chose photography, Sabine said that she's always been interested in both writing and visual art. While at first, she pursued a literary career path, photography became her main medium after working on several projects about ten years ago that involved walking, city spaces, and memory.
If you know Sabine's work or have been exposed to the beauty that is Sabine's photography, you know that she creates beautiful color photographs that evoke an emotional response or trigger a memory.
In an article written by Payton Christenberry for the Winthrop Rockefeller Institute, Sabine says, "Much of my work is the result of walking and hiking. To me, those are the best ways to experience places shaped by human actions, which is what I'm mainly interested in, whether it's in a city or out in the Ozarks."
According to her biography with the Arkansas Arts Council:
She is most interested in showing how place and memory influence one another. She explores rural and urban places that may have outlived their original purpose and lie forgotten. In one of her projects, she documents the changes that shape the histories of towns, families, and individuals. In another, she sets handmade miniature paper houses as symbols of "home" in different locations. She uses writing and photography to tell stories of real and imagined places, of the passing of time, and of the ways in which people identify with the places they come from or settle in.
When asked about her favorite piece she's created, she says that one photo she keeps returning to is one she took in the Wichita Mountains. "It shows an abandoned farmhouse, all soft greens and grays, very quiet and a bit melancholy."
Other types of art Sabine enjoys creating include small paper houses, maps, and mixed media.
Who/What Inspires Sabine?
Walking is one of Sabine's biggest inspirations, as it gives her time to both think and to explore. One of her favorite Arkansas spots is Boxley Valley. She says, "I've been there many times now, and it still holds its magic."
Other things that inspire Sabine are the study of photography, the study of various arts, and reading.
Artists she admires include American photographers like Julie Blackmon, William Christenberry, and William Eggleston; German photographers like Bernd and Hilla Becher and Andreas Gursky. She also enjoys the constructed photography work of artists like Lori Nix, James Casebere, and Thomas Demand. Also inspiring are sculptors and land artists like Maya Lin, Richard Long, and Rachel Whiteread; as well as painter Agnes Martin.
Geometry and color are two aspects that seem to consistently come up when it comes to what inspires Sabine's work.
Sabine's Workflow and Space 
When it comes to developing ideas, Sabine says she does her best thinking while walking or spending time away from home. She does, however, have a small studio where she works when home; in it is a worktable surrounded by helpful necessities and inspiration pieces, like art, books, magazines, and maps.
As for her workflow, she likes to walk and think, read, to look for connections, read some more; and she's an avid researcher. And then she starts to create photographs and sketches. She doesn't like to take too many shots, though, as she doesn't want to waste time in front of a screen trying to choose amongst so many photos. She likes to take only the shots she really wants or needs.
What Does Sabine Hope People Understand About Her Work?
In Sabine's words, "I hope the Rockefeller Institute piece, in particular, lets viewers respond intuitively, based on their memories and their life experience. I'm interested in shared human understandings of home, place, and belonging. The basic shape of a house is recognizable across cultures and time, as are the feelings and values associated with a house."
In developing her work, she hopes to make her pieces cleaner, have a more geometric appearance, and be more formally composed.
When asked what it means to have her art displayed with Art in its Natural State, Sabine answered that it's "a fantastic opportunity to move my work in a new direction, show it to new audiences, meet and exchange ideas with other artists, and participate in an event that showcases the energy and quality of art in Arkansas."
It also doesn't hurt that it's happening at one of her favorite places, the Rockefeller Institute.
Art in its Natural State on Petit Jean Mountain
You are invited to attend the kickoff event for Art in its Natural State on Saturday, April 28, beginning at 9 a.m. Admission is free; however, the Winthrop Rockefeller Institute asks those who want to attend to register for the event here.
A reception, which requires tickets (purchase at the link above), will be held in the evening beginning at 5:30 p.m. It will be an opportunity for attendees to meet and mingle with the artists, eat, drink, and enjoy entertainment by the Arkansas Symphony Orchestra's Rockefeller Quartet and country/folk artist Bonnie Montgomery.