Finding the time to make art can be a difficult task. For artists who depend on other jobs as their primary source of income, the challenge is magnified. Holly Laws, who has worked in the Art Department at the University of Central Arkansas since 2008, understands that challenge. The difference between wanting to find the time and actually finding the time to make art recently paid off when two of her sculptural pieces were accepted into an exclusive Washington, D.C. exhibit.
The National Museum of Women in the Arts (NMWA) will be hosting the fifth installment of the Women to Watch exhibition series from June 28 – September 16, 2018. The international show, titled Heavy Metal – Women to Watch 2018, will feature two pieces from local artist Holly Laws along with the work of nineteen other female artists from around the world.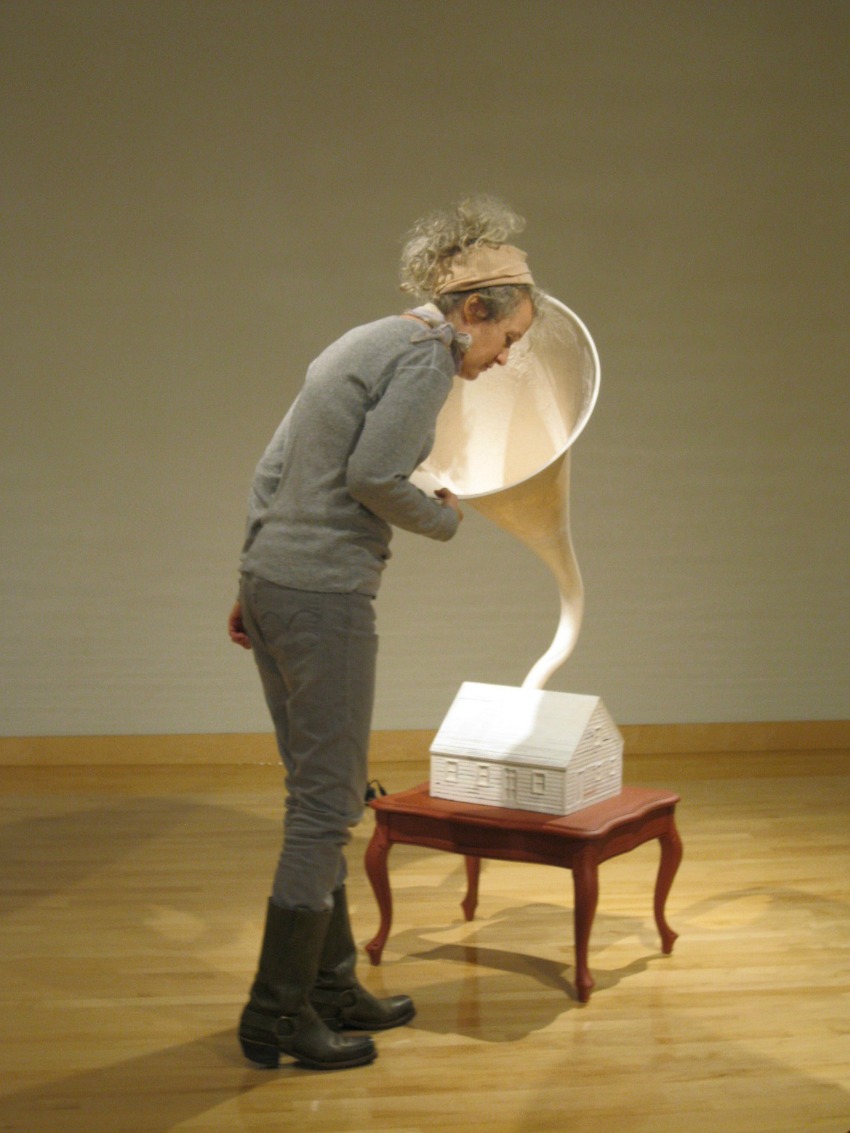 Holly Laws with one of her multi-media sculptures from the series Axis Mundi: Levittown.
NMWA is the only major museum in the world that focuses solely on the contributions and accomplishments of women in the arts. The exhibition, held every two to three years, began as an outreach effort to bring awareness of women in the arts to local and regional museums. NMWA has 21 outreach committees that work with local museums to help bring awareness to their mission to inspire dynamic exchanges about art and ideas.
Holly Laws, born in Georgia and raised in Florida, moved to Arkansas in 2008 for a teaching position at UCA. Teaching 3D Design for Art Foundations and Contemporary Media has helped to keep her current in the art world, yet finding time to make art is still a challenge. Laws took a sabbatical in 2016 and spent her time working on several pieces. The two pieces selected for Heavy Metal Women were made during this sabbatical.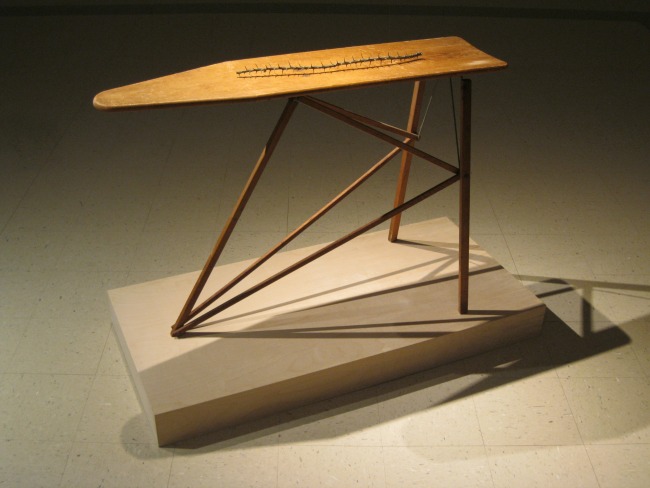 Holly Laws, Placeholder, 2017, cast bronze, found ironing board, plywood pedestal, 39.5 x 54 x 26 in., collection of the artist.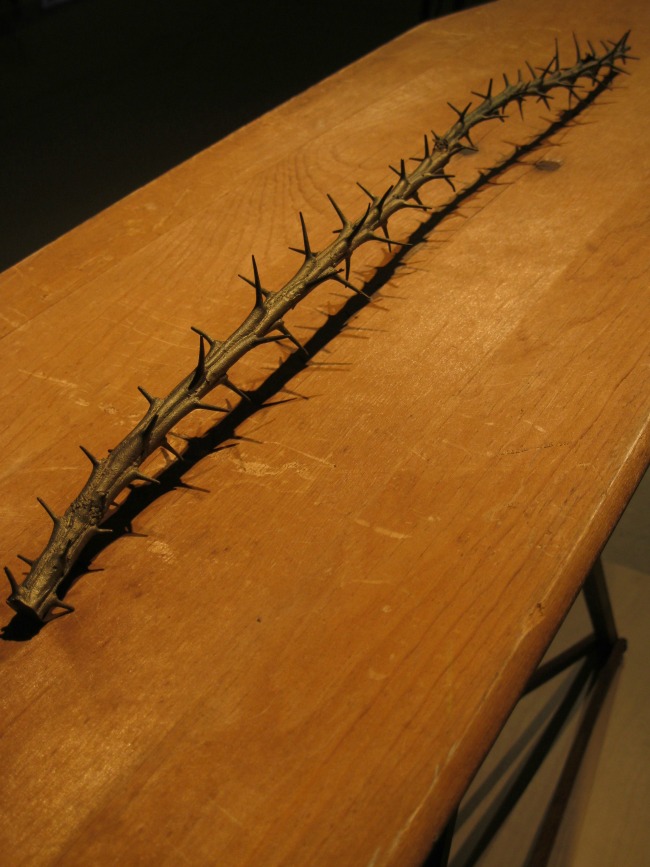 Laws considers herself a sculpture artist and prides herself on using unusual and non-traditional materials, a trait she also tries to instill in her students. She believes that some of the strangest materials ultimately make the best art. She has worked with royal icing, caulking and even roofing tar in the past. Part of the excitement of using a new material is the research into the material and the process of learning how it can be shaped and formed and made into something new. Laws often creates installation pieces designed for a specific place or time period. Laws exhibited her work all over the state and the nation, and in 2017, she held a solo exhibit in the Baum Gallery at UCA where her selected artworks Placeholder and Three Eastern Bluebirds were first displayed.
Laws provided this statement regarding her work:
"The sculptures in this exhibition were created in response to a deep sadness over the divisive state of affairs in the current American political landscape. I wanted to explore the horrible disconnect between the citizens of this nation: the miscommunication, the polarization, and the hate. The resurgence of overt misogyny and the backlash against feminism were of particular interest to me.
There is no hierarchy in my choice of materials or techniques. I use what works best for the subject or idea. I am constantly researching and experimenting with new ways and means of making. I use an ever-changing lineup of materials and methods, some odd or antiquated, others decidedly non-fine art, and borrowed from different domains. Regardless of the materials, my processes tend to be time intensive, a respectful nod to the labor historically associated with women's work."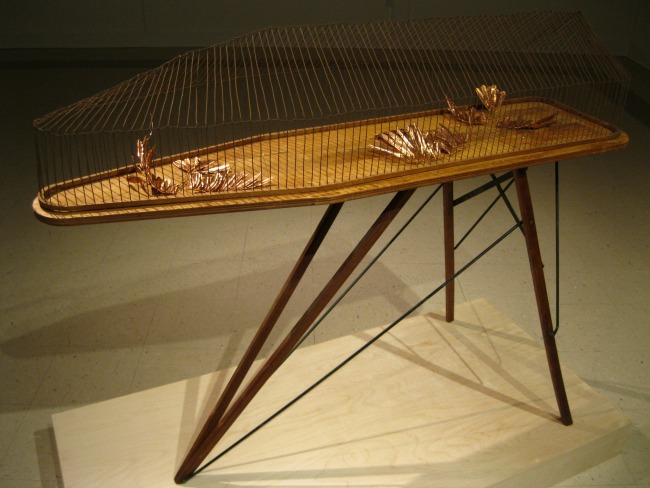 Holly Laws, Three Eastern Blue Birds, 2017, steel, copper, mahogany, found ironing board, plywood pedestal, 50.5 x 60 x 28 in., collection of the artist.
The Arkansas State Committee of NMWA (ACNMWA), established as an affiliate of the national museum by Helen Walton in 1989, hosts a biennial traveling exhibition that promotes inclusion of work by Arkansas women artists at the national museum. Four local artists, Michele Fox (Little Rock), Amanda Heinbockel (Little Rock), Robyn Horn (Roland) and Laws were selected as the national nominees. While Laws knew she had a chance at being selected to participate in the NMWA exhibit she did not feel her pieces would be selected.
"I knew the exhibit was looking for pieces that contain metal. I work with a lot of different materials but don't usually work with metal. I didn't think I would be selected, so it was a wonderful surprise."
The NMWA show opens this summer in D.C. Laws, who will also be attending an iron pouring workshop, will travel with her pieces to D.C. She will attend the opening reception and see her work on display.
"This is such a great honor. My work doesn't usually get a lot of visibility. A lot of people will get to see it, and my name will be out there."
The exhibit at the National Museum of Women in the Arts will run from June 28 – September 16, 2018. Laws' work, along with the work of the other Arkansas national nominees, will be shown in a traveling exhibit across Arkansas in 2019.
ACNMWA sponsors a state tour of Arkansas submissions to the national competition. Arkansas Women to Watch 2019: Heavy Metal premieres on January 5, 2019, in the Windgate Art and Design gallery at the University of Arkansas at Fort Smith. The exhibit tour is scheduled to travel to eight venues across the state under the direction of ACNMWA State Tour Project Manager Jaquita Ball of Bentonville. To learn more about Arkansas Women to Watch 2019: Heavy Metal, the ACNMWA internships, scholar awards, the juried artist registry and exhibit opportunities go to www.acnmwa.org.