In my travels, I meet people from all over (obviously), and when I mention my home state, a response I often hear is an association of Arkansas with the cultural and historic "Bible Belt." It brings a smile to my face, and I am often tempted to reply in true Southern fashion, "Darlin', Arkansas is the buckle on the Bible Belt." And it's true.
Coined in 1924 by scholar and satirist H.L. Mencken in a series of Chicago Daily Tribune essays, he concocted the term "Bible Belt" when he wrote, "The old game, I suspect, is beginning to play out in the Bible Belt." Many of Mencken's editorials were scathing commentaries on southern culture, even describing marriage as "the end of hope." Ironically, the journalist eventually married professor and author, Sarah Haardt, an Alabama native.
The term Bible Belt has lived on and is one I grew up with, and it aptly describes the Southern and Central part of the country where Protestant denominations are numerous and established. In many places, quite literally, there is a church on every corner. I recently wrote about the history of the Catholic Church in Arkansas and had the good fortune of exploring some of its historic buildings. Arkansas also has an abundance of beautiful historic structures in the Protestant denominations. Here are a few you will want to explore for yourself.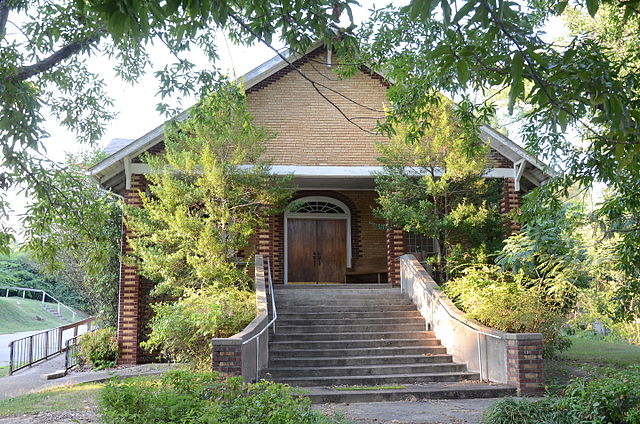 By Valis55 – Own work, CC BY-SA 3.0, Link
Calico Rock Methodist Episcopal Church
Built in 1924, this Methodist Church's architecture deviates from other traditional churches of the region. Inspired by his travels, church trustee Dr. Henry Harlin Smith admired the Craftsman style and commissioned the building's bricks to be made from local red dirt. Upon completion of construction, the church became a cornerstone of community activities which included quilt making, church services, and youth meetings. Featuring pressed tin ceilings (with quilting hooks still attached), an original church bell, stained glass windows, and pine floors still in good condition, the congregation eventually outgrew the building, and it was sold. The church is currently home to the Calico Rock Music Hall.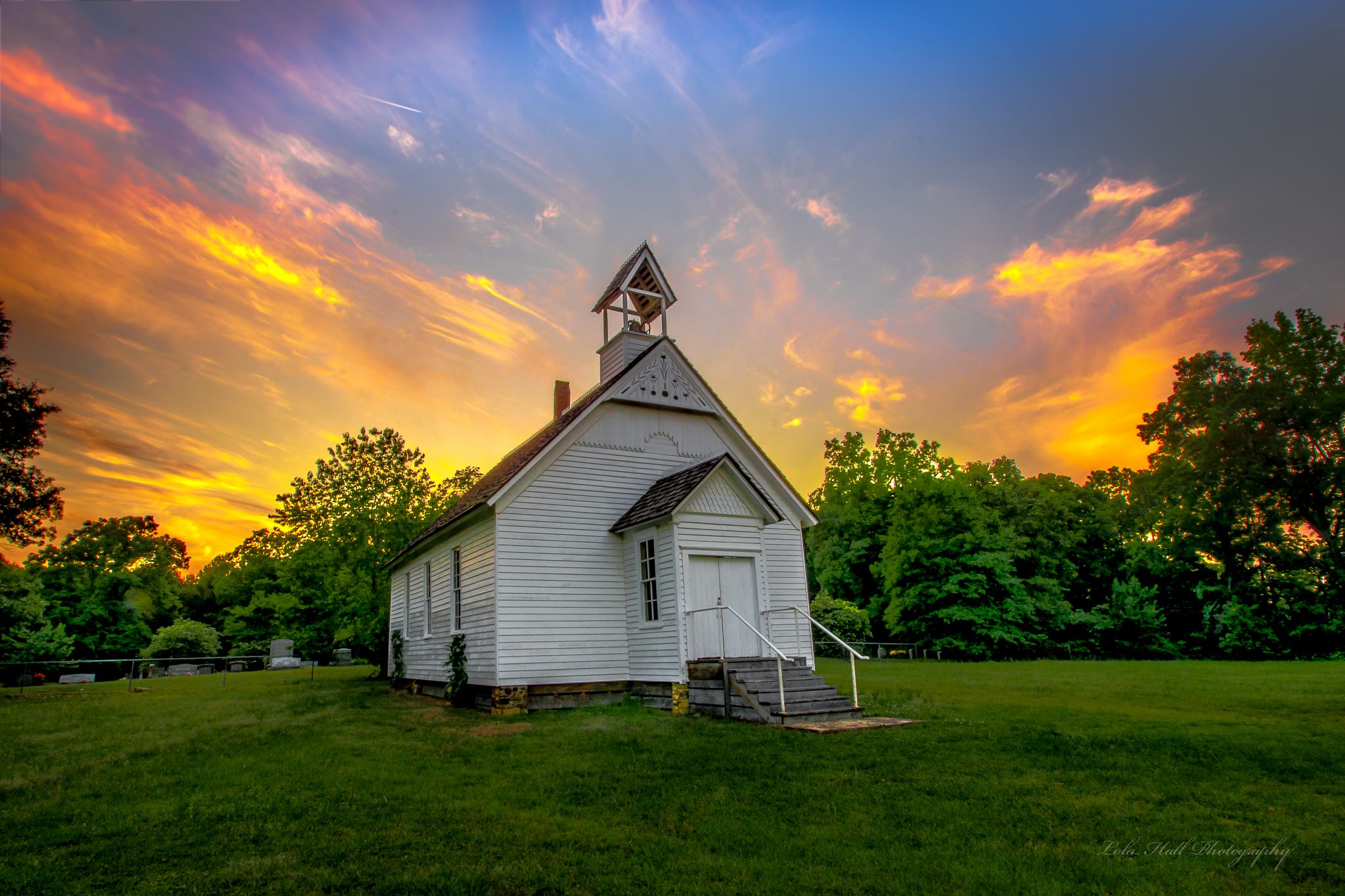 August 2016 Photo of the Week by Lola Hall
Smyrna Methodist Church
Constructed from logs that date back to the 1600s, this understated, beautiful pre-Civil-War building was built in 1854 and is the oldest documented church in Arkansas. The Smyrna Methodist Church was built by Methodists who "swarmed" (left) a union church located at Center Hill that, according to folklore, was home to numerous religious groups. After a speaker inferred that the Methodists' weren't likely to "get into heaven," the congregation decided to construct their own church home at Smyrna where they worshipped until the 1970s when the church closed, and remaining members moved to Grace United Methodist Church in Searcy. Today, a display case at St. Paul United Methodist Church in Searcy houses artifacts and mementos from the old Smyrna Methodist Church. Restorations to the 164-year-old church are ongoing, and the building is still available for weddings.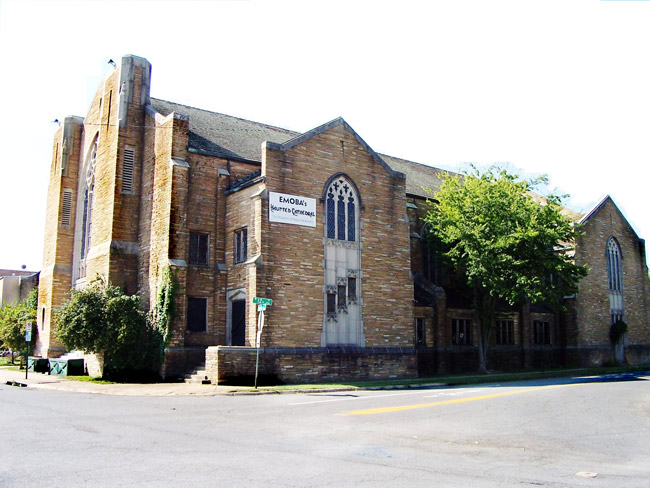 First Baptist Church Little Rock
This historic Little Rock church was built around 1941 on the site of an older church that was constructed in 1889. Under the oversight of architect A. N. McAninch, the Gothic style church features sandstone walls that house 15 classrooms, an organ with exterior chimes, and a sanctuary that seats 1,800. In 1974 the church congregation moved to West Little Rock, and the current building stood empty until 1993. Ernie Dobson then purchased the building, and it served as home to the nonprofit EMOBA (Ernie's Museum of Black Arkansas). The museum housed exhibits about Arkansas' black culture as well as hosting programs and events designed to create community awareness and pride. Sadly, this large historic building has fallen behind on upkeep, including a failing roof, and is listed as one of the most endangered historic structures in the state.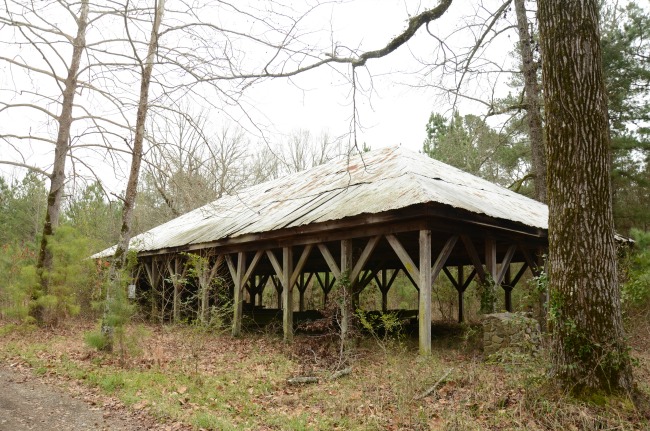 CC BY-SA 3.0
Clear Springs Tabernacle
Built in 1887 as a group effort between local carpenters and church members, the Clear Spring Tabernacle was founded by the Disciples of Christ. The building is a humble, open-air, brace-framed structure supporting a hipped-metal roof. More of a church-pavilion than a church building, this revival structure has weathered the elements for more than a century. It was used by numerous groups over the years with the exception of Mormons and churches that included African American members who were disallowed by the Disciples of Christ until a 1960s push to merge the white and black Disciples congregations across the state. Though the church disbanded locally, the surrounding 40-acre campground and revival structure are still available for use, today.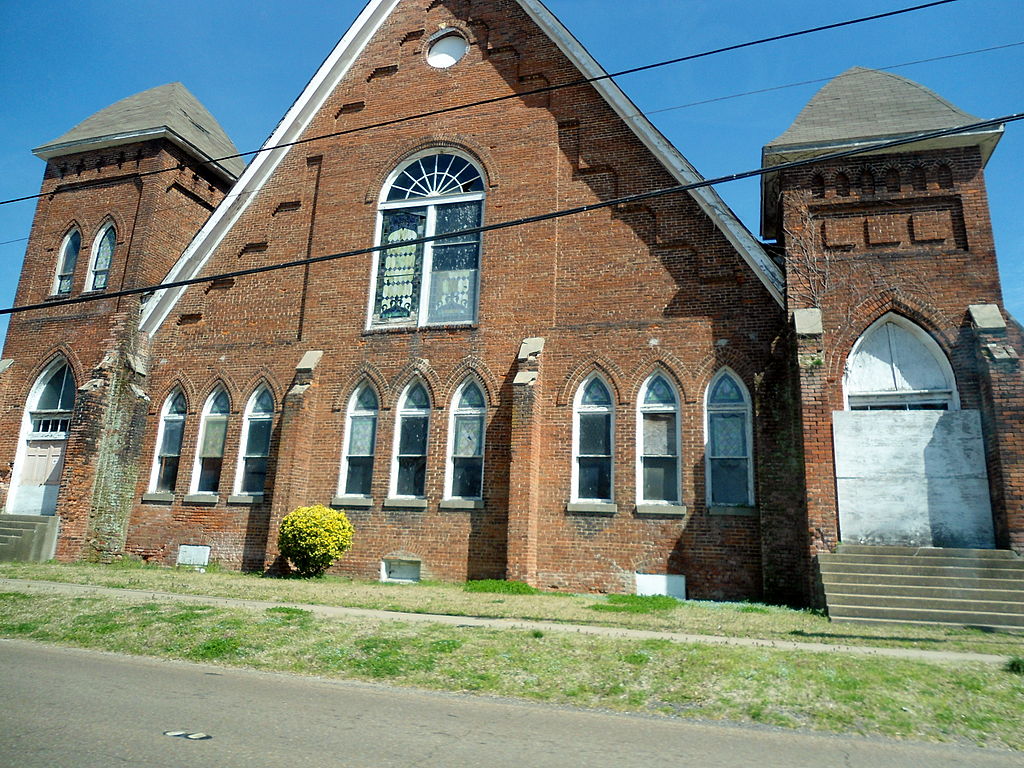 Brandonrush [CC BY-SA 3.0], from Wikimedia Commons
Centennial Baptist Church
A Helena landmark, the Centennial Baptist Church was constructed in 1905 and led by Reverend Elias Camp Morris. Inspired by his missionary travels across Europe, Reverend Morris influenced the design of the Gothic Revival building with its tower entries and exposed interior beams which are reminiscent of medieval construction. A grand pipe organ was installed a few years after the church was built, but by the 1980s, the church had fallen into a state of disrepair. Sadly, the last service was held in 1998. When funding to repair the church's main sanctuary trusses dried up, the building was donated to the E.C. Morris Foundation which continues to work to rehabilitate the stunning National Historic Landmark. The church is currently listed as one of Arkansas' top ten endangered historic sites by the Historic Preservation Alliance of Arkansas.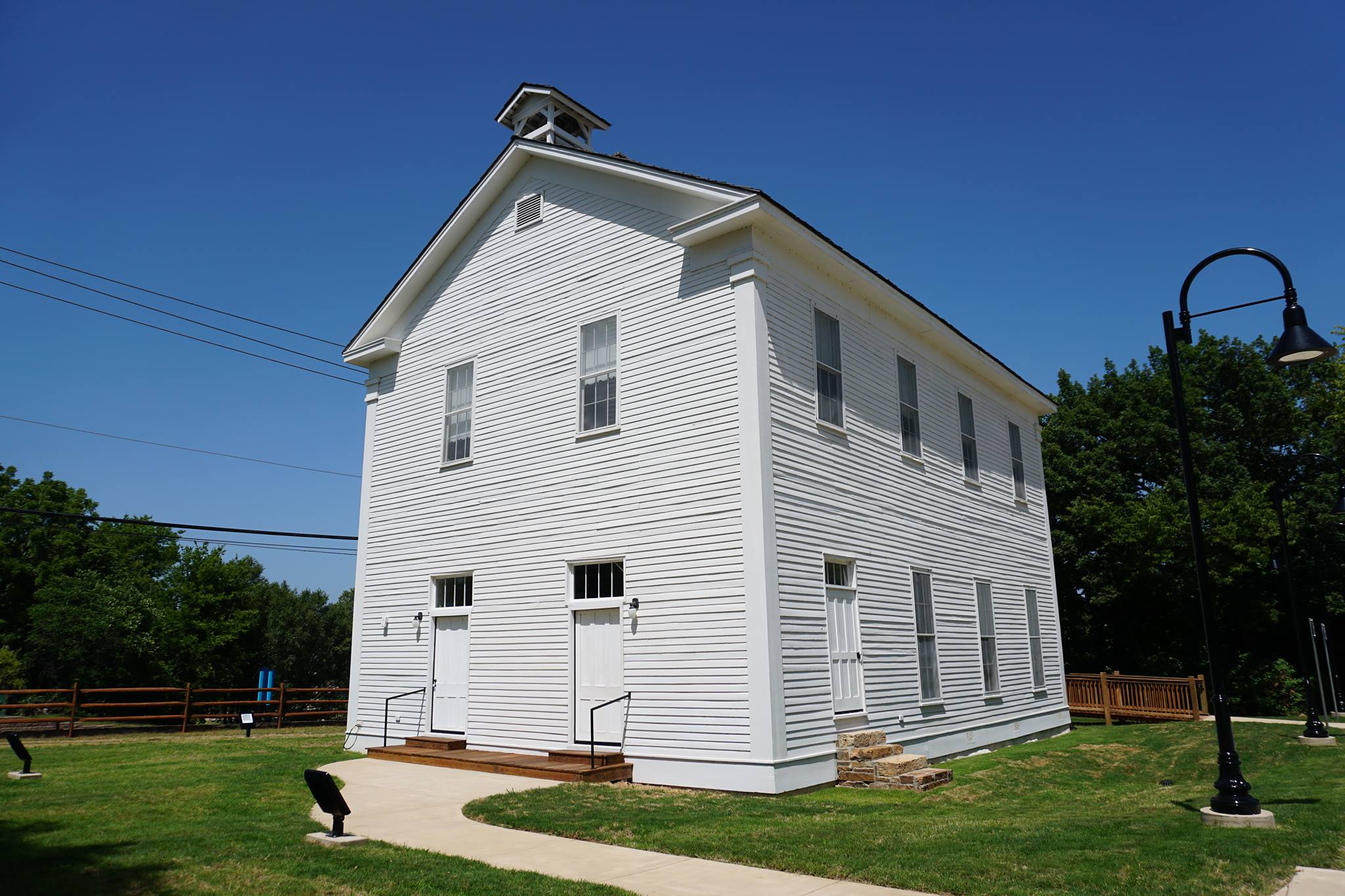 Photo courtesy of Shiloh Museum of Ozark History
Shiloh Meeting Hall
With former names like Shiloh Church and the Odd Fellows Lodge, this historic building looks as if it has been plucked out of colonial New England lore. A Springdale fixture, this quaint whiteboard church was built in 1871 at a cost of a little over $900. Construction was a joint effort between several churches and the local Masonic lodge, and it served as a meeting place for the Baptists, Methodists, the Masons, and a local women's civic club. In 1935 the building was seized for back taxes and purchased by the Independent Order of Odd Fellows, a centuries-old secret society with roots going back to seventeenth-century England. The building is currently managed by the Shiloh Museum of the Ozarks. The first floor has been renovated with plans to eventually renovate the second floor to house local historic exhibits.
For additional information about other historical Arkansas churches and buildings, visit The Arkansas Preservation Society to learn more about their efforts to save these cultural jewels.
Header photo by Al Fowler.