The Starbucks on Kavanaugh is one of my favorite morning stops. I call it my "morning comforts and conversations place."  It is warm, friendly and inspiring. And I look forward to visiting with Vanessa Rhodes each time. 
Rhodes isn't just the barista behind the counter. She takes the time to listen to each of her customers to find what inspires them. It didn't take me long to realize Rhodes has a gift for evangelism and helping others. "Mission work is my passion," says Rhodes.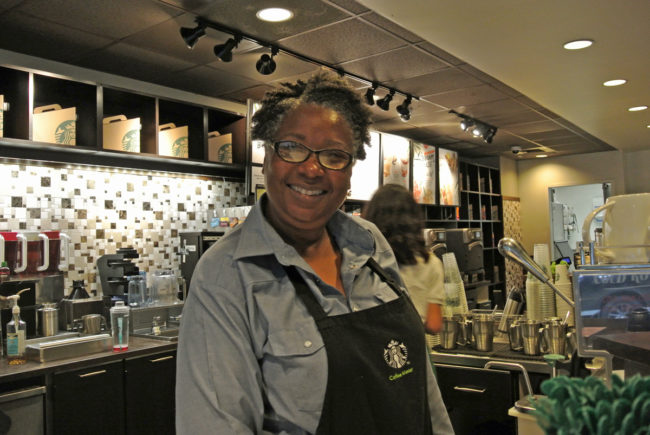 Vanessa Rhodes moved to Little Rock from California in 2008. Rhodes' husband Clyde is originally from Little Rock and wanted the couple to make it their home. They have been married for more than 30 years and have two sons. Together, they committed to the mission of helping others.
"It is important that we keep giving and don't let food or clothing go to waste," says Rhodes. By sharing, serving, or simply educating others on ways to help those who need it most, she believes each of us can be helping hands in our local community.
Rhodes has made this her focus and begins by listening to customers and becoming educated about places she can put her gift of hospitality to work. When Rhodes met customer Beth Coulson, she inspired her to help with a great need. Coulson, who serves on the board of several community organizations, is a member of the advisory board of Our House, Inc. in Little Rock.
Our House empowers the homeless and near homeless to excel in the workforce and at school and to become involved in the community. They have a shelter that provides housing for up to 80 men, women and children. Their career and education centers provide valuable workshops, job training, resume assistance and clothing needed for job interviews and employment. Hot meals, pastries and coffee are in great need, and Rhodes recognized this as an area where she could assist. Starbucks, along with Cupcakes on Kavanaugh, has helped fulfill this need by donating hot coffee and pastries which Rhodes collects and delivers to Our House on a regular basis.  
Rhodes also collects donations for The Stew Pot, located on the second floor of the First Presbyterian Church in Little Rock. The primary mission of this great organization is to feed the hungry. Lunch meals are provided Monday-Friday from 12-1 p.m. to the homeless, jobless, elderly, physically or mentally disabled, and displaced families in the greater Little Rock area. The Little Rock Stew Pot has served more than 1.5 million meals in the last 45 years.
Beyond making food deliveries, Rhodes volunteers her time at several other mission-centered organizations throughout the city. While not working at Starbucks, Rhodes is sorting items at The Haven, a nonprofit resale boutique that sells gently used women's clothing and uses the proceeds to help support the James 127 Foundation. James 127 brings God's hope and love to widows and orphans in Kenya. They provide free sewing training to vulnerable women, teaching them to create beautiful products to sell as a means to provide for their families. 
The Haven needs volunteers like Rhodes to help sort and price the items and assist customers. Items that do not sell in the resale shop are sorted and taken to other nonprofit organizations like The Dorcus House, a local domestic violence women's shelter. Rhodes, along with other volunteers, will make sure the items get to the shelter.
Another resale shop close to Rhodes' heart is Live Thankfully Little Rock. This wonderful shop offers women's clothing, furniture and home décor items. Profits from their sales help women and children in crisis through groups like Immerse Arkansas and Young Life. Rhodes explains that any unsold items are donated back to other nonprofits such as The Little Rock Compassion Center, Arkansas' largest homeless shelter which provides housing, food and clothing to individuals in need. Rhodes helps to coordinate the donations from Live Thankfully to the Compassion Center.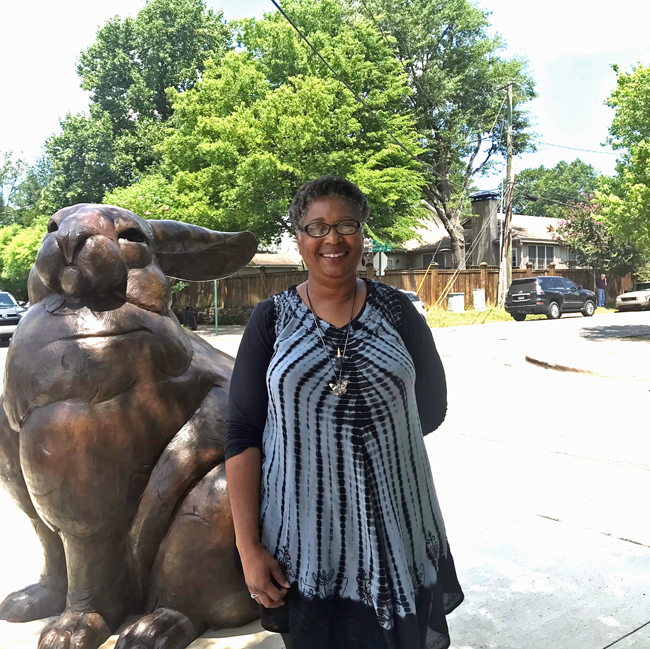 There are needs and service opportunities all around us. Rhodes has the gift of teaching and educating others on finding these opportunities and getting involved in the community. These organizations all depend on volunteers and donations from others. While the need always exists, the approaching holiday season may motivate you to lend a helping hand. Stop by Starbucks on Kavanagh. Rhodes will proudly point you in the direction where you can put your gifts into service.