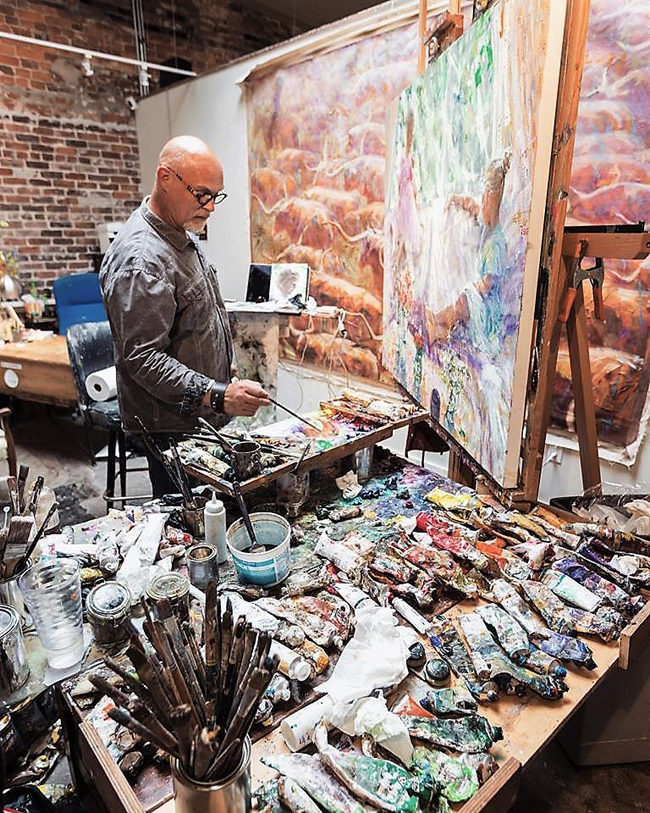 Much like the man, Barry Thomas' artwork is energetic, spiritual, and sensitive. His use of vibrant, pure colors conveys a brightness and passion for those everyday people and things in which he finds beauty. Visually stunning, breathtaking and vivid, this Arkansas native's American Impressionist paintings have earned him a national following as he his work is featured in galleries across the country. A son of the Natural State, though, Thomas has been a Little Rock fixture for more than three decades.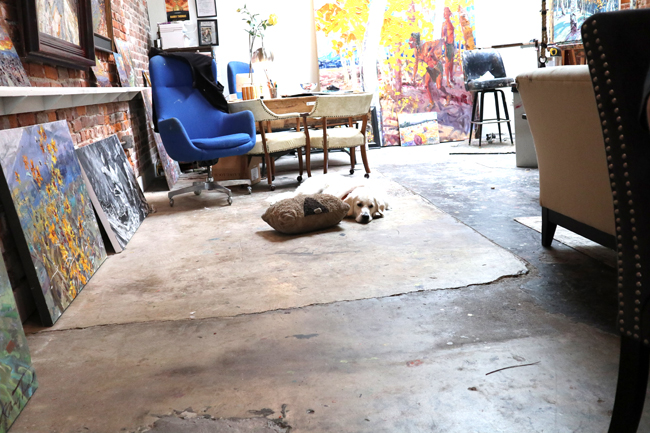 I recently had the pleasure of sitting down and chatting with Thomas at his studio in the hip Argenta neighborhood of North Little Rock. Greeted at the door by his beautiful white lab, Freida, I entered to the sounds of a symphony orchestra, and I was immediately captivated by the beautiful work hanging around his charmingly industrial space.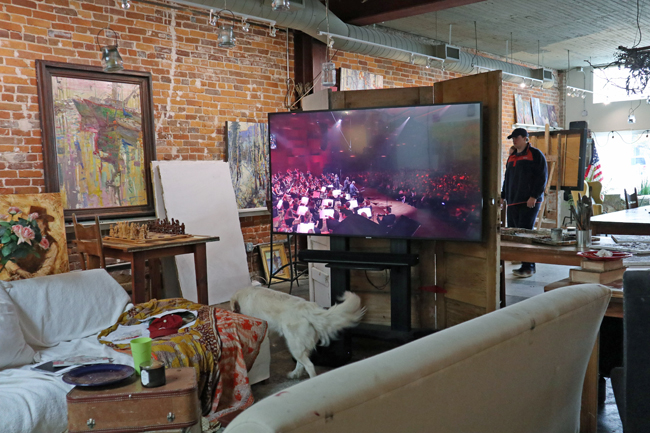 The familiar aroma of a good old southern breakfast mingled with working smells of paint and turpentine as Barry came out to greet me. Having just finished his morning workout, my new favorite artist took a seat next to me in the large, comfortable sitting area he provides for guests and visitors.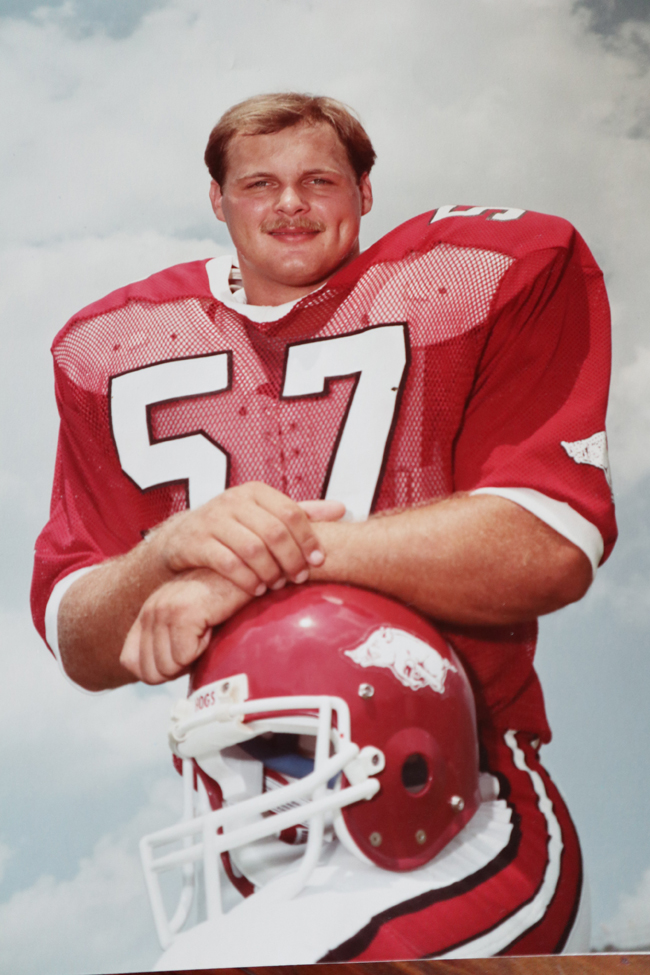 Barry Thomas graduated from the all-boys Catholic High School at Little Rock in 1981 before going on to attend the University of Arkansas in Fayetteville where he was a defensive end for the Razorbacks under legendary Head Coach, Lou Holtz. Though a skilled athlete, Thomas' first love was art, and he dreamed of building a life around becoming an artist. Recognizing both passion and talent in the young man, Coach Holtz encouraged Thomas to pursue his dream and even wrote a letter of recommendation for him to attend the prestigious Art Center College of Design in Pasadena, California. There, he studied impressionism under the tutelage of the famed school's accomplished instructors and discovered a partiality for Monet's palette.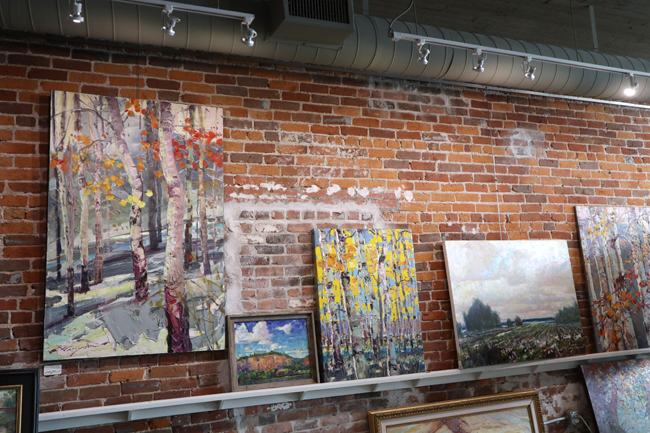 A fan and student of the American Impressionist movement, Thomas improved and refined his own style using the loose brushwork and vivid colors of the movement to create his picturesque landscapes, striking florals, and stunning portraits. Now, Thomas refers to himself as a "3rd generation Impressionist," and his most current passion is to pass the skills and knowledge he cultivated on to his own students.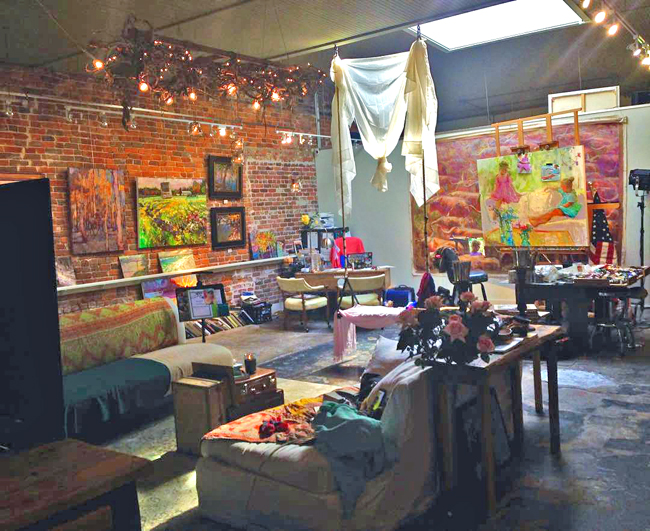 At 56, Barry Thomas is living his dream. In 2016, he opened Barry Thomas Fine Art & Studio in the old Koehler Bakery Building on Main Street. Not just a warehouse for creativity, the studio is also an outlet for occasions. With its antique exposed brick, ambient lighting, and soaring ceilings, it is a warm and inviting space that features cozy sitting and dining areas, and comfortable conversation pits and offices that are available for special event rental.
Thomas takes pride in the easy vibe and relaxed setting of BTFAS. Instead of opening another traditional, white-walled art gallery, he set out to create an energy-centric play place where visitors can shop, take lessons, gather, or simply chill. Dotted here and there with a guitar or chess board ready to be played, he certainly achieved his vision. BTFAS is a fun, peaceful space where students can explore and discover and guests can kick back in a stimulating atmosphere.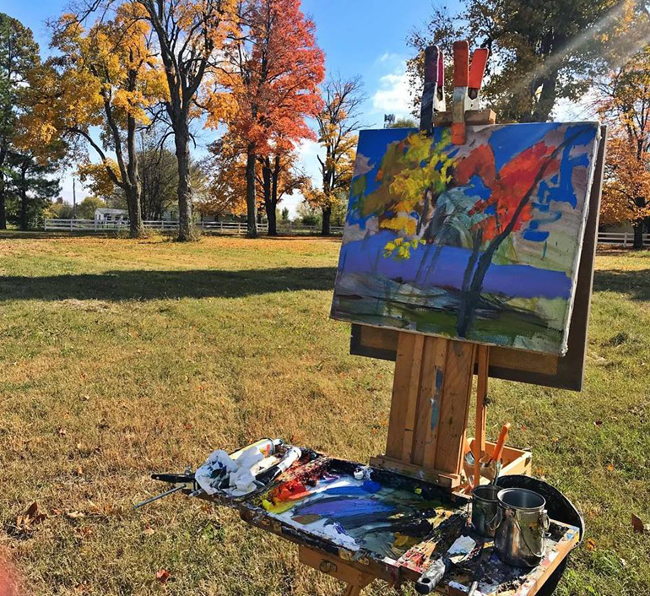 Thomas explains, "As children, we are taught to study, to go to class, to follow the rules." At BTFAS, though, he has created an environment that begs us to let our creative animals roam. Thomas believes that anyone can learn to paint if they just relax and open up to freely expressing themselves. As he says, "Everyone has an artist inside of them; some are just buried deeper than others."
When I asked Barry what he likes to paint, he responded, "I like to paint anything the sunlight hits," though I let it slide when he added that not everyone wants to paint Elvis. I wonder if he knew that I have an Elvis painting in my office?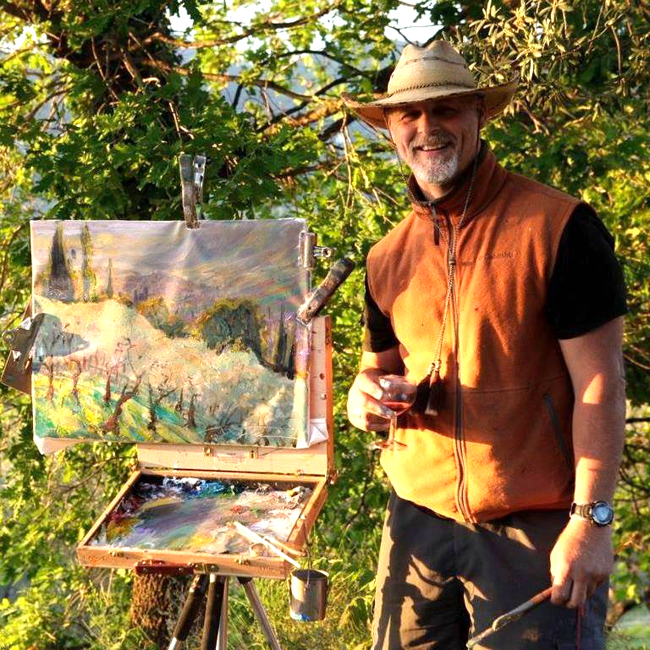 That small difference aside, Thomas often begins his day painting when the sun rises. He often schedules sunrise "pop-up" lessons in various locations around the city so his students can experience capturing the light of dawn and the magical beauty that happens as the sunlight reveals the landscape in front of them.
So, if you find yourself in North Little Rock, I highly recommend that you treat yourself with a stop into Barry Thomas Fine Art and Studio. Whether you just relax and immerse yourself in the beauty of his work or you have the opportunity to visit with this Arkansas treasure, you won't be disappointed.  He certainly made an Impression on me.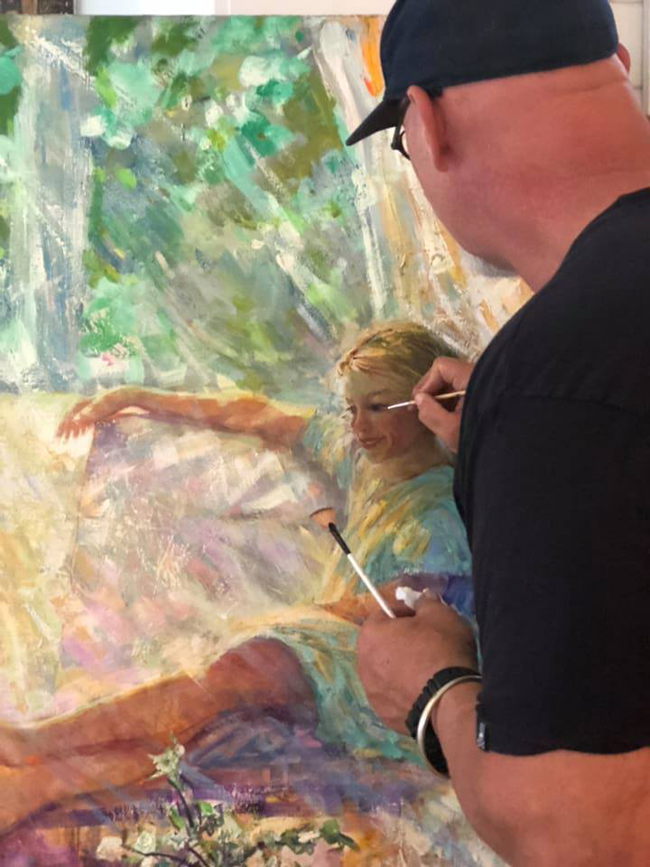 Barry Thomas Fine Art & Studio hosts at 711 Main Street, North Little Rock, AR 72114 and is open Tuesday -Saturday from 10 a.m. – 5 p.m. In addition to his sale pieces, Thomas also does commission work and offers private lessons for all levels and all ages. He also hosts a variety of workshops and events. For more information visit his website or follow him on Facebook and Instagram.