Arkansas has a lot of love for Harry Potter and its creator J. K. Rowling—and she for us. Fayetteville, in particular, made headlines for its dedication years ago when nominations were requested to give an alley a name, and locals wanted to call it "Diagon Alley" after the famous location in Harry Potter's London. This year, Fayetteville finally gets its Diagon Alley in the form of DiaCON Alley of the Ozarks, an unofficial Harry Potter convention, helping Arkansans experience magic and benefitting the Northwest Arkansas Children's Shelter. The festival comes to Arkansas courtesy of five friends, a group of artists and teachers who are doing their part to "Keep Fayetteville Funky."
It started, co-founder Staci Bell tells me after fellow founder Summer Allen experienced disappointment at a Harry Potter themed event: "she wanted to create something better and something people in Northwest Arkansas could enjoy without having to travel so far." Allen brainstormed and crowdsourced among her friends, which is where Bell, a longtime friend, and fellow Potterhead, became involved. Their spouses, Jocelyn Allen and Roland Bell, join them in Potter appreciation, offering artistic and technical abilities, and the group was rounded out with the event-planning talents of Kelli McGarrah. From there, they turned up dozens of enthusiastic volunteers. Bell feels that "the camaraderie is going to be the best part" and says they are "excited just to have so many wizards in one space."
"Fayetteville is the perfect place for Hogwarts," Bell continues. "We fully believe that Lioneld Jordan is our Dumbledore," likening the popular Fayetteville mayor to the Hogwarts Headmaster and beloved Harry Potter character. The DiaCON Alley team, who enjoy cosplay, conventions and renaissance fairs, worked hard to create their own thrilling event full of vendors, contests and panels. Attendees will be sorted into Houses (and compete for the House Cup), hear from the University of Arkansas' official Quidditch team, meet an assortment of owls from the Raptor Rehab of Central Arkansas, participate in costume contests and a wizarding spelling bee, prove superfan status in trivia contests, sit in on a potions class with Professor Cox of Super Science, witness magic tricks, enjoy comedy improvisations, and more. And, because Bell and the other DiaCON creators "wanted to do something that would benefit our own community" beyond the obvious support for creativity and literacy that a Harry Potter event encourages, local charity the Northwest Arkansas Children's Shelter has been chosen as the beneficiary of the convention's profits after costs are covered.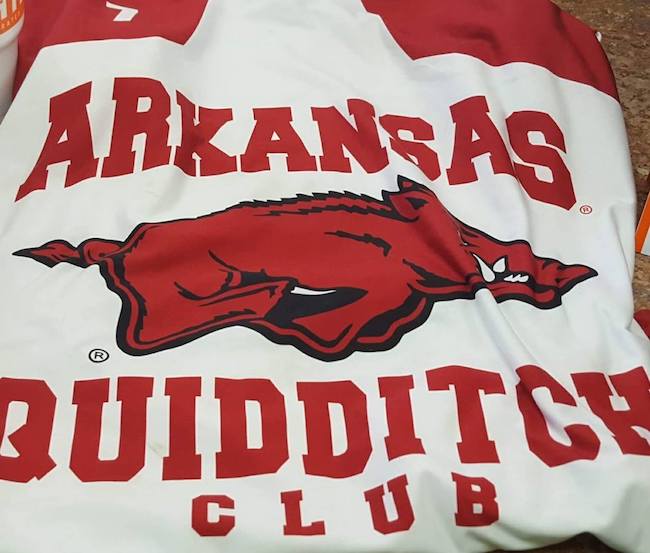 University of Arkansas Quidditch Club Razorback Jersey
Almost 40 vendors will be present, including Arkansas companies like Pure Joy Ice Cream, Rymolene's Pies, Carey's Candies, Chaser's Corner Handmade Props and Jewelry, Rubylight Candles, and Bubble & Fizz. Wicked Wood Fired Pizza will wow with "the Pizza Who Must Not Be Named" (creamy Alfredo sauce, smoked Gouda cheese, hot salami, crispy bacon, portobello mushrooms from the Forbidden Forest, fresh jalapeños and a drizzle of spicy sauce) and A Squared Photography, with experience in cosplay photography, will be taking professional pictures and themed shoots. Several of the event founders will have their own booths: Staci Bell, who has created costumes for Opera Fayetteville, will represent her costume and design business, Stitchcraft & Scissordry Design and Alterations, while Jocelyn and Summer Allen's creations from Inky Cat Studios will also be available.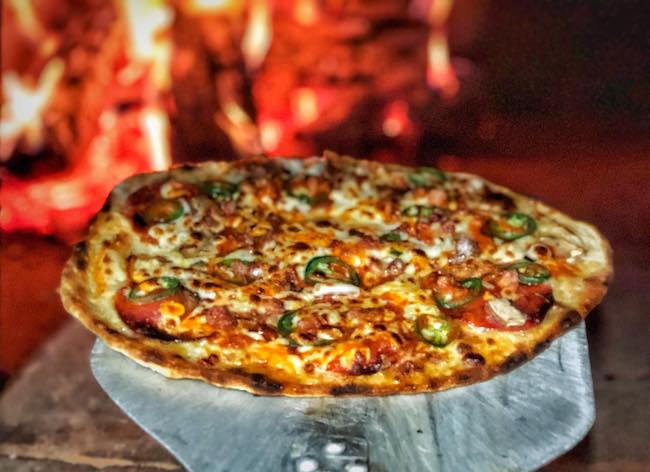 Wicked Wood Fired Pizza "The Pizza Who Must Not Be Named"
The family-friendly convention, which is self-funded, has had a bigger response than expected. Tickets for almost 2000 attendees sold out within four hours of being available (adult tickets were $12 each). To get on the waiting list for tickets this year and to be kept updated for the anticipated 2nd Annual DiaCON Alley of the Ozarks, fill out an electronic form here. DiaCON Alley of the Ozarks will be held at the Fayetteville Town Center Saturday, March 17 from 10 am-7 pm. Those who have tickets may wear costumes or Hogwarts robes, or arrive in casual Muggle-wear. Keep in mind that, although the convention occurs on St. Patrick's Day, wearing green is a hallmark of Slytherin House.
Ravenclaw-themed cosplay photographs courtesy of A Squared Photography