First things first, let's talk a minute about how much I love my cast iron skillet. Other than a few knives, there might not be a more important item in my kitchen. From frying bacon to baking cornbread to making a grilled cheese sandwich, the cast iron skillet is such a wonderfully versatile pan that is always sitting front and center on the stove.
It's also the inspiration behind this recipe post.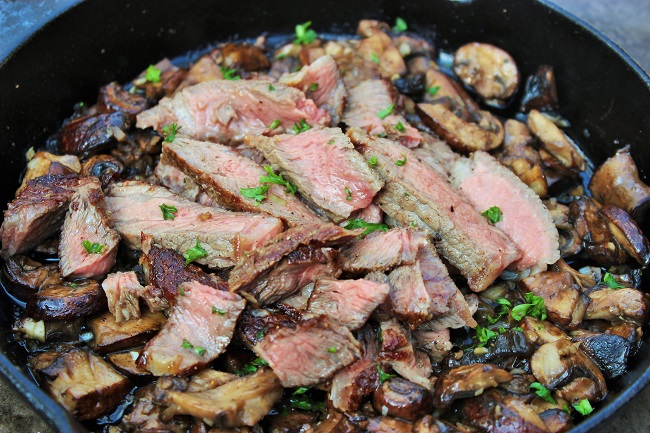 If you're an enthusiastic carnivore like myself, then there is almost nothing better than a ribeye cooked to a perfect medium-rare. And while I love a sitting out on the deck and grilling steak, it's hard to beat preparing one in a cast iron skillet.
Here's the best part … it's very easy to do. Don't believe me? Check out this Cast Iron Ribeye with Garlic Mushrooms recipe. Take a minute to scan over the ingredients and instructions.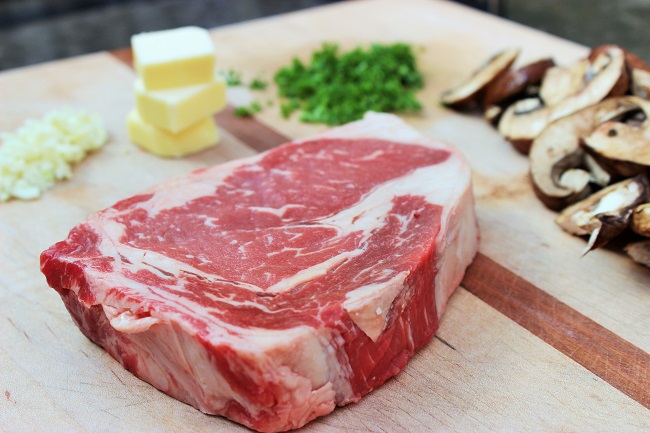 Here are a few tips to help make this steak just right:
Make sure to set your steak(s) on the counter for about 30 minutes to an hour before cooking.
Get everything prepped. Chop your garlic, have the butter out, and make sure the mushrooms are properly washed. This recipe takes just minutes to prepare, so you'll want to have everything ready beforehand.
Do not forget to preheat your oven. This is critical because once the steak sears on the stovetop, it needs to be transferred immediately to the oven where it will finish cooking.
You only sear the steak on one side, so make sure you don't forget to flip it before placing the skillet in the oven.
Once the steak is removed from the oven, let it rest for 10 minutes. This is absolutely essential as you don't want a dried out steak. Cutting into the steak too soon is a sin.
The recipe calls for two steaks, which you'll have no problem fitting into a standard sized cast iron skillet. But, because ribeyes are so expensive, and this was the first trying out this recipe, I opted to cook one steak. This is a long-winded way of saying it is fine to cook either one or two steaks.
If you enjoy mushrooms, feel free to use a little more than the recipe calls for.
I really enjoyed the freshness and bright green color the parsley added to the dish, so I'd highly recommend grabbing some at the store.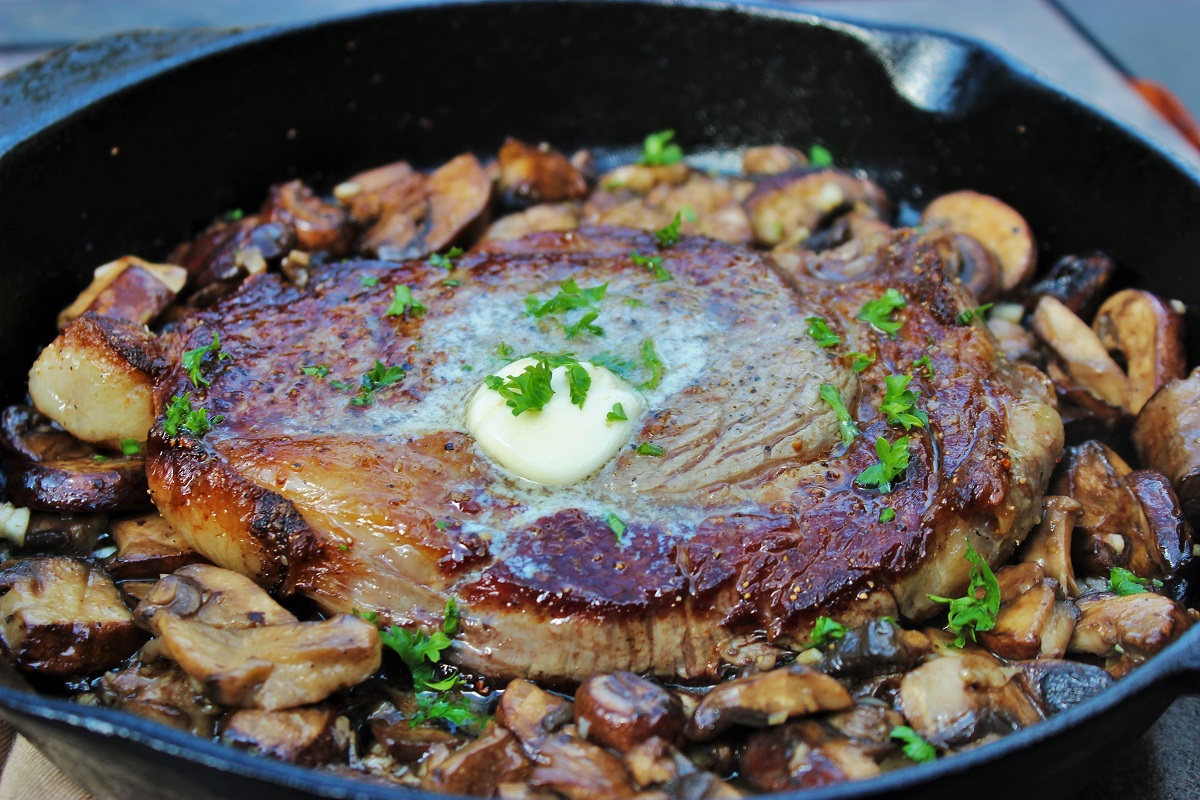 I was extremely pleased with how my ribeye turned out. It had a beautiful crust and the inside was tender and juicy. Finishing things off with a pat of butter didn't hurt matters either. What I love most about this recipe is that you can slice up the steak and serve it right out of the skillet as an appetizer or it treat it as an entrée centerpiece.
In the end, it was just another reminder of the wonders of the cast iron skillet.