Rick met Jane when she sold him a house in Las Vegas; a few weeks later, they were married. When Rick asked her where she wanted to go on their honeymoon, she replied, "Arkansas."
"I said, 'Arkan-what?'" Rick exclaims. They take turns talking and occasionally share their stories in tandem, the way couples who know each other well often do.
"It was immediately Arkansas because I wanted to go fish," Jane explains.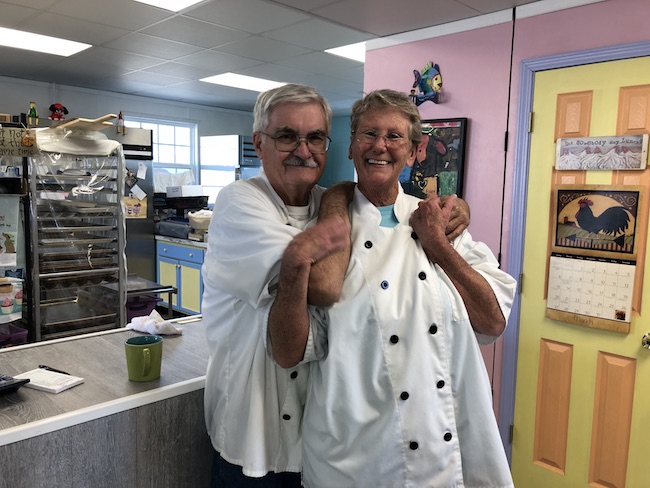 Jane and Rick Mines honeymooned at Gaston's White River Resort in Lakeview. They loved it and found themselves returning for longer and longer visits, up to six weeks at a time. The draw of the White River area combined with the burglary of their Las Vegas home helped them decide to relocate permanently to the town of Gassville in the Ozarks. They purchased Nima's Pizza in 2003 almost on a whim just as Rick was celebrating his retirement from the RV business. He went to Nima's for a pizza, and the owner casually proposed a sale. After talking to Jane, Rick monitored business at Nima's Pizza, and they decided to buy its recipes and two locations: the original in Gassville and another in nearby Mountain Home on the square (it has since closed). Rick received a minimal amount of training, quickly showed Jane the basics, then left her in charge of the Gassville location. She remembers, "I was running this store by myself. My customers would talk me through, 'a little rounder, little thicker, little thinner, more sauce, more cheese.' The customers are all family. So supportive. And I had never met these people before in my life."
For the next four years, the Mines experienced steady growth at Nima's and improved their recipes and techniques. One day, they received a phone call from a Pizza Today representative who had sampled their pizza while in the area fishing the White River. He invited them to participate in the International Pizza Challenge(IPC) in Las Vegas. They were one of 140 to receive such an invitation. Rick says they had no intention of winning, only of learning from the other entrants—but in 2010 Nima's claimed Best Traditional Pizza in the USA. Since then they have amassed dozens of awards and honors, separately and jointly as Nima's Pizza, and the small local pizza shop and bakery has an annual profit of $500,000.
Rick refers to the pizza business as "something to have some fun with," but he still takes it seriously, striving for consistency in his pizzas so that a 24-slice sheet pizza offers the same ratio of toppings per slice. Jane, meanwhile, imbues Nima's with style and design, from the Florida Keys motif of her bakery (complete with a marlin she caught mounted on the wall) to the flair of the award-winning pizzas (featuring lattice-work, toppings cut to look like suits of cards, and pepperonis folded like flowers). Rick is quick to brag about his wife, claiming she brought the design aspect (beyond simply focusing on taste and consistency) to the IPC and explaining in detail her winning concepts. She's a natural; her palette is so refined she can taste a recipe and its individual ingredients before making it, Rick tells me. Jane, for her part, credits her husband for supporting her: "Letting me follow a passion I have always had is the sweetest thing he could do. He makes dreams come true."
Their combined efforts led to Nima's most recent award-winning pizza, in March 2017. Rick was already competing in the IPC and Jane was permitted to compete at the last minute but did not have a plan or ingredients. Rick had the idea of a Reuben-inspired pizza. They fetched ingredients and Jane put it into action. The first competition day, she was rushed to make her pizza among 80 contestants. Her cooking supplies were accidentally cleared from her table mid-bake and she was forced to finish preparing her pizza on a tiny ledge. She fielded criticism of her use of rye breadcrumbs and predictions that they would burn. Rick proudly shows me a picture snapped of her at that moment: rushed, hassled, and smiling confidently. Her pizza also wore a smile, crafted from pickles; the couple laughs as they tell me people "didn't get it." The pizza won first place for the region. The next day, instead of being rushed and hassled, Jane was able to slow down and share her step-by-step process, for the Food Network was recording Jane for a new show. Nima's Reuben pizza placed second as the World's Best Non-traditional Pizza.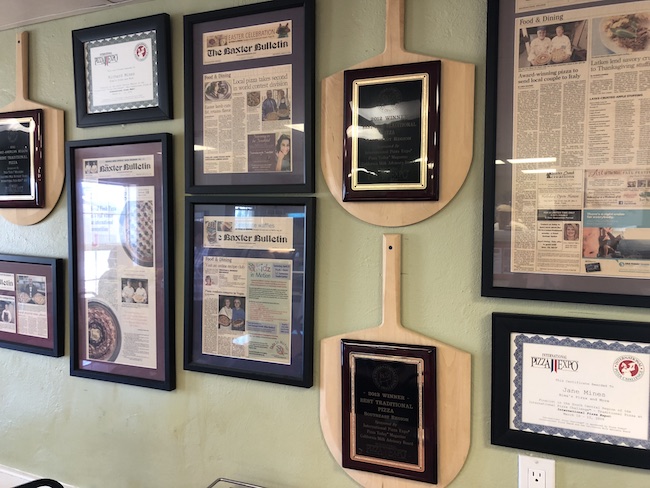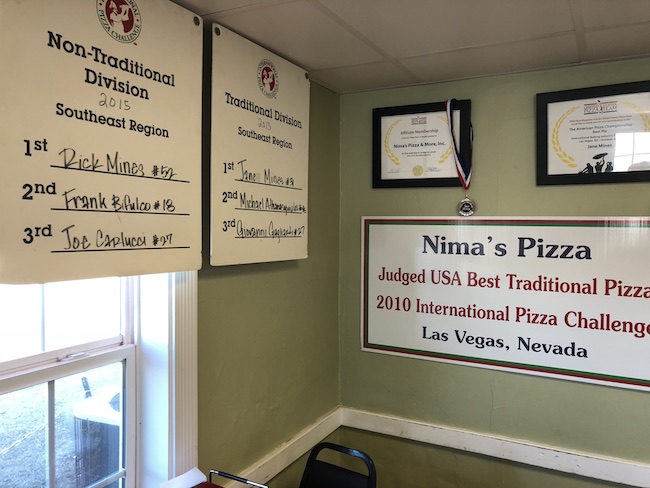 The Mines, who will celebrate their 31st wedding anniversary this year, have traveled extensively, including regularly to Las Vegas and abroad to China and Italy for competitions, but Jane says their days of competing and traveling are over. "We are both kind of weary of travel. I think when we take a vacation it will be to explore more of Arkansas because this state has so much to offer. There's so much of this area that we haven't seen." They hear about interesting and visit-worthy locations around the state from their tourist customers who are visiting Arkansas for a specific reason and eager to have an award-winning pizza.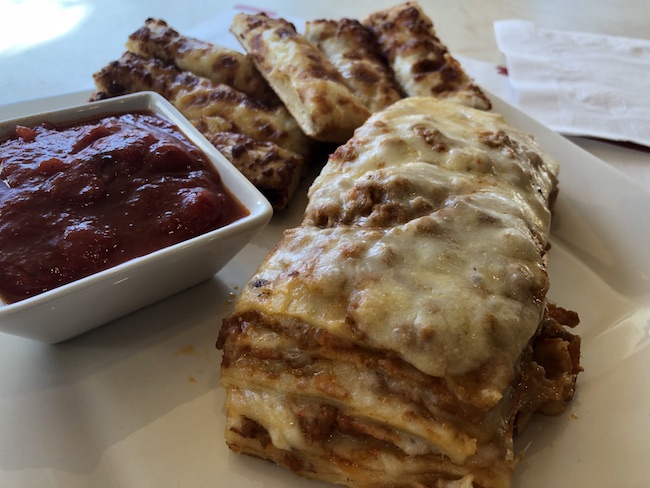 Nima's Pizza in Gassville is open 11 am-9 pm Monday through Saturday and offers pizza, calzones, stromboli, lasagna, Italian subs, wings and salads. Delivery is available. From the bakery, open Wednesday through Saturday, come cannoli, cream puffs, scones, cookies, cakes and pies. Stop by and try pizzas that have routinely taken national prizes for the past decade and keep an eye on Nima's Facebook page for word of when the Food Network show will air.