Do you ever get a hankering for a great burger? How about a slice of six-layer chocolate cake? My husband Bill and I have a favorite spot when we go to the lake. Our most difficult decision as our vehicle climbs the southeastern edge of the Boston Mountains is "Do we drive there or go by boat?"
For several years now, Janssen's has been automatically included into our leisurely days on Greers Ferry Lake. Not only does Janssen's attract those on the lake and drive-by vacationers, but they also draw in the Greers Ferry and Fairfield Bay communities. With the clean air of the lake and surrounding mountains, patrons can choose whether to eat inside or on their patio.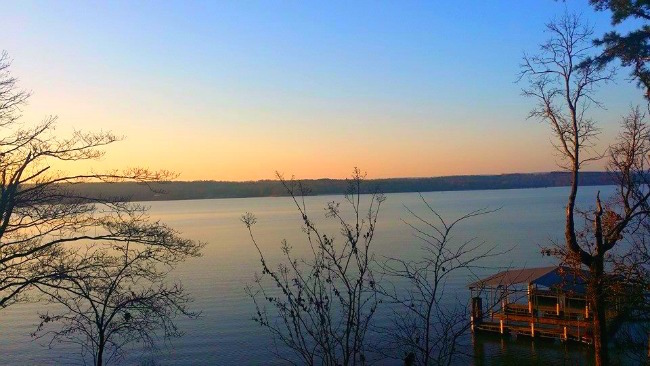 We try to go mid-afternoon and beat the lunch and dinner rush hours. This past Friday I had catfish, and Bill got the cheeseburger. The secret is to always get the burger on the "special" menu: the 1/2 pounder in lieu of the 1/3 pounder.
I know, I know, that's a lot of meat. So for those who don't want that much, take the other half home with you. I'd say share it, but once you taste it, you won't want to share. (I don't and it keeps nicely in an ice chest.) I've also never been a French-fry person, but I am addicted to the Truffle-oil Parmesan French fries that are sometimes served with their special burgers.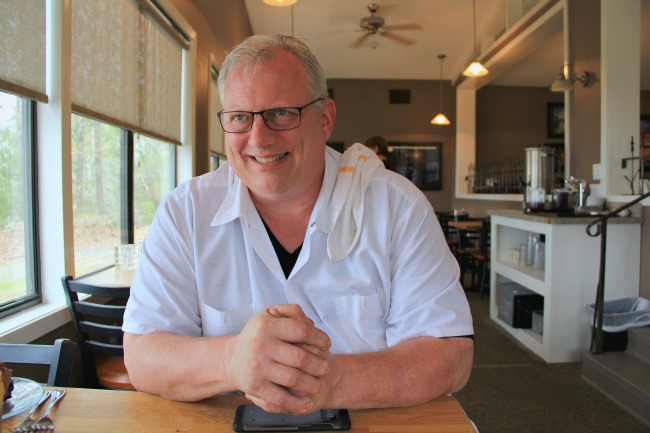 After our late lunch, Bill and I got to visit with owner Tim Janssen.
"This is the only restaurant on Greers Ferry Lake. How did you get here?" I ask.
"I was a teenager when my dad decided we were going to move from St. Louis to Edgemont," Tim says. "He actually bought the property for the motel in 1978. The next year, the couple who ran the restaurant didn't renew their lease, so Dad found himself running this restaurant. That meant I got to work here, too."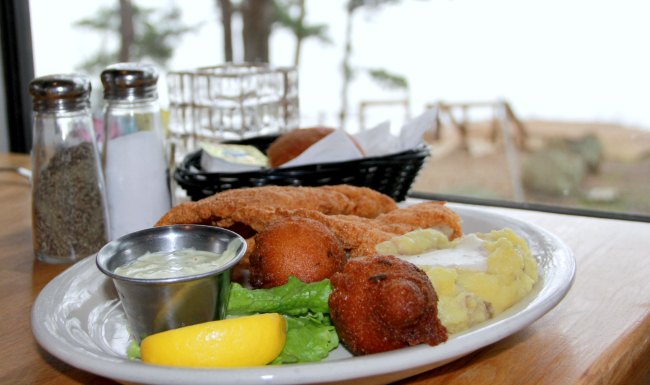 My next question is a big one, "Was your dad a good cook?"
"Mom did most of the cooking with regular foods like meatloaf and mashed potatoes," he says, then chuckling. "Dad cooked fried chicken every Sunday, but we never knew what he might mix-in with it. Quail, squirrel or pheasant, whatever he had shot the day before, he kept us all guessing, especially guests."
In my quest to get coveted family recipes for their homemade salad dressings, my personal favorite being the Parmesan Pepper Ranch, I was surprised by his candor.
"It was actually a cost thing," Tim admits. "I can make them with fresh ingredients for less than I can buy the packaged products."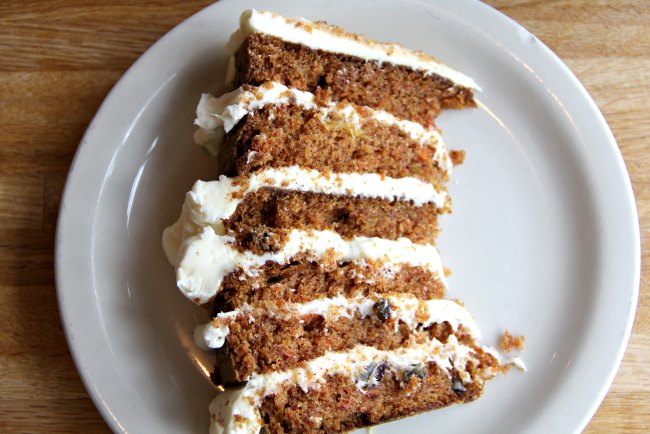 The same goes for the savings he gets by making mouth-watering homemade six-layer carrot cakes, chocolate cakes with chocolate icing and chocolate cakes with vanilla icing. Be prepared: Once you step in the front door, you'll be dazzled by the choice of desserts.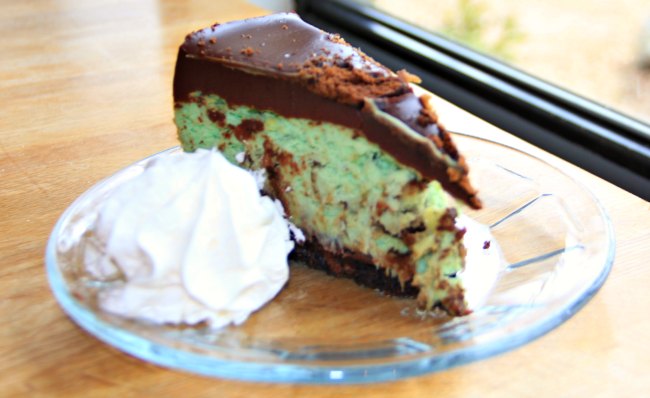 Yet, Janssen's has more than burgers, salads and cakes. A glance at their regular menu includes a variety of soups, salads, chicken, beef and seafood in its many forms.
To mix up the menu, the daily lunch specials might include Lasagna, Oyster Po-Boys, Chicken and Dumplings, Corned Beef and Cabbage, Beef Stroganoff, NY Strip Ramen Bowl, grilled chicken Greek wrap, Asian salad with grilled jumbo shrimp. Too many to list, but their Facebook page lists the daily specials.
Their Sunday brunch includes most brunch items like Eggs Benedict, breakfast meats, biscuits, 2-inch thick waffles, with some variations like homemade Pop-Tarts, crawfish étouffée, shrimp creole and baked salmon. Tim especially enjoys creating Cajun recipes and likes to mix it up with something new. (No fried squirrel though.)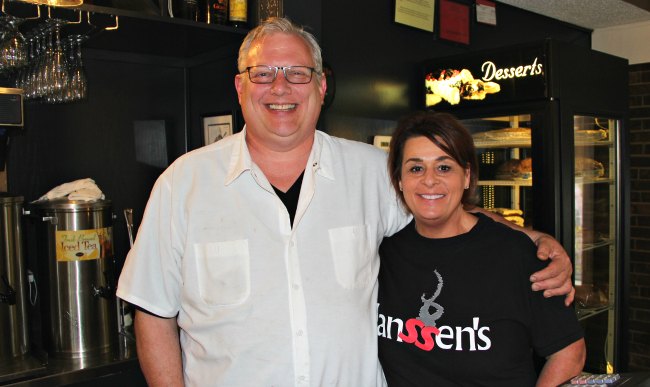 Janssen's is also a family thing. Tim's wife Beth is the friendly but busy lady who keeps the front of the restaurant running smoothly while Tim is in the kitchen. They first met while attending Westside High School in Greers Ferry. Beth grew-up living next door to the school where both of her parents were teachers.
Married since 1991, Tim and Beth have two sons. Hunter owns Q-Restaurant on Edgemont Road, providing smoked meats for take-out. Connor owns JB's Pit Stop on Greers Ferry Road. 
More than anything, Tim and Beth abide by Father Janssen's advice "to be consistent" and "don't make everything into a project." I suppose that means to keep it simple, and as Tim's father also said, "Do it like you've done it before."
With Memorial Day and the summer before us, if Greers Ferry Lake beckons you,  so also does Janssen's Restaurant in Edgemont. It's over the bridge from the town of Greers Ferry. Whether you drive there in your boat or car/truck/SUV/motorcycle, the view is indescribable, a journey in itself. The food, service and atmosphere are energetic, filled with conversations and just plain fun. You'll discover personal favorites for everyone.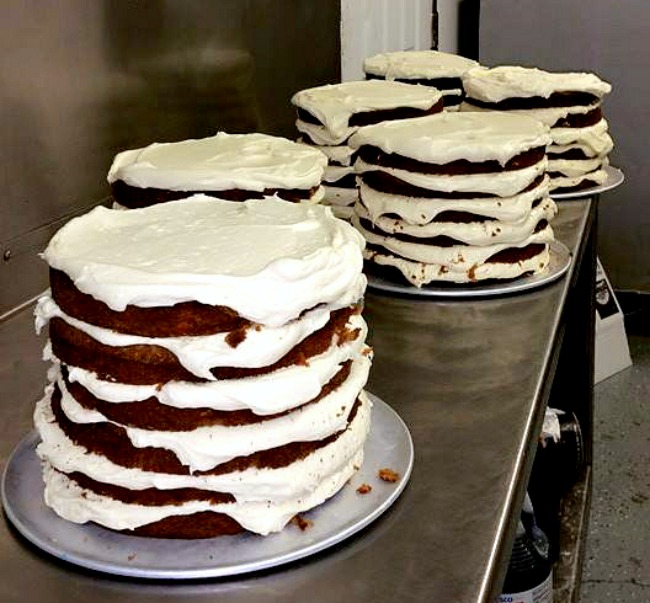 Check their Facebook page for hours (presently open Thursday-Saturday 11-8, and Sunday Brunch 9-2), daily lunch specials and directions to 9999 Edgemont Road, Edgemont, AR. Be sure to save room for dessert.