Here in the South, there are very few things better to eat than fried okra. However, if you're anything like me, making fried okra, or anything deep fried for that matter, is an absolute pain. No one wants to mess with all that oil, as it tends to stink up the kitchen and is generally unhealthy. 
But the problem is that most of us still love to eat okra.
That's why over the past couple of years I've been almost exclusively roasting it at home as an alternative to deep frying. And there's not a better time to do it than when local okra is in season.
Which is now.
I recently headed to the Market on Merrill (open 8 a.m.- 1 p.m. on Thursdays) in Little Rock and found some beautiful okra from one of the vendors.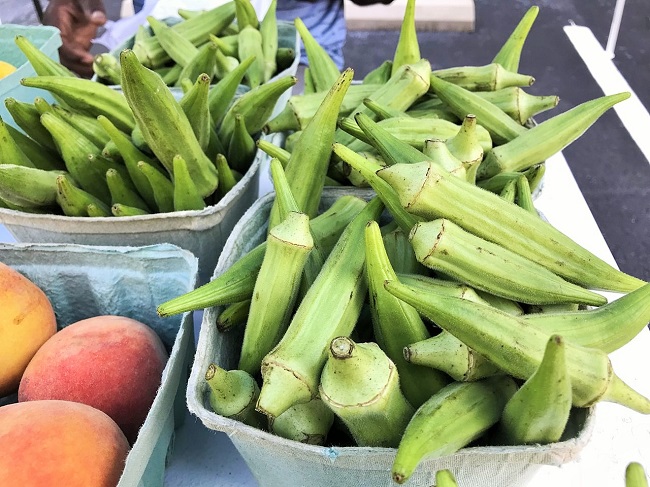 While I've made roasted okra on numerous occasions, I wanted a recipe this time around that would feature a sauce to go along with the vegetable. That's when I stumbled upon this Roasted Okra with Buttermilk Herb Dipping Sauce recipe. Take a minute to scan over the ingredients and instructions, and before you think "buttermilk herb dipping sauce" sounds too sophisticated, just know this is a fancy way of saying "ranch."
And everyone loves a good homemade ranch dressing.
Here are a few tips to help make this okra just right:
1. I absolutely love cutting each piece of okra lengthwise right down the center. It makes for a beautiful presentation as each piece gets a nice golden brown caramelization. The edges even end up a little crispy, depending on how long you roast the okra.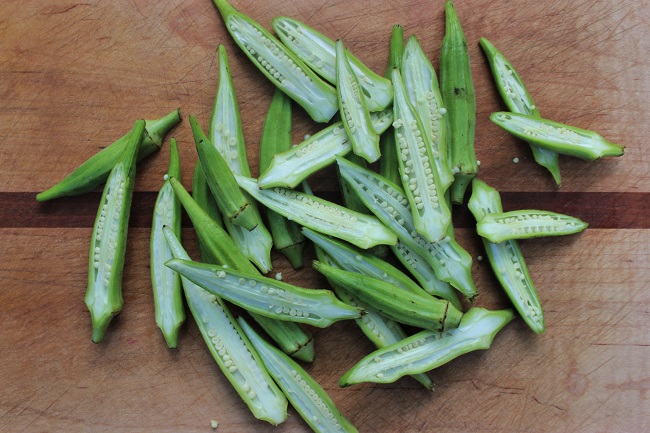 2. I'm currently having some issues with my oven, so I ended up roasting the okra in my outdoor propane grill. If you'd like to do this as well, just find a deep cooking pan and watch your grill temps. As the recipe states, you'll want to maintain a 400-degree cooking temperature throughout.
3. The dipping sauce is super easy to make and is something you can do well ahead of time. I think you'll find that it makes plenty of extra and pairs well with various other items like grilled chicken wings, carrots and celery sticks, and even as a salad dressing.
4. Don't be stingy with the fresh herbs. Honestly, I'm not the biggest fan of dill, but the chives and parsley really help balance everything out and give the dressing such a subtly vibrant flavor.
5. You'll be tempted to cut off the okra stems before roasting. Don't bother. They soften up nicely from the roasting.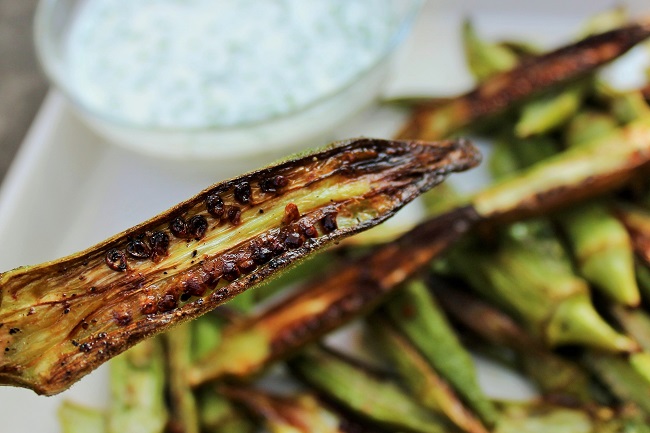 Without question, you'll find this roasted okra recipe is super simple to make and takes only a few easy-to-find ingredients. The key is finding some delicious local okra, as it's considerably better than what is at the store. This recipe can function a great side dish to anything from baked chicken to cheeseburgers, and if you're having people over, it even makes for a wonderful appetizer.
Just roast a pile of okra, set out the "ranch," and tell folks to start dipping.