It's hard to imagine a restaurant more distinctly Little Rock than The Root Cafe. Opened in June 2011 in the SoMa District, the eatery, with its cozy, down-home interior decorated with eclectic items, offers one of the city's only true farm-to-table experiences. "On average we order from around 40 different farmers and producers every week and about 60-70 different farmers and producers throughout the year," says owner Jack Sundell.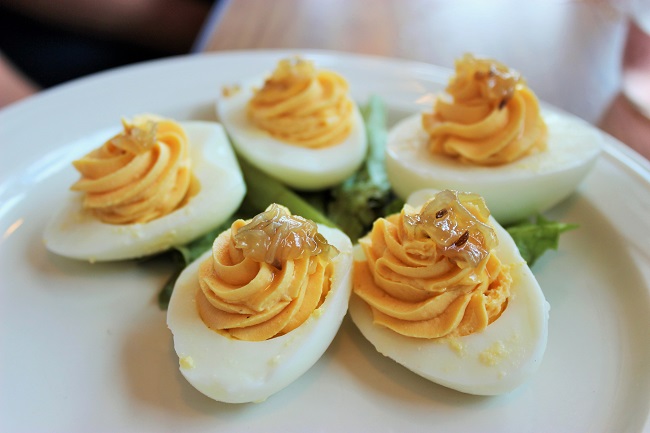 The Root recently celebrated its sixth birthday, and the restaurant has evolved quite a bit during that time span. Says Sundell, "At first, we offered only lunch with light pastries and coffee in the morning.  We added a full breakfast service in January 2012 and then started doing Sunday brunch as a complement to the opening of the Bernice Garden Farmers' Market in spring of 2012.  We had wanted to offer dinner for a while but didn't feel like we had the physical space in the building we're in. Then in early 2015, we received a Mission Main Street Grant from Chase Bank that enabled us to add additional indoor seating, a large prep kitchen, and more storage space, all of which has made it possible to add dinner and catering to our lineup."
While The Root has long built a reputation for serving stellar breakfast and lunch items, the addition of a dinner service has definitely brought a lot of positive attention to the restaurant. Known for its relaxed atmosphere, comfort food, and simple, no-frills plating during the morning and afternoon hours, The Root seeks to keep those traits, while offering a few subtle differences. "The same fresh, local ingredients, the same casual, family-friendly atmosphere, and the same smiling staff that you're used to seeing at breakfast and lunch will all be part of dinner.  We're doing table service at dinner instead of counter service, and we also recently got a wine license and will offer a variety of organic wines, along with our existing selection of locally-brewed craft beer," says Sundell.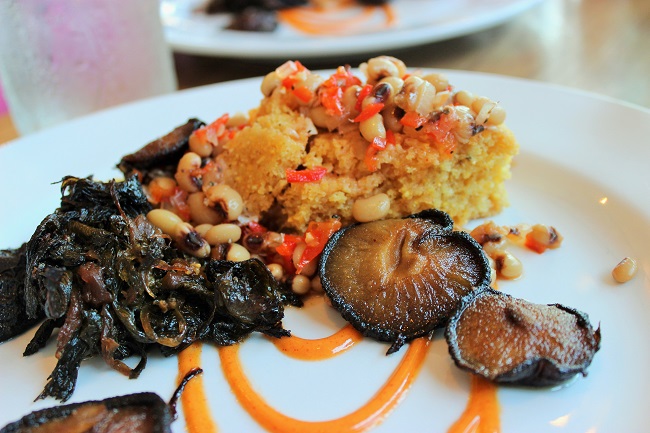 The dinner menu features crossover lunchtime favorites like the Cheeseburger, along with its vegetarian companion, the Shiitake Mushroom Burger, but also includes new hits like the Berbere Spice Hot Chicken with macaroni and cheese, slaw, and sweet pickle sauce, Pimento Cheese Arancini with roasted red pepper mayonnaise, and Spaghetti and Meatballs. The creative talents of Chef Jonathan Arrington are on full display with seasonal dishes like the Roasted Rainbow Carrots with vegetables, escabeche, and recado marshmallow, Roast Corn and Tomato with arugula, guajillo chile, and ricotta, and Beef Short Rib with cheddar rice pancake and broccoli.
In the end, whether it's breakfast, lunch or dinner, folks at The Root maintain a simple philosophy. "Our mission is Building Community through Local Food and our goal is to use as many high-quality, locally sourced ingredients as we can and turn those ingredients into the most delicious breakfast, lunch, or dinner that you've had all week," says Sundell.
Mission accomplished.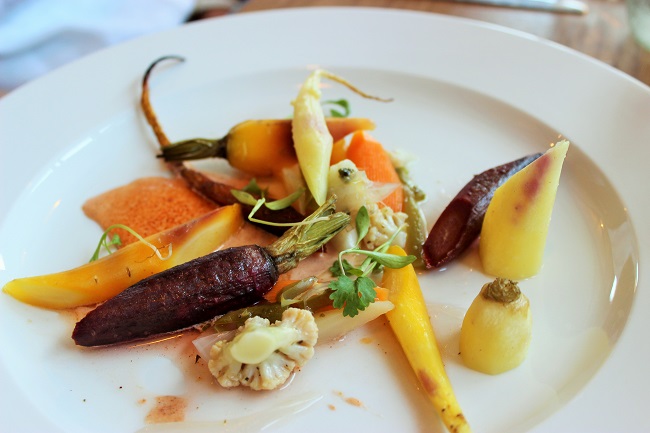 What to Order
Breakfast: Biscuits and Gravy, Donut Muffin, Root Benny, Tofu Scrambler; Lunch: Spicy Banh Mi, Big Basket of Sweet Potato Fries; Dinner: Fried Empanada, Roasted Pork Belly
Just Make Sure…
To make reservations during dinner service for parties of six or more. Also, save room for dessert. Pastry Chef Sara Slimp has some masterful, rotating creations like Buttermilk Pie and Lemon Layer Cake.
Contact Information and Hours:
(501) 414-0423
1500 South Main Street
Little Rock, Arkansas
Tuesday 7:00 a.m. – 2:30 p.m.; Wednesday through Friday 7:00 a.m. – 2:30 p.m., 5:30 p.m. – 8:30 p.m.; Saturday 8:00 a.m. – 3:30 p.m., 5:30 p.m. – 8:30 p.m.; Sunday 9:00 a.m.-2:00 p.m.; Closed Monday
SaveSave
SaveSave
SaveSaveSaveSave