For Steve and Jan Lewandowski, co-owners of Blue Cake Company in Little Rock, the journey from culinary students to successful bakeshop owners is one that's spanned almost 20 years.
"I worked front of house around Little Rock in the 1990's at a few restaurants, including Cajun's Wharf, Andre's, Blue Mesa and The Butcher Shop before I left for Scottsdale Culinary Institute in 1998. I met my wife there–we were in the same class–and moved back to Little Rock with her in 1999 to work as an assistant manager at the newly re-opened The Butcher Shop.  Jan, originally from Utah, has worked as pastry chef at Little Rock Country Club, Community Bakery, and Peabody and Capital Hotel before opening the shop. She's currently the lead baking instructor at UA-PTC Culinary Arts & Hospitality Management Institute," says Steve Lewandowski.
From day one, the goal was to bring something unique to the Little Rock community.
"When we opened, most bakeries used boxed cake and traditional buttercream designs and the majority of cakes were sheet cakes. Our goal was to make everything from scratch and specialize in modern designs and sculpted cakes," says Lewandowski.
If you live in Little Rock, then chances are you've had at least one of Blue Cake Company's many delicious creations. From fresh baked cookies to cupcakes to 6-inch, ready-made cakes, the shop really does it all. But nothing is as popular as Blue Cake's signature petit fours. These tiny, individual cakes, which come in flavors like chocolate peanut butter, cookies and cream, chocolate cayenne, chocolate and raspberry ganache, champagne, and cinnamon roll, and are a big reason why the bakery is so beloved.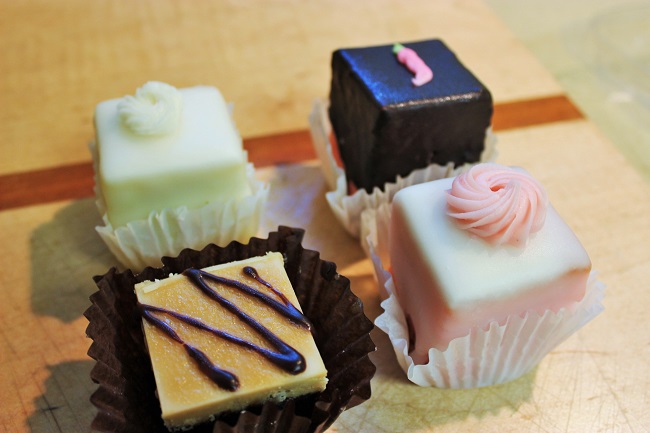 "The petit fours are one of our most popular items and we usually have over 20 different flavors. It's a great way to try our cakes. Our primary business is custom cakes and sugar cookies for weddings and celebrations.  We have a talented team of cake artists & bakers, so we can make just about anything!  Our manager Katie Proffer is great at helping customers design their cakes or deciding what you need to try out of the case," says Lewandowski.
In the end, for Lewandowski, it's about bringing happiness to a loyal customer base while seeing his staff flourish.
"It's the immediate gratification when someone picks up their cake and loves it. That is the best! We get to see many of our customers through milestone moments like birthdays, graduations, weddings, and births. Also, watching our decorators progress and become accomplished cake artists and pastry chefs makes us very proud. We would not be where we are without the hard work and talent of our employees," says Lewandowski.
That sounds pretty sweet.
Did You Know?
Blue Cake Company opened in August 2005 at 14710 Cantrell Rd. but moved to its current location at 6800 Cantrell in 2012.
Busy Times
The busiest time of year for Blue Cake Company is April to June, which is graduation/wedding season. Customers generally have to order three weeks in advance to guarantee their custom cakes during that time. For the rest of the year, most can order the week before and sometimes even the week of their event.
Blue Cake Company
6800 Cantrell Rd (Little Rock)
Phone: (501) 868-7771
Hours: Monday-Friday 10 a.m.-6 p.m.; Saturday 10 a.m.-3 p.m.; Closed Sunday