Grape cultivation (or "viticulture"), is an ancient endeavor. Grapes and the production of wine are closely intertwined, and the oldest known winery is thought to be located in Armenia, dating somewhere around 4100 B.C.  The technology that archeologists uncovered at the site was so developed that some theorize that grape cultivation and wine production dates even further back in history, possibly to the Neolithic period. Documentation of viticulture can be traced back to ancient writing (cuneiform) on tablets.
According to Greek historians, we have grape cultivation to thank for men laying down their spears and learning the science of agriculture and the prosperity of peace. One is quoted as saying (and some argue it was Thucydides), "The people of the Mediterranean began to emerge from barbarism when they learned to cultivate olive and the vine." This referenced period was a time of exploding viticulture, which thereby influenced trade and local economies. Greek mythology also claimed Dionysus invented the grapevine and winepress (no doubt making him the patron "good times" deity).  The Roman grape cultivators that followed (carrying the tradition of Dionysus with them in the form of their own wine-god equivalent, Bacchus), deemed hillsides the better-growing locations because cool air runs downhill and gathers at the bottom of valleys. In the Middle Ages, the monks were the forerunners of grape growing.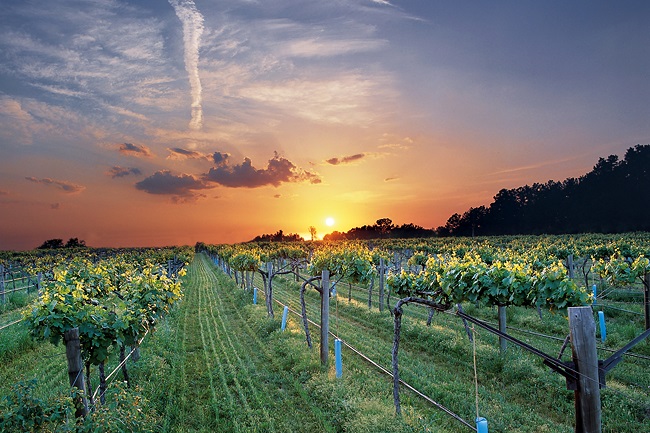 Photo courtesy of Arkansas Department of Parks and Tourism
There is an ancient finesse, skill, and science to growing grapes that involves controlling pests, fertilization, irrigation, tracking fruit characteristics, and pruning. There are such things as male, female, and hermaphroditic vines (wild grape vines lean toward the male-female delineations).
At this point, you may be asking, "What does this have to do with Arkansas?"
The Arkansas Association of Grape Growers might say, "Plenty."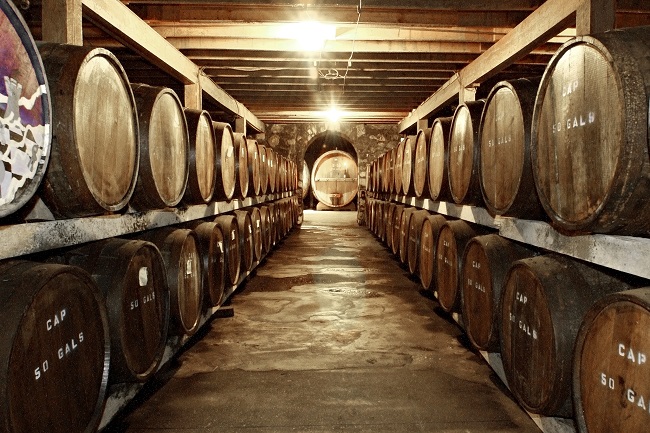 Photo courtesy of Arkansas Department of Parks and Tourism
Arkansas's historical roots with regard to grape growing (and by extension, wineries), are extensive. Grape cultivation in Arkansas began during the influx of European immigration into the Natural State. It is theorized that the earliest wine was made at the Hinderliter Tavern in Little Rock around the 1830's (the oldest standing building in the city). German-speaking Swiss immigrants settled in the Altus area. Subiaco Abbey also attracted European immigrants. Italian immigrants also played a huge role in grape development, eventually settling and founding Tontitown, where the first Tontitown Grape Festival was held in 1899 and continues to this day.
With our state's history deeply rooted in grape cultivation, the Arkansas Association of Grape Growers was founded as a non-profit organization to promote agricultural advancements in viticulture across the state, assist with research, and promote the nuance and science of grape cultivation.  It's estimated that the wine industry has created more than 5,000 jobs in Arkansas in the past year.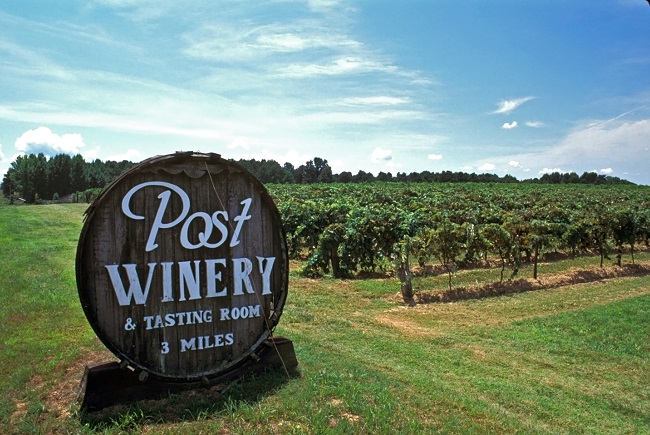 Photo courtesy of Arkansas Department of Parks and Tourism
During their annual conference in November, the Arkansas Association of Grape Growers offered discussions on business promotion, vineyard cover crops, growing grapes, and networking with other growers. John Clark, Agriculture distinguished professor of horticulture and fruit breeder, introduced his new table grape, Passion, during the conference.
Arkansas continues its legacy of grape growing every day, not only with the efforts of the Arkansas Association of Grape Growers, but with the vineyards that dot our state. Wiederkehr's "Swiss Family Vineyards, Inc." is the oldest operating vineyard in mid-America. Established in 1880, they survived Prohibition with an "Ecclesiastical Permit" to produce Sacramental Wines. Al Wiederkehr is the 3rd generation Chairman, CEO, and majority shareholder. Post Familie Vineyards, located on St. Mary's Mountain, operates over 100 acres of grapes and is involved in education with numerous schools, including Arkansas Tech University. The Waving Fish Vineyard is located west of Hot Springs and specializes in the official grape of the State of Arkansas, the Cynthiana.
These are, of course, just a few of the lush and productive vineyards operating in Arkansas today. To find out more about the Arkansas Association of Grape Growers, current agricultural advancements, and our state's wineries (which make excellent getaways and day trips), visit their website at http://argrapegrowers.org/.