If you were walking down a street and saw a motorcycle gang clad in leather vests, some donning silver-streaked mustaches and beards mid-chest and inscribed with visible tattoos, you'd probably cross the street to avoid them. Not so if they had the letters BACA across the back of their vests and you understood their heartfelt mission and what binds them.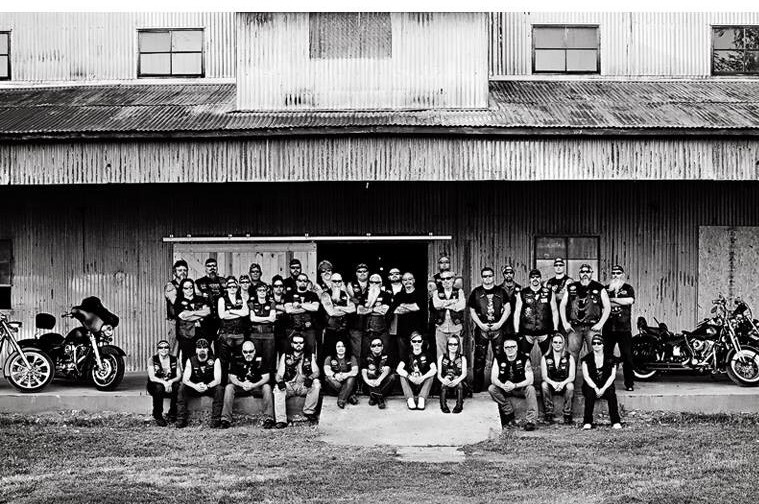 The acronym BACA stands for Bikers Against Child Abuse. Not only is it an international non-profit organization, but they also have seven chapters in Arkansas. Because of the horrific numbers of children being abused—physically, sexually and emotionally, BACA was organized.
Much like the nursery rhyme about "the butcher, the baker, the candlestick maker," BACA members are a group with a diversity of occupations and backgrounds. Within the chapters, imagine licensed counselors, therapists and social workers riding motorcycles alongside a building contractor, a retired corporate exec, active and retired law enforcement officers, retired armed services' veterans, a business owner, an attorney, mothers, fathers, caring citizens.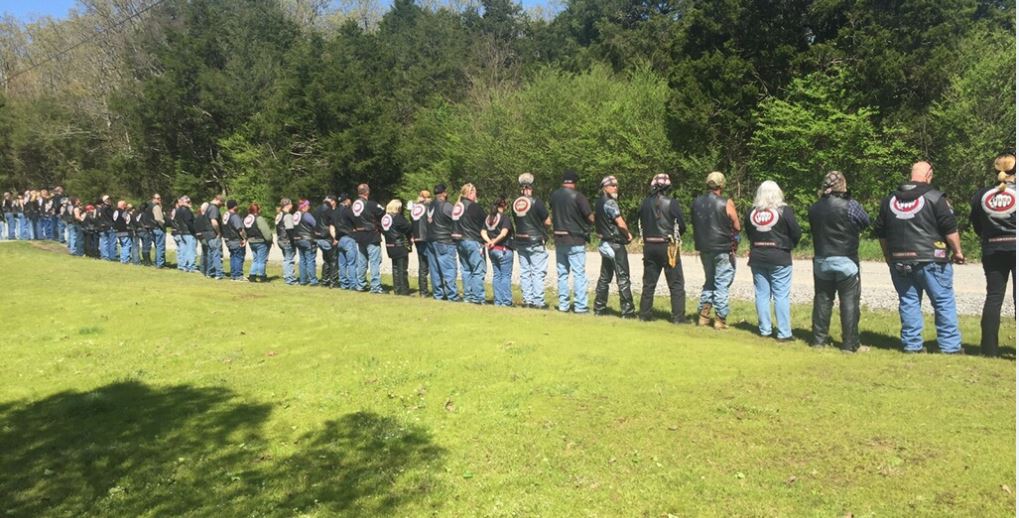 A perpetrator was driving on the road by the home of the children. This Arkansas BACA Chapter formed a wall to shield the children.
What is most evident: BACA members are bikers who have the backs of the most vulnerable, igniting a perpetual flame in their shadowed world. Children see visible light in their darkness with tangible people who stand tall and create a wall of safety around them. All children deserve a life free from abuse. Yet, abuse cases continue to escalate.
On BACA's statewide website www.arkansas.bacaworld.org their mission statement begins:
"Bikers Against Child Abuse, Inc. (BACA) exists with the intent to create a safer environment for abused children. We exist as a body of Bikers to empower children to not feel afraid of the world in which they live. We stand ready to lend support to our wounded friends by involving them with an established, united organization . . ."
Realizing the power of their mission and how children's lives are strengthened by their presence confirms BACA members defy the biker stereotype. First of all, before a member can become one of two primary contacts for a child, the member is required to first go through a training program.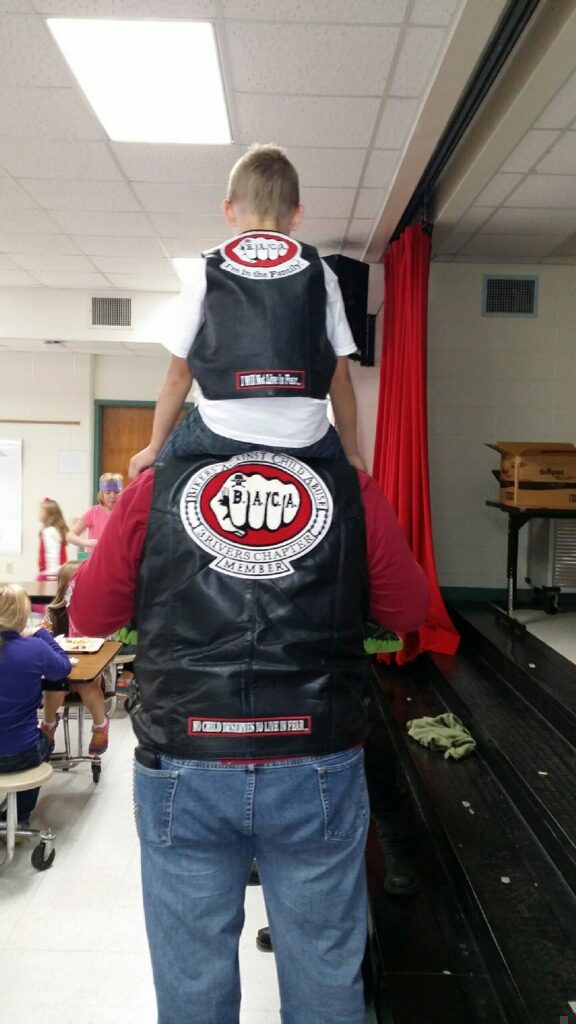 Each biker must:
pass an extensive background check.
ride with the Chapter for at least a year.
complete a series of online training courses and receive instructions from a licensed mental health professional about how trauma can rewire a child's brain.
sign a confidentiality agreement, recognizing the importance of not disclosing any information about the cases outside of the approved guardians, counselors and representatives from child protective agencies and law enforcement officers.
Once members are certified, they can be assigned to a child as one of the two primary members.
President of the 3 Rivers BACA Chapter whose road name is "Rags" describes the process that takes place before BACA takes a case.
The BACA child liaison receives a call from the referring agency.
The BACA board of directors verify that the case has been reported to the proper authorities.
They evaluate the validity of the case and its threat assessment.
The board votes whether or not to take the case.
Once accepted, the board assigns two certified BACA members they believe are most suited for this particular child's case.
In an introductory meeting with the parent/guardian and child, BACA members assess the child's case.
Children are always asked if they'd like to join BACA. If so, they get to choose their own road name.
Involving the parent(s) or guardian(s), the BACA members set up a time and place for a chapter ride. For those members who can join for this group introduction, sometimes forty or so members gather to meet the child. With the child and guardian waiting, the rumbling roar of the engines is heard from afar. Then with an impressive united entrance, this band of bikers rolls in, inspiring children in the strength of this team that has gathered especially for them.
Rags reiterates one of the various ways they hope to encourage small voices to get a little bit stronger is by offering them choices. "Choices give children a new sense of empowerment—to join the BACA group or not, to select their own road names, to accept a BACA vest with their chosen road name or not. Each child's decision is respected."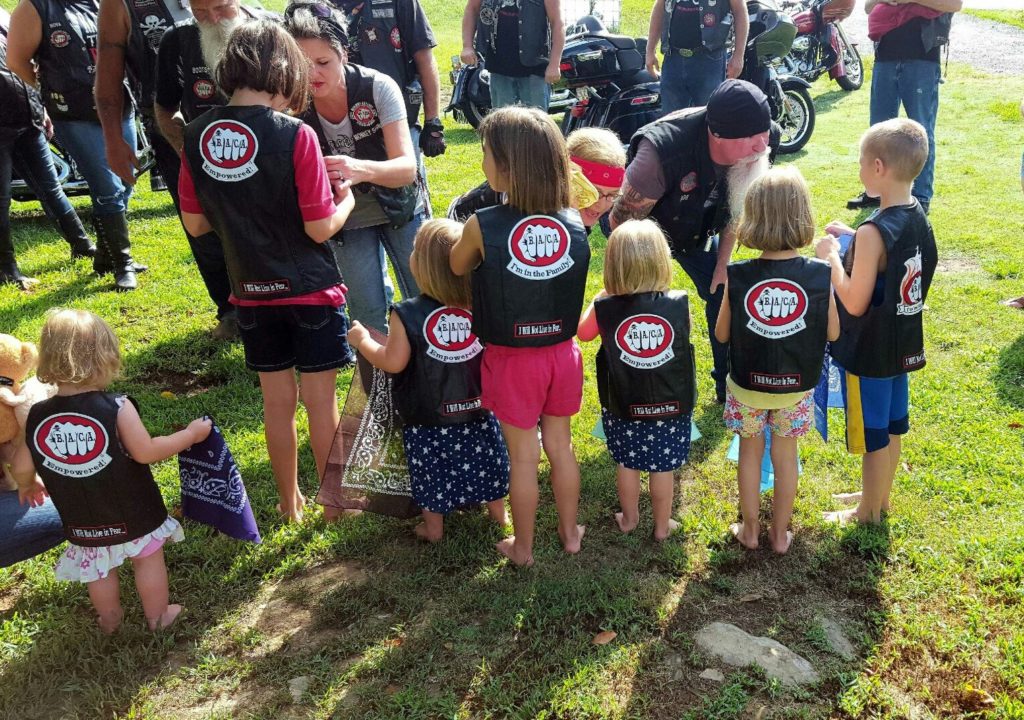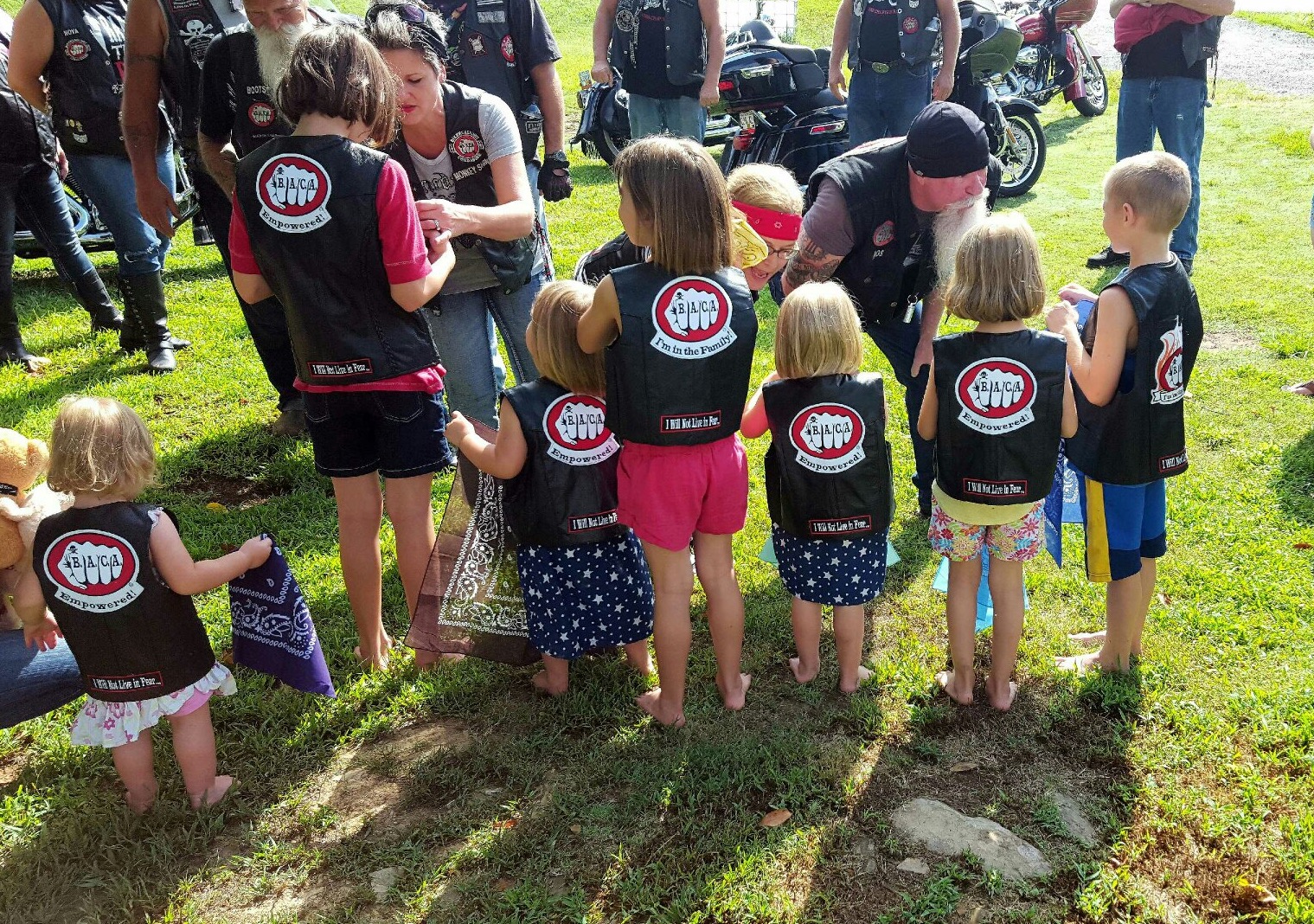 With the child encircled by the BACA chapter members, bikers "load up" the teddy bear and blanket, which means they pass the bear and blanket to each member to hug. The presentation of these physical gifts is meant to give a child comfort and a sense of belonging that surrounds the child with safety. After the child says "I will not live in fear," the group cheers.
"A few have been hesitant at first," says Rags, "but before we ride away, they've chosen to be a part of this group."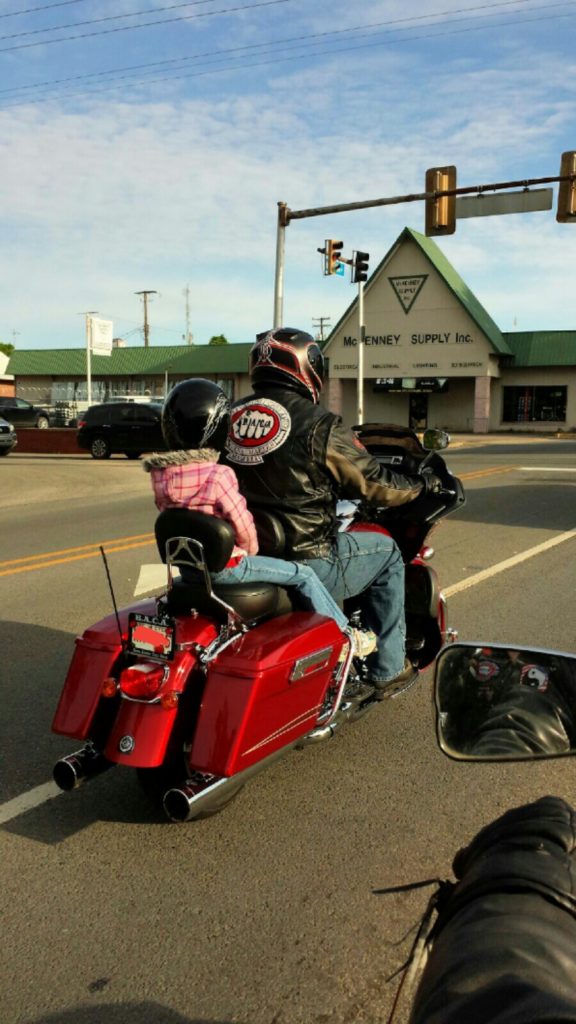 With that acceptance to the group and the guardian's approval, the child takes a short ride with a member on the back of a bike. It might be around a parking lot or a block, and yet it offers another connection.
BACA's involvement after that is determined by one or more of the four levels of interventions needed. With a waiver from the guardian, the BACA members designated for each child can also work with the child's therapist.
"Children can't grasp the benefits of therapy when they're living in fear," Rags notes. "We try to help remove that fear from a child's life in several ways. Sometimes the members drive by their houses simply to check on the child. If children choose, we also escort them to their court appearances and sit in the courtroom when children need to testify. The two primary members and many from the chapter have camped outside of a house when a child feels threatened by the perpetrator."
Rags explained that instead of hugging children, which might put them in an awkward situation, they give "fist bumps" or what we call "BACA bumps." Rags also stressed BACA members never go to a child's house alone or commit to an activity without first getting a parent/guardian's approval.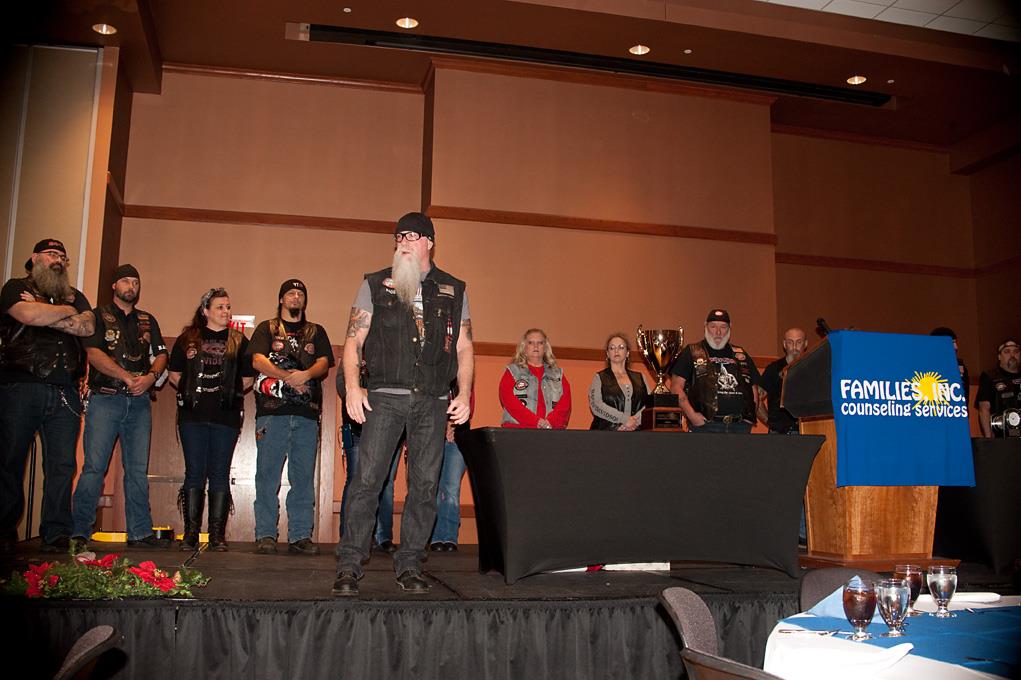 Rags delivers the keynote address at the Families Inc. annual Christmas banquet.
BACA strives to uphold any promises made to a child since building trust is another crucial link for children to begin healing.
It's bittersweet that the 3 Rivers BACA of Arkansas is one of the top three chapters within the international organization because of its number of ongoing active cases. The bitter being that children are abused and BACA is needed. The sweet is how BACA's involvement has built a reputation of respect with the Child Safety Center of White County (which serves seven counties in its region), law enforcement agencies—state police, city police and county sheriff's offices, Department of Human Services' and the prosecutor's offices in the county of the particular case.
With BACA's help, all of the agencies involved are hoping to break the chain of abuse from passing down generation to generation.
Rags ends by saying, "Our hope is that each child will move from being a victim to a survivor to a thriver and eventually a protector for others who are in abusive situations. Our reward? It's the life that has returned to the child."
No child should grow up being abused physically, sexually or emotionally. Many times most of us turn a blind eye in our not knowing what to do. Let us be armed with awareness of its despicable existence so we can support Arkansas groups like BACA, Child Advocacy Centers and agencies that train foster parents in how to best help the children wounded by abuse who are in their care.
And next time you see a group of bikers, look for the BACA patch. If you see it, give them a big smile, a wave and a prayer because these men and women are superheroes who have chosen to stand up to evil at its worst.
The BACA helpline is (501) 203-9337.
In addition toBACA 3-Rivers Chapter in the Searcy area, other Arkansas chapters include Black-Gold Chapter in the El Dorado area, Buffalo River Chapter in the Harrison area, Flatrock Chapter in the Russellville area, Northwest Chapter in the Fayetteville area, River Valley Chapter in the Fort Smith area, and the Toadsuck Chapter in the Conway area.
BACA is a non-profit organization and donations may be sent to the above address or to the chapter in your area designated on their website. For statewide BACA information, addresses for local chapters, full mission statement, levels of intervention and video, click www.arkansas.bacaworld.org. For their international site, click bacaworld.org.