There's great news for man's best friend. Bark Bar, which opened in August 2017, is Arkansas's first and only indoor/outdoor off-leash dog park and bar, offering a full bar and gourmet hot dogs for pet owners, as well as a complete doggie menu. This unique bar is the creation of co-owners Dan Roda and his wife, Elizabeth Michael, along with partner, Cara Fowler.
"I grew up in a family surrounded by entrepreneurs, and I've always known I wanted to own my own business. I started out working for my family's company, Paul Michael Company, and spent seven years there helping open new locations and launching the online store. Eventually my husband and I moved to Little Rock, where I started working at CJRW and enrolled in UALR's MBA program. Right before I graduated, I met Cara Fowler through our mutual friend and fellow animal lover, Paige Thompson. The first time I met Cara, she told me she was working on a concept for a dog park and bar after visiting a similar concept in Austin, Texas. I fell in love! The next day, I called her and told her I had found the perfect space owned by our friends and now landlords, Adam and Amanda Day, and the rest is history," says Elizabeth Michael.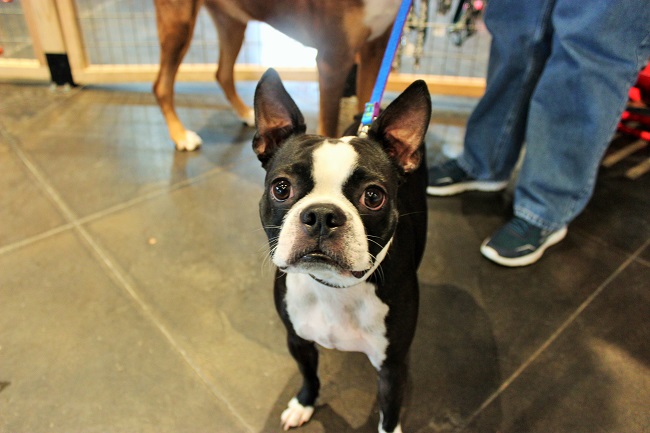 Bark Bar has quickly become a popular hangout for dog owners and with creative promotions and events like BYOB (Bring Your Own Breed) nights, Hump Day Singles mixers, and Bark Friday, there's never a shortage of fun.
"To me, it is the happiest place on earth. You can't help but smile while watching all the dogs play together and humans make connections talking about their pups. It's common to meet lots of new friends at Bark Bar, says Michael.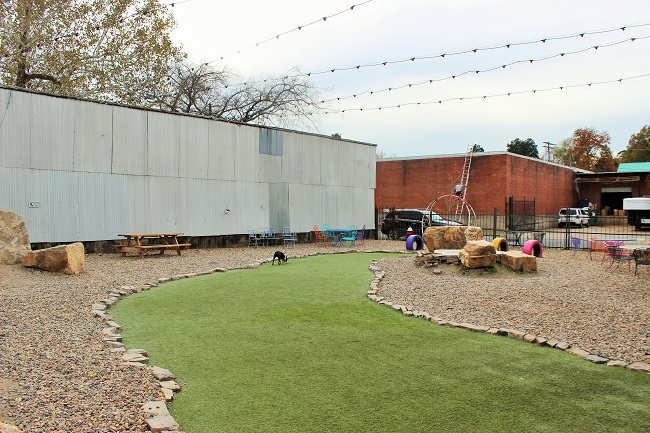 It's absolutely true, happiness abounds at Bark Bar. Aside from our furry friends, the place is clean and comfortable, has a nice old-time feel with modern accents, and is fully equipped with seating, televisions, and all sorts of indoor and outdoor play areas for the dogs. The food and drink are also both on point.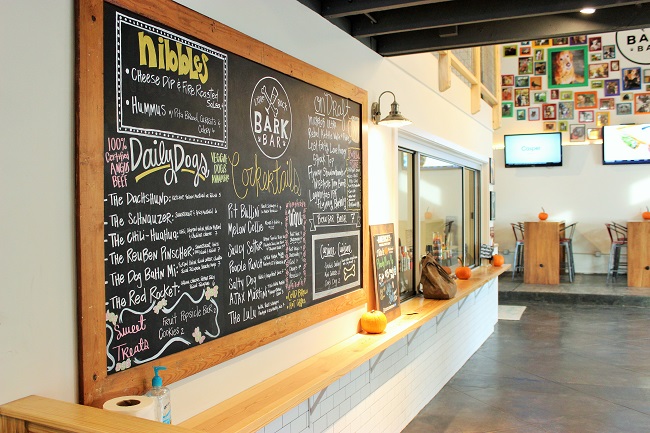 "We have beers on tap and a full bar featuring specialty 'Cockertails.' Our dog puns are next-level-out-of-control at this point in time. We have a 'Nibbles' section with appetizers and more filling fare with our 100% certified Angus beef hot dogs. My favorites are the 'Red Rocket' and our 'Dog Bahn Mi.' There is a dog food menu and our most popular item is the 'Spaniel Sundae,' says Michael.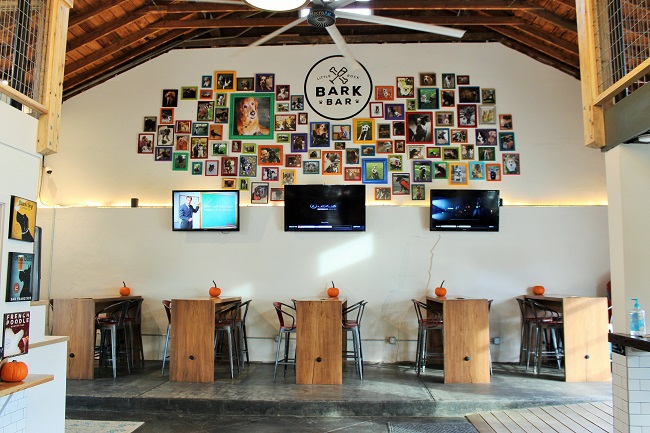 Other well-received menu items include Flyway's Bluewing (on draft), a liquor-based drink called "Poodle Punch," as well as the house-made cheese dip and Bark Bar's take on the chili cheese dog, the "Chili-huahua."
Things at Bark Bar, including membership, are just a little different than the norm. Keep in mind, the doggies are members, not the humans. Memberships run $5/day, $20/month, and $150/year, and dog owners must provide proof of current vaccinations. Dogs are required to be neutered. That's about the only unpleasant news for the doggies.
Everything else is all good.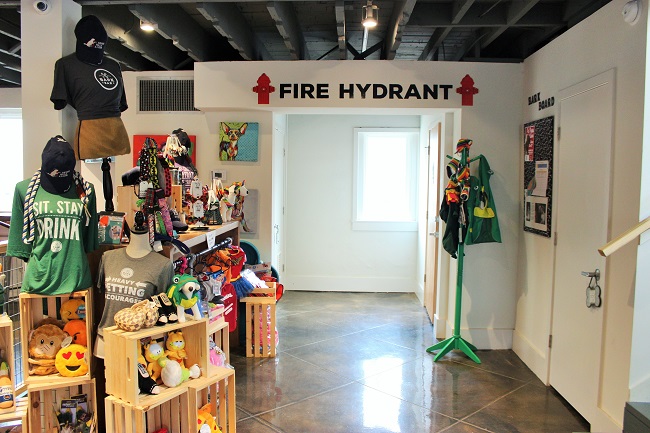 Need to Know
For a full list of house rules, click here.
Bark Bar
1201 South Spring Street (Little Rock)
(501) 295-3989
Hours: Tuesday-Friday 3 p.m.-10 p.m.; Saturday & Sunday 10 a.m.-10 p.m.; Closed Monday