Whether or not you love history, if you live in Northwest Arkansas, you owe it to yourself to visit and explore Shiloh Museum of Ozark History. Located in Springdale, its name is derived from the pioneer community of Shiloh, which later became Springdale in the 1870's.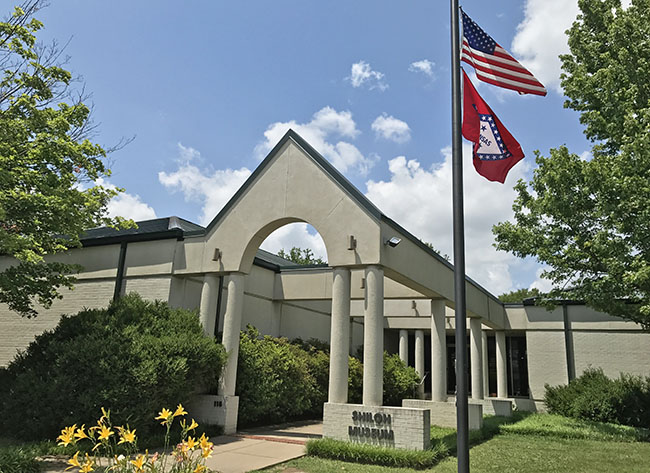 Opening to the public in 1968, the Shiloh Museum houses historical displays ranging in time from pioneer days through both World Wars and beyond. It originally began as a collection of artifacts and books but has grown to what it is today with several historical buildings (most of which have been relocated to their present day location), as well as a cemetery.
Explore Inside the Shiloh Museum
Upon walking in the door, you're greeted by a receptionist who shares valuable details for your visit. You'll likely be distracted by both the amazing dollhouse just inside the front door and the souvenir-packed gift shop located behind the receptionist's desk. I rather enjoyed perusing the display of old-fashioned bronze pencil sharpeners just inside the shop.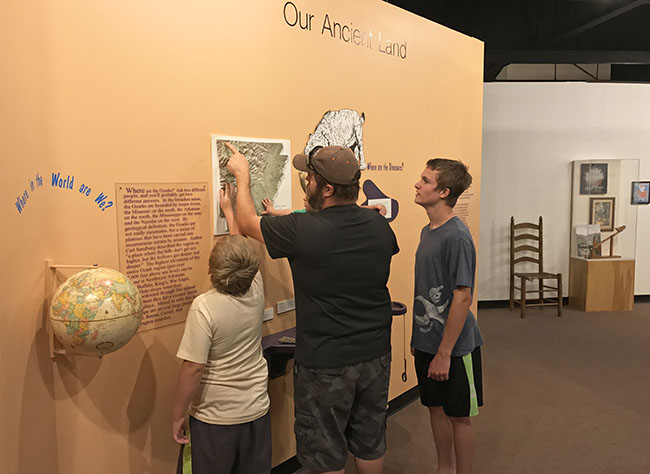 Walk inside the exhibit area, and you'll find a collection of permanent displays that begins with a collection of Ozark Images. We walked through each exhibit, learning about prehistoric times, Native Americans who lived in the Ozarks, pioneer life, the Civil War, World War I, World War II, poultry growing, and more.
Many of the exhibits are hands-on and interactive, and the entire museum is very kid-friendly.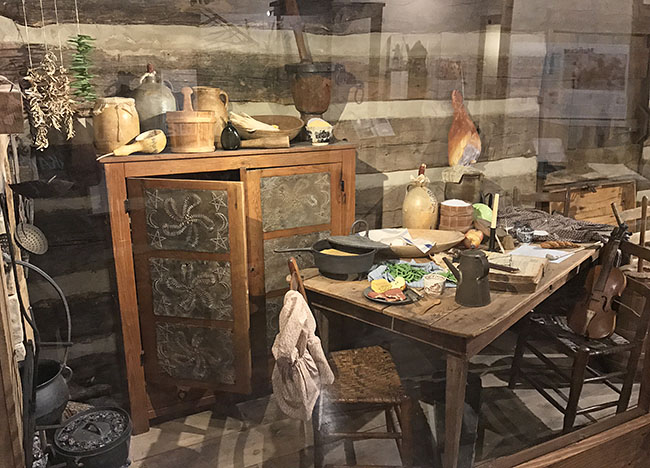 We enjoyed looking at 3D images of World War I, walking through a pioneer kitchen (one of my favorite exhibits), dialing an old rotary telephone, playing with toys from the olden days, listening to an old radio, and more. More than one exhibit had an interactive computer that told you where or from whom certain relics and artifacts in the exhibit originated or that described the relics in detail.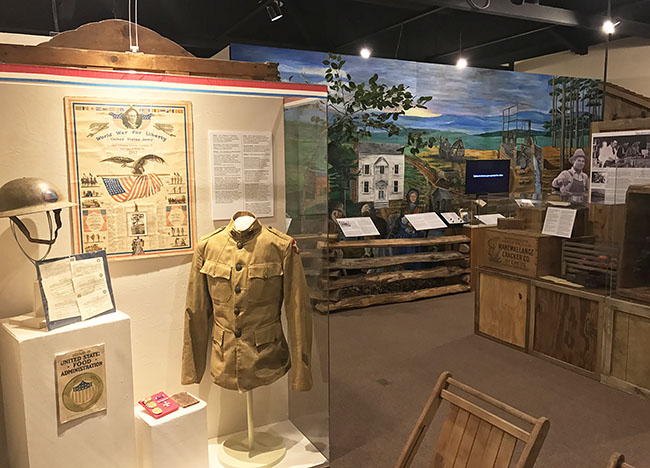 They have an exhibit and information about Van Winkle's Mill, an old homestead and mill site. The exhibit includes a small replica of what the mill looked like.
As you head outside, you'll pass through a hallway filled with photos depicting The Changing Face of Emma, a collection of photos that will be displayed through December 9. It's so interesting to see Springdale as it once was and what it is today.
Explore Outdoors at the Shiloh Museum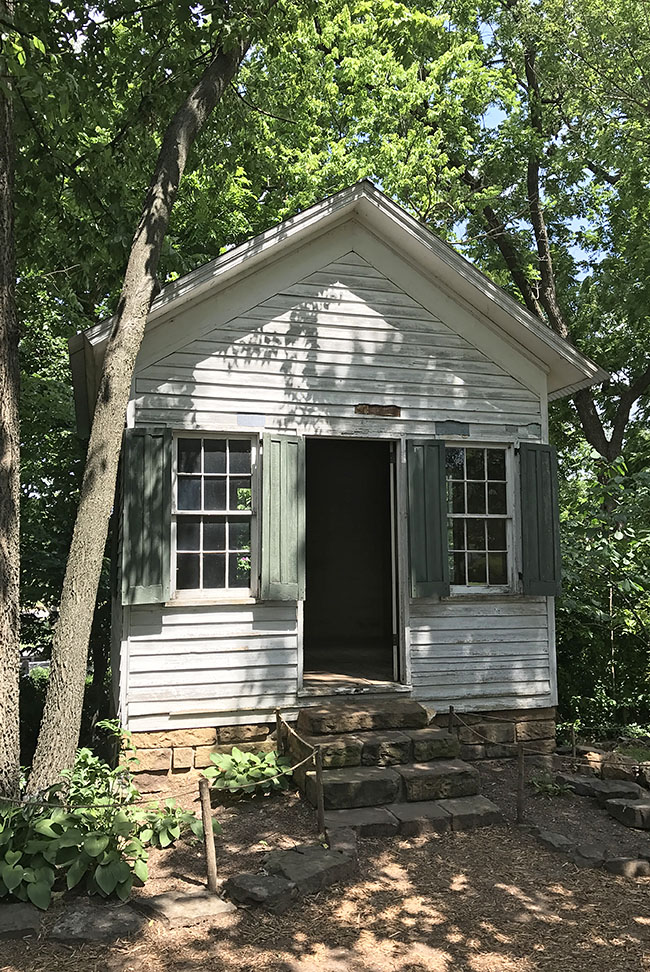 Just outside the Shiloh Museum is a small historical setup, complete with a barn, general store, doctor's office, outhouse, and more. Most of the old buildings have been relocated, but the Searcy House rests right where Archibald Smith, a Primitive Baptist minister, built it in the 1870's. This particular house requires a tour guide and is furnished according to post World War II years. You can just walk right in most of the other buildings, though.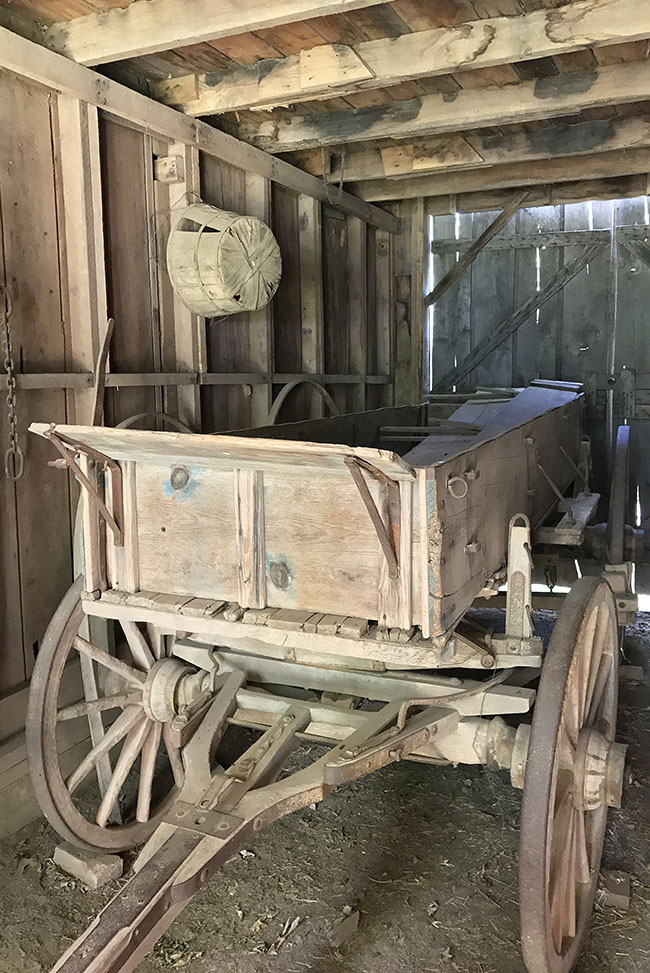 Cooper Barn, originally built in the 1930's, was filled with farm implements, including an old wagon. When we stepped inside the door, our boys proclaimed how it smelled like a barn. It did; in fact, it almost seemed like the farmer was just outside working with his livestock. On the ledge sat a well-used brush. And as we explored, a really pretty cat came running from the barn, eager for attention. The barn was my favorite building because of the memories it brought back of my own grandparents' farm.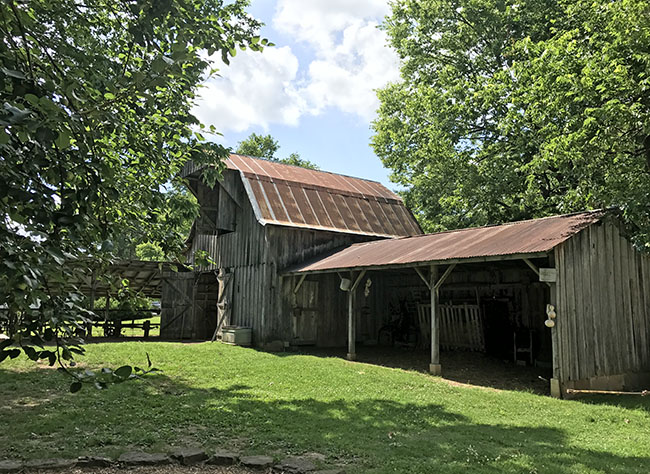 We walked down through the small rocky trail to find a 2-seater outhouse, which was definitely the highlight of our visit. Our boys had never seen a 2-seater before. We walked inside the Ritter-McDonald Log Cabin, built in the 1850's, which housed a fireplace and native stone chimney that was originally part of the McGarrah-Reed home near Elkins. Beside the cabin stood a beautiful garden, complete with a bamboo trellis, and beyond that right outside the Searcy House, was a gorgeous, old-fashioned flower garden filled to the hilt with vibrant colors.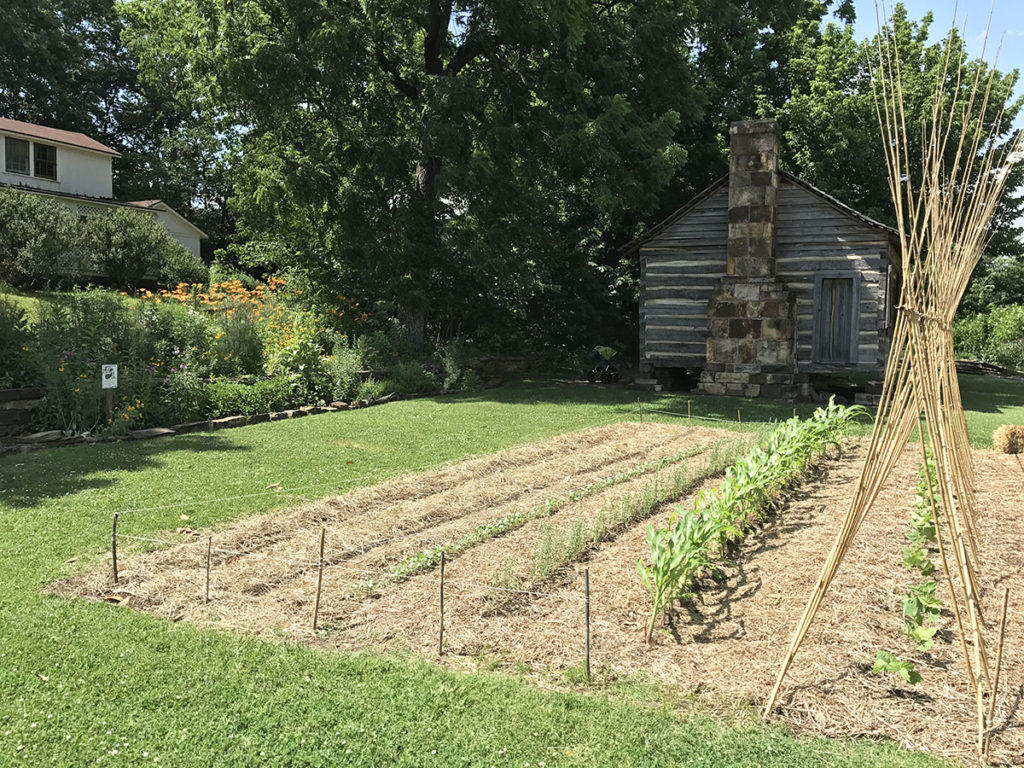 South of the Shiloh Museum, you can also explore the old Primitive Baptist Church and the Bluff Cemetery.
Educational Opportunities with the Shiloh Museum
The Shiloh Museum welcomes field trips, and they conduct teacher workshops. They also have a really interesting program that originally sparked my interest in visiting the museum called Discovery Boxes. Teachers and homeschoolers can check out Discovery Boxes or Artifact Boxes for a hands-on study with students. In addition, they offer History Camps through the summer.
Details to Know Before You Go
Admission to the Shiloh Museum is free, though you can support the museum by becoming a member, making a contribution, or volunteering.
The museum is open Monday through Saturday, 10:00 a.m. to 5:00 p.m. It's located at 118 W. Johnson Avenue in Springdale. You can park for free on the street outside the museum; they also have accessible parking on the north side of the museum, with a sidewalk that leads to the museum's main accessible entrance. Restrooms are also available.
Shiloh Museum of Ozark History is somewhere you could spend an entire afternoon. I would recommend at least a couple of hours to explore and experience all that it has to offer.
Have you ever been to Shiloh Museum? What's your favorite thing about it?